Steel is widely used in modern life. It is a kind of material which uses ingots, billets or steel. It is made of various shapes, sizes and properties required by pressure processing, so it can be applied to various industries. There are many kinds of steel, such as steel pipe, steel plate, T-shaped steel, H-shaped steel, etc. the volume and length of steel just produced are very large and most of those metal do not meet the requirements of direct use. Therefore, it needs to be refined. Nowadays, the fiber laser cutting machine and metal tube laser cutting machine is applied to cut and carve metal sheet and pipe. Now SENFENG laser show the processing and application of fiber laser pipe cutting machine to H-shaped steel.
Some Applications of H-Shaped Steel
1.Beam and column components in industrial and civil building steel structure.
2.Steel structure bearing bracket of industrial structure.
3.Steel pile and supporting structure of underground engineering.
4.Structure of petrochemical and electric power industrial equipment.
5. Long span steel bridge components.
6. Ship and machinery manufacturing frame structure.
7. Girder supports for trains, automobiles and tractors.
8. Port conveyor belt, highway baffle bracket.
The application range of H-Shaped Steel is so wide that it can be seen that it is one of the indispensable steels in daily life. However, it is impossible for the iron and steel plant to produce fragmented parts according to the customer's demand. Therefore, it is necessary for the customer to buy back the H-Shaped Steel for processing, and the optical fiber laser pipe cutter has many advantages for the processing of H-Shaped Steel. 
Why choose steel laser pipe cutting machine
The cutting principle of steel laser pipe cutting machine is not much different from that of plate laser cutting machine. As a special laser cutting machine, metal tube laser cutting machine mainly carries out laser cutting for standard metal pipe (round pipe, rectangular pipe, elliptical pipe, etc.), profile (channel steel, angle steel, etc.) and some special-shaped pipe, Its advantages lie in the following aspects:
1.High cutting accuracy.
2.The incision is smooth, without burr, and fine the slit, small raw material loss. Non contact processing, and laser cutting heat affected zone is very small, almost no deformation.
3.High cutting efficiency, can achieve mass production.
4.Good flexibility, using professional CNC system and nesting programming software, you can change or replace products at any time.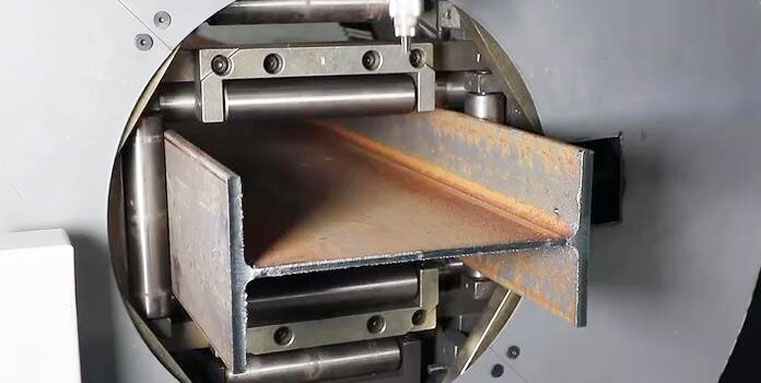 The optical fiber laser pipe cutting machine adopts mobile laser cutting, with large processing area. The negative pressure crawler type working platform is equipped with left and right feeding and receiving devices, which makes the discharging, cutting and receiving complete at one time. It greatly reduces the time between processes, improves the working efficiency and processing output, and can automatically realize the pipe from feeding, length measurement to laser cutting. Then to the pipe processing equipment with all actions and functions of blanking. It can not only cut and rotate the H-beam rapidly, but also open holes and carve on the steel to complete all the processing steps in one go. In addition, the metal laser tube cutting machine has high precision processing, which can realize one-time cutting forming without subsequent deburring, and can be used to the next process immediately after processing.
As a multifunctional pipe cutting equipment, fiber laser metal pipe cutting machine not only cut H-shaped steel, but also can process customized angle steel, channel steel, T-shaped steel and other profiles processing functions. The processing materials include carbon steel, stainless steel, aluminum alloy, copper alloy, titanium alloy and other metal pipes. The diversified processing and the light and simple manual pipe cutting machine, semi-automatic pipe cutting machine and fully automatic pipe cutting machine developed by the large laser can extend different format specifications according to the length of the pipe, and on the basis of these product series and specifications, we can customize a special function of a certain system, so that customers can have more choices, Thus, it can provide more personalized services for the global users.
All in all,any question about steel laser tube cutting machine free to contact SENFENG laser now!
Whatsapp:86-13210546543
E-mail:[email protected]
Source link: https://www.sfcnclaser.com/why-choose-metal-tube-laser-cutting-machine-cut-h-shaped-steel.html