Users in the metal cutting industry generally know that in order to facilitate storage and transportation and various processing, metal plates are generally rolled when leaving the factory, and uncoiling is required during later cutting process. In the past few years, many metal cutting  manufacturers needed to buy fiber laser cutting machine and uncoiler to do the cutting process. Today, SENFENG LEIMING laser introduces you a fully automatic fiber laser blanking lines , one machine to solve your coil cutting problem.
The fully automatic operation process of metal coil laser cutting machine produced by SENFENG LEIMING laser can be combined with automatic feeding and unloading equipment to realize the full-automatic production of metal coil. The coil fed laser cutting machine has higher production efficiency, more optimized work efficiency, high degree of automation, good cutting quality, smooth cut surface of cut products, no burr, no deformation, and more convenient maintenance and operation mode. Compared with other production lines, the equipment has the advantages of simple maintenance, low loss and long service life, which can bring considerable economic benefits to customers.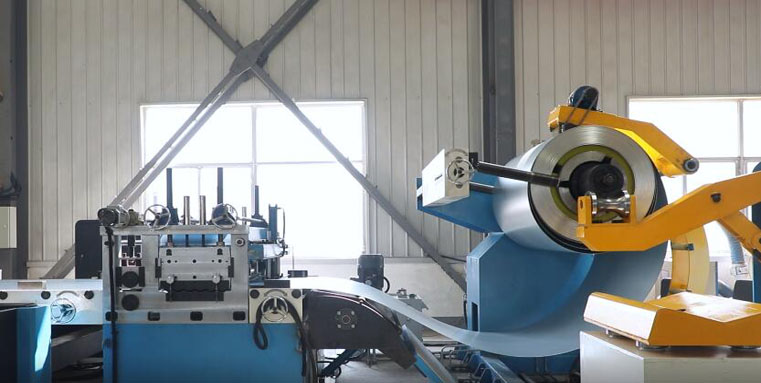 Our coil fed fiber laser cutter has won universal praise from the majority of users and has large number of customers at home and abroad. The coil fiber laser cutting machine has the advantages of high automation, low operation cost, high cutting rate, energy saving and simple maintenance. The produced workpieces meet the standards, the products are cut evenly and with good cutting section. In addition to the startup, shutdown and daily maintenance of the equipment, the coil fiber laser cutting machine production line hardly needs manual operation. It has high production efficiency, low operation cost, fast cutting speed, high income and good finished products, which meets the use requirements of most products.
In the process flow design of laser blanking systems, due to the reasonable matching of equipment composition at all levels and rigorous spatial cross layout, it has the characteristics of small floor area, high investment economic benefit, good cutting material quality and low failure rate. At the same time, it is equipped with advanced electronic control operating system to ensure the smooth, reliable and convenient operation of the whole process, environmental protection and energy saving.
SENFENG LEIMING laser is an innovative laser equipment enterprise producing low, medium and high power laser equipment. The laser blanking lines can be applied to the cutting of coil metal, such as stainless steel coil, galvanized sheet coil, alloy sheet coil, etc. it has high processing capacity for thin sheet coil. It is an advanced new fully automatic optical fiber laser cutting production line. If you want more detailed information, please consult our online customer service. 
Whatsapp:008613210546543
E-mail:[email protected]
Source link: https://www.sfcnclaser.com/why-choose-laser-blanking-lines.html