Fiber laser cutting machine is a kind of laser cutting machine using fiber laser generator as light source. Fiber laser is a new type of fiber laser developed in the world, which outputs high energy density laser beam and concentrates on the surface of the workpiece, so that the area illuminated by the ultra-fine focal spot on the workpiece can be melted and gasified instantly, and the automatic cutting can be realized by moving the spot irradiation position through the CNC mechanical system.
As a widely used and very advanced cutting equipment in the industrial field, the fiber metal plate cutting machine can give full play to its advantages and bring better experience in terms of functional characteristics, so it can be widely applied in the metal processing industrial, and can meet all kinds of cutting needs in the working process, In terms of cutting accuracy will get better protection.
1. The fiber laser cutting machine with high working efficiency, and it has relatively high independent working ability. It will not cause any pollution and waste of materials in the process of use, and there will be no particularly loud noise. Therefore, it will have a very good protective effect on the industrial environment, and avoid causing some unnecessary influence and injury to the staff, In the use of the operation, automatic operation effect is particularly good, bring faster work efficiency.
2. The fiber laser cutting machine work with high precision, small thermal deformation, and the relatively small induction rang, which can avoid the damage caused by non-mechanical contact processing, so the cost of materials can be reasonably controlled, and various unnecessary effects can be avoided in the use process, and the materials with high hardness and high brittleness can be reasonably cut, So it can achieve better processing and use effect.
3 Choose professional brand of fiber laser cutting machine manufacturer can play a better advantage in the process of practical application, and can meet the specific requirements of everyone in a variety of different environments, so it can bring more use experience, get a better embodiment in terms of safety and stability, avoid all kinds of unnecessary influence, can make the use of more effective.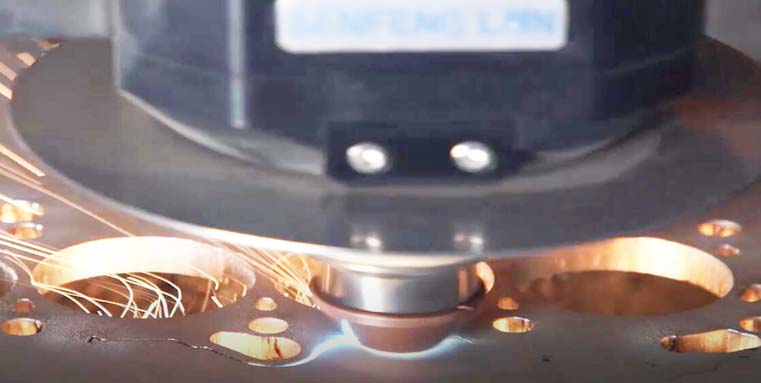 Metal plate cutting machine are widely used in the following industries:
1. Automobile industry: tire mold, lamp mold and decoration mold processing
2. Model making industry: making metal models
3. Make employee's chest, house and sign
4. Mechanical processing industry: cutting of metal mechanical parts
5. Electric cabinet and case series: drying oven, non-standard oven, communication cabinet, power distribution cabinet, switch cabinet, control box, electrical equipment, etc
6. Mechanical shell series: packaging, printing, ceramics, injection molding, elevator, electromechanical and other large mechanical sheet metal structural parts
7. Public Utility Series: laboratory, testing machine, environmental protection box, instrument cabinet, test bench, etc
8. Advertising light box series: bus shelter, LED electronic display, aluminum ceiling, curtain wall, stainless steel decoration engineering, etc
9. Hardware products: cutting of metal hardware
10. Electronic industry: metal electronic push plate cutting
Senfeng leiming laser has four standardized intelligent equipment manufacturing bases, total area of more than 120,000 square meters.
Products sold in more than 180 countries and regions,serving over 6000 customers.
Any question about
fiber laser cutting machine
,free to contact SENFENG LEIMING LASER,we as an professional fiber laser cutting machine manufacture since 2004,SENFENG laser has enough experience to show you good service!
Whatsapp:86-13210546543
E-mail:[email protected]
Source link: https://www.sfcnclaser.com/what-is-fiber-laser-cutting-machine.html