The mother's day is a day that we express our sincerely thanks to our mother. This year, the mother's day is on May 9.On this special day, all 
mothers will receive gifts. The presents could be anything. It is a way that the children show their love and care to their mothers. And as we all know flowers are the most common gifts, but flowers will fade with time, today SENFENG laser will uses cnc fiber laser cutting machine to keep the beauty for you and your mother. We can make a kind of flower which doesn't fade forever, It is metal flower.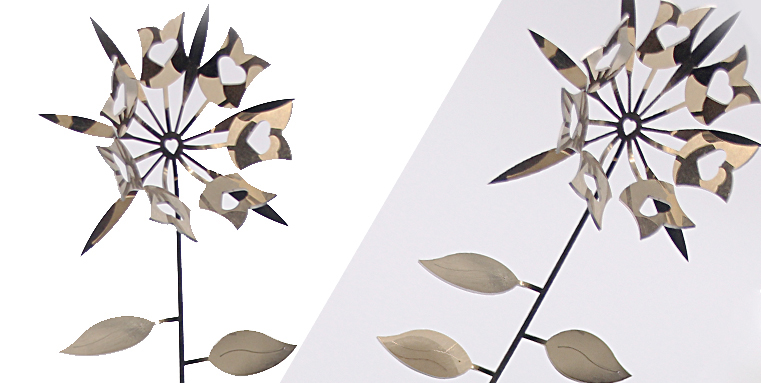 It's very easy to input the designed graphics into the computer and cut them according to the graphics,not only flower but many different shapes and graphics. How to operate the laser cutting machine? Looking the following details.
The specific operation procedure of cnc fiber laser cutting machine
1.Strictly follow the delimitation, follow the principle of starting and shutting down, open the machine, and do not force closing or opening.
2.Open air switch, emergency stop and key switch (pay attention to the water tank temperature , check whether it is alarm display)
3.Turn on the computer and turn on the start button after the computer is fully started
4. Turn on the motor, follow, laser and red light buttons
5. Start the machine and import CAD drawings
6. Adjust the initial processing speed, track delay and other parameters
7. Adjust the focus, center adjustment, etc. Of the laser cutting machine
Precautions for the operation of fiber laser cutter
1. All parts of the body cannot block the laser light path during focusing to avoid burns
2. The operator should understand the laser operation specifications to avoid dangerous situations caused by irregular operations during operation
3. After the equipment is turned on, there needs to be someone on duty in front of the machine console
4. It is forbidden to stack flammable and explosive materials around the machine to avoid fire
5. Turn off the laser device or shutter when the machine is not working
6. When any abnormality is found during the processing, the machine should be shut down immediately and repaired by professionals.
The advantages of choosing a fiber laser cutting machine
The fiber metal laser cutting machine with high working efficiency, and relatively high work independently. It will not cause any pollution and waste of materials during processing, and there will be no particularly loud noises, so it will be very good for industrial environment protective effect during work, to avoid some unnecessary impact and injury to the staff, the fully automatic operation effect is particularly good when operation and it brings faster work efficiency.
The cnc fiber laser cutting machine with high precision and small thermal deformation, and thermal induction is relatively small which avoids damage caused by non-mechanical contact processing, so the cost of materials can be reasonably controlled, and avoid various unnecessary effects in the process, and the materials with high hardness and high brittleness can be cut reasonably, so better processing and use effects can be achieved.
Choosing a professional and regular brand of fiber laser cutting machine can play a better advantage in the actual application process, and can meet the specific requirements of everyone working in a variety of different environments, so it can bring a more user experience and be safe and stable.
SENFENG LEIMING LASER is a professional manufacturer engaged in the research, development, production, sale and service of fiber laser cutters, fiber laser cleaning machine, laser marking machine, laser welding machine, 3D robot,press brake bending machine, metal sander,etc. Products sold in more than 180 countries and regions.We also has established many branches in United States,Germany, India,Pakistan,Serbia with perfect quality and service, to provide localized services and technical support for global customers.SENFENG is your nice business partner!
Finally, SENFENG LEIMING LASER use our professional fiber laser cutter cut one metal flower to the great mothers all over the world. We hope a happy Mother's day
Whatsapp:86-13210546543
E-mail:[email protected]
Source link: https://www.sfcnclaser.com/using-cnc-fiber-laser-cutting-machine-cut-metal-flower-for-mother-s-day.html