Exhibition Name: VTM Summit 2023
Exhibition Time: 25.-28.04.2023
Venue: Odense Congress, CenterØrbækvej 350, DK – 5220 Odense SOE
Booth No.: C-3000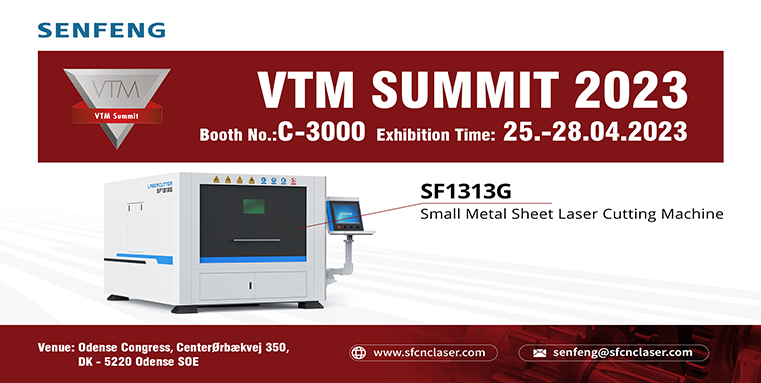 The VTM Summit 2023, a total presentation of the smartest production technologies for modern production in Denmark! Technology leaders, innovation drivers, manufacturers, distribution and service partners as well as service providers and specialists will be presenting innovative and precision technology designed to meet the day-to-day challenges of manufacturing. Senfeng will be no exception, exhibiting our small fiber laser cutting machine SF1313G for you. We welcome you to come explore how we can enhance your business potential.
SF1313G is a single table fiber laser cutting machine for cutting thin metal sheet with laser power 1000w to 3000w. The working area is only 1300*1300mm, which occupies a small area. It is with full-protection cover, which can prevent the laser radiation and protect the worker safety, reduce the environment pollution. It has passed CE, ROHS, FDA, which is in line with European and American standards.
Senfeng has Engineers and Technicians that can travel around the Europe for help with included installation and on-site training, and along with our 24/7 Tech Support line, can assist with ongoing troubleshooting, diagnosis spare-parts, and any needed repairs.
Our clients love us for our build-quality, machine-performance, value, reliability and service. We would be happy to put you in touch with a number of clients using our fiber laser cutting machine, and encourage you to come by the Senfeng booth(C-3000), to explore together how we can increase your business potential!
Source link: https://www.sfcnclaser.com/senfeng-welcome-you-to-smart-manufacturing-vtm-summit-2023.html