Exhibition Name: MIS International Industry Fair 2023
Exhibition Time: 18.-21.04.2023
Venue: Celjski sejem d.d. , Dečkova cesta 1, 3000 Celje, Slovenija
Booth No.: Hall C, 09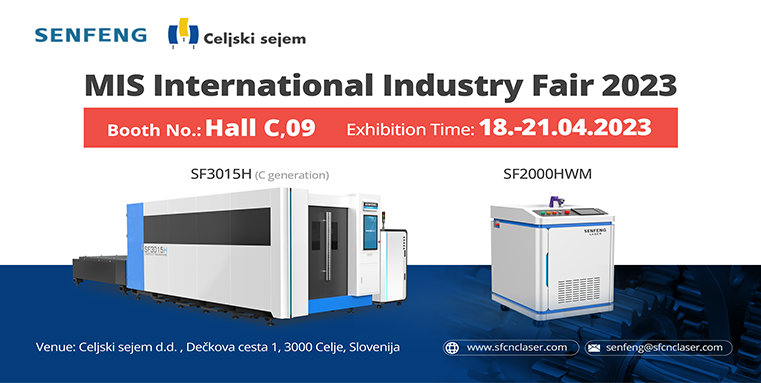 The MIS International Industry Fair 2023 is the largest and most prominent fair in the fields of machine manufacturing and toolmaking, welding and cutting in SE Europe. Technology leaders, innovation drivers, manufacturers, distribution and service partners as well as service providers and specialists will be presenting innovative and precision technology designed to meet the day-to-day challenges of manufacturing. Senfeng will be no exception, exhibiting our metal laser cutting machine SF3015H and laser welding machine for you. We welcome you to come explore how we can enhance your business potential.

The SF3015H Fiber Laser Cutter is mainly designed for European Market, with a full-protection cover to prevent Laser Radiation and protect your operators. It is also equipped with exchanged platforms, which can shorten the materials loading time and improve processing efficiency. The exchanged platform only takes 20 seconds to complete the exchange. Greatly reducing Loading/Unloading, it's a huge help to operating at your maximal efficiency.
SENFENG Laser welding machine has a variety of laser power options to meet the diverse welding needs of different materials. Compared with the traditional welding method, the welding speed of the handheld laser welder is increased by 3-5 times. The operating system is simple and easy to understand. Handheld laser welding is applicable to 0.5-6mm metal workpieces, and is used in different industries such as machinery manufacturing, automobile manufacturing, electronic equipment, aerospace, etc.
Senfeng has Engineers and Technicians that can travel around the Europe for help with included installation and on-site training, and along with our 24/7 Tech Support line, can assist with ongoing troubleshooting, diagnosis spare-parts, and any needed repairs.
Our clients love us for our build-quality, machine-performance, value, reliability and service. We would be happy to put you in touch with a number of clients using our fiber laser cutting machine, and encourage you to come by the Senfeng booth(Hall C, 09), to explore together how we can increase your business potential!
Source link: https://www.sfcnclaser.com/senfeng-welcome-you-to-mis-international-industry-fair-2023.html