With the development of society, people more and more with requirements for health and body. The continuous expansion of the fitness team has brought strong business opportunities for fitness equipment manufacturers. Many fitness equipment companies closely follow the market development and increase technological innovation. Improve production technology, strive to improve product quality, and enhance product market competitiveness. As one of popular technologies, metal tube laser cutter has been widely used in the processing of fitness equipment.
Compared with the traditional cutting process, the metal tube laser cutting machine work with better quality and reduce the processing steps. Traditional tube metal cutting process which requires cutting, punching, and bending, it consumes a lot of molds and costs more. The tube laser cutter does not need to do these processes, and the cutting effect and quality is better.
The sports fitness equipment manufacturing industry is a rising star in laser cutting applications. Due to the large number of pipe processing in this industry, for example, spinning bikes, bicycles, sit-ups, children's scooters, outdoor fitness equipment and other products,all use a large number of metal pipe parts, pipe cutting and punching process is often needed, so it is very necessary to have high efficiency and high precision metal tube laser cutter.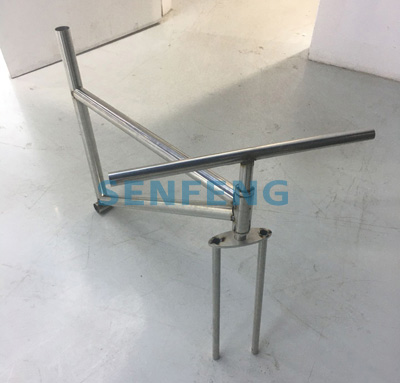 The pipes cut section after cutting does not require secondary processing, and can be directly welded, which greatly shortens the production period and creates unlimited value for the enterprise. As a technological revolution in tube processing, laser tube cutting machine has a high degree of flexibility, fast cutting speed, high production efficiency, and short product production cycle. So far, my country's sports and fitness equipment industry is still in a stage of rapid growth, a metal tube laser cutting machine with high cost performance is tailored by SENFENG LEIMING Laser in sports building materials industry.
The laser tube cutter can complete the cutting of various traditional or special-shaped tubes such as round tubes, square tubes, elliptical tubes, D-shaped tubes, etc., and can process any complex curve graphics on the tube surface, which is not limited by the difficulty of graphics and the pipe section does not require secondary processing which greatly shortens the production period and creates unlimited value for the enterprise.
Not only the fitness equipment industry, tube laser cutting machines are favored by the sheet metal processing industry,SENFENG laser professional for laser tube and plate cutting machine since 2004, any need about metal laser cutter please free to contact us!
Skype: senfenglaser1
WhatsApp: 0086-13210546543
E-mail: [email protected]
Source link: https://www.sfcnclaser.com/metal-tube-laser-cutter-for-fitness-equipment.html