The "fourth industrial revolution" is underway and many manufacturers throughout the U.S. are hopping on the automation bandwagon. But before purchase, one common misconception many manufacturers have is that only shops who produce high volumes can see a true ROI. Our team of automation experts at Mid Atlantic Machinery Automation have the knowledge and skills to provide automation solutions and capabilities to smaller job shops as well as larger OEMs.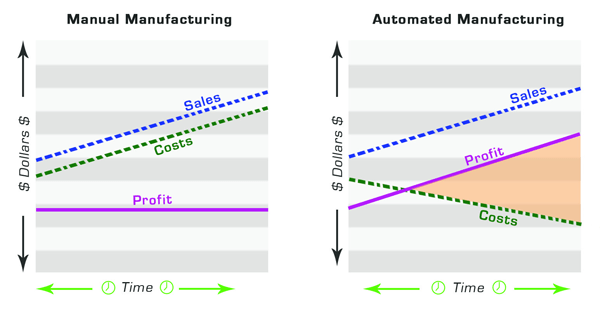 This visual from Midwest Engineered Systems showcases that once automation is integrated into manufacturing, a greater profit margin is created as the costs spent on manufacturing decreases.
Here are some insights as to how you can cut costs and maximize your ROI with MAMA's automation solutions.
Items to Consider
Manual manufacturing poses multiple risks to manufacturing companies, such as:
Human Error
Increased Injuries
Increased labor costs
High Insurance Rates
Low Employee Retention Rates
By integrating automation, these risk factors are alleviated and the costs a manufacturer spends on them will be diminished. In turn, the manufacturer will obtain:
Direct Labor Savings
Rework Savings
Scrap Savings
Warranty Claim Savings
Inventory Reduction
Floor Space Reductions
Insurance Reduction
Capital Avoidance
Employee & Customer Retention
Utilize Three Shifts
One of MAMA's most popular automated solutions is our cobots (collaborative robots).  These cobots provide flexibility to create solutions that will fit your needs needs. But, what many manufacturers are surprised to hear is that this type of robotic system can be paid off in under one year, by utilizing 3 shitfs.
How is this possible? The cobot holds a standard hourly wage of $22.50 at 2,080 hours per shift. With the use of automation, scrap reduction reduces to just 5% on 100,000 parts and manufacturers can rework the savings of 40 hours annually for 3 shifts.
With these calculations, the ROI is as follows –
1st Shift: $57,500
2nd Shift: $104,500
3rd Shift: $151, 300
"Free Money"
After automation integration, if you increase production scale and automate more processes, your savings will continue to trump your initial costs. A recent customer of MAMA deemed his cobot purchase to be "free money".
Before purchasing the cobot, his company was facing low labor rates while business was booming, which prompted him to opt for automation. Once the automation was integrated into his shop, the company's time and labor needs were cut significantly, while they were able to output more than they ever could manually – earning them the title "free money".
Interested in Maximizing Your ROI?
For more information on how automation can drive success in your shop, contact us to speak with a robotics specialist to learn how to integrate automation into your manufacturing business.