Low cost 3 axis CNC router kit with 4×4 table size (STG1212) is used for flatbed carving and cutting wood furniture, gifts, boxes, models, arts and crafts, signs, logos, jewelry carving, now the best 4×4 CNC router table for sale at an affordable price.
Demonstration Video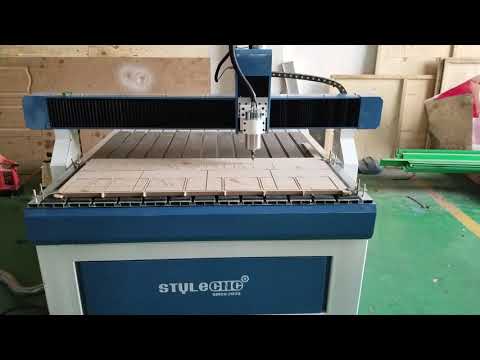 Product Details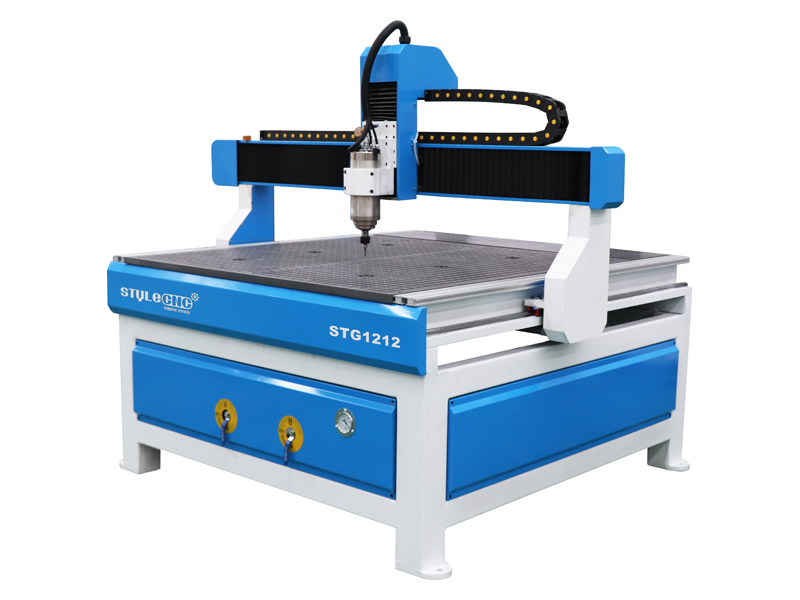 What Is 3 Axis CNC Router?
3 axis CNC router is a type of basic CNC machine with X aixs, Y axis and Z axis, it will go along three different axis at the same time. X-axis will move from left to right, Y-axis will move from front to back, and Z-axis will move up and down. 3 axis CNC machines are used primarily for machining flat, 2D and 2.5D parts. 3 axis CNC router is also known as 3 axis CNC machine, 3 axis CNC cutter, 3 axis CNC carving machine. The functional software behind any CNC machine is its CAD/CAM software. CAD software allows users to create the designs they wish to engrave. After completing this design, the CAM software converts the design into toolpath code that the machine can understand. The computer then converts this code into a signal that controls the movement of the machine's drive system. The drive system includes a spindle, which is the part that saves the actual machine position. The spindle rotates 8,000 to 50,000 times per minute to cut the material. In short, users create designs and use software to make instructions for the machine.
What Is 4×4 CNC Router?
4×4 CNC router is type of automatic hobby CNC machine with 48″ x 48″ (4×4 feet or 1200×1200 mm) table top with DSP controller for small business, home use, or school education. 4×4 CNC router table is suitable for a variety of materials, including wood, plywood, MDF, foam, plastic, stone, copper, brass, and aluminum.
STG1212 is one 4×4 CNC router table kit with 48″ x 48″ (1200mm x 1200mm) table size. Of course, other table sizes can be customized as your requirements, like 2×4, 4×8, 5×10. If you have any 4×4 CNC routing plans or ideas, feel free to tell us.
How Much Does A 4×4 CNC Router Cost?
The average cost to own and operate an entry level 4×4 CNC router with 3 axis in 2022 has soared about 10% since last year to $5,280 due to the rising shipping costs. The prices of professional 4th axis types with 4×4 vacuum table for rotary carving & cutting start from $6080. The high end 4 axis or 5 axis types for 3D machining are priced anywhere from $10,800 to $78,000.
Advantages of 3 Axis CNC Router Machine with 4×4 Table Size
1. Integral cast iron frame, more durability.
2. TBI motion linear guide with high precision to ensure the machine frame much stability and durability.
3. High accuracy rolling ball screw from Taiwan TBI to ensure the machine frame with better precision.
4. DSP Handle controlling, not occupying computer resource, one computer can control several equipment.
5. Be compatible with various CAD/CAM software such as Type3, ArtCAM, Casmate, Artcut.
Technical Parameters of 3 Axis CNC Router Machine with 4×4 Table Size
| | |
| --- | --- |
| Brand | STYLECNC |
| Model | STG1212 |
| Table Size | 4′ x 4′ |
| Working Area | 1200x1200x120mm |
| Traveling Positioning Accuracy | ±0.03/300mm |
| Repositioning Positioning Accuracy | ±0.02mm |
| Lathe Structure | Welded Structure |
| Frame | Welding Steel |
| X, Z Structure | Ball Screw |
| Y Structure | Hiwin Rail Linear Bearings and Ball Screw |
| Max Power Consumption | 6.5Kw |
| Max Rapid Travel Rate | 8000mm/min |
| Max Working Speed | 6000mm/min |
| Spindle Power Motor | 2.2kw water cooling spindle |
| Spindle Speed | 0-24000RPM |
| Drive Motors | Stepper System |
| Working Voltage | AC220V/50/60Hz |
| Command Language | G code |
| Operating System | RichAuto A11 DSP control system |
| Interface | USB |
| Flash Memory | 128M (U Disk) |
| Collet | ER20 |
| X, Y Resolution | <0.01mm |
| Software Compatibility | Artcut Software (Option: Type3 software, Ucancam software) |
| Packing Size | 1950*1730*1570mm |
| Net Weight | 450KG |
| Gross Weight | 560KG |
| Price Range | $3,680.00 – $4,500.00 |
4×4 CNC Router Table Applications
Woodworking: Redwood classical and antique furniture, wood carving, gifts wooden box, redwood jewelry boxes, ink-stone cutting, decorative products sculpture, fine jewelry carving.
Mold Making: relief carving, shadow engraving, open carving, plane carving, cutting, washing and other effects.
Advertising: advertising signs, pvc boards, front plates, two-color boards, logo production, acrylic cutting, blister molding, large-character cutting, sign production, cutting PVC, crystal plates, acrylic, LED/neon grooves, hole shapes literal cutting, blister light box mold making.
Stone: natural marble, granite, artificial stone, tombstone, milestones, ceramic tiles, glass and other materials with 2D/3D relief and line carving, cutting, chamfering, drilling.
Crafts: It can be used for carving various exquisite patterns and characters on wood, bamboo, artificial marble, organic board, two-color board, crystal and other materials.
Others: It can also be used in portraits, landscapes, calligraphy lettering, seal carving and other plane surface carving, basso-relieve.
4×4 CNC Router Table Features
1. Integrally welded lathe bed, solid and stable, high rigidity and long service time.
2. High accuracy ball screw ensures more stable movement and high accuracy.
3. Aluminum decorated appearance, beautiful shape and magnificent looking.
4. Water cooling brushless spindle, low noise, vigorous cutting strength and long time mass processing.
5. Dismountable machine, lathe bed and supporting stand can be separated. easier for transport.
6. 3mm wall thick alumimiun working table with strong bending strength and loading capacity.
7. The 4×4 CNC machine can run smoothly at high speed, high accuracy and with returning precision of<0.05mm.
4×4 CNC Router Kit Main Parts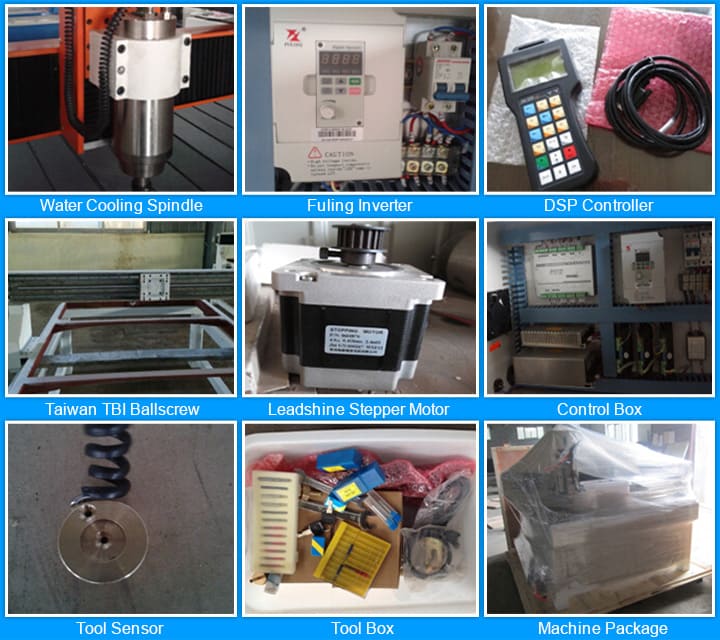 4×4 CNC Router Kit Optional Parts
3 Axis 4×4 CNC Router Machine Projects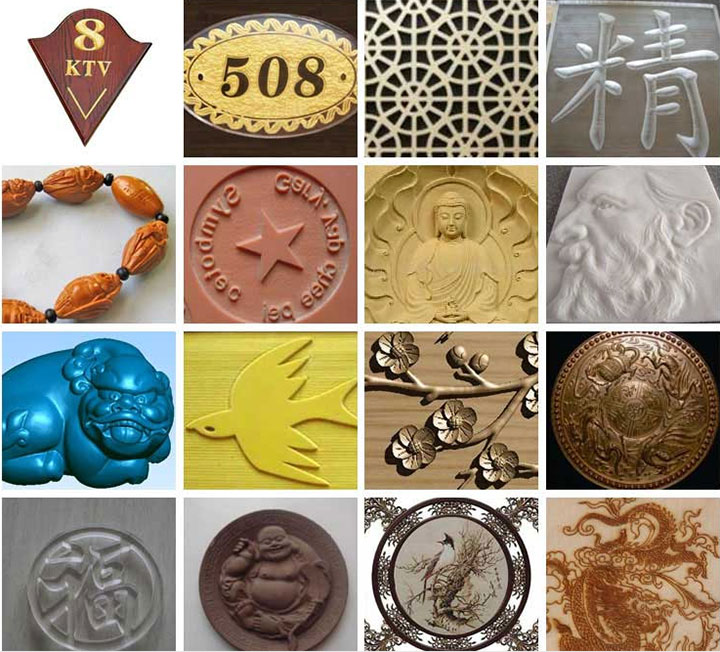 3 Axis 4×4 CNC Router Machine Packing & Shipping
1. Whole film packing machine.
2. Anti-collision package edge.
3. Fumigation-free plywood wooden box with an iron-binding belt.
4. According to the custpmer's requirements for loading the whole container or LCL.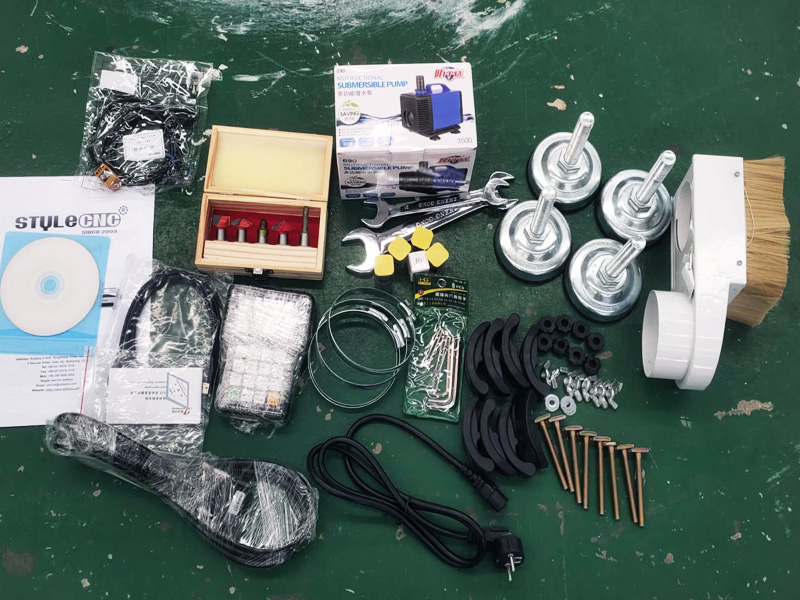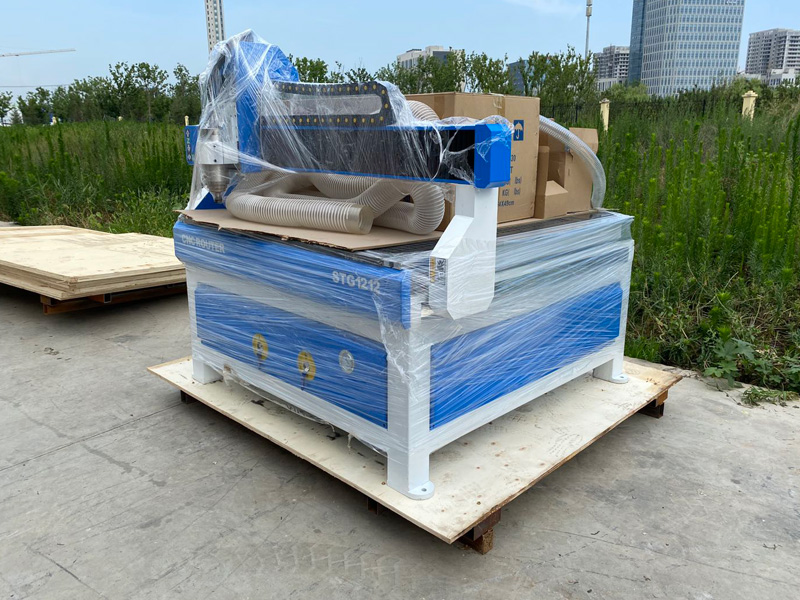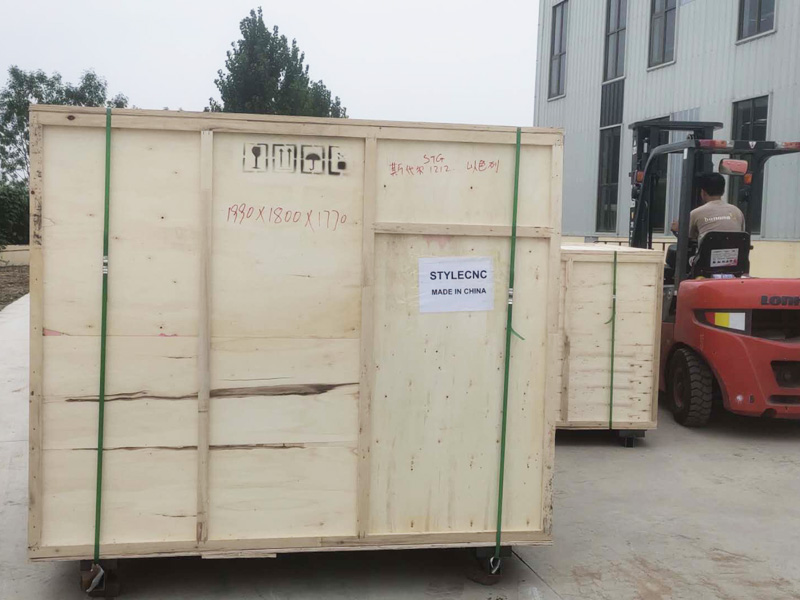 Service & Support for 4×4 CNC Router Table Kit
1. 24 months quality guaranty for the machine main parts, excluding the consumables, such as water pump, air pump, exhaust fan, etc. shall be changed free of charge when if any problem during the warranty period.
2. Lifetime maintenance free of charge.
3. Free training course at our plant.
4. Manual of video with machine teach the client how to setup, test, operate and maintain, also supply the specifications setting for speed and power to cut various materials.
5. Life long tech support by calling, mail or web camera.
Care and Maintenance for 4×4 CNC Router Table Kit
1. The continuous operation time is less than 10 hours per day to ensure the cleanliness of the cooling water and the normal operation of the water pump. Never cause water shortage in the water spindle motor. Replace the cooling water regularly to prevent excessive water temperature. If the working environment temperature is too low in winter, the water in the water tank can be replaced with antifreeze.
2. Every time the machine is used, pay attention to cleaning. Be sure to clean up the dust on the platform and transmission system, and lubricate the transmission system (X, Y, Z axis) regularly (weekly). (Note: The X, Y, Z three-axis polished rods are maintained with engine oil; the screw part is added with high-speed butter; if the working environment temperature is too low in winter, the screw and polished rods (square rail or round rail) should be washed and cleaned with gasoline first , And then add oil, otherwise it will cause excessive resistance in the transmission part of the machine and cause the machine to misalign.)
3. For maintenance and inspection of electrical appliances, the power supply must be cut off, and only after the monitor has no display and the main circuit power indicator light goes out.
When the CNC machine does not work normally, it may be due to a problem with its internal components or other reasons. The following is a general introduction to the frequently occurring problems.
1. One of the three axes cannot be moved. At this time, check whether the drive block corresponding to the corresponding axis is damaged. The inspection method can use the replacement method: unplug the aviation plug corresponding to the fixed shaft and plug it into the drive corresponding to the other active shaft.
2. If the immovable shaft moves normally after the exchange, it can indicate that the drive block corresponding to the shaft has been damaged and the drive block needs to be replaced. If the shaft does not move, it means that the cable or motor is faulty. Replace the cable or motor. None of the three axes can move. At this time, check whether the three-axis aviation plug has been connected to the control box and whether the power of the control box has been turned on. Whether the data line is well connected with the control box and the control card in the host computer. If the above is normal, please contact the factory.
3. The spindle cannot run normally, first check the error code displayed on the LED display of the inverter.
3 Axis VS 4 Axis VS 5 Axis
Three-axis CNC machining: generally refers to three axes that move linearly in different directions, such as up and down, front and back, left and right. Three-axis can only process one surface at a time, which is suitable for processing some disc parts.
Four-axis CNC machining: Add a rotation axis to the three axes, generally 360°rotation in the horizontal plane. But it cannot rotate at high speed. Suitable for processing some box parts.
Five-axis CNC machining: There is one more rotating axis above the four-axis, generally 360°rotation on the vertical surface. The five-axis can already be fully processed and can achieve one-time clamping, which can reduce clamping costs and reduce product scratches. It is suitable for processing some multi-station pores and planes, and parts with high machining accuracy requirements, especially parts with strict requirements on shape machining accuracy.
Although the advantages of five-axis compared with four-axis and three-axis are very prominent, not all products are suitable for five-axis processing, and those suitable for three-axis processing are not necessarily suitable for five-axis processing. If you use products that can be processed by three-axis The five-axis machining will not only increase the cost, but the effect is not necessarily good. Only by making reasonable arrangements and developing suitable machine tools for the product can the value of the machine itself be brought into play.
FAQs for 3 Axis CNC Router Machine with 4×4 Table Top
1. How can I get the best 4×4 CNC router table?
You can tell us your working materials details work by picture or video, so that we can judge if our 3 axis CNC machine can meet your need or not. Then we can give you the best model depends on our experences.
2. This is the first time to use such a 4×4 CNC machine, is it easy to operate?
We will send you manual and guide video in English, which can teach you how to operate the 4×4 CNC machine.
3. The model is not suitable for me, do you have any other models available?
Yes, we can provide you many models, such as 4th axis types, 4 axis types, 5 axis types, 4×8 types, 5×10 types, and so on.
4. How can I know if the 4×4 CNC router kit is suitable for me ?
What materials do you want to carve?
Different types of 3 axis CNC machine will meet different materials.
What's the max size of your material? (Length*Width*Thickness)
Once you tell me this information of your material, then I'll recommend you the most suitable 4×4 CNC machine and the best price for you. And we can also customize one 3 axis CNC machine for you or send you a solution.
International Shipping Around the World
All the CNC routers can be shipped worldwide by sea, by air or by international express logistics via DHL, FEDEX, UPS. You are welcome to get a free quotation by filling up the form with name, email, detailed address, product and requirements, we will shortly contact you with the full information including the most suitable delivery method (fast, secure, discreet) and freight.