Looking for a laser marking system for mass production with diversified and complex projects? Review this guide to 2022 best laser marking machine with CCD visual positioning system. You will get an affordable fiber laser engraver with best budget.
Demonstration Video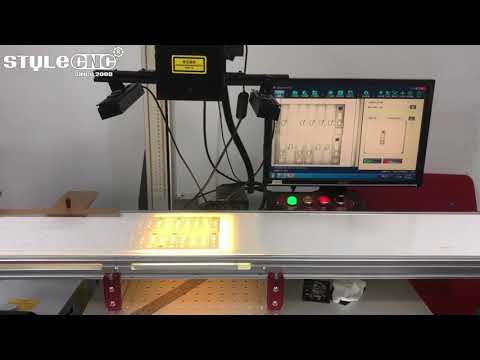 Product Details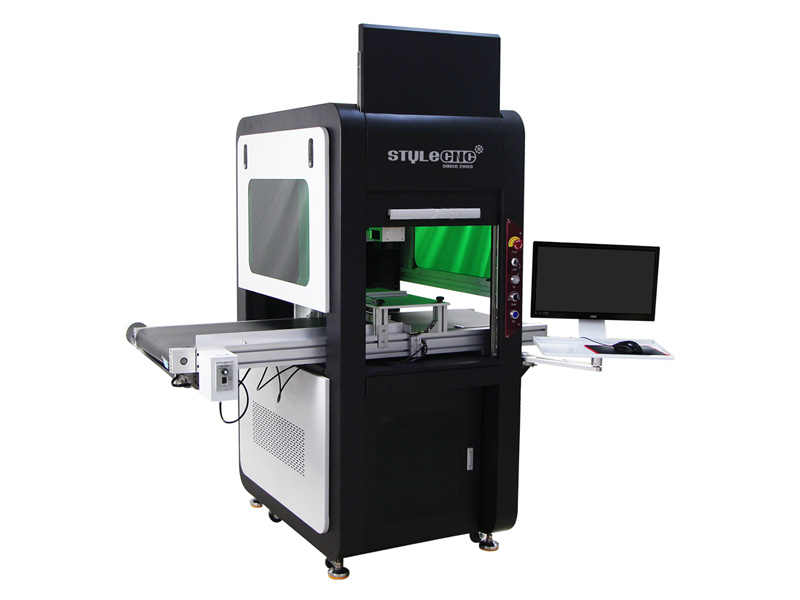 What Is Laser Marking Machine?
Laser marking machine is an engraving system that generates a high-energy continuous laser beam by a laser generator. The focused laser acts on the printing material to instantly melt or even vaporize the surface material. By controlling the path of the laser on the surface of the material to form the required graphic marks.
What Is CCD Visual Positioning System?
CCD visual positioning system is a visual motion control system developed for the needs of higher precision camera positioning identification, marking, engraving or cutting. It has the characteristics of high precision and high stability. It is mainly used in laser marking, engraving and cutting machines. At the same time, the system can also be used as an ordinary laser motion control system. CCD visual positioning system is a high-tech product used for industrial detection and identification. The core issue of production is the selection of industrial computer system, which can collect high-definition images of processed products and directly transmit them to the GPIO interface of the machine.
Due to the rapid development of digital image processing and computer vision technology, more and more researchers have adopted cameras as the perception sensors of fully autonomous mobile robots. This is mainly because the original ultrasonic or infrared sensors have limited amount of information and poor robustness, while the visual system can make up for these shortcomings. The real world is three-dimensional, while the image projected on the camera lens (CCD/CMOS) is two-dimensional. The ultimate goal of visual processing is to extract relevant three-dimensional world information from the perceived two-dimensional image.
How Does CCD Visual Positioning System Work?
Due to the rapid development of digital image processing and computer vision technology, more and more researchers have adopted cameras as the perception sensors of fully autonomous mobile robots.
The filter-based positioning algorithms of CCD visual positioning system mainly include KF, SEIF, PF, EKF, and UKF. The method of combining monocular vision and odometer can also be used. Using the odometer reading as auxiliary information, the coordinate position of the feature point in the current robot coordinate system is calculated by triangulation. The three-dimensional coordinate calculation here needs to be carried out on the basis of a delay of one time step.
2022 Best Laser Marking Machine with CCD Visual Positioning System Advantages
1. The products' position and angle can be freely placed on conveyor belt, the CCD vision system automatically captures without fixture positioning, and automatically marking.
2. The visual positioning system enlarge the marking area and solves the accuracy problem of the small parts.
3. Adopts a coaxial CCD camera, the marking position is accurate, without missing or re-marking.
4. It can be equipped with assembly line or other automatic loading and unloading mechanism to realize automatic marking.
5. Especially suitable for product processing such as heavy workload, difficult feeding positioning, and diversified and complex workpieces.
Applications of 2022 Best Laser Marking Machine with CCD Visual Positioning System
This fiber laser marking machine is especially suitable for marking on ultra high-precision and valuable parts which is not easy to be positioned by hand, it can identify the shape and marking area of the object in the software. lt's widely suitable for all kinds of metals, aluminum, aluminum alloy, deep carved metal, hard plastic and many sensitive materials and PVC. Especially good for marking IC chips, circuit boards, resistors, small capacitors, metal buttons, pens, etc.
Best applied for assembly line that need productivity and high precision industries, such as electronic parts, communication, medical equipment, precision mechanics, gold industry, metal buttons, stationery and many other industries.
Technical Parameters of CCD Visual Positioning Laser Marking System
| | |
| --- | --- |
| Model | STJ-50F |
| Laser Power | 50W |
| Laser Wavelength | 1064nm |
| Fiber Cable Length | 3m |
| Pulse Width | 200ns |
| Repetition Frequency Range | 1-600kHz |
| M2 | <1.8 |
| Max Single Pulse Energy | 1.25mJ |
| Laser Power Stability | <5% |
| Laser Beam Diameter | 7±1mm |
| Power Range | 10% – 100% |
| Marking Range | 110*110mm/175*175mm/200*200mm/300*300mm |
| Minimum Line Width | 0.01mm |
| Minimum Character | 0.1mm |
| Marking Speed | ≤7000mm/s |
| Marking Depth | Depend on materials |
| Repeatability Accuracy | ±0.001mm |
| Marking Format | Graphics, text, bar codes, QRcode, automatically date, batch number, serial number. |
| Graphic Format Supported | ai, plt, dxf, dst, svg, nc, bmp, jpg, jpeg, gif, tga, png, tiff, tif |
| Working Voltage | 220V±10%/50Hz or 110V±10%/60Hz or Customized |
| Unit Power | <0.5kw |
| Working Environment | Clean and dust free or dust less |
| Working Condition Humidity | 5%-75%, 0-40 degree, free of condensed water |
| Laser Lifetime | >100000 hours |
| Net weight | 230 kgs |
| Packing Size | 1230*950*1800mm |
Details of CCD Visual Positioning Laser Marking System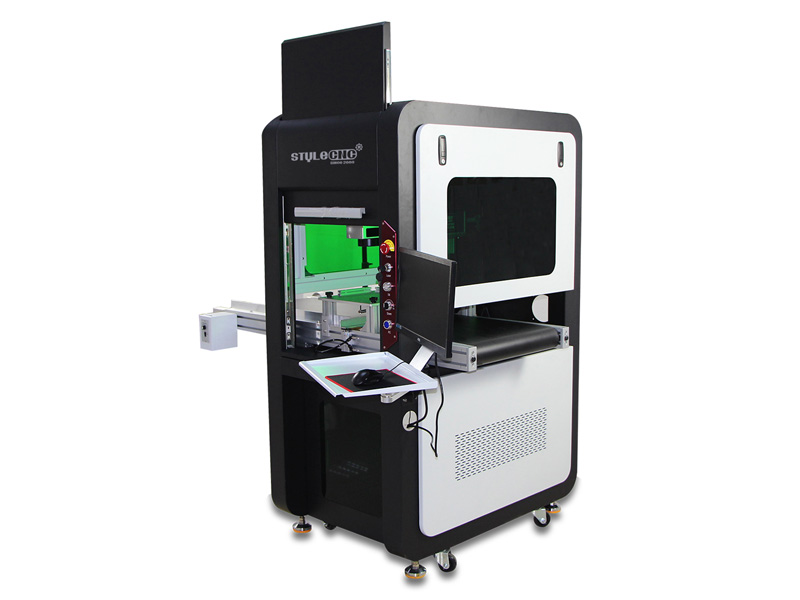 Enlosed fiber laser marking system with X axis table: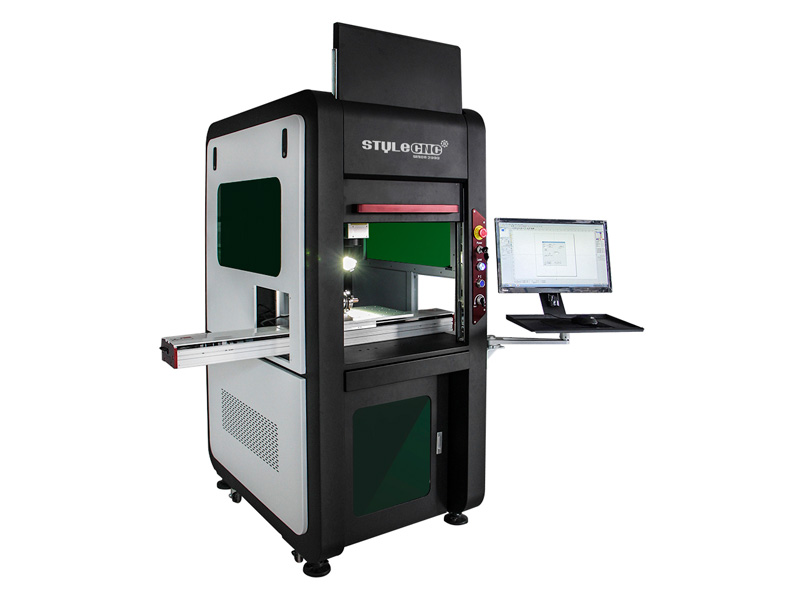 Enlosed fiber laser marking system without conveyor belt: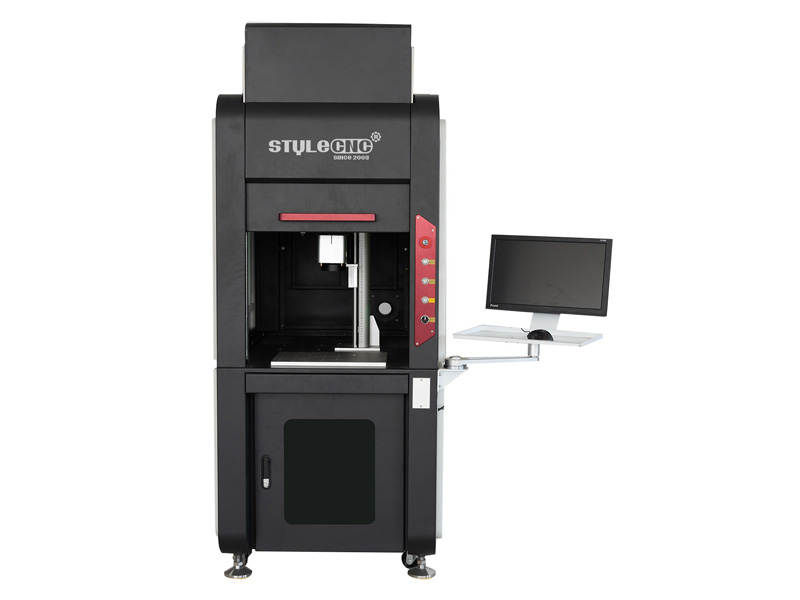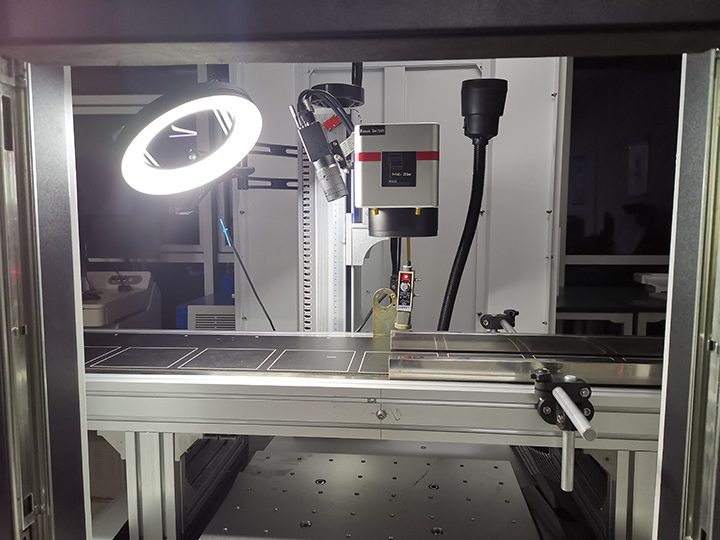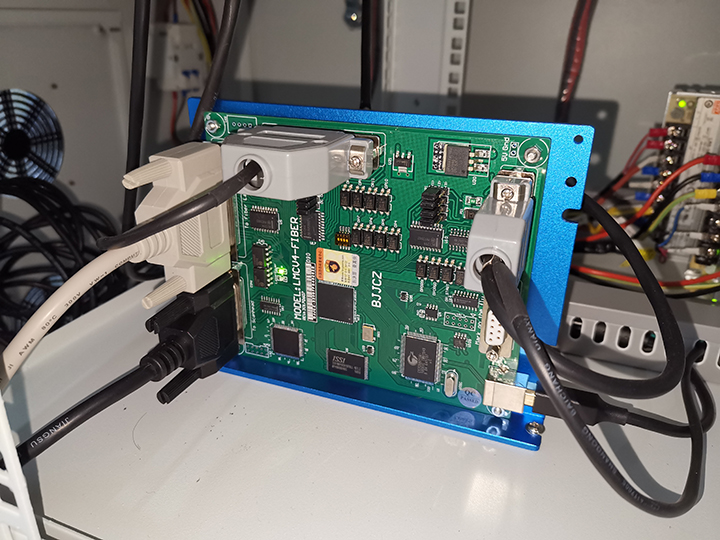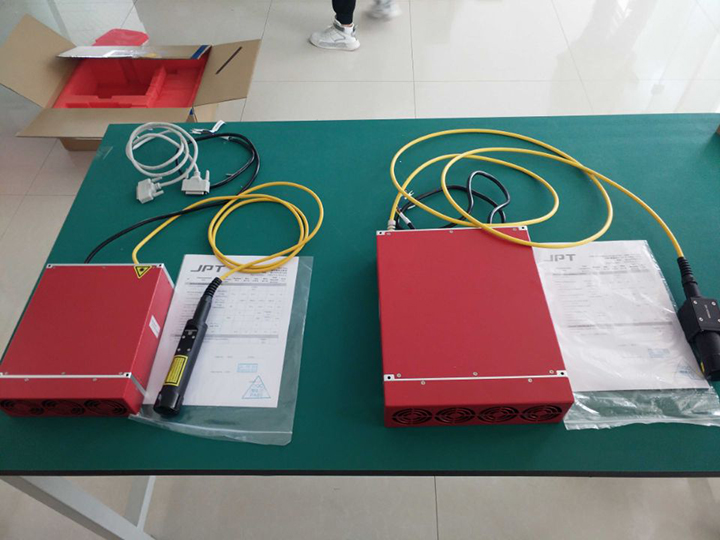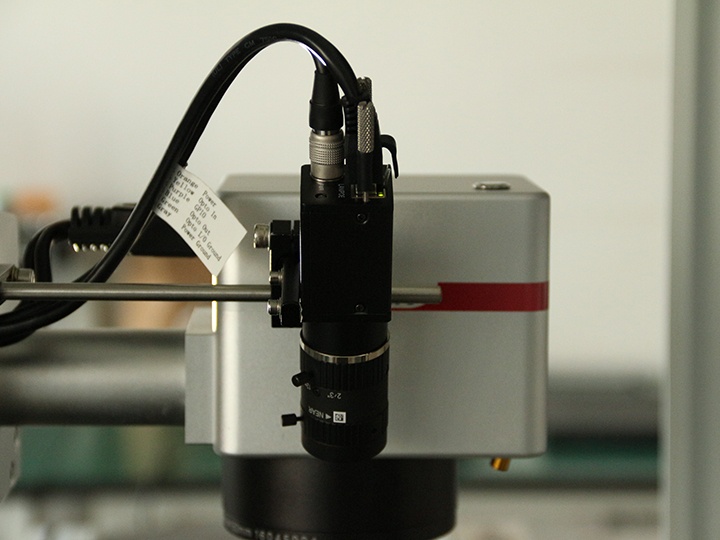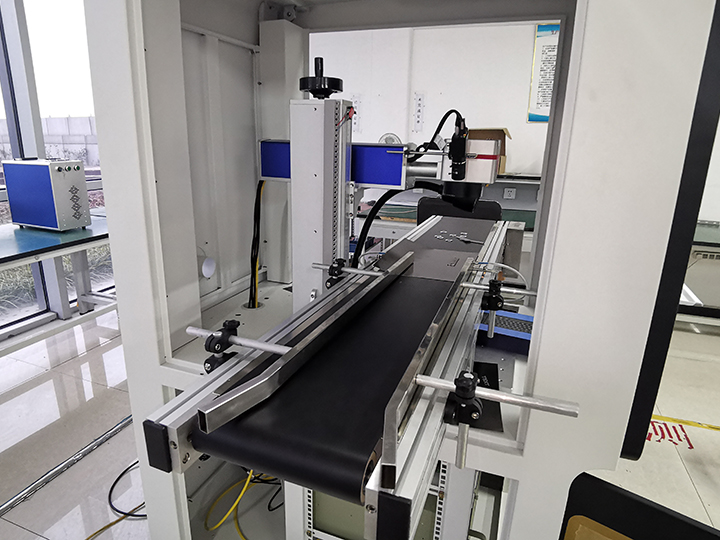 CCD Visual Positioning Laser Marking Machine Projects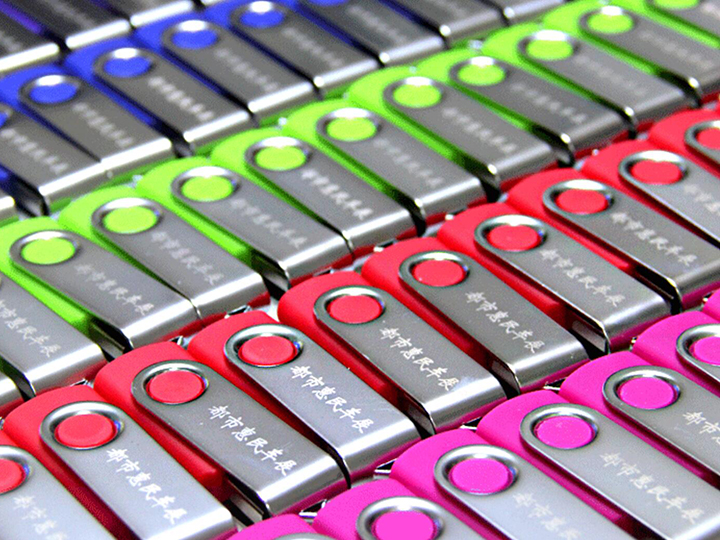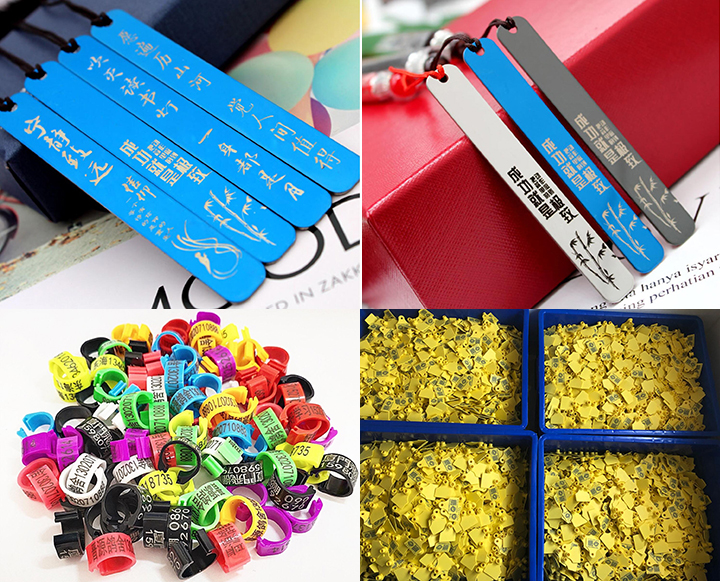 International Shipping Around the World
All the CNC laser machines can be shipped worldwide by sea, by air or by international express logistics via DHL, FEDEX, UPS. You are welcome to get a free quotation by filling up the form with name, email, detailed address, product and requirements, we will shortly contact you with the full information including the most suitable delivery method (fast, secure, discreet) and freight.
Customer Reviews and Testimonials
Brad Sparks

from United States

I must say I really like ordering with STYLECNC, the laser marking machine for metal was great right out of the box, i was up and running in 18 mins, We are constantly finding new projects for it all the time. It gets an A for value. I'd give it an A for simplicity once set up. It could use a larger work space. And a few more features.

William McGough

from United States

We ordered this laser metal marking machine to mark parts for our company. STYLECNC provided me with tracking info for the shipment when requested. Received the laser two days early. Very Impressed with the quality. Very well built. Having not used one before I contacted the seller for help and was up and running. Beautiful marking and easy to use. Can't beat the price. Reliable seller. No worries here!

Hermann

from Germany

The STJ-50F makes a super solid impression and has performed the tasks so far with bravura. All quiet, good quality, recommend the laser marking machine to everyone.