3D robotic laser cutting machine with 1000W, 1500W, 2000W, 3000W fiber laser source is an industrial 5 axis laser cutter robot from ABB for flexible 3D dynamic metal cut of multi-dimensional and multi-angle. The 3D laser metal cutter with robotic arm is used in 3D curved metal parts, metal tubes, auto parts, kitchenware, electronic components. Now the best 3D laser metal cutting system for sale at affordable price.
Demonstration Video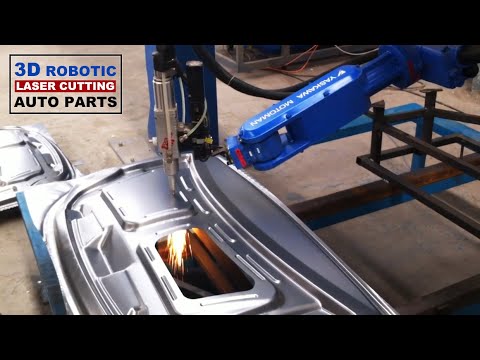 Product Details
What Is 3D Laser Cutting Robot?
3D laser cutting robot is a type of 5 axis laser cutting system with industrial robotic arm, fiber laser generator and cutting head, high precision tracking system for flexible sheet metal & tube cut of different thicknesses with multi-directional and multi-angle.
You can choose different fiber laser powers according to the thicknesses of the metal sheets. The power supply of 3D fiber laser generator includes 1000W, 2000W, 3000W and other specifications. Different cooling systems are equipped for lasers of different powers to ensure the normal operation of the lasers. At the same time, according to the working radius of the manipulator and the size of the part to be cut, an appropriate length of optical fiber transmission laser should be selected to meet your cutting requirements. The auxiliary gas used for the 3D robotic fiber laser cutting machine is 99.99% oxygen, which will greatly improve to the cutting accuracy, speed and cutting section effect.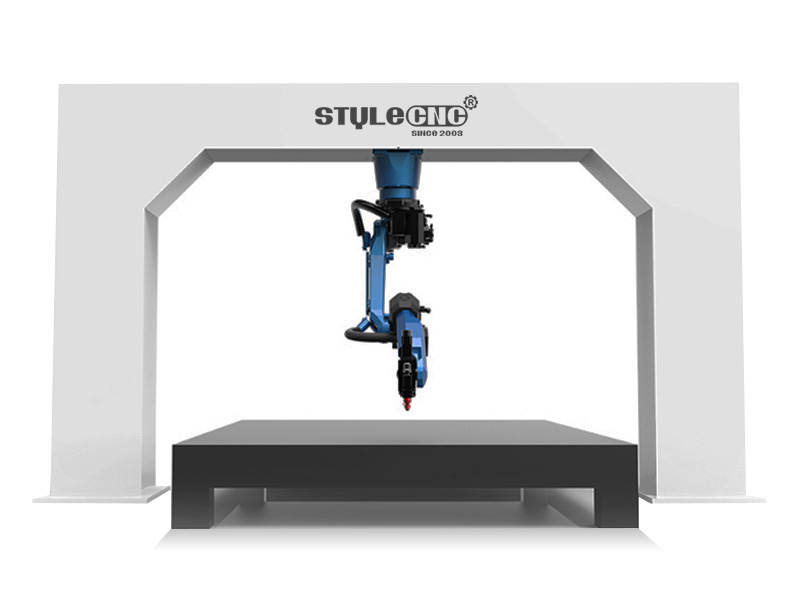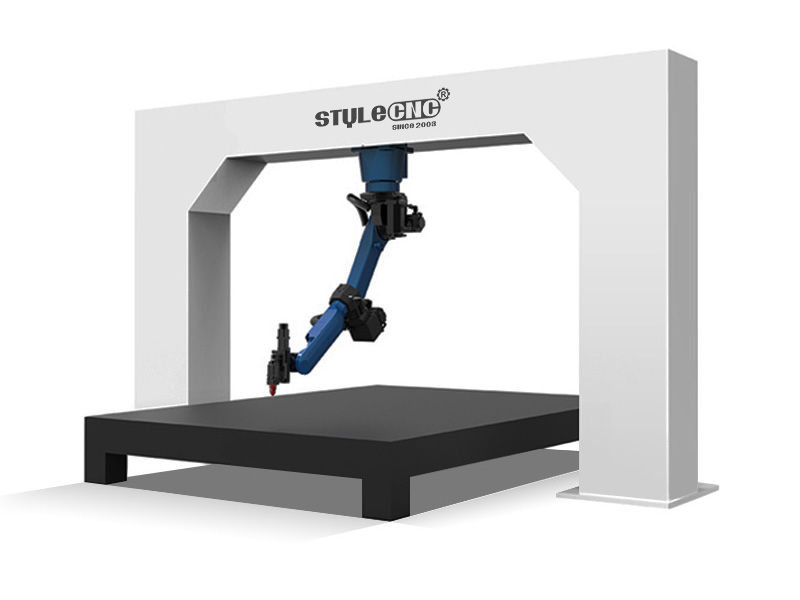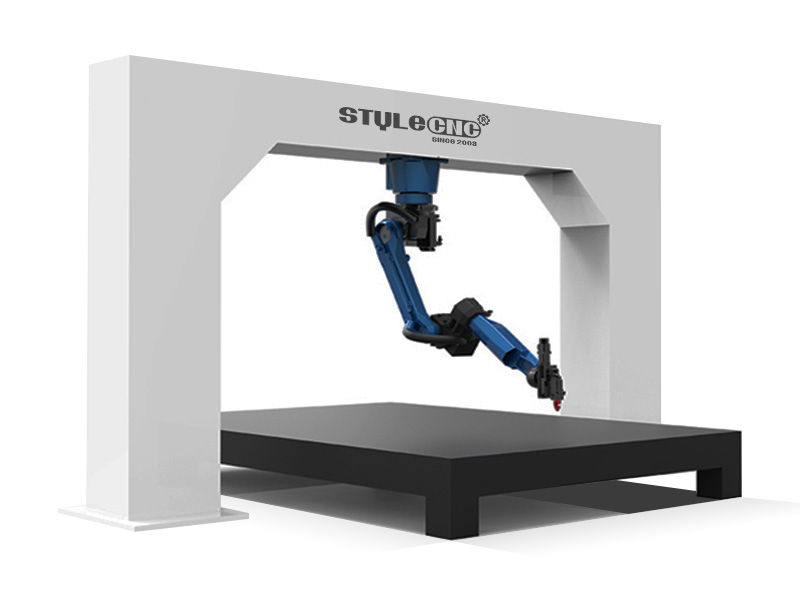 Advantages of Industrial 5 Axis 3D Robotic Laser Cutting Machine for Metal with Fiber Laser Source
The ABB industrial robotic arm from Japan will assist the 3D laser cutting machine to make flexible 3D dynamic cutting of multi-dimensional and multi-angle for metals with different thickness.
1. The 3D laser cutting machine is perfectly integrated with the world famous ABB industrial robot and fiber laser cutting technology, which can realize the maximizing automated production. It will represent the supreme laser cutting technology.
2. 5 axis or 6 axis co-ordination makes a large working area, which will reach a long distance, in addition, it has great ability of spanning and high load-bearing capacity to ensure the cutting process along 3D path within the working space.
3. Due to slim robot wrist and the compact structure, so the 3D robotic laser cutting machine can realize high performance operation in a limited space.
4. Laser cutting speed can be adjusted to achieve the best machining precision with high yield.
5. Long lifespan, long routine maintenance intervals, low-noise.
6. The robotic arm can be controlled by handheld terminal.
7. Packaging, handling, welding and other functions can be realized by changing hardware and modifying the program.
Technical Parameters of Industrial 5 Axis 3D Robotic Laser Cutting Machine for Metal
| | |
| --- | --- |
| Model | ST-18R |
| Laser Source | Raycus (IPG, MAX, RECI for Option) |
| Laser Power | 1000W (1500W, 2000W, 3000W for Option) |
| Laser Wavelength | 1080nm |
| Robot | FANUC Robot |
| Driving System | Japan Yaskawa Servo Driver |
| Laser Head | Raytools 3D Laser Head |
| Repeated positioning accuracy | 0.05mm |
| Graphic Format Supported | AI, PLT, DXF, BMP, DST, DWG, LAS, DXP |
| Installation | Floor stand/ Inversion type / wall-mounted |
Auxiliary System for Industrial 3D Robotic Laser Cutting Machine
| | |
| --- | --- |
| Cooling system | Dual-temperature with purification system chiller |
| Laser source cooling system | Air conditioning |
| Auxiliary gas system | Three gas source dual-pressure gas |
| Laser cutting head | Capacitive follow-up focus |
Features of Industrial 5 Axis 3D Robotic Laser Cutting Machine for Metal with Fiber Laser Source
1. Laser source: High-performance fiber lasers, high efficiency, low cost of comprehensive use.
2. The cutting head is equipped with robots from ABB, the world-renowned robot brand. The robot is agile, powerful and built-in quick move. It can improve the path precision and shorten the beat time. The robot software can detect the internal load of the robot effectively. Overload, extended service life, flexible integration, flexible production, it can only control, compact and efficient.
3. 3D laser cutting head: Optional use of the international top brands of 3D laser cutting head, which will realize the laser beam always in the focus position to ensure the cutting effect. It offers standard with the same cutting capacity of homemade laser cutting head, more economical and more affordable.
4. Auxiliary blowing system: The system integrates high pressure air, nitrogen, oxygen three gas source structure with high and low pressure conversion gas path.
5. Lubrication system: The 3D robotic laser cutting machine is equipped with manual lubrication system to reduce the wear of moving parts and ensure the movement speed of the whole laser machine.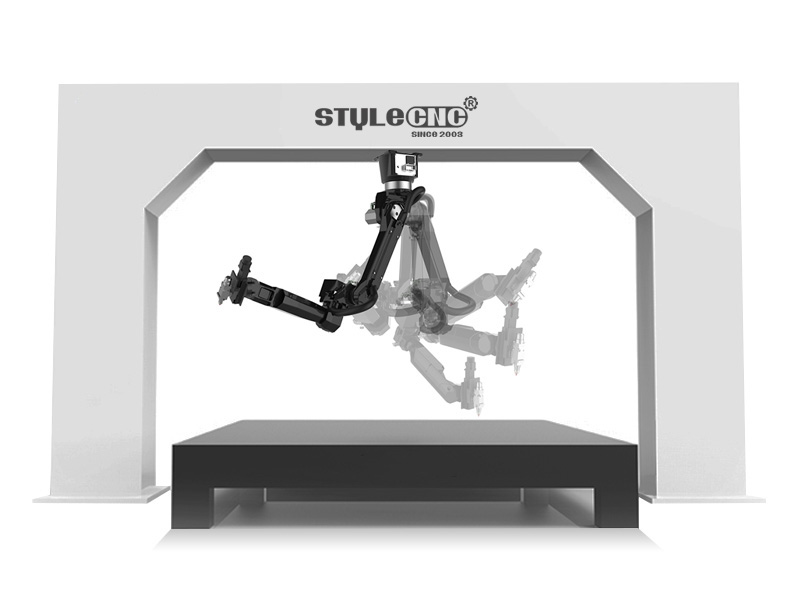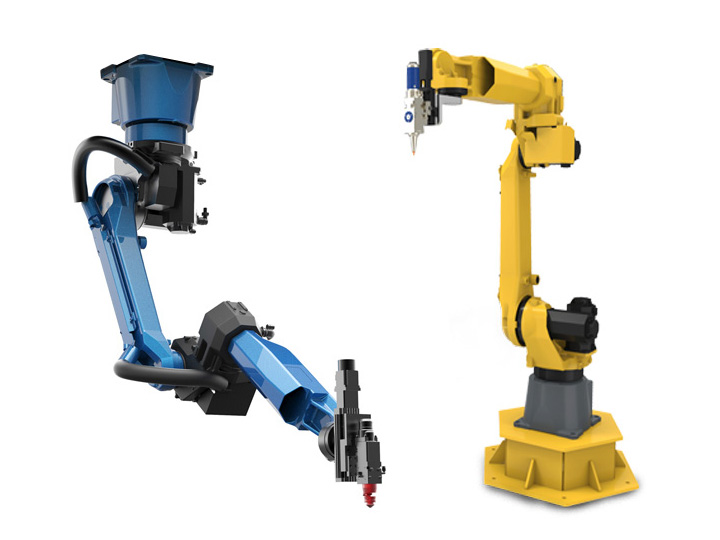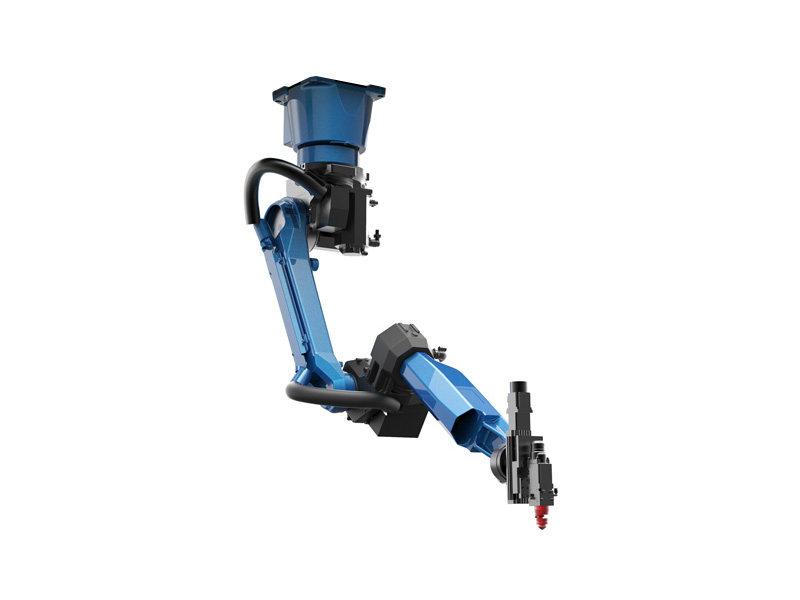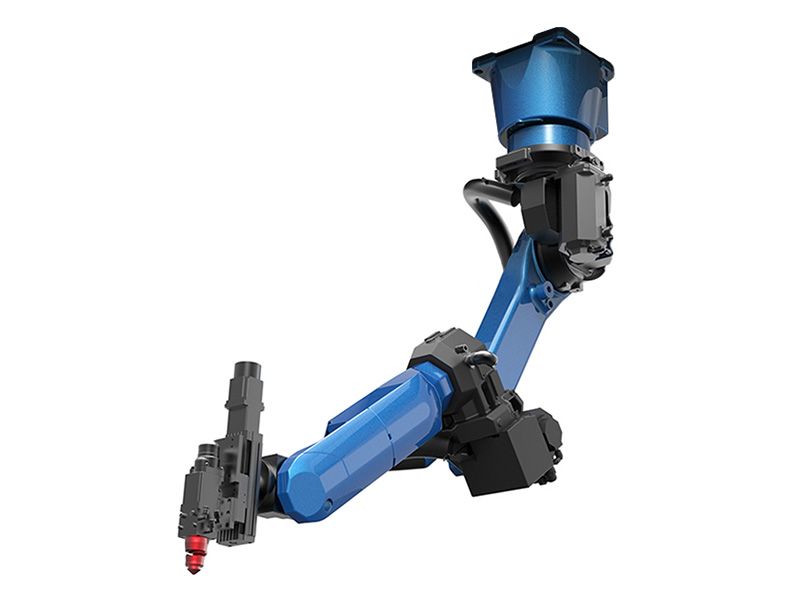 Applications of Industrial 3D Laser Cutting Machine with Robotic Arm for Metal
3D robotic metal laser cutter is available for metal cutting and molding of carbon steel, stainless steel, mild steel, aluminum, alloy, copper, iron, brass with advantage of High speed, High precision, High efficiency and High cost performance. This 3d laser cutting machine is the first considering metal cutting machine for metal working industry.
3D robotic laser metal cutting machine can be used for different profiles, including 3d curved metal parts, round tubes, square tubes, rectangular tubes or triangular tubes, oval pipes, H beam or D-type.
3D robotic 5 axis laser cutting machine is widely used in electronic components, automotive parts, aerospace technology, aircraft manufacturing, rocket manufacturing, robot manufacturing, elevator manufacturing, ship manufacturing, sheet metal cutting, kitchenware, cooling and ventilation pipes, sports industry, metal signs and other metal parts processing industry, sports industry.
5 Axis 3D Fiber Laser Cutting Machine with Robotic Arm for Metal Projects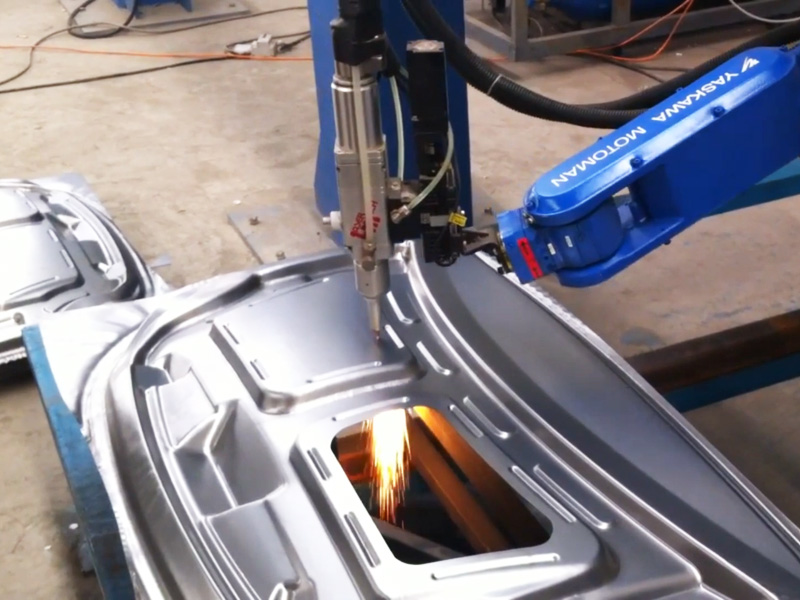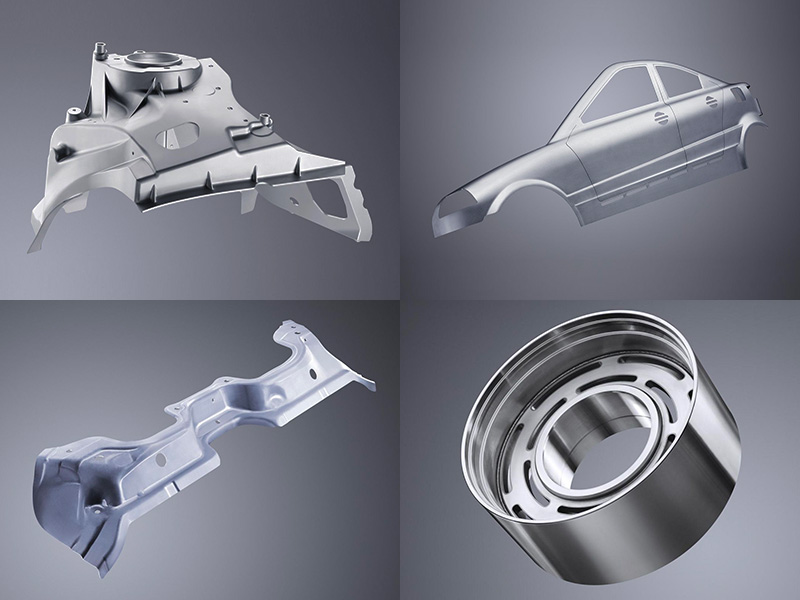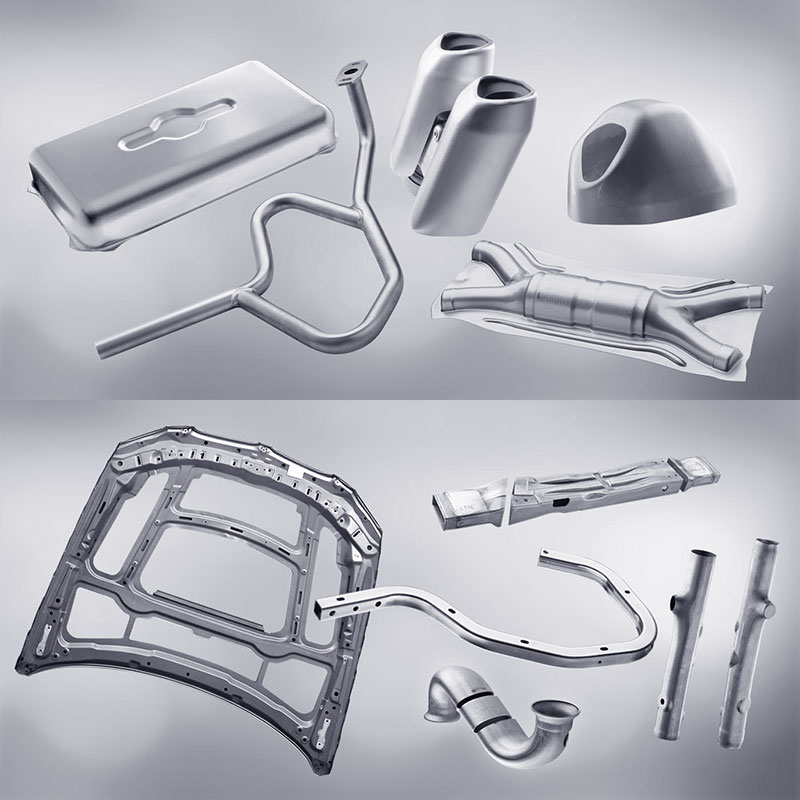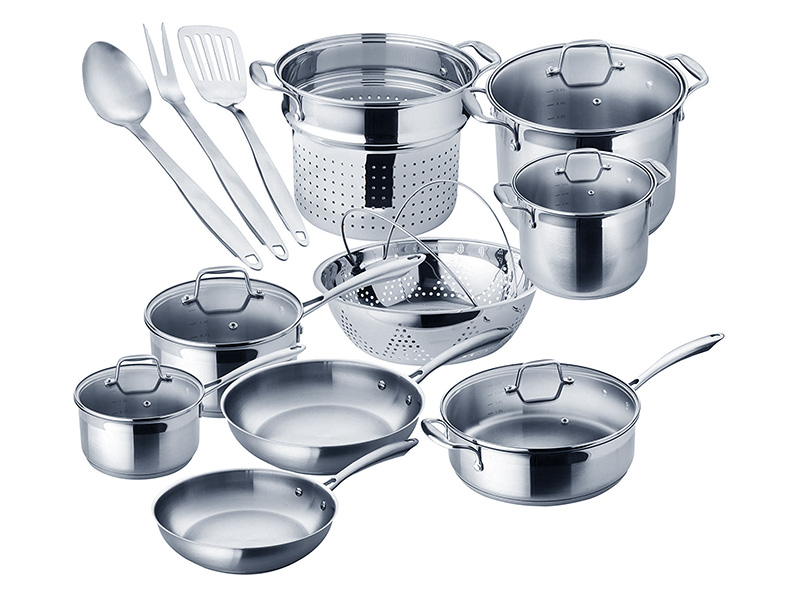 Pros & Cons
• Replace the 5 axis CNC machine with an industrial laser cutting robot, both of which can describe the spatial trajectory and realize 3D cutting. The repetitive positioning accuracy of industrial robots is slightly lower than that of 5 axis CNC machines, about ±100 μm, but this can fully meet the accuracy requirements of the automotive sheet metal cover and chassis industries.
• Compared to traditional lasers, fiber lasers have better cutting quality, lower costs, longer service life, lower maintenance costs, and lower power consumption. In addition, fiber laser can be transmitted through the optical fiber, which is convenient to connect with industrial robots and realize flexible cutting.
• The combination of industrial robot + fiber laser is used for cutting, trimming and punching and other processes are finished at one time, and the incision is neat and does not require subsequent processing, which greatly shortens the process flow, reduces labor costs and mold costs. Also improve the product grade and added value. Optional offline programming software can directly generate cutting trajectory through numerical simulation, abandoning complicated manual teaching, which is more suitable for the small batch and multi-batch maintenance market, new product trial production and non-standard customization and other personalized cutting needs.
• The perfect fusion of advanced fiber laser technology and digital control technology represents the most advanced level of laser cutting. The professional laser cutting control system and computer operation can ensure the cutting quality, make the cutting work more convenient and the operation easier. Equipped with intelligent manipulator, it can realize 3D cutting, easy to control, high degree of intelligence, and ensure the high speed, high precision and high reliability of the machine. The fiber laser cutting head is sensitive and accurate in response, and effectively cooperates with the manipulator, which can avoid the collision between the cutting head and the cutting metal, and can ensure the cutting focus position and ensure the stable cutting quality. The laser cutting head can withstand 1.0MPa gas pressure, and the high-pressure gas circuit equipment improves the cutting ability of difficult-to-cut materials such as stainless steel.
• The Cons of the machine is that it can only cut metal parts, but cannot cut non-metal parts. This is because the fiber laser used in this system has a wavelength of 1064nm, which is not easily absorbed by non-metallic materials compared to the CO2 laser with a wavelength of 1064nm.
Warranty and Service for Industrial 5 Axis 3D Robotic Fiber Laser Cutting Machine for Metal
1. 2 years warranty for the fiber laser source and other parts without consumable parts.
2. Life-long maintenance.
3. Except the damage artificially, we are responsible for offering the fittings free of charge during the warranty period.
4. After the warranty period expired, the buyer only need to pay the actual maintenance cost.
5. Manuals and CD along with machine, 24/7 one-to-one free service and support with Whatsapp, Skype, Email, Phone or Online Live Chat. It is available for door-to-door training and installation.
International Shipping Around the World
All the CNC laser machines can be shipped worldwide by sea, by air or by international express logistics via DHL, FEDEX, UPS. You are welcome to get a free quotation by filling up the form with name, email, detailed address, product and requirements, we will shortly contact you with the full information including the most suitable delivery method (fast, secure, discreet) and freight.