Do you want to make custom jewelry and personalized jewelry for your home shop, small business, industrial manufacturing or getting started a new business to make money? A laser engraver or a laser cutter can help you to complete your custom jewelry making plans, ideas and projects. Whether you need to DIY personalized couple's jewelry, necklaces, rings, bracelet, wedding bands, pendant, antique, locket, tag, jewelry gift or jewelry box with signature, letter, number, name, pattern or picture, a laser engraving cutting machine will make a personalized jewelry in minutes.
A jewelry laser cutter is a type of precision fiber laser cutting machine for making personalized rings, earrings, bracelets, pendants, cufflinks, brooches, necklaces, and other personal ornaments with gold, silver, copper, brass, aluminum, titanium, magnesium, or stainless steel.
A jewelry laser engraver is a CNC jewelry engraving kit (computerized jewelry engraving machine) for etching all kinds of custom jewelries with high speed, high quality, and high precision instead of hand made methods. This article will guide you three most common types of laser engravers for jewelry making. If you want to buy a custom jewelry making machine, please start to review now.
Table of Contents
| | | |
| --- | --- | --- |
| Jewelry Engraver Cutter Types | Price Range | Jewelry Materials |
| Fiber Laser Cutter | $14,200.00 to $18,500.00 | Metals (Gold, Silver, Brass, Copper, Stainless steel, Titanium, Aluminum, Magnesium) |
| Fiber Laser Engraver | $2,900.00 to $28,500.00 | Metals (Silver, Gold, Stainless Steel, Copper, Brass, Aluminum, Titanium) |
| CO2 Laser Engraver | $2,600.00 to $7,200.00 | Nonmetals (Wood, Stone, Acrylic, Silicon, Wafer, Zircon, Ceramic, Film) |
| UV Laser Engraver | $6,400.00 to $30,000.00 | Crystal, Glass, Plastic |
Fiber Laser Engraver for Jewelry
Fiber laser engraver is also known as fiber laser engraving machine, fiber laser marking machine, fiber laser stippling machine, which is a laser marking system with fiber laser generator for custom metal jewelry engraving. A fiber laser jewelry engraving machine is suitable for all kinds of popular metal materials, including gold, silver, copper, brass, stainless steel, aluminum, titanium and so on. There are various fiber laser powers for your metal jewelry engraving ideas, plans and projects, including 20W, 30W, 50W, 100W and more.
The principle of the fiber laser engraving machine is to mark the surface of various materials with a laser beam. The effect of marking is to expose the deep material through the evaporation of the surface material, thereby engraving exquisite patterns, trademarks and text.
Fiber laser marking machine adopts imported powerful fiber laser, high-speed marking, excellent light quality, high conversion efficiency, maintenance-free, no consumables, low cost, simple operation, small size, wide application fields and other characteristics are favored by customers.
Features & Advantages
• No consumables, no maintenance, long service life, small size, suitable for working in harsh environments
• High reliability, maintenance-free, no chiller required, completely air-cooled, easy to operate
• Simple operation, equipped with humanized operating software
• Excellent optical quality, high precision, suitable for fine work, suitable for all metals and some non-metals.
The Fiber Laser Engraver Price Range With Any Budget From $2,900.00 to $28,500.00.
Type 1. A standard fiber laser marking machine is used for flat engraving on personalized pendant, tag, locket, and jewelry box.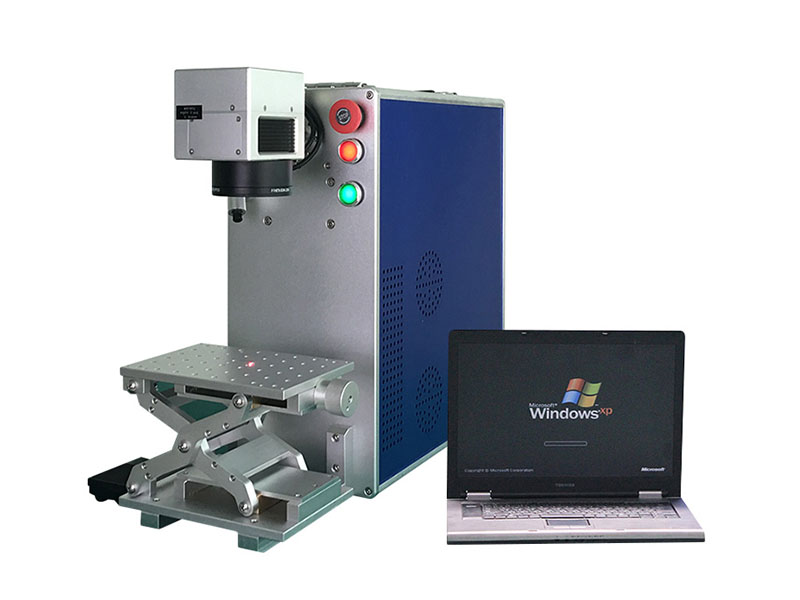 Portable Fiber Laser Marking Machine for Metal Jewelry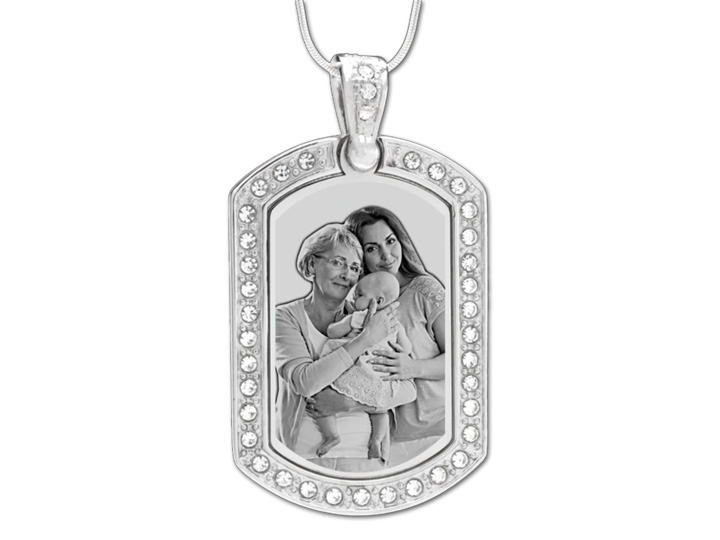 Flat Laser Engraving Metal Tag Projects
Type 2. A fiber laser engraving machine can be equipped with a rotary attachment for ring, wedding bands, and bracelet.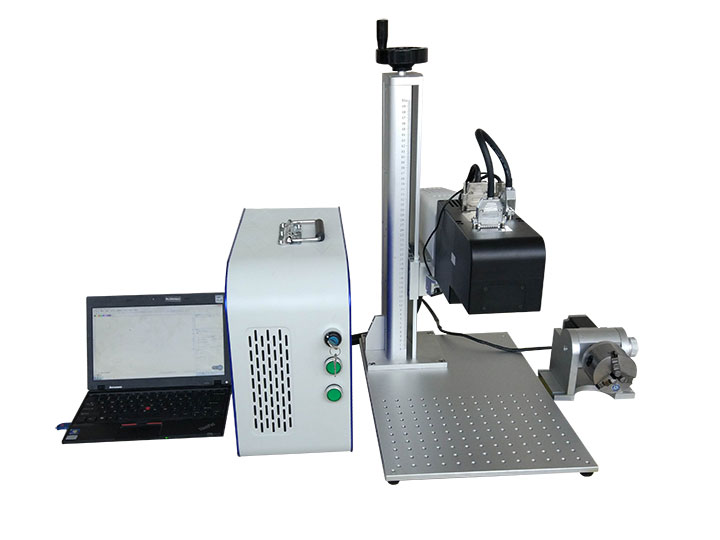 3D Rotary Laser Engraver for Metal Jewelry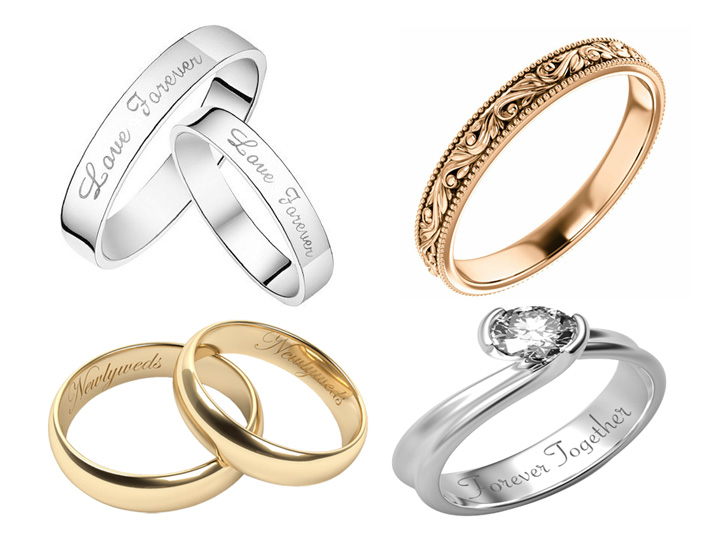 3D Rotary Laser Engraving Silver & Gold Ring Projects
Type 3. A deep laser engraving machine with higher laser power for personalized signet ring, monogram, charm pendant, custom coordinates necklace.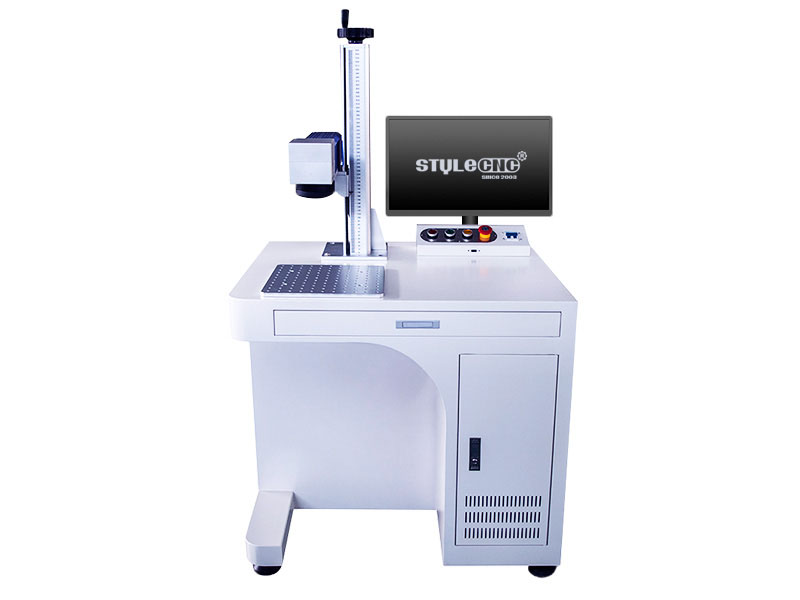 Desktop Deep Laser Engraving Machine for Metal Jewelry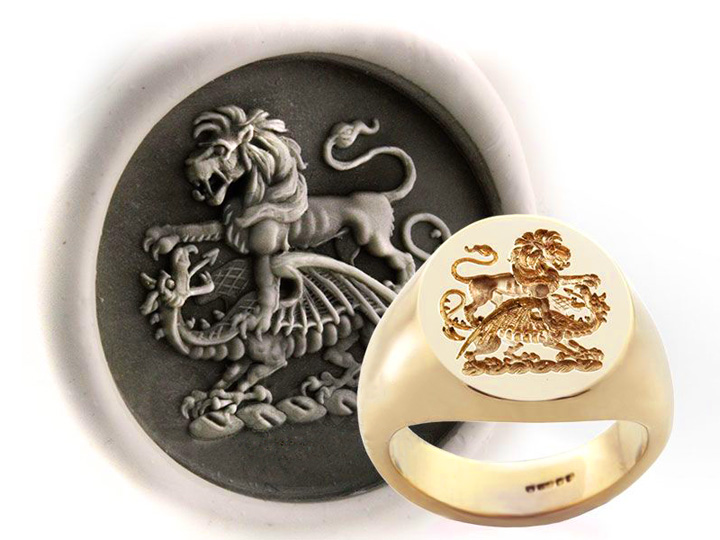 Deep Laser Engraving Metal Jewelry Projects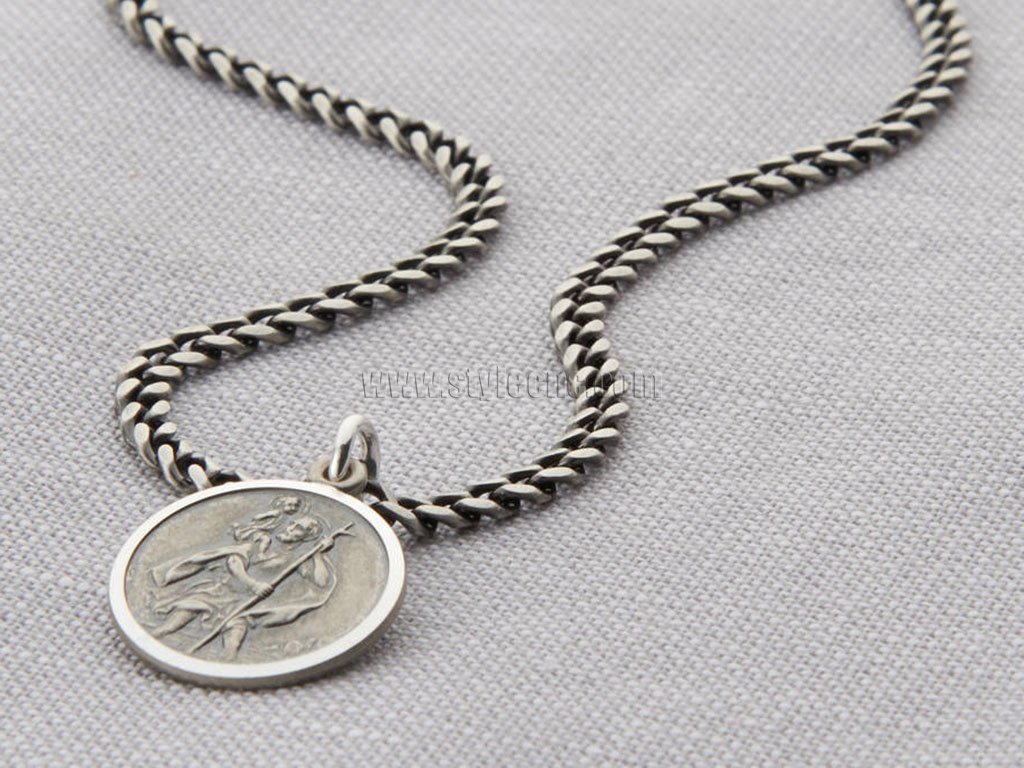 Laser Engraved Sterling Silver Necklace
Type 4. A color laser engraving machine with MOPA laser source can engrave colors on metal jewelry with stainless steel and titanium.
Color Laser Engraving Machine for Metal Jewelry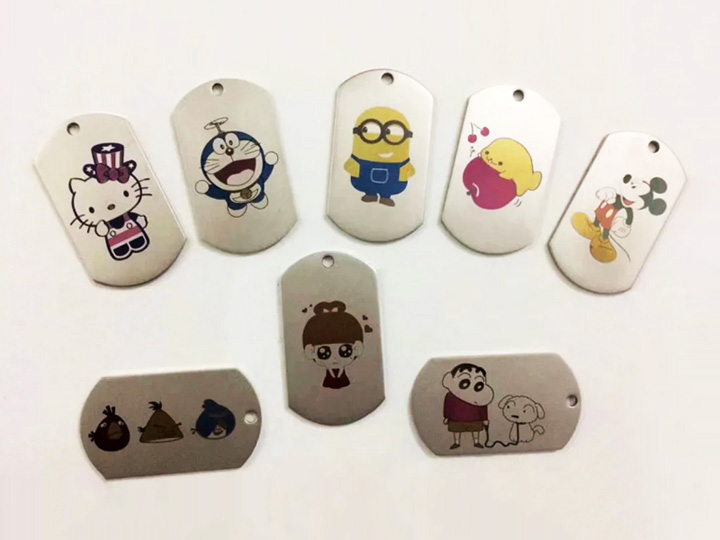 Color Laser Engraving Metal Jewelry Projects with Stainless Steel
Type 5. A online flying fiber laser marking machine is used for industrial mass production for metal jewelry.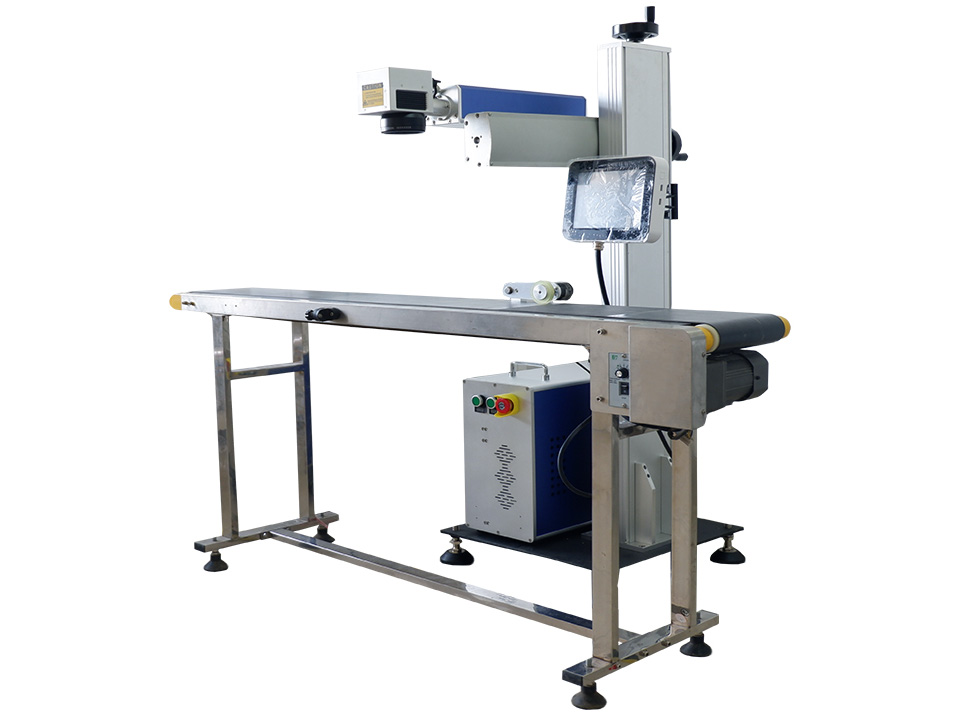 Online Flying Industrial Fiber Laser Marking Machine for Metal Jewelry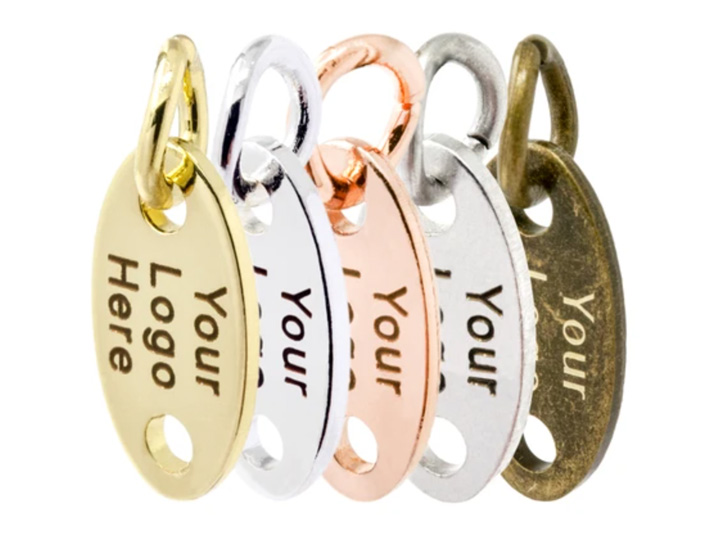 Online Flying Fiber Laser Engraving Jewelry Tags Projects
CO2 Laser Engraver for Jewelry
CO2 laser engraving machine is a type of laser etching system for jewelry of wood, stone, glass, acrylic, plastic, and more nonmetal materials.
The carbon dioxide laser engraving machine is an engraving machine that uses carbon dioxide laser technology. This type of laser equipment is a general-purpose model with small size, rear focus mode, and a relatively high degree of integration.
The laser is transmitted through the optical mechanism and focused on the surface of the material. The material with high energy density laser concentrated at one point will quickly vaporize. Use the computer to drive the laser head to move through the X-Y console and control the laser switch as required. The image information processed by the software exists in the computer in a certain way. When the computer reads information from it in order, the laser head will move along The scanned trajectory scans back and forth line by line from left to right and from top to bottom.
Whenever scanning "1", the laser will turn on, when scanning to "0", the laser will automatically turn off. The information of the computer is stored in binary form, which coincides with the two states of the laser switch.
Features & Advantages
• Wide range: Carbon dioxide laser can engrave and cut any non-metallic materials. And the price is relatively low.
• Safe and reliable: Engraving in a non-contact manner will not affect the material. There will be no "knife marks", no damage to the surface of the workpiece, no deformation of the material, and so on.
• Accurate and meticulous: The engraving accuracy can be 0.02mm.
• Saving and environmental protection: The diameter of the light beam and the spot is small, generally less than 0.5mm, which saves materials, and is safe and sanitary.
• The same effect: Guarantee the same etching effect of the same product.
• High speed: you can immediately engrave and cut according to the pattern output by the computer.
• Low cost: Because it is not limited by the etching quantity, laser engraving is relatively cheap for small batch engraving services.
The CO2 Laser Engraver Price Range With Any Budget From $2,600.00 to $7,200.00.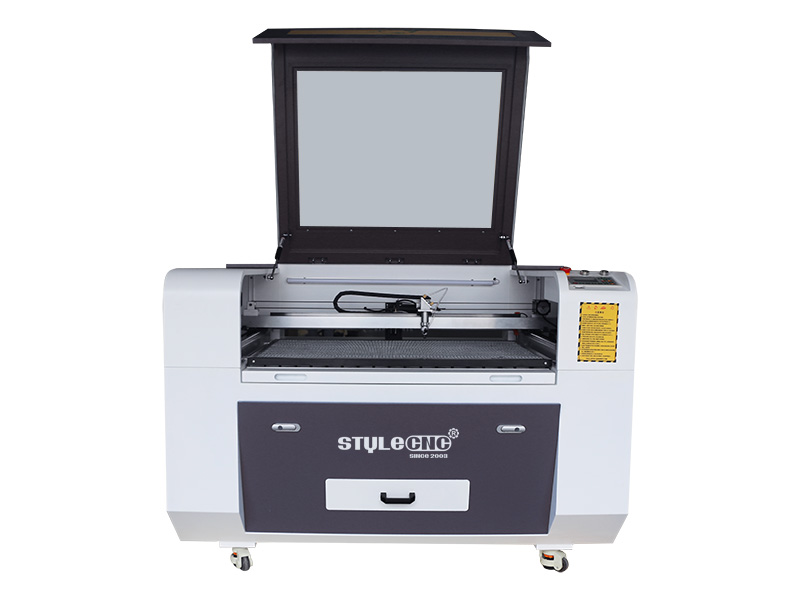 Hobby CO2 Laser Engraving Machine for Jewelry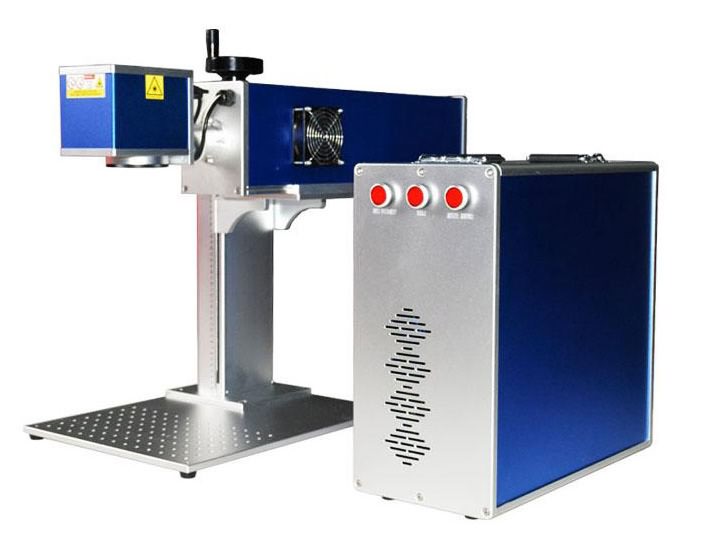 Mini CO2 Laser Marking Machine for Jewelry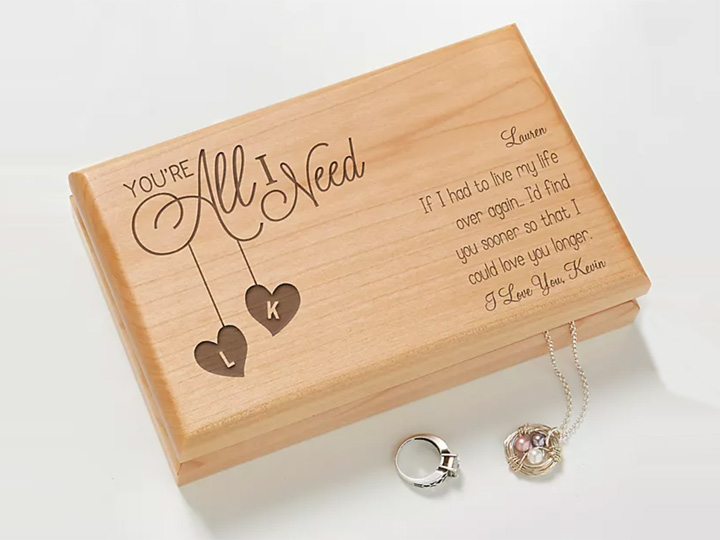 Laser Engraved Jewelry Box with Wood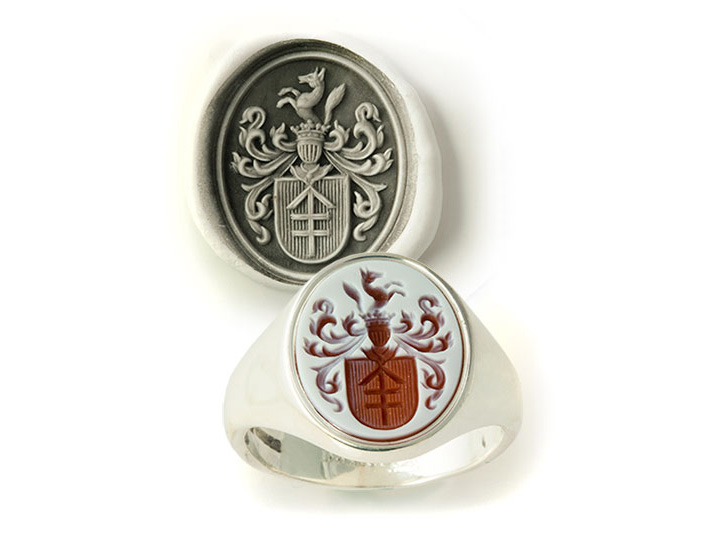 Laser Engraved Gemstone Signet Rings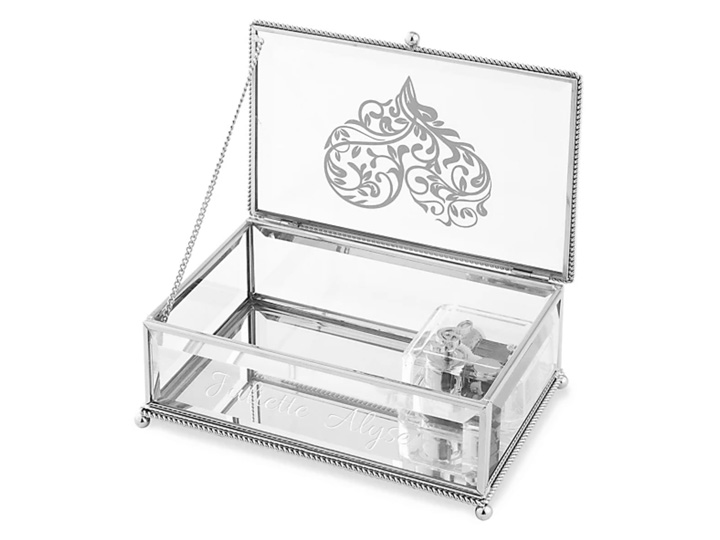 Laser Engraved Acrylic Jewelry Box
UV Laser Engraver for Jewelry
UV laser engraving machine is a type of laser marking system for custom jewelry with plastic, glass, and crystal.
The UV laser marking machine is developed by using a 355nm ultraviolet laser. This machine uses a third-order intracavity frequency doubling technology. Compared with infrared lasers, the 355 ultraviolet laser has a very small focus spot. The marking effect is to directly break the material through a short-wavelength laser. The molecular chain of the material, to a large extent, reduces the mechanical deformation of the material, although it is changed by heat (cold light), so it is mainly used for ultra-fine marking and engraving, and is especially suitable for marking, micro-holes, and glass for food and medical packaging materials. High-speed division of porcelain materials and complex pattern cutting of silicon wafers and other application industries.
Features & Advantages
• Ultra-fine marking can be carried out due to the extremely small focusing spot of ultraviolet laser, which is the first choice for customers who have higher requirements for marking effect.
• In addition to copper materials, UV lasers have a wider range of materials suitable for processing.
• Not only the beam quality is good, but the focused spot is smaller, which can realize ultra-fine marking.
• The scope of application is wider.
• The heat-affected area is extremely small, will not produce thermal effects, and will not cause material burning problems.
• Fast marking speed and high efficiency.
• The whole machine has the advantages of stable performance, small size and low power consumption.
The UV Laser Engraver Price Range With Any Budget From $6,400.00 to $30,000.00.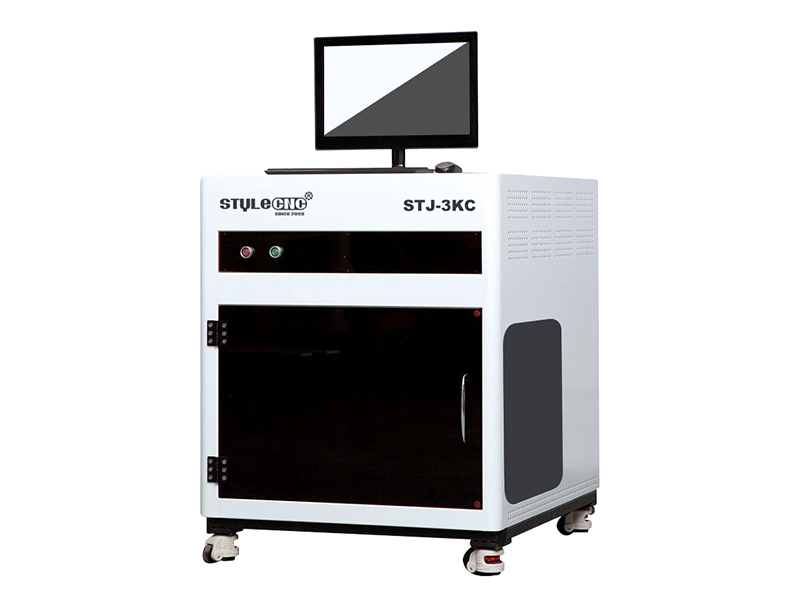 3D Laser Engraving Machine for Crystal Jewelry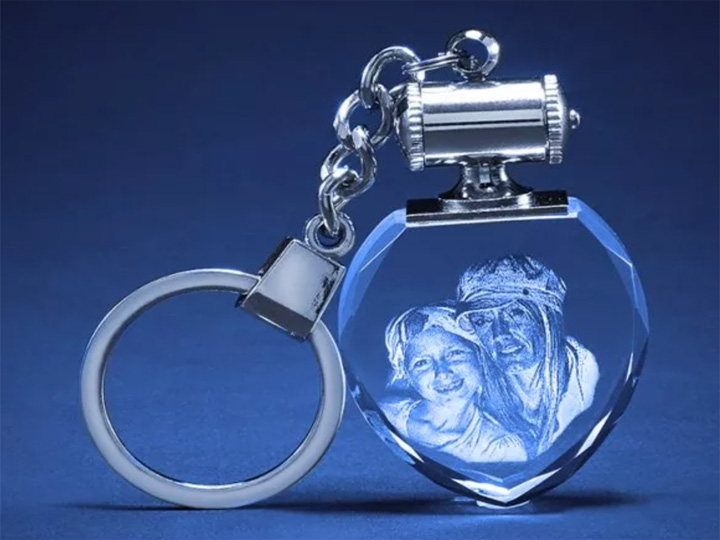 Laser Engraved 3D Crystal Jewelry Gift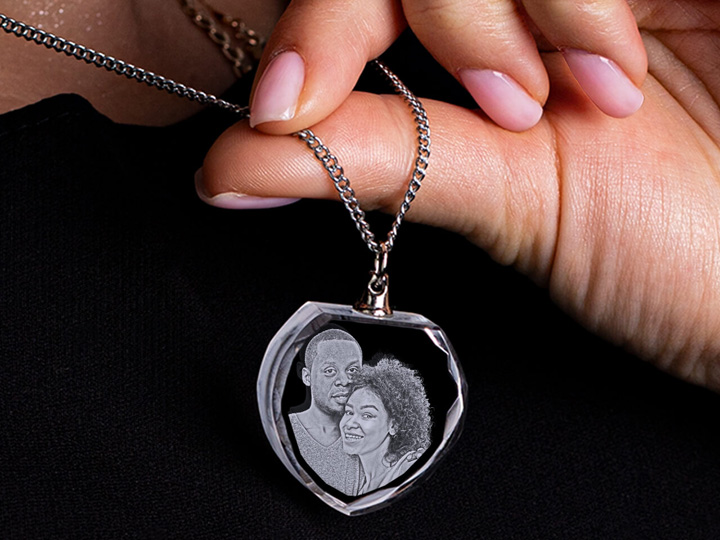 Laser Engraved Personalized Necklace Heart Gift
Fiber Laser Cutter for Metal Jewelry
Fiber laser cutters are the best cutting tools for metal jewelry manufacturing due to its fast speed, high precision, good quality, environmental protection, and non-destructive cutting. The metals used to make jewelry are different in terms of softness, hardness, and reflective properties, which makes fiber lasers the best laser source for precise cutting metal jewelry.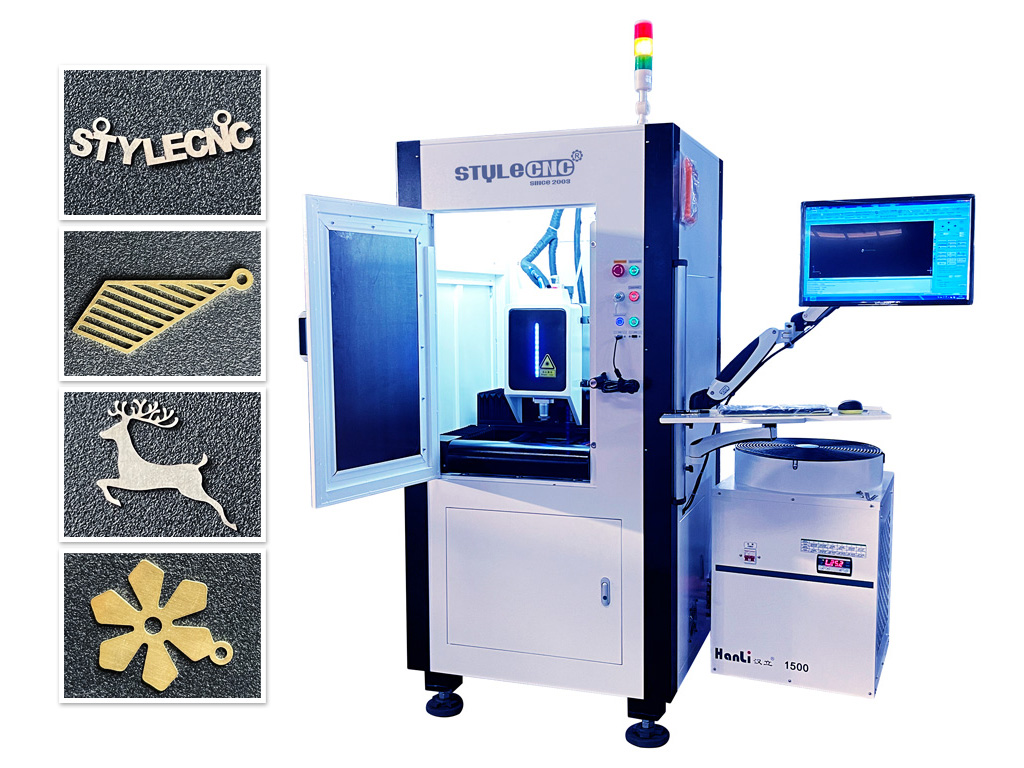 Fiber Laser Jewelry Cutter
Pros & Cons
• High precision fiber laser cutting machine adopts imported Japan AC servo drive system, fast cutting.
• Compact design with CE standard anti-radiation glass, more safer in metal cutting.
• Y axis equipped with high accuracy ballscrew transmission to ensure the straightness in high speed cutting.
• Fully enclosed shield protection, prevent the precious metals debris being discharged during cutting.
• Pneumatic clamps combined with movable blade table, makes the position more accurate, pneumatic clamps to fix the thin materials, and blade table for thicker metal.
• Collect tray under the table helps to collect the debris quickly.
A fiber laser jewelry cutting machine is priced from $14,200.00 to $18,500.00.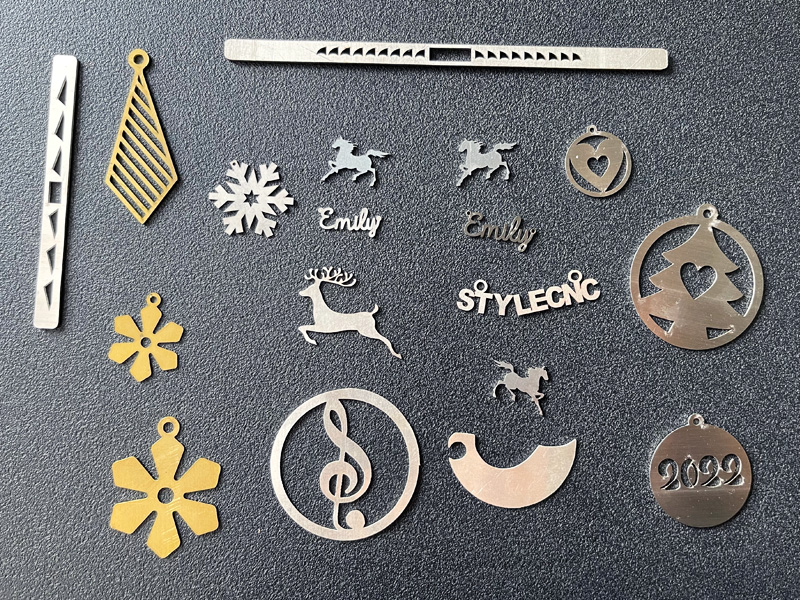 Fiber Laser Cut Metal Jewelry Projects.
In short, when you have an idea to start or grow your business with custom jewelry making, and you want to buy a professional jewelry engraving kit, jewelry engraving tool, a laser engraver is your best solution for personalized jewelry with metal, wood, stone, acrylic, crystal, glass, silicon, wafer, copper, aluminum, silver, gold, steel, zircon, titanium, ceramic, film and more.