High speed IPG fiber laser cutter is type of high power laser metal cutting machine with 12000W power supply for commercial use of thick metal fabrication including stainless steel, carbon steel, mild steel, tool steel, brass, copper, aluminum, alloy, and rare metals in industrial manufacturing.
Demonstration Video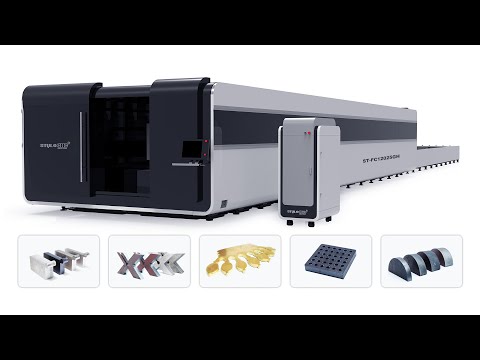 Product Details
What Is IPG Fiber Laser Cutter?
IPG fiber laser cutter is a type of automatic industrial laser cutting system with 12000W IPG laser generator and CNC controller for sheet metal fabrication with high speed and high precision. It is a high power laser cutting machine for thicker metal sheets, including carbon steel sheets, stainless steel sheets, aluminum sheets with the maximum thickness of 50mm, and the maximum cutting thickness of non-ferrous metal sheets (such as copper and titanium) is 20mm. The maximum cutting speed for thin metal sheets can be up to 80m/min. With higher IPG laser powers such as 15000W and 20000W, it can cut sheet metals up to 100mm thickness, and the cutting speed will be as faster as 100m/min for thin metals.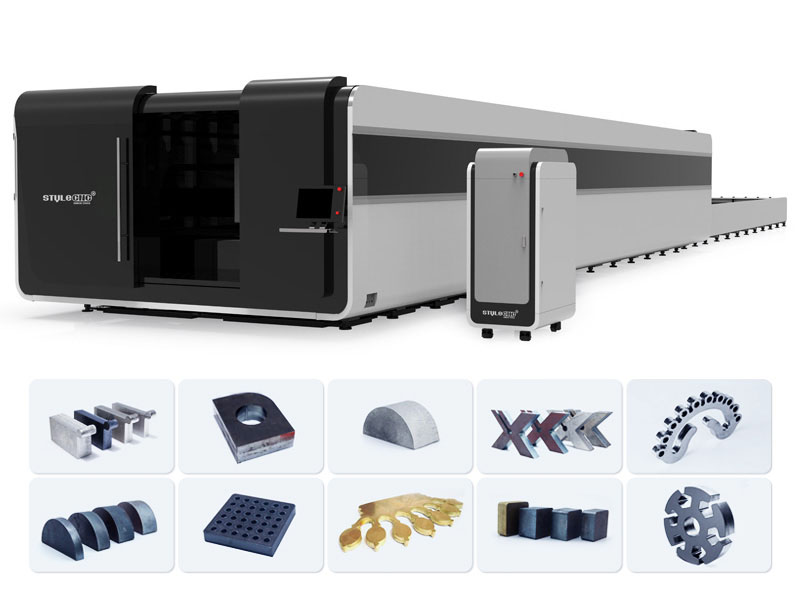 IPG is the world's largest manufacturer of fiber laser generators from USA, Germany, and Russia. It has become an absolute leader in fiber laser generators. The IPG product line is rich, covering high, medium and low power fiber laser generators and amplifiers. IPG fiber laser generator refers to a laser generator that uses rare-earth-doped glass fiber as the gain medium. Fiber lasers can reach unprecedented power. IPG fiber laser generators are low-cost, replacing traditional laser generators that are unstable or high maintenance costs. The flexible light guide system of fiber laser is very easy to integrate with robots or multi-dimensional workbenches. IPG fiber laser generator is small in size, light in weight, and movable in working position. IPG fiber laser generators perform better than traditional lasers in industrial applications. It has the best wavelength and best beam quality for metal fabrication. The IPG fiber laser generator has a long service life and is maintenance-free. Due to its extremely high stability, it greatly reduces the requirements for laser quality monitoring during operation. Simply put, it is excellent beam quality under high power, excellent electro-optical efficiency under high beam quality, and extremely small size, mobility and flexibility under high power and high beam quality.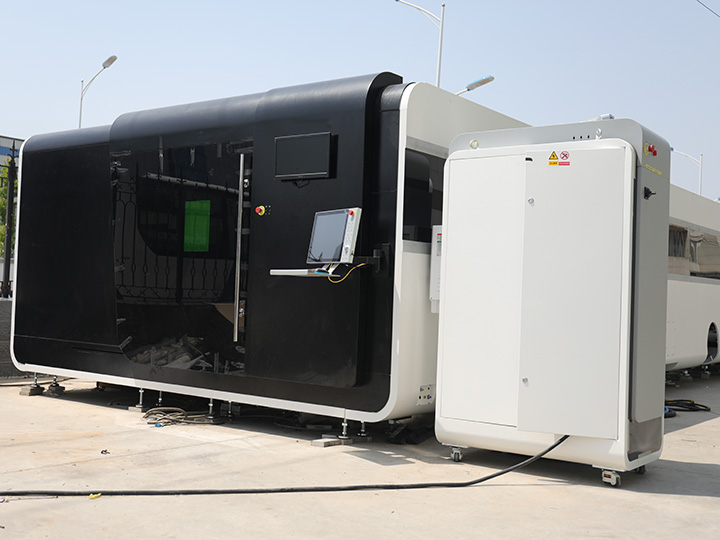 High power is the advantage of IPG. A large number of IPG high-power (>1KW) fiber lasers have been used in industrial fields such as automobile manufacturing, shipbuilding, offshore platforms and oil pipelines, aerospace and technical processing all over the world. In Japan, thousands of IPG high-power fiber lasers have been sold to customers including Toyota, Mitsubishi, and Sumitomo. The successful application of these lasers shows that IPG fiber lasers have matured and become one of the technical tools of the manufacturing industry, especially in metal fabrication (cutting, welding, cladding, rapid prototyping).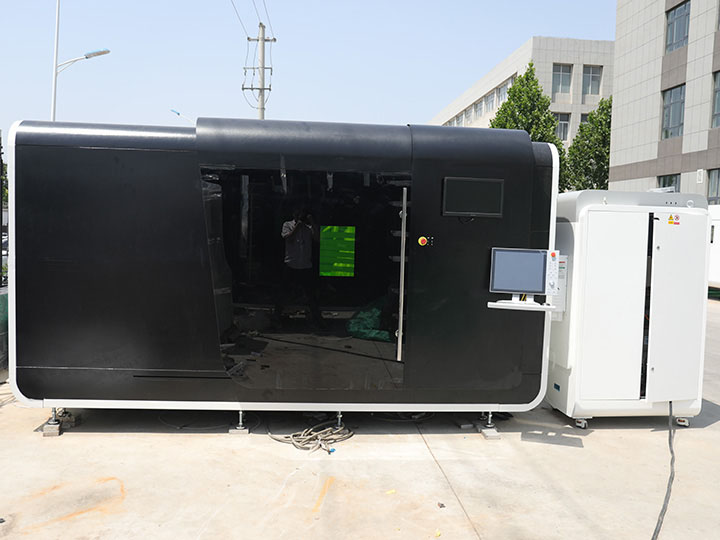 Features and Advantages of High Speed 12KW IPG Fiber Laser Cutter for Sheet Metal Fabrication
1.High rigidity machine bed sequence welding. It is made of high quality carbon structural steel and section steel welded together. After 8 hours of heat treatment at 600℃, it is cooled in the oven for 24 hours.
After stress annealing, rough machining, and then vibration aging treatment, completely eliminate welding And the processing stress is large, the rigidity is good, the precision is high, may keep the normal use 20 years does not deform.
2. High stability: The design of the fiber laser optical path improves the beam quality while ensuring high-power laser output. The beam is transmitted in the optical fiber without contact with the air to avoid polluting the optical path, and has long-term stability.
Therefore, large laser cutting machines can be used in industrial environments with longer service life and higher requirements.
3. High-speed dual-motor exchange table:The independent movement of the two tables is unrelated, the accuracy is not affected by each other, and there is no need to pause to clean the residue, which is more efficient and convenient.
4. Fully enclosed structure: environmentally, user friendly, and safer.
Applications of High Speed 12000W IPG Fiber Laser Cutting Machine for Sheet Metal Fabrication
It is suitable for the fast cutting of metal sheets, including stainless steel, carbon steel, manganese steel, galvanized sheet, alloy sheet, and rare metals. It is widely used in kitchen appliances, electric control boxes, mechanical equipment, electrical equipment, lighting, auto parts, display equipment, hardware processing.
Technical Parameters of High Speed 12KW IPG Fiber Laser Cutter for Sheet Metal Fabrication
| | |
| --- | --- |
| Brand | STYLECNC |
| Model | ST-FC12025GH |
| Working Area | 12000X2500mm |
| Laser Type | IPG (Raycus, MAX for Option) |
| Laser Power | 12000W (8000W for Option) |
| Power Supply Rated Voltage | 380V/50HZ/60HZ |
| Control System | Cypcut CNC control system |
| Max Acceleration | 1.2G |
| Repeated Positioning Accuracy | 0.02mm |
| Max Running Speed | 100m/min |
| Table change time | 15-17s |
| Maximum load of working platform | 7000KGS |
| Machine size | 27620*4018*2755mm |
| Machine weight | 28500KGS |
Details of High Speed 12000W IPG Fiber Laser Cutting Machine for Sheet Metal Fabrication
1. Germany Precitec ProCutter cutting head with automatic focus function: With automatic follow up system, can according to the height of the plate, adjust the size of the focal length.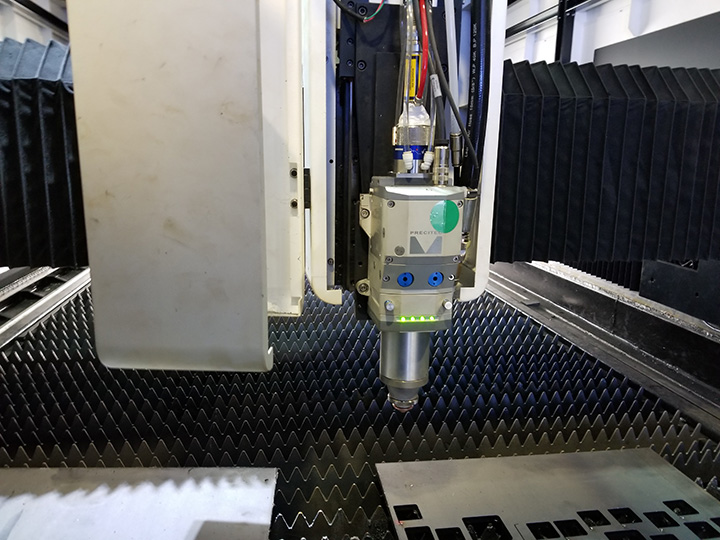 2. Germany IPG laser generator, more stable, higher precison, energy saving, longer lifetime than normal generator.
• High photoelectric conversion rate can reach 45%, other brands are only about 25%. Save much electricity cost.
• German brand, good quality, laser power weakened slower than other brand.
• High market share, a certain degree of reaction to brand strength and quality.
• Low failure rate, only 3%.
• Light power can be seen in real time.
• After-sale service spots all over the world, problems can be resolved in time.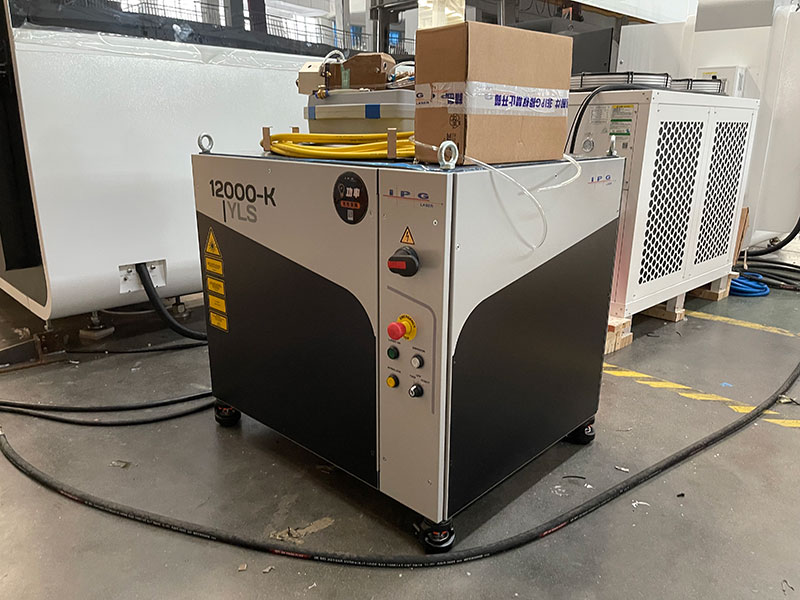 3. Blade table: Feeding system with rolls. It is easy to load heavy sheet and metal sheets can be protected by avoiding scratched.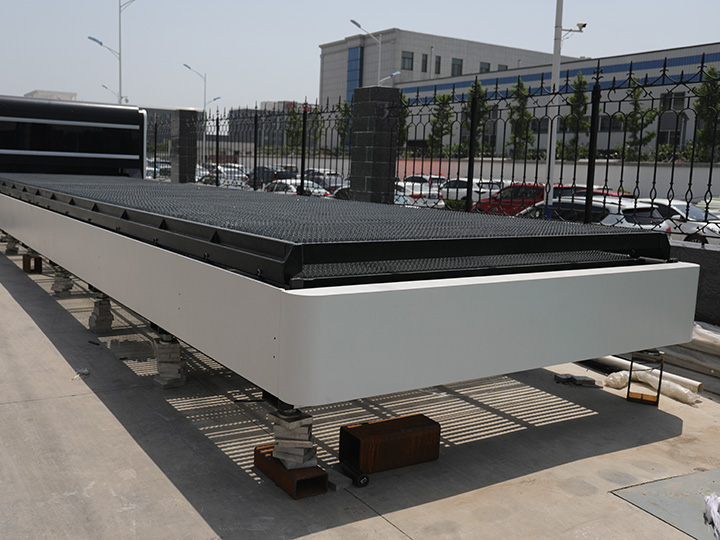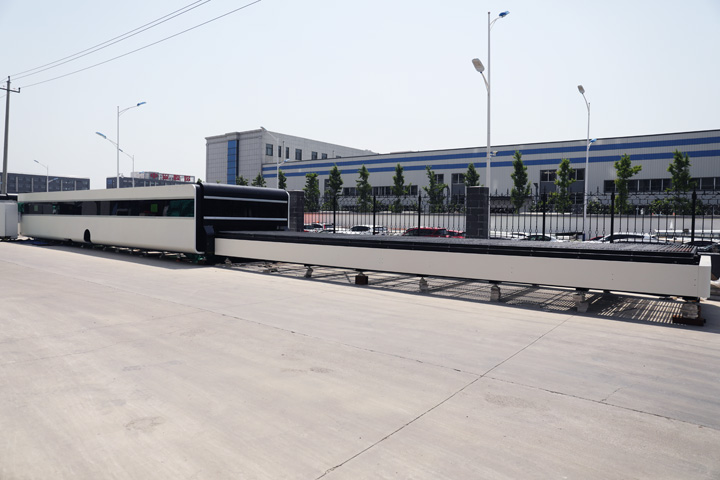 4. A camera is installed inside the protective cover to oversee real-time operation within the cover and shoot any possible problems timely.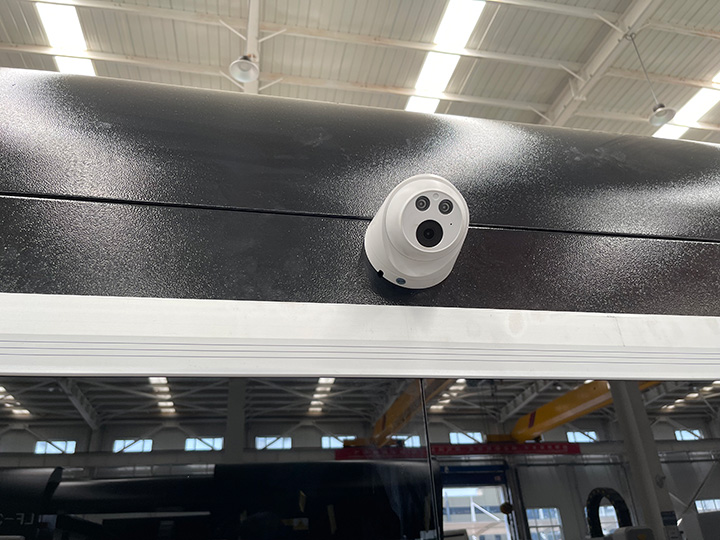 5. The internal structure of the bed adopts the aircraft metal honeycomb structure, which is welded by a number of rectangular tubes. 
Stiffeners are arranged inside the tubes to increase the strength and tensile strength of the bed, it also increases the resistance and stability of the guide rail so as to effectively avoid the deformation of the bed.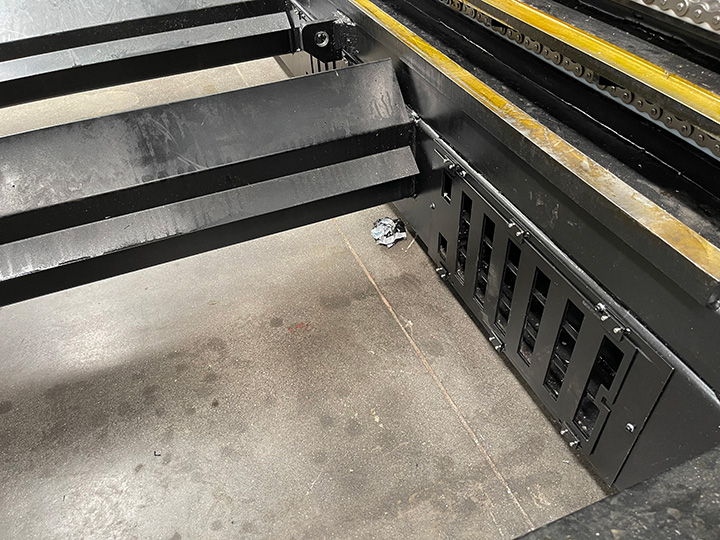 6. High speed parallel exchange platform design, Simultaneous exchange of two worktables, stable and reliable transmission mode, shorter exchange time and improved frequency converter.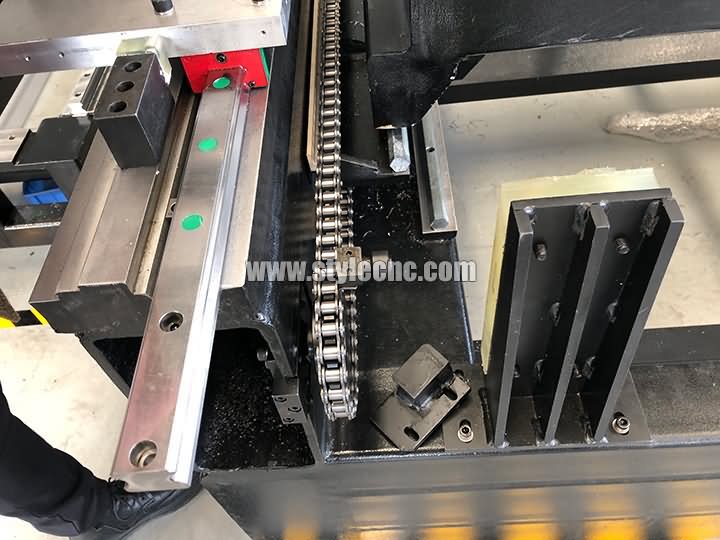 High Speed 12KW IPG Fiber Laser Cutter for Sheet Metal Fabrication Projects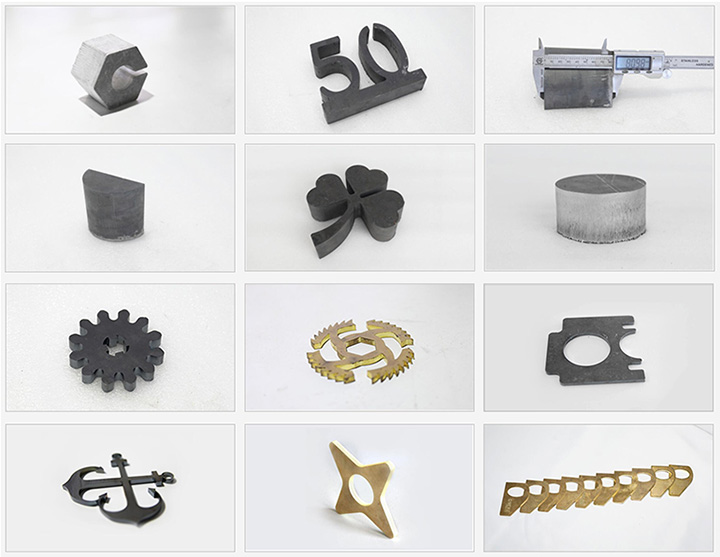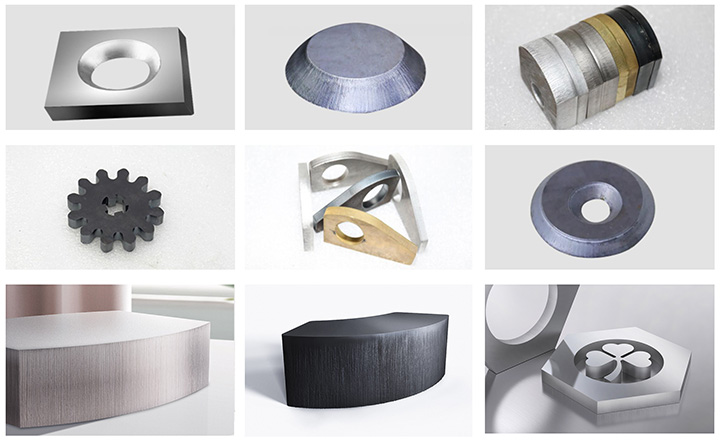 Package of High Speed 12KW IPG Fiber Laser Cutter for Sheet Metal Fabrication
1. Strong water resit bottom in plywood.
2. Laser source (separated plywood case) and spare parts on the laser bed.
3. Corner protect by foam and fixed by protective film.
4. All covered by strong and hard protective film.
5. Vacuum packing.
6. Inside steel frame protector.
7. Plywood packing and steel strip outside fixed the box.
8. Finishing packing by normal container or frame container.
Pre-Sale Service of High Speed 12000W IPG Fiber Laser Cutting Machine for Sheet Metal Fabrication
1. Free sample cutting service:
For free sample cutting/testing, please send us your CAD file (.plt or .ai), we will do cutting in our factory and make video to show you the cutting process and result, or send samples to you to check the cutting quality.
2. Progressing Solution Design:
According to customer's product processing requirement, we can design the unique solution that supports higher manufacturing efficiency and better processing quality for customer.
3. Customized machine design:
According to customer's application, we may revise our machine according to customer's convenience and high production efficiency.
After-Sale Service of High Speed 12000W IPG Fiber Laser Cutting Machine for Sheet Metal Fabrication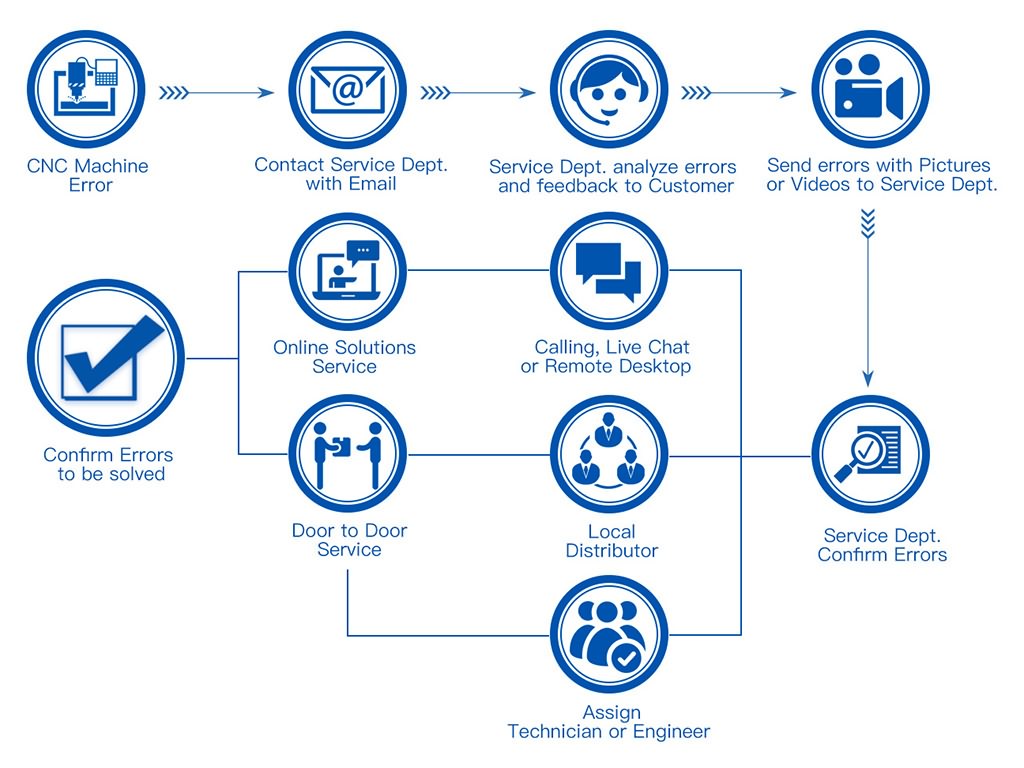 1. We will supply the laser machine with training video and user's manual in English for installing, operation, maintenance and trouble-shooting, and shall give technical guide by remote,such as TeamViewer, E-mail, Telephone, Mobile, Whatsapp, Skype, 24/7 online chat, and so on, when you meet some problem of installation, operation or adjusting. (Recommended)
2. You can come to our laser machine factory for training.We will offer professional guidance. Direct and effective face-to-face training. Here we have assembled equipment, all sorts of tools and testing facility. Training Time: 3~5 days (Recommended)
3. Our engineer will do a door-to-door instruction training service at your local site. We need your help to deal with the visa formality, prepaid traveling expenses and accommodation to us during the business trip and service period before their dispatch. It's better to arrange a translator (if no English-speaking) for our engineers during the training period.
Warranty of High Speed 12KW IPG Fiber Laser Cutter for Sheet Metal Fabrication
1. 3 years for the whole laser machine, laser device 18 months, chiller 12 months, lens/mirror/nozzle without warranty.
2. Long life-time maintenance, after-sale department will offer 24/7 English online support.
3. Except the damage artificially, we are responsible for offering the fittings free of charge during warranty.
4. After the warranty period expired, the buyer only need to pay the actual maintenance cost.
5. Certificate support: CE, FDA, SGS.
If you have an idea to get a free quotation of IPG fiber laser cutting machine, please answer the questions as following and tell us by email, so that we can recommend the most suitable laser cutting machine and quota the affordable price to you directly.
1. Do you need to cut metal sheets/plates, metal pipes/tubes only or both?
2. If need to cut tubes, What is your tube length, diameter and max thickness?
3. For cutting metal sheet, what is the max working area required?
4. After processed, what the materials will be used for? (Applications)
5. Which seaport is the nearest to you?
6. Do you have any experience in the fiber laser cutting machine?
7. What is your online chat way? Such as Skype, Whatsapp, LiveChat.
8. Are you an end user or reseller?
International Shipping Around the World
All the CNC laser machines can be shipped worldwide by sea, by air or by international express logistics via DHL, FEDEX, UPS. You are welcome to get a free quotation by filling up the form with name, email, detailed address, product and requirements, we will shortly contact you with the full information including the most suitable delivery method (fast, secure, discreet) and freight.