A formidable force in market of cutting machines, the Flow Waterjet cutter has proven to be one of the most in demand choices within the machine tool industry. The powerful stream of water and abrasive combined with its reliability and versatility offers fabricators a high-pressure waterjet that can be used in any fabrication shop, no matter what type of material used. When choosing a Flow Waterjet, you can guarantee a water jet machine that is fast, powerful and easy to use, but how can you determine if it is right for your business?
Mid Atlantic Machinery Flow expert, Jesse Smith, works with waterjet cutting machines daily as a Flow Certified Service Technician. His hands-on experience has made him a technical expert on Flow waterjets, pumps, and software. Here is what he had to say about the advantages of the Flow Waterjet metal cutting machine.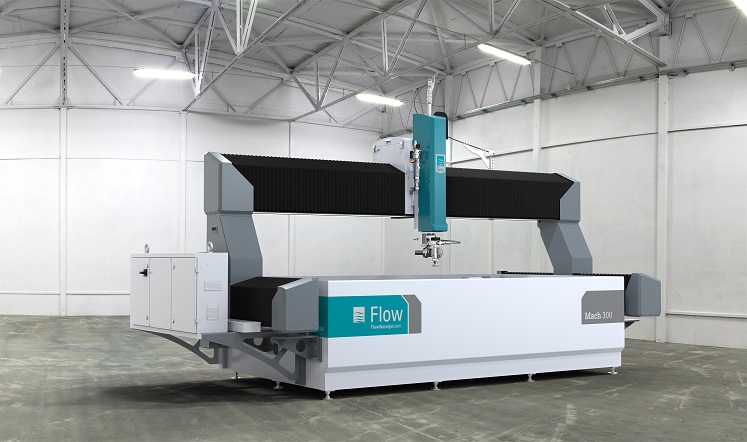 What advantages does the Flow Waterjet tables have over other metal cutting machines?
"The Flow Waterjet cutter is an industrial water jet that uses a cold cutting technique/operation that offers a reduction in processing time. While other cutting machines require a deburring or finishing machine to complete parts, the Flow Waterjet cutting table produces a cut with satin smooth edges and no mechanical stress or heat distortion."
"As compared to other machine tools, the water jet cnc machine is advantageous for its accuracy and minimal kerf. Flow cuts with a 0.015" accuracy, which can be further increased the machine is slowed down. Tightly nesting parts or cutting on a common line is possible when the kerf is 0.030 to 0.40 inches."
"By reducing the need for secondary finishing and reducing material waste, the number one advantage of the Flow Waterjet is the money saved per part. By minimizing processing time and maximizing raw material usage, each part produced costs significantly less."
What applications and material should be considered and are best for a waterjet cutting machine?
"The Flow Waterjet has become a staple cnc cutting machine in a multitude of industries for its wide range of materials that can be cut. Ranging all the way from food such as bread to metal, the waterjet has a unique ability to cut through anything in comes into contact with."
"In my experience servicing cnc waterjets, metal is the most common choice. Waterjet cutting stainless steel, waterjet cutting aluminum, and waterjet cutting mild steel. However, other popular mediums include stone, tile, composites, ceramics and glass."
"There is one key difference when cutting through soft and hard materials: are the fabricators using a pure or an abrasive waterjet? Each version of the waterjet maintains a highly pressurized stream of water to work through the material. A pure machine relies on the stream of water only and can be used to cut through softer materials like paper and food."
"Metal fabricators rely on an abrasive high pressure cnc waterjet, which combines garnet with the stream of water to wear down stronger materials, such as metal and steel used in the industry. The abrasive cnc water jet is powerful enough to wear down and eventually cut through the floor it sits on, however the tank of water catches the stream to prevent that from happening."
We also spoke to another waterjet cutting expert, Flow Regional Applications Engineer, Eric Marciniak. We asked him to share his knowledge in the application of Flow waterjet technology and what customers can expect from their machine.
What do fabricators care most about when purchasing a waterjet machine?
"Structural integrity of the waterjet machine, profitability, service and ease of use are probably most critical to the customers we work with. Flow goes to the market with the "best built" machine, containing all steel construction, ball screw driven, industry leading drive components. You will see that competitor systems make concessions with materials and components that we do not. Our waterjet cutting machines are built to last."
"Our customers are also very focused on profitability. The Flow 94,000 psi HyperJet pump offers the lowest cost per part. As you increase in pressure from 60,000 psi to 94,000 psi, you decrease the amount of abrasive used. Abrasive is the number one operating cost driver."
"Additionally, to ensure our customers get the service they need, Flow has introduced a preventative maintenance program called Flow Care Complete which maximizes productivity and eliminates unscheduled downtime by having a certified Flow technician on-site every 500 pump hours to perform the necessary preventative maintenance on the machine. We also have regionalized service teams and local service managers all throughout the United States to ensure you get the service you need when you need it."
"Lastly, customers look for a machine that is easy to use. With our FlowMaster software suite, customers get access to the industry's most powerful and user-friendly waterjet software. A complete CAD/CAM solution."
What might a fabricator not know about a waterjet that they love finding out?
"How easy they are to use and own. Whether you need to draw/create a file to cut or import from any native file format, it is super easy to master waterjet technology with Flow. From start to finish, you can literally go from "art to part" in a matter of minutes. Customers also love our service options for servicing their machines. Ranging from DIY where you can do it all with your own two hands to the other end of the spectrum where you will NEVER have to do maintenance on your pump yourself under a Flow preventative maintenance plan. You get to choose what is best for you."
In addition to the spectrum of service options from Flow, fabricators have the option to cut Flow part shipping time and cost in half. Mid Atlantic Machinery is a certified Flow parts distributor. We maintain a consistent stock of all consumable parts that often need replacement such as nozzles, seal kids and blast shields. Headquartered in Harrisburg, PA, Mid Atlantic Machinery's flow spare parts option offers an ease of mind when replacing consumables.
From ease of use to service to spare Flow parts, the Flow Waterjets are a versatile machine tool fit for any fabrication shop. The waterjet is suitable for almost any cutting application- no matter the material. The power of Flow is unparalleled by any other waterjet on the market and could be the right machine for you.
For more information on Flow Waterjet machines, spare parts or service please contact Mid Atlantic Machinery.