CNC mold making machine with automatic tool changer is a type of professional precision CNC router kit for metal moulding. Now the best CNC molding machine for sale at affordable price.
Demonstration Video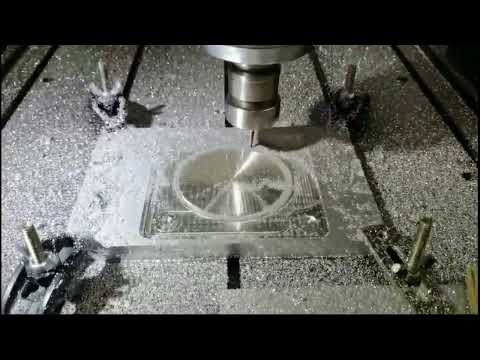 Product Details
What is CNC Molding Machine and How Does it Work?
CNC molding machine is a multi-purpose precision CNC machine that combines CNC technology with cutting and milling. It is also known as CNC moulding machine, CNC mold making machine, and CNC mold milling machine. Similar to ordinary CNC machine tools, CNC molding machine controls the action according to G code through the CNC system to realize the automation of cutting and milling process. It is suitable for industrial mold manufacturing, art relief carving, personalized seal nameplate production, decoration industry, printed circuit board processing. In addition, according to the teaching needs of colleges and universities, an open control system is adopted. Through different control connections and software control, semi-closed loop and full closed loop control system can be formed.
CNC molding machines can process text, patterns, textures, small complex surfaces, thin-walled parts, small precision parts, and irregular artistic reliefs. These objects are characterized by small size, complex shape, and fine finished products.
In terms of processing technology, due to the small and complex engraving area, the CNC molding machine uses small mill cutters below 6.0mm for fine processing. It is of great significance for the required batch product processing.
The principle of CNC molding machine is high-speed milling. Compared with traditional CNC machining, CNC routing is similar to high-speed milling, which is vividly called the processing method of "eat less and run faster".
The use of CNC molding machine has low labor intensity, high degree of automation, and less dependence on operators. The control system automatically controls the tool movement of the CNC mold milling machine according to the processing instructions to complete the milling task, which greatly reduces the labor intensity. This highly automated process enables production to be significantly less reliant on the skills of traditional hand-carving operations.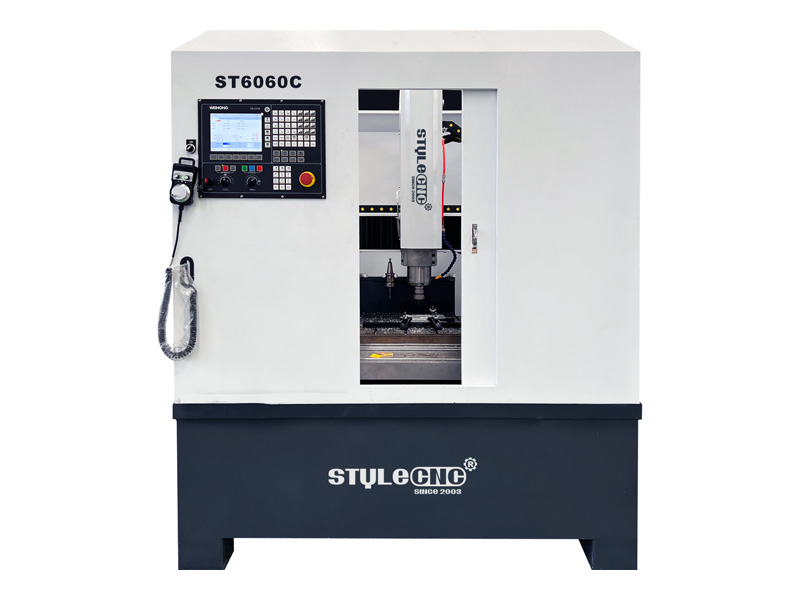 Features of CNC Molding Machine with Automatic Tool Changer
1. It is the product of the combination of numerical control technology and engraving and milling process. It is a kind of multi-functional cnc machine. Similar to the ordinary numerical control machine, our metal engraving machine price realizes the carving, the milling processing automation through that numerical control system controls the engraving and milling machine movement according to process procedure code.
2. Stable and rigid structure: With the gantry type bed and table in one, it is not only good rigidity, but also no installation error for both. The precision will not be affected even if being used for long time.
3. It is a kind of fully enclosed design, it adopt external circulating cutting oil processing way.Machine body is fully casting with stable structure and great weight-bearing ability.
4. The machine has been equipped with accurate bidirectional ball screw of famous brand, Taiwan square rail and accurate bearing with strong rigidity and high dynamic accuracy. It is also equipped with Japan YASKAWA ac servo motor with high accuracy and high power make amplitude smaller and three-axis more stable.
5. The CNC mold milling machine is equipped with automatic tool changer system.
Advantages of CNC Molding Machine with Automatic Tool Changer
1. Gantry structure: Whole cast-iron structure,steady structure,high rigidity ,precision 0.01mm. The double column is whole part, greatly increase machine rigidity.
2. Adopt high-speed water cooling variable frequency motor ,big torque,strong cutting ,high-frequency ,long-lifetime,can be a long time continuous working.
3. Cooling system: Oil circulating oil cooler for spindle, cooling workpieces with water or oil in the tank or atomization liquid through or spray nozzle.
4. Quality assurance: Each device before leaving the factory, we will test the cue with laser interferometer.
5. Servo motor and drives: from Japan with high precision and long life.
6. HIWIN linear guide: made from Taiwan,used for linear reciprocating stadium.
7. Three axis all use Germany ball screw and Taiwan linear orbits to make sure the accuracy and reposition precision.
8. Functional and easy-to-operate control system made by Taiwan SYNTEC with high performance and competitive price.
9. Adopt table movement to keep stable and high precision.
10. Enclosed work space ensures safe and contamination-free work.
11. Automatic tool changing system with 4 tools.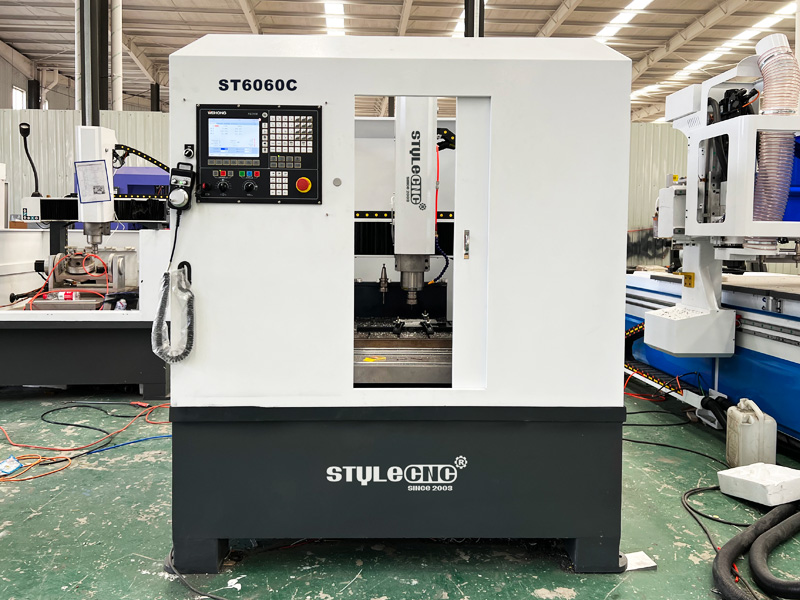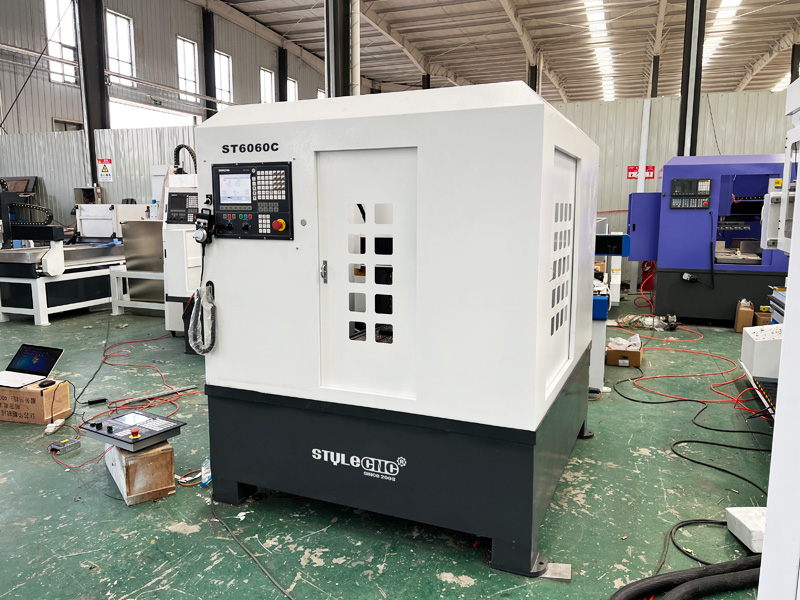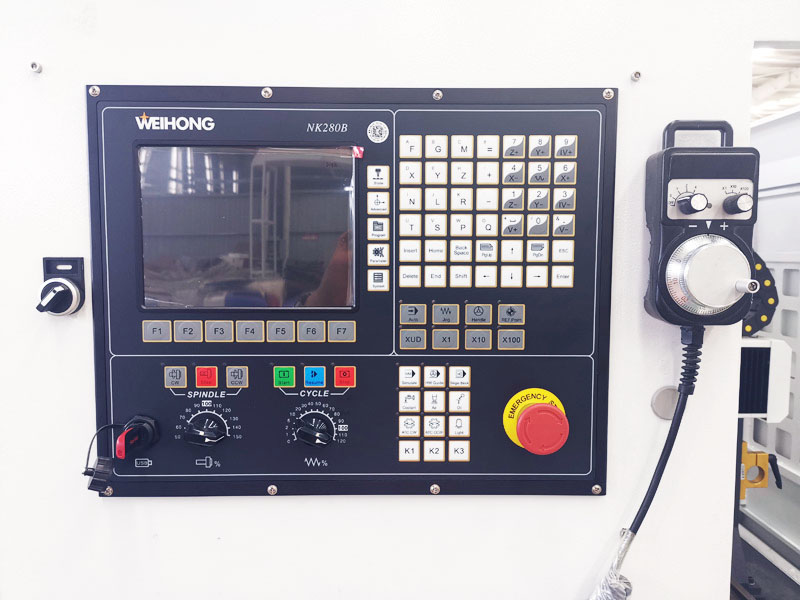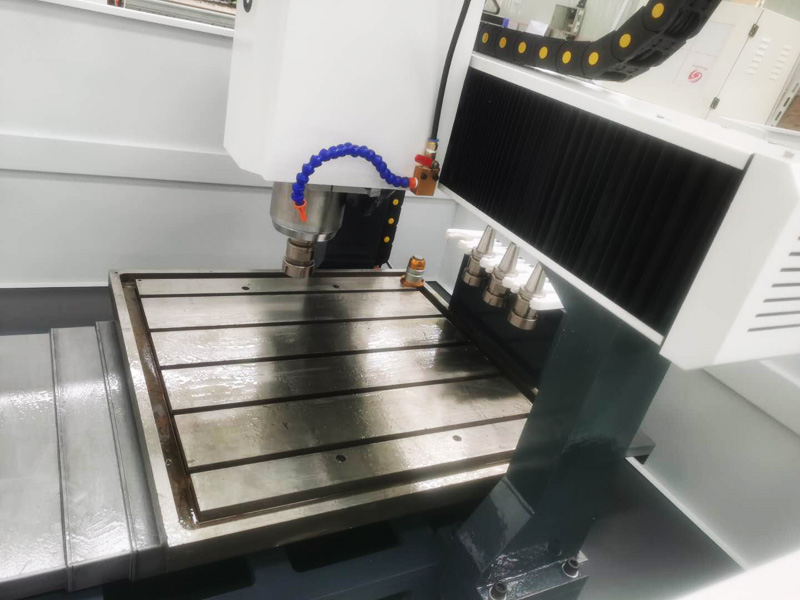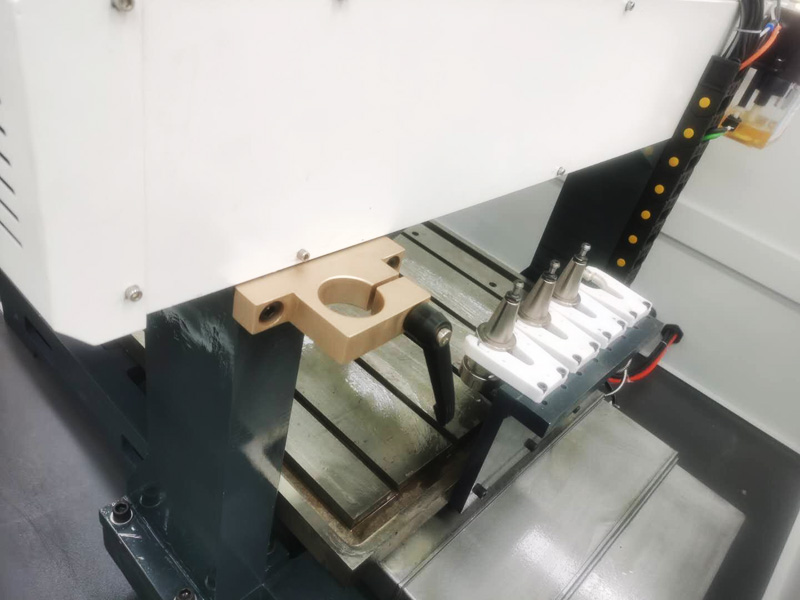 Technical Parameters of CNC Molding Machine with Automatic Tool Changer
| | | |
| --- | --- | --- |
| Model | ST4040C | ST6060C |
| Working Table size | 400mm×400mm | 600mm×600mm |
| X/Y/Z Axis Movement | 450mm×450×250mm | 600mm×600mm×300mm |
| XYZ movement Accuracy | ±0.01/300mm | ±0.01/300mm |
| XYZ Repetition Accuracy | 0.005mm | 0.005mm |
| Flatness Error of Working Table | ≤0.03mm | ≤0.03mm |
| XY Verticality Error | 0.02mm | 0.02mm |
| Media Height | 50 – 300mm | 50 – 350mm |
| Gantry Width | 740mm | 820mm |
| Max Loading Weight | 300kg | 350kg |
| Pressure Deformation of Working Table | <0.02mm(300kg) | <0.02mm(300kg) |
| Spindle Power | 2.2KW(Optional 5.5KW) | 2.2KW(Optional 5.5KW) |
| Tool holder | BT20 (Optional BT30) | BT20 (Optional BT30) |
| Spindle rotate speed | 5000-24000rpm | 3000-18000rpm |
| Max movement speed | 15m/min | 12m/min |
| Total power | 7.5KW | 13.5KW |
| Motor | Yaskawa Servo Motor | Yaskawa Servo Motor |
| Power supply | 380V ± 10%50Hz | 380V ± 10%50Hz |
CNC Molding Machine Projects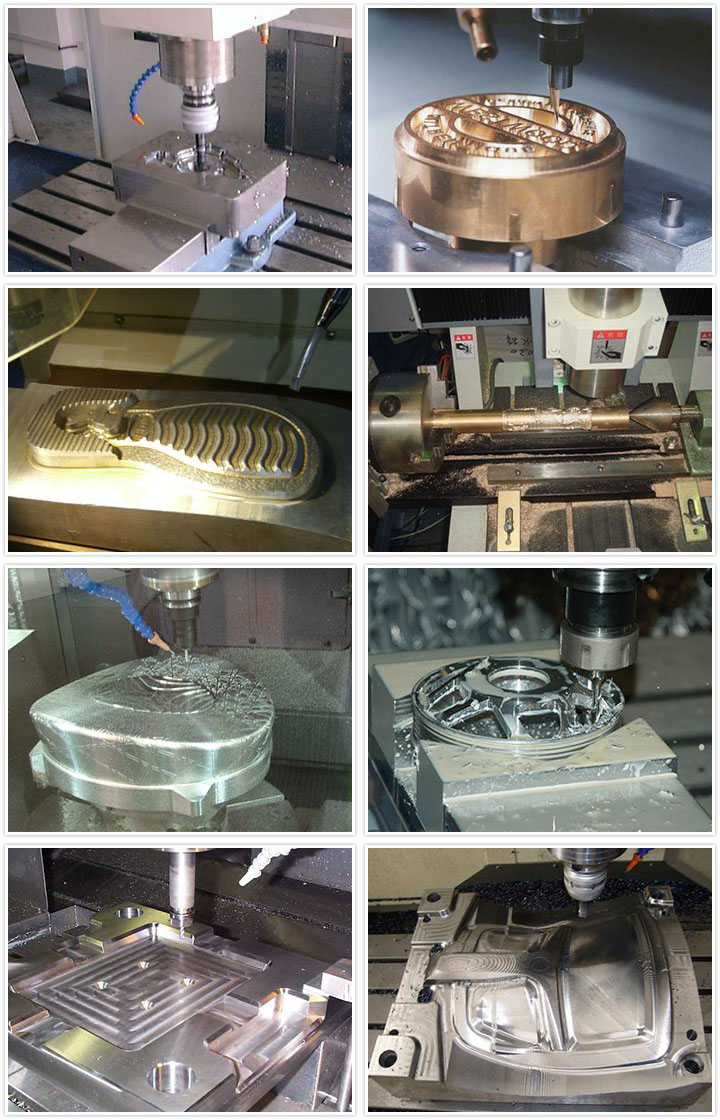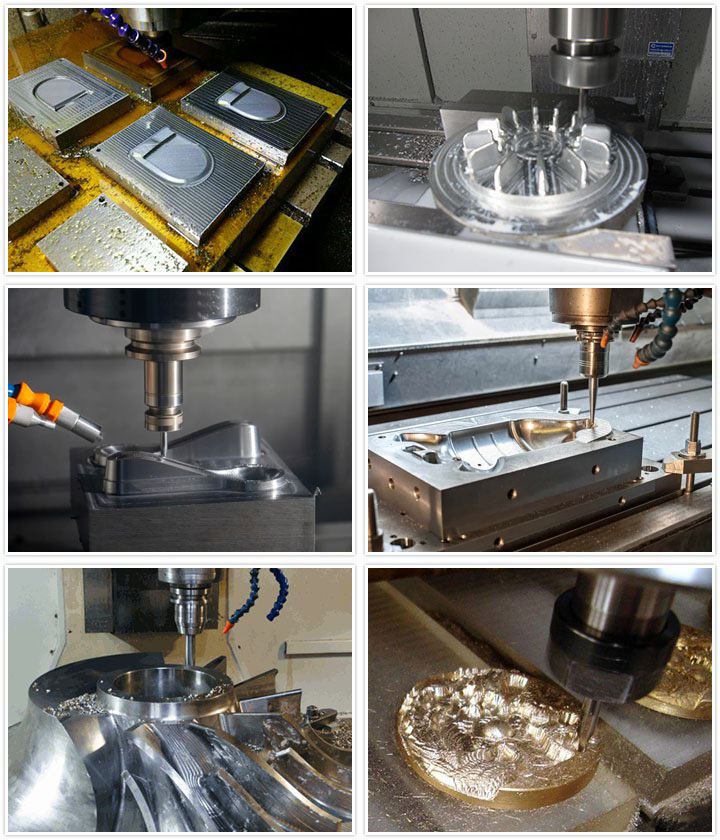 CNC Molding Machine Applications
CNC molding machine is suitable for carving, milling, cutting and drilling most materials, including copper, aluminum, steel, iron, brass, wood, foam, and plastics. It is widely used in injection mould, automotive, ironware mould, shoe mold, drop mold, metal molds, clock parts, copper electrodes, zinc electrodes, metal electrodes, metal crafts, metal arts, jewelry, jade, dental crown, and other molding industries. It is especially designed for batch machining molds, watch, eyeglasses, panel, brand, badge, outside surface's sleeking, three-dimensional graphics and words, It's easy for this molding machine to produce 2D or 3D relieves on various materials.
CNC Molding Machine Samples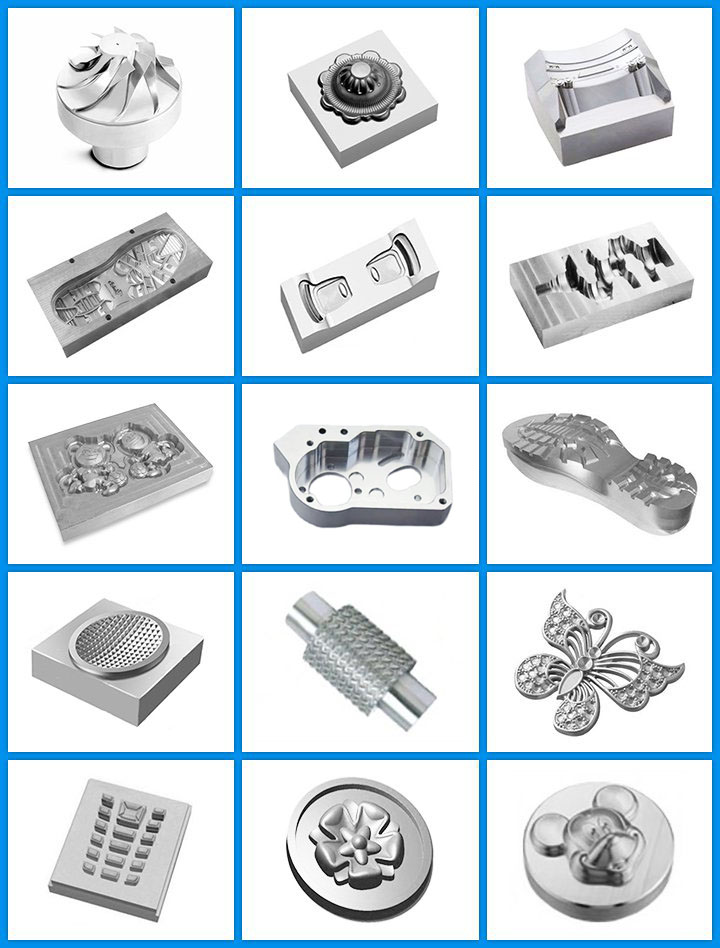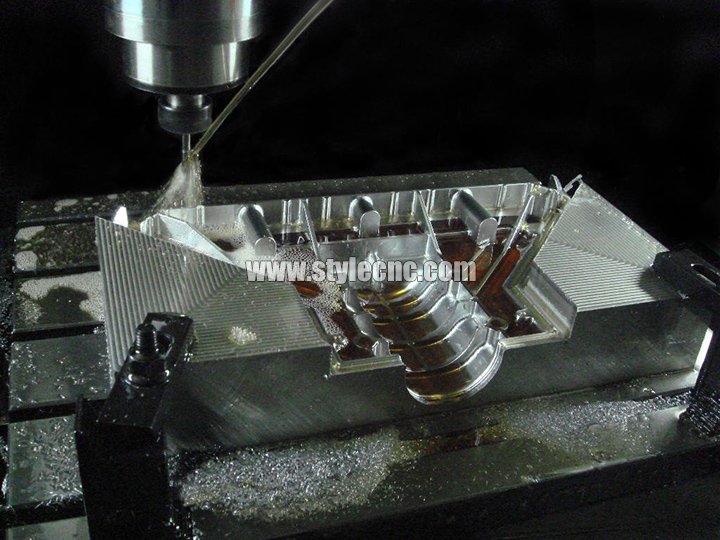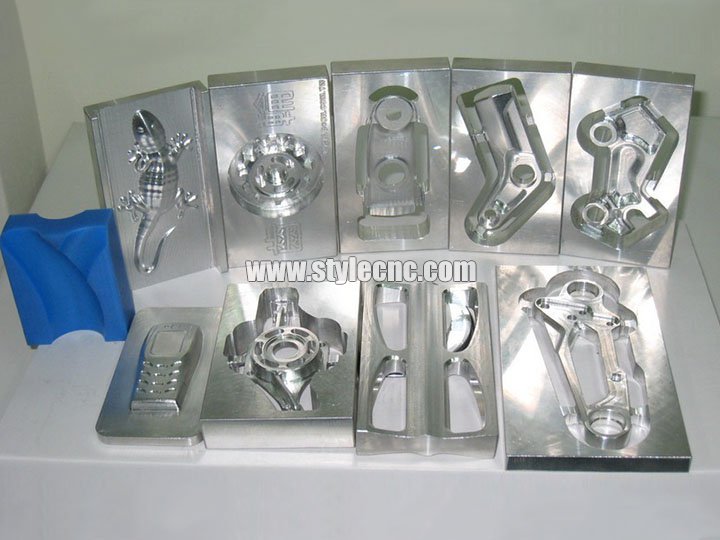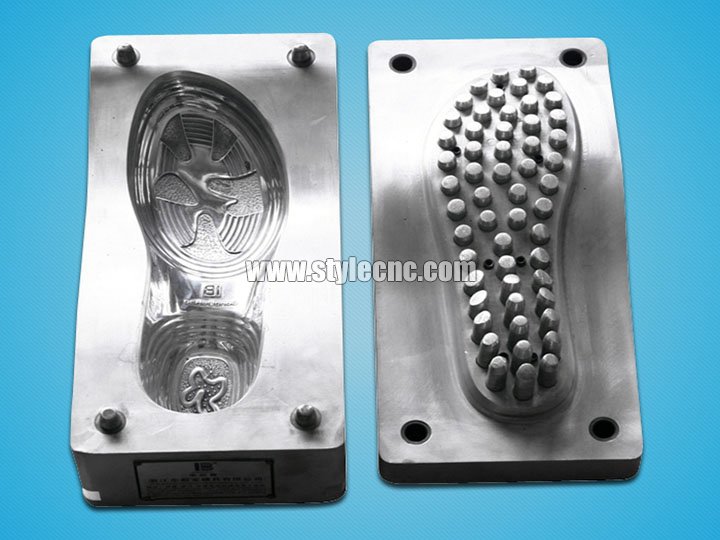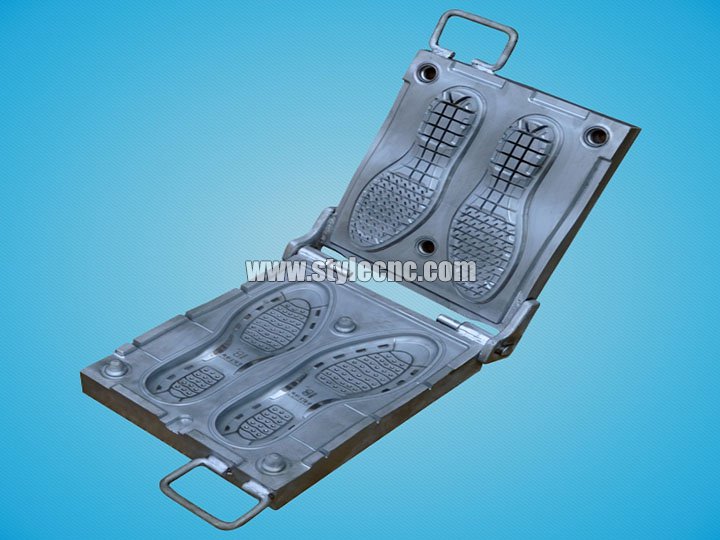 International Shipping Around the World
All the CNC routers can be shipped worldwide by sea, by air or by international express logistics via DHL, FEDEX, UPS. You are welcome to get a free quotation by filling up the form with name, email, detailed address, product and requirements, we will shortly contact you with the full information including the most suitable delivery method (fast, secure, discreet) and freight.