CNC metal pipe laser cutting machine (1000W to 4000W) with automatic feeding system for loading & unloading can meet round tube, square tube, rectangular tube, flat tube, flange beam, channel beam, U-tube, and all types of shaped tubes and pipes cutting.
Demonstration Video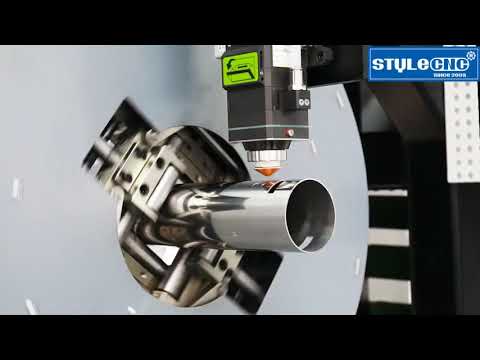 Product Details
CNC Metal Pipe Laser Cutting Machine
CNC metal pipe laser cutting machine is an automatic tube cutter that realizes metal tubes (square tube, round tube, rectangular tube, channel beam, flange beam, U-tube, flat tube, and all types of shaped tubes and pipes) cut with the cooperation of computer and laser generator. CNC laser tube cutters can cut any programmed shape on metal tubes, and the laser can cut perfectly in any direction. The shape to be processed can be flexibly and quickly changed through computer programming design. The high flexibility of laser tube cutting machines provides a strong technical support for more and more personalized metal processing, thereby reducing the number of molds used.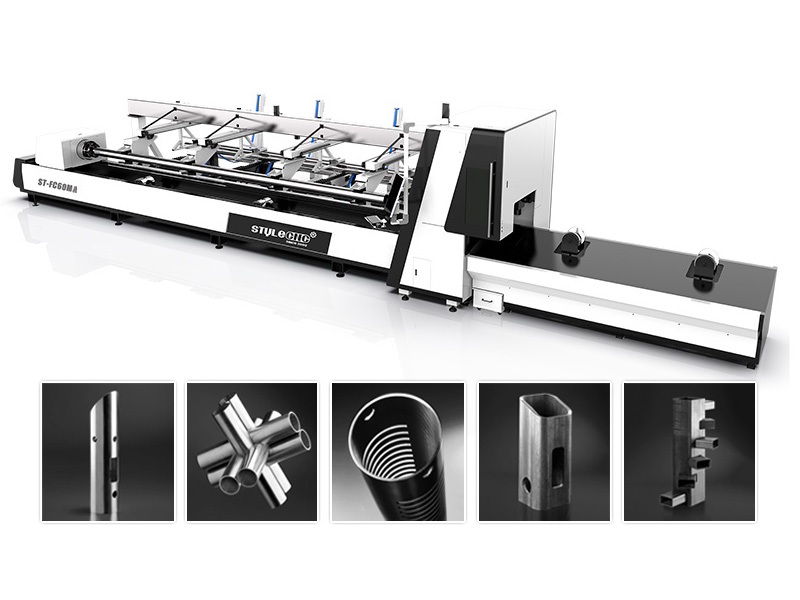 The modular design with the CNC controller realizes the unmanned and full data production of the pipe cutting operation. Compared with traditional metal pipe cutting system such as flame cutting, plasma cutting and water jet cutting, the precision of laser-cut metal pipes is much higher. The CNC laser tube cutting machine can be flexibly adjusted according to these deformations, which is also beyond the reach of many traditional cutting methods.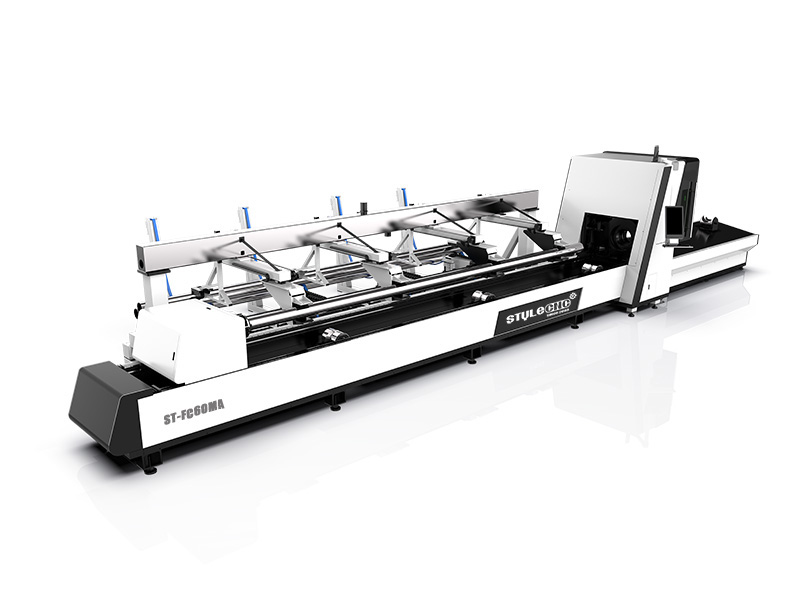 CNC laser tube cutting machine adopts centralized operation, flexible cutting, automatic loading and unloading, and the clamping is convenient and fast. It adopts precision rack and double drive mode, which is easy to maintain and maintain, and is basically maintenance-free. It adopts professional tube cutting software, which is the fundamental guarantee for effectively saving materials and improving cutting efficiency. Based on these advantages, laser pipe cutting machines are widely used in the processing of round pipes, square pipes, rectangular pipes and special-shaped pipes in fitness equipment, office furniture, kitchen cabinets and other industries.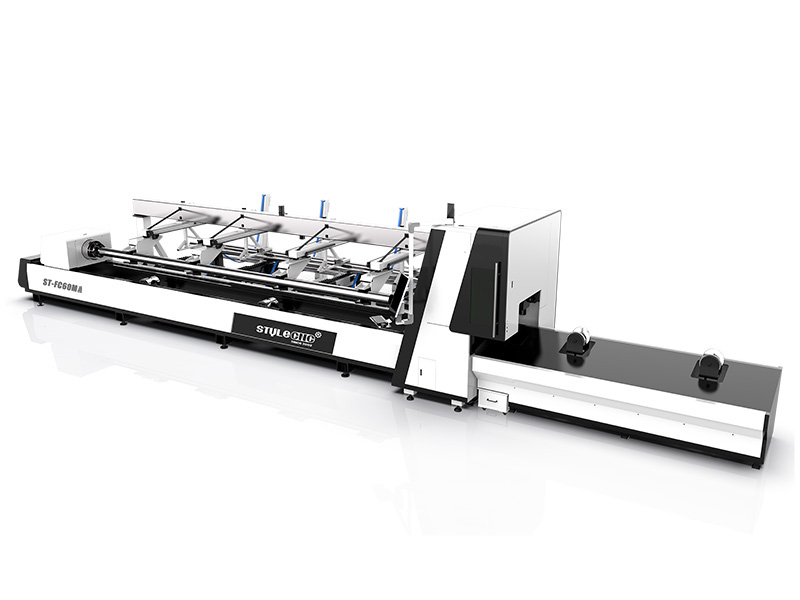 Advantages of CNC Laser Metal Tube Cutting Machine with Automatic Loading & Unloading System
Automatic Feeding System
Realize the intelligent material separation, feeding and seamless docking with the fiber laser cutting machine after the whole bundles of tubes are placed in the feeding device, and ensure that only one tube is delivered to the conveying arm each time.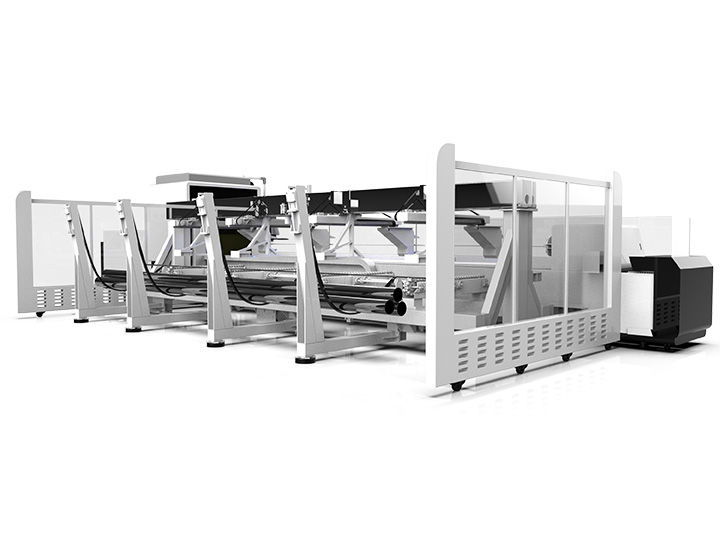 Automatic Unloading System
The finished product is automatically dropped to the storage bin, double support-bearing auxiliary support overlong tubes.
CNC Metal Pipe Laser Cutting Machine with Automatic Feeding System
| | |
| --- | --- |
| Model | ST-FC60MA |
| Laser Generator | Fiber Laser |
| Cutting Diameter Dimension | 20mm-220mm (Optional 20-350mm) |
| Cutting Length Dimension | 6000mm (Optional 9000mm) |
| Laser Wavelength | 1064nm |
| Laser Power | 1000W (1500W, 2000W, 3000W, 4000W for Option) |
| Cooling Method | Constant temperature coolong system |
| Repeat positioning accuracy | ± 0.02mm |
| Cutting System | Cyptube cutting system |
Applications of CNC Laser Metal Pipe Cutting Machine with Automatic Loading & Unloading System
Applicable Materials
Especially for cutting of stainless steel, carbon steel, alloy steel, aluminum, copper, titanium, or other metal materials, customised good effect for the treatment of the alloys and and other metal pipes and tubes.
Applicable Industries
Petroleum exploration, lamps, metal, tool-processing and other industries.
Features of CNC Metal Tube Laser Cutting Machine with Fiber Laser Generator
1. Clamp Design: It adopts an pneumatic clamp design on both sides and it can modulate the center automatically.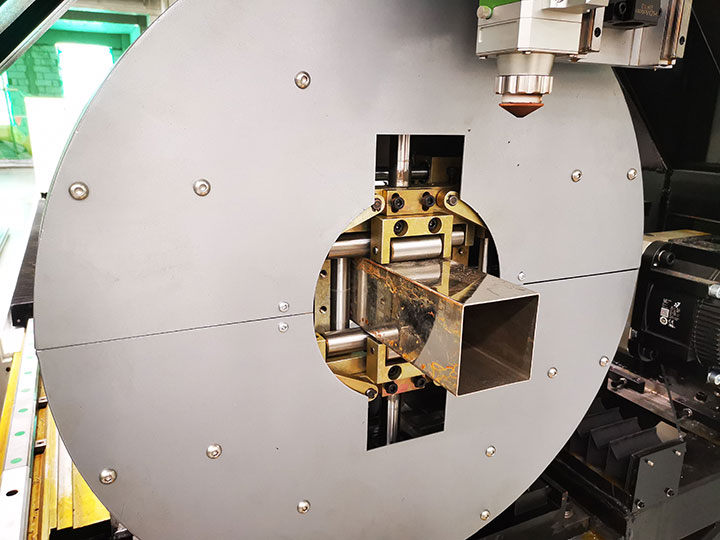 2. Four claws chuck: Perfect adaption to different specifications and sizes of pipes to solve complex production needs.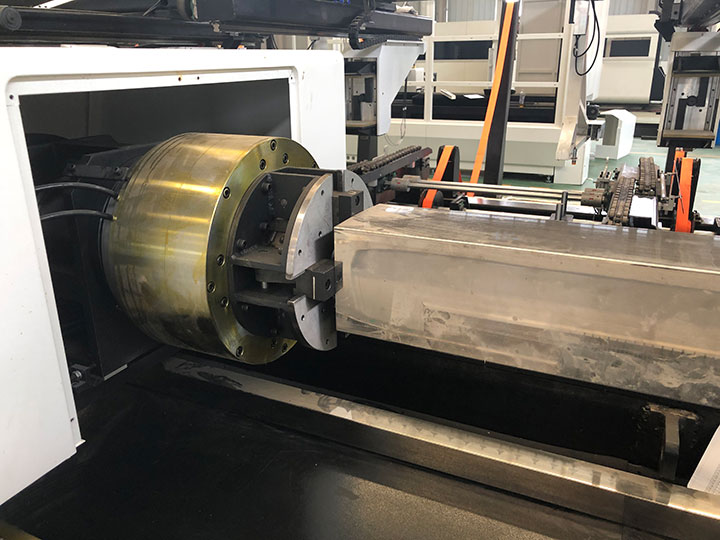 3. The intelligent tube support design, which can solve the deformation problems in the process of long tube cutting.
4. Intelligent operating system, one-button input cutting graphics, easy to operate.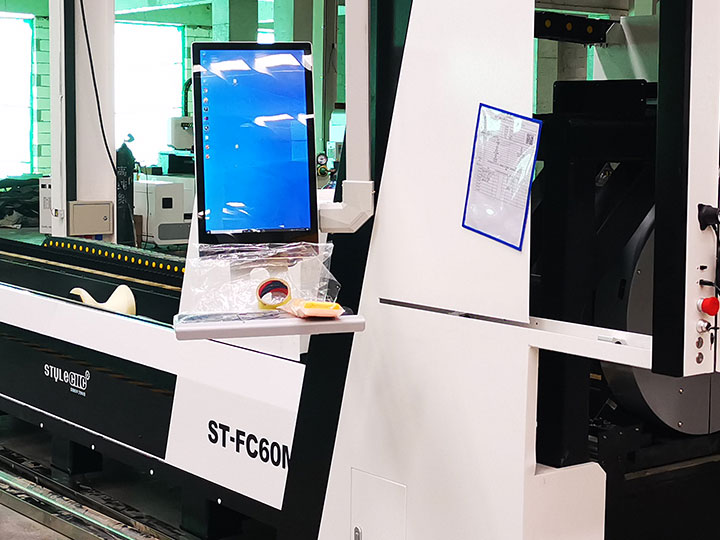 5. Professional Cyptube cutting Software: Rapid response to all shape tubes such as round tube, square tube, rectangle tube and oval tube, greatly improving cutting efficiency.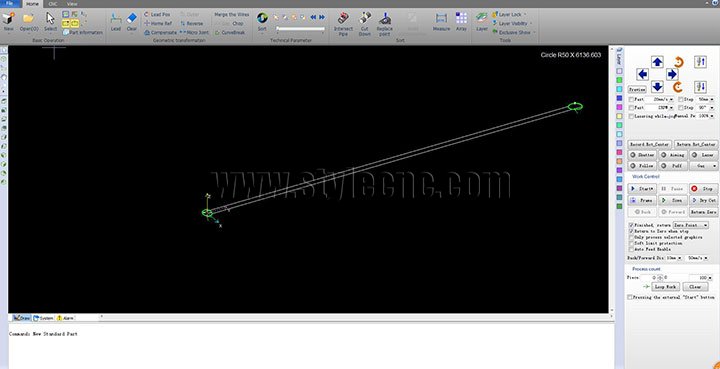 Laser Cut Metal Pipe Projects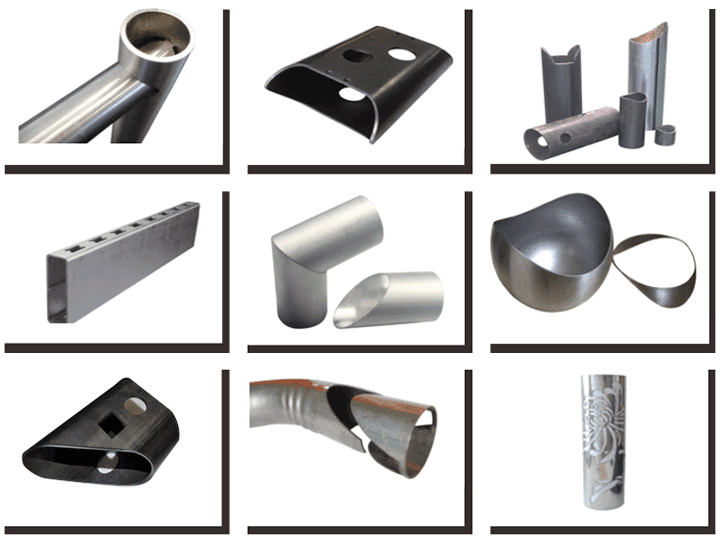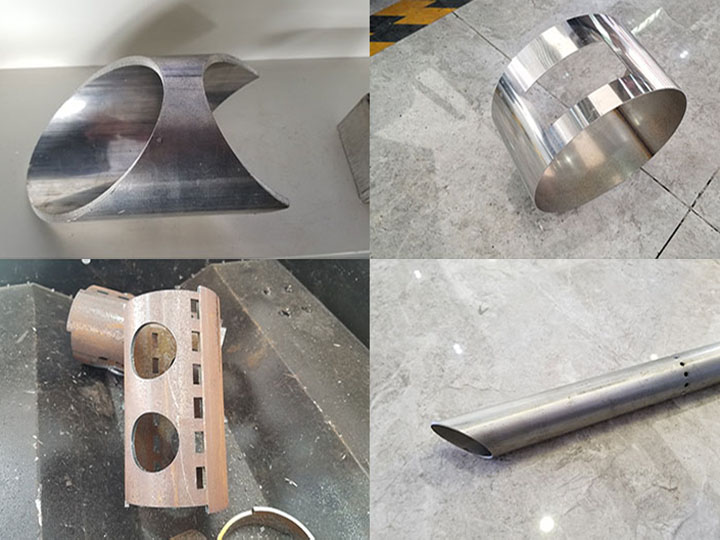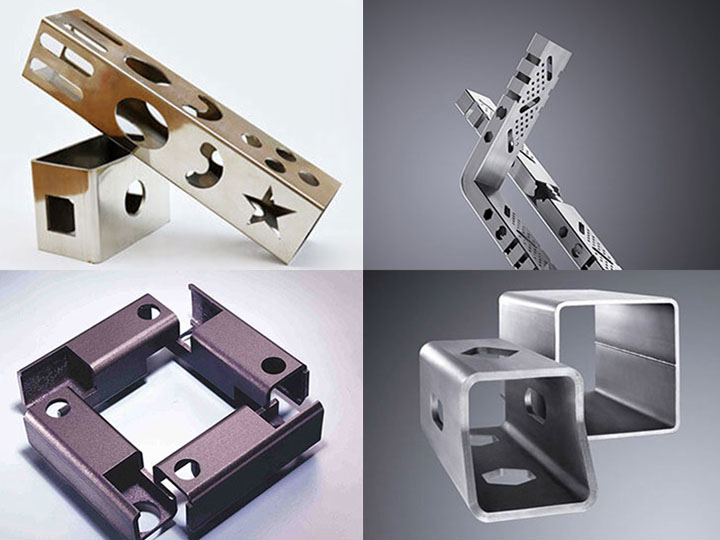 Things To Consider
CNC laser tube cutting machine is a high-quality fiber laser metal cutter that can achieve high-speed and high-efficiency cutting of round tubes, square tubes, special-shaped tubes and other metal shapes. Especially with the popularization and promotion of the concept of automation in recent years, the newly upgraded metal pipe laser cutting machine production equipment not only achieves automatic production and processing, but also improves the limitations of traditional laser cutting, saves time and effort, reduces costs, and is faster and faster. With high precision, it can achieve fine laser cutting of pipe punching, cutting, intersecting lines and various special-shaped and complicated patterns that are difficult to achieve by conventional methods. What should be considered in the daily use?
1. The spindle speed change must be carried out after parking. Gears should be fully engaged when shifting. When the machine tool is found to be abnormal, stop the machine immediately for inspection.
2. Before cutting, adjust the tool and clamp the work. The length of the clamping part shall not be less than 50 mm. The parking baffle should be fixed, and the work can only be carried out after the sequence test of clamping, loosening, forward, and backward.
3. When the machine tool is rotating, no part of the human body should contact the transmission parts. When operating, tie the cuffs, and it is strictly forbidden to wear gloves to work. The human head should deviate from the cutting direction.
4. When changing the tool, measuring the workpiece, lubricating, and cleaning the pipe head, it must be stopped.
5. When cutting the pipe head, it is necessary to prevent the pipe head from flying out and hurting people.
6. When the long material pipe is put into the material rack and the lead wire is loosened, measures should be taken to prevent the pipe from rolling, impacting and crushing people.
7. When using the grinding wheel pipe cutting machine, you should check in advance whether the grinding wheel is damaged, cracked, damp, and whether the power cord is reliable.
8. The dust removal device of the pipe cutting machine should be in good condition before cutting.
9. No one should stand in the direction of workpiece in and out.
Package for CNC Metal Pipe Cutting Machine with Fiber Laser Generator
1. Strong water resit bottom in plywood.
2. Laser source (separated plywood case) and spare parts on the laser bed.
3. Corner protect by foam and fixed by protective film.
4. All covered by strong and hard protective film.
5. Vacuum packing.
6. Inside steel frame protector.
7. Plywood packing and steel strip outside fixed the box.
8. Finishing packing by normal container or frame container.
Pre-Sale Service for CNC Metal Tube Cutting System with Fiber Laser Generator
Free Sample Cutting Service
For free sample cutting/testing, please send us your CAD file (.plt or .ai), we will do cutting in our factory and make video to show you the cutting process and result, or send samples to you to check the cutting quality.
Progressing Solution Design
According to customer's product processing requirement, we can design the unique solution that supports higher manufacturing efficiency and better processing quality for customer.
Customized Machine Design
According to customer's application, we may revise our machine according to customer's convenience and high production efficiency.
After-Sale Service for CNC Laser Metal Tube Cutter with Fiber Laser Generator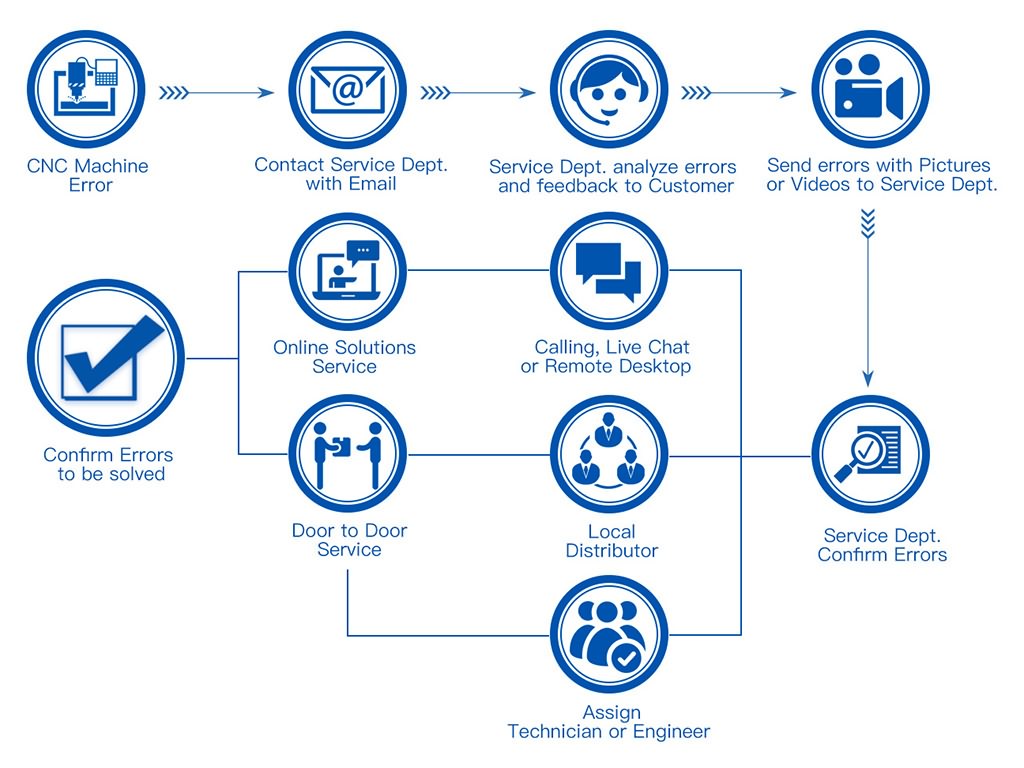 1. We will supply the laser machine with training video and user's manual in English for installing, operation, maintenance and trouble-shooting, and shall give technical guide by remote,such as TeamViewer, E-mail, Telephone, Mobile, Whatsapp, Skype, 24/7 online chat, and so on, when you meet some problem of installation, operation or adjusting. (Recommended)
2. You can come to our laser machine factory for training.We will offer professional guidance. Direct and effective face-to-face training. Here we have assembled equipment, all sorts of tools and testing facility. Training Time: 3~5 days (Recommended)
3. Our engineer will do a door-to-door instruction training service at your local site. We need your help to deal with the visa formality, prepaid traveling expenses and accommodation to us during the business trip and service period before their dispatch. It's better to arrange a translator (if no English-speaking) for our engineers during the training period.
Warranty for CNC Laser Metal Pipe Cutting System with Fiber Laser Generator
1. 3 years for the whole machine, laser device 18 months, chiller 12 months, lens/mirror/nozzle without warranty.
2. Long life-time maintenance, after-sale department will offer 24/7 English online support.
3. Except the damage artificially, we are responsible for offering the fittings free of charge during warranty.
4. After the warranty period expired, the buyer only need to pay the actual maintenance cost.
5. Certificate support: CE, FDA, SGS.
If you have an idea to get a free quotation of CNC metal tube cutting machine, please answer the questions as following and tell us by email, so that we can recommend the most suitable laser machine and quota the affordable price to you directly.
1. Do you need to cut metal sheets/plates, metal pipes/tubes only or both?
2. If need to cut tubes, What is your tube length, diameter and max thickness?
3. For cutting metal sheet, what is the max working area required?
4. After processed, what the materials will be used for? (Applications)
5. Which seaport is the nearest to you?
6. Do you have any experience in the CNC laser metal tube cutting system?
7. What is your online chat way? Such as Skype and Whatsapp.
8. Are you an end user or reseller?
International Shipping Around the World
All the CNC laser machines can be shipped worldwide by sea, by air or by international express logistics via DHL, FEDEX, UPS. You are welcome to get a free quotation by filling up the form with name, email, detailed address, product and requirements, we will shortly contact you with the full information including the most suitable delivery method (fast, secure, discreet) and freight.