China Homelife Jordan will be the most effective platform for leading Chinese companies seeking to do business in Jordan. Buyers guarantee the best quality and wide range of suppliers to choose from at the show. It will focus on nine product sectors: agriculture and food, building materials, consumer electronics, furniture, household appliances, textiles and clothing, household products, gifts, and lamps and lamps.
SENFENG LASER will come to the exhibition. We will bring three machines. The open type fiber laser cutting machine SF3015G is equipped with 750w- 3000w. It is double-rack, double-driver. The rack, guide and motor drive are use the international first-line brand, with laser interferometer to test to ensure cutting accuracy.The handheld fiber laser welding machine is equipped with 1000w and 1500w. The welding machine can operate to vertical welding, parallel welding and stitch welding. The laser marking machine SF200F is equipped with 20w, 30w, and 50w. The marking machine is portable with small size, light weight. Laser lifetime is more than 100,000 hours.
Time:    10th-12th December
Booth:  3A201
Address: Zara Expo Amman Jordan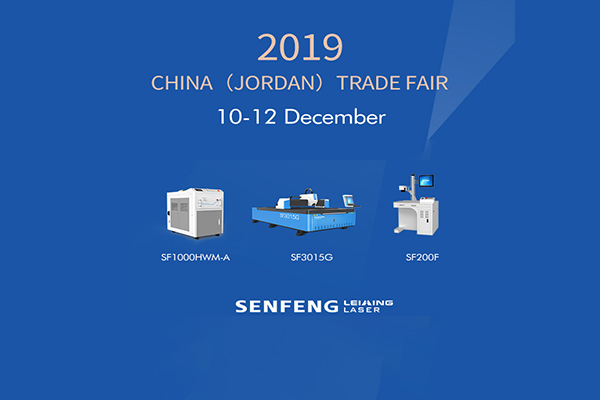 This year, our achievement in exhibition is fruitful. In the next year, we will keep working hard and provide better service to customers.
If you are interested in us, feel free to contact us! ㄍ
Skype: senfenglaser1
WhatsApp: 0086-13210546543
E-mail: [email protected]
Source link: https://www.sfcnclaser.com/CHINA-TRADE-FAIR-MACHINE-HOME-LIFE-is-Coming-SENFENG-LASER-id8080484.html