STJ1390 cheap CO2 laser engraving machine with powers of 60W, 80W, 100W, 130W, 150W or 180W is an entry level nonmetal engraver for wood, fabric, stone, glass, acrylic, paper, plastic, and any type of leather. The best CO2 laser engraver is used in signs, arts, crafts, gifts, shoes, toys, garments, packaging and paper industry.
Demonstration Video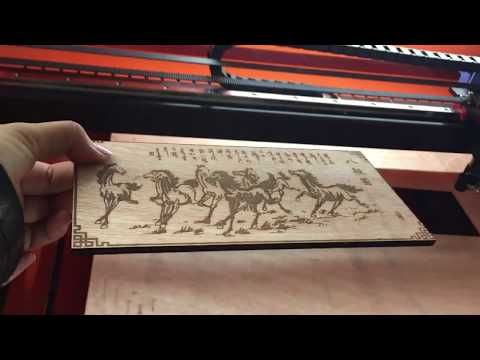 Product Details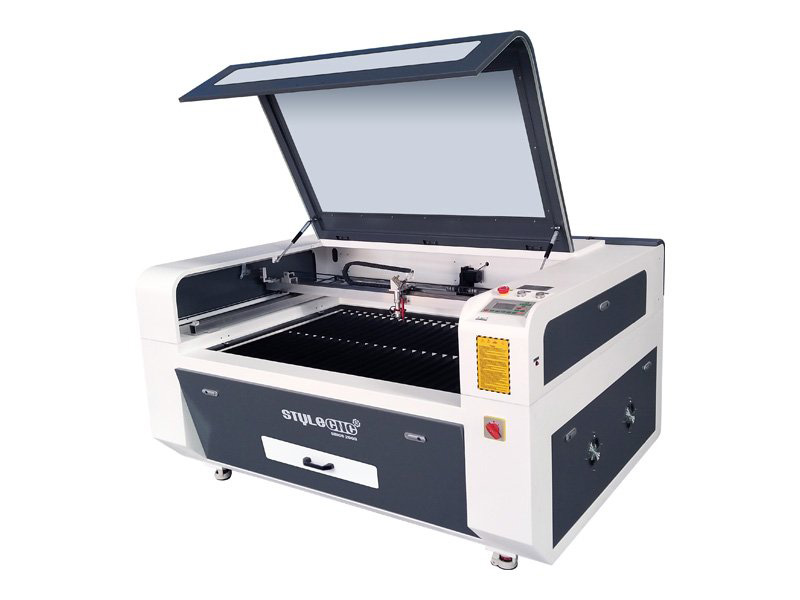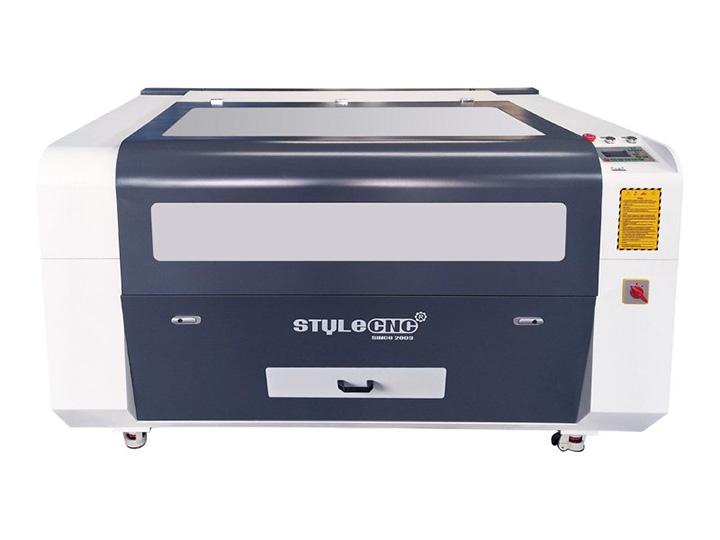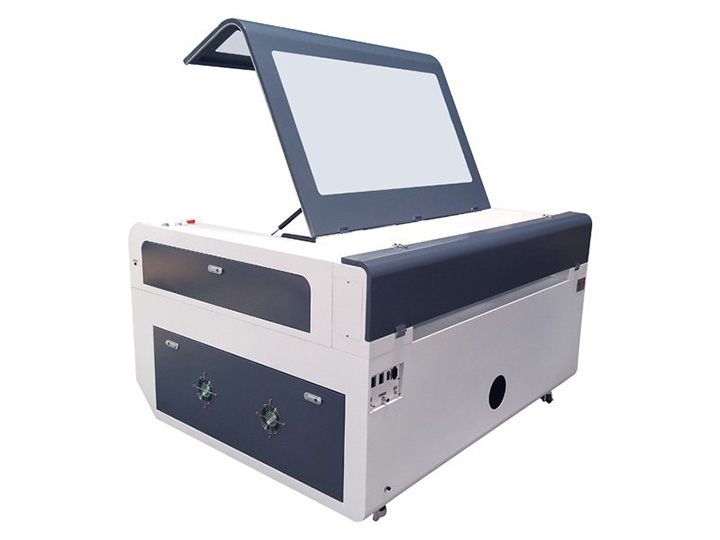 What Is CO2 Laser Engraving Machine?
CO2 laser engraving machine is a type of computer numerical controlled nonmetal laser etching system that uses CO2 laser tube to output high-density laser beam for engraving & cutting. CO2 laser engravers are used for wood, fabric, leather, acrylic, plastic, plexiglass, paper, wool, rubber, crystal, ceramic tiles, jade, epoxy resin, bamboo, and more non-metallic materials. It is widely used in crafts making, advertising, decoration, clothing, leather, toys, electronic appliances, computer embroidery and cutting, models, packaging and printing, paper products, and more industries.
STJ1390 CO2 laser engraving machine is equipped with a precision water cooled CO2 laser generator which can engrave on almost any non-metal materials surface. The nonmetal laser engraving machine can also be used for cutting many different materials. With the cylinder rotary attachment, you can engrave any cylindrical object, such as cup, brush pot, musical instrument, and so on. The CO2 laser engraving system supports multiple graphic formats, such as PLT, DXF, BMP, JPG, GIF, PGN, TIF, and so on. The CO2 laser machine is equipped with DSP control system for CorelDraw, AutoCAD, and more professional softwares.The CO2 nonmetal laser engraver is compatible with WIN10, WIN8, WIN7, Windows Vista and Windows XP.
How Does CO2 Laser Engraving Machine Work?
CO2 laser generator uses the transition between the vibration and rotation energy levels of CO2 molecules to generate laser beam, and the laser beam is transmitted and focused on the surface of the material, causing the material irradiated by the high-energy laser beam to vaporize rapidly to form pits. Use the computer to control the X-Y console to drive the laser head to move and control the laser switch as required. The image information made by the software has been stored in the computer in a certain way. When the information is read from the computer in sequence, the laser head moves along the scan trace from left to right, from top to bottom, line by line to scan back and forth, and form an engraved pattern. With high power laser, laser cut can be realized. Generally speaking, 60W laser is mainly used for engraving, 80W laser, 100W laser, 130W laser, 150W laser, and 180W laser can be used for both engraving and cutting. Of course, the laser power is adjustable during operation. Turn it down for engraving and turn it up for cutting. The level of laser power will also affect the depth of engraving and the thickness of cutting.
CO2 Laser Engraving Machine Features
1. Automatic focus lens.
2. CO2 sealed laser tube including laser powers of 60 Watts, 80 Watts, 100 Watts, 130 Watts, 150 Watts or 180 Watts.
3. Honey comb table or knife table for option.
4. Automatic up and down platform for option.
5. Profesional exhauster device.
6. Profesional cooling device.
7. Transmit files directly in CorelDraw, AutoCAD, and more softwares.
8. The CO2 laser machine adopts international linear rail with high precision.
9. The CO2 laser machine owns functions of restoring from power off, continuation on break point.
CO2 Laser Engraving Machine Technical Parameters
Model
STJ1390 / STJ9060
Laser Power
60W (80W, 100W, 130W, 150W, 180W)
Laser Type
CO2 Glass Laser Tube
Power Supply
110V/220V, 50Hz/60Hz
Working Area
1300*900mm/900*600mm
Control Configuration
RDworks V8
Data Transfer Interface
USB
System Environment
WINDOWS XP, WIN 7, WIN 8, WIN 10
Cooling System
Water Cooling and Protection System
Compatible Software
CorelDraw, AutoCAD, Photoshop
Color Separation
Separation of cutting up to 256 colors
Option Items

Rotary Device

Z Axis (up-down table)
CO2 Laser Engraving Machine Applications
CO2 laser engraver is designed for wood engraving, industrial prototyping, industrial engraving, sign making, medical part engraving, aerospace, architectural modeling, specialty advertising, plastics fabricating, flexo, point of purchase, rubber stamps, picture framing, gift manufacturing, bar coding, gasket cutting, textile cutting, puzzles, cabinetry, awards recognition, personalized pens, door pulls, scroll patterns cutting, games, toys, finger joints, inlays, overlays, fraternity paddles, music boxes, light switch plates, jewelry boxes, parts engraving, router templates, desk sets, scrap booking, photo albums, jewelry, crafts, and Italian charms.
Applicable Materials
Wood, acrylic, stone, bamboo, organic glass, crystal, plastic, garments, paper, leather, rubber, ceramic, glass, and other nonmetal materials.
Applicable Industries
Advertisements, gifts, crafts, arts, toys, shoes, computers, model making, garments, building, paper, packaging and printing.
CO2 Laser Engraving/Cutting Capacity
| | | |
| --- | --- | --- |
| Applicable Materials | Cutting | Engraving |
| Acrylic | Plexiglass | PMMA | Perspex | √ | √ |
| Organic board | Double color sheet | √ | √ |
| Wood | Plywood | Veneer | MDF | Balsa | √ | √ |
| Leather | PU | Shoe Material | Synthetic Leather | Genuine Leather | √ | √ |
| Fabric | Cloth | Textile | √ | √ |
| Carpet | Mat | Rug | Wool Felt | √ | √ |
| Paper | Cardboard | Chipboard | Press Board | √ | √ |
| Ceramic | Tile | Marble | Glass | | √ |
| Plastic | √ | √ |
| Fiber Glass | Filter Cloth | √ | |
| Coated metal/anodized metal | | √ |
Standard Configurations of CO2 Laser Engraver
1. Laser Power: 60W, 80W, 100W, 130W, 150W or 180W, you can choose RECI laser tube with life-span of 8,000 – 10,000 hours.
2. Working Area: 1300*900mm, which can be customized as your requirements.
3. DSP Control System: Easy to operate with a few buttons.
4. High resolution laser head with high quality and long lifetime.
5. Knife Worktable: It is suitable for hard materials such as wood, acrylic, etc. You can also choose honey comb table use for soft materials such as leather, fabric, etc.
6. Water Pump: It is used for cooling laser tube to protect it with long life.
7. Exhaust Fan: Blow away the smoke.
8. Air Pump/Compressor: Cooling the laser head to avoid the materials being burned.
9. Tool Box: Including CD, user manual, and some wrenches for your work.
10. USB Cable: To connect the CO2 laser machine and computer.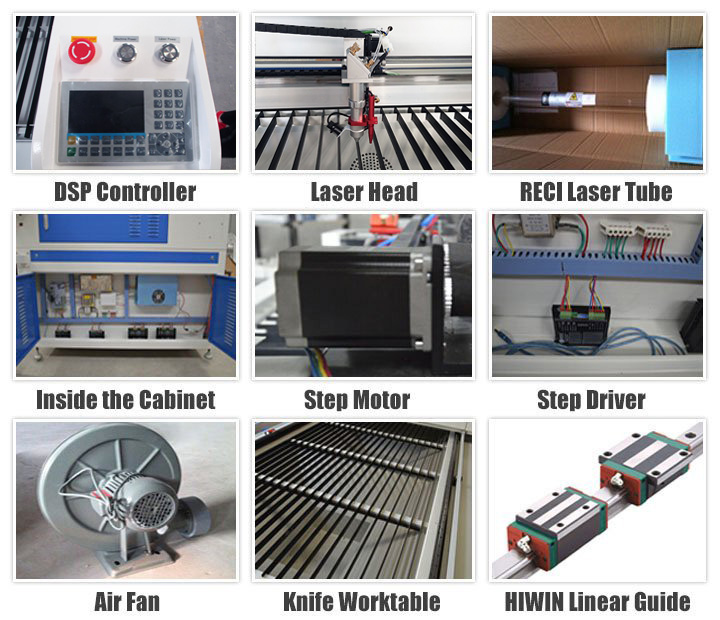 Extended Configurations of CO2 Laser Engraver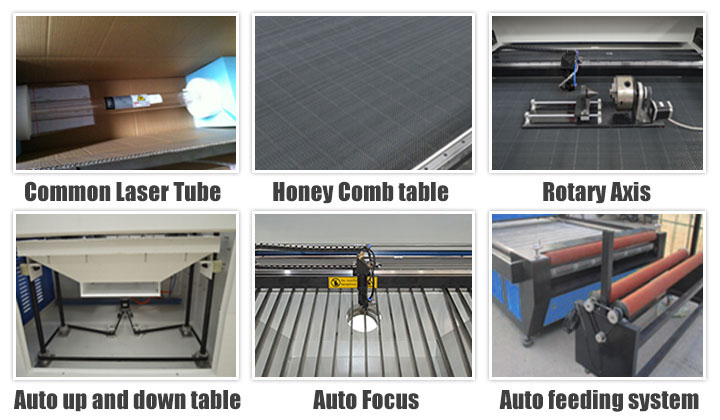 Laser Head for Engraving & Cutting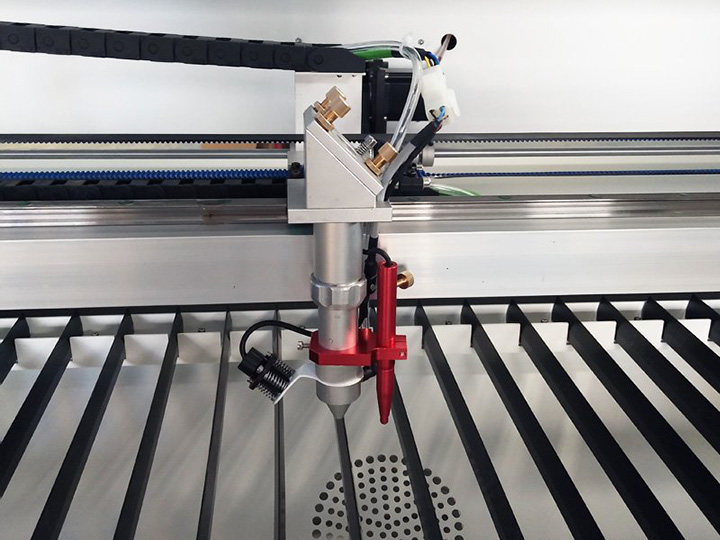 CO2 Laser Tube for Laser Engraving System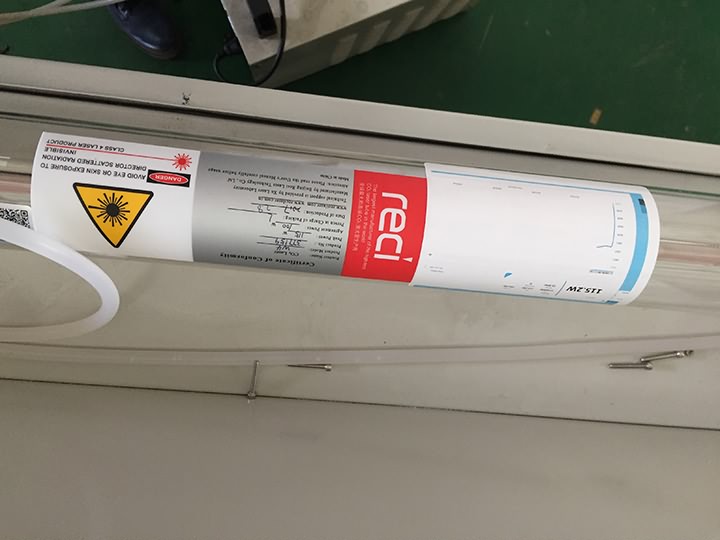 CO2 Laser Engraving Projects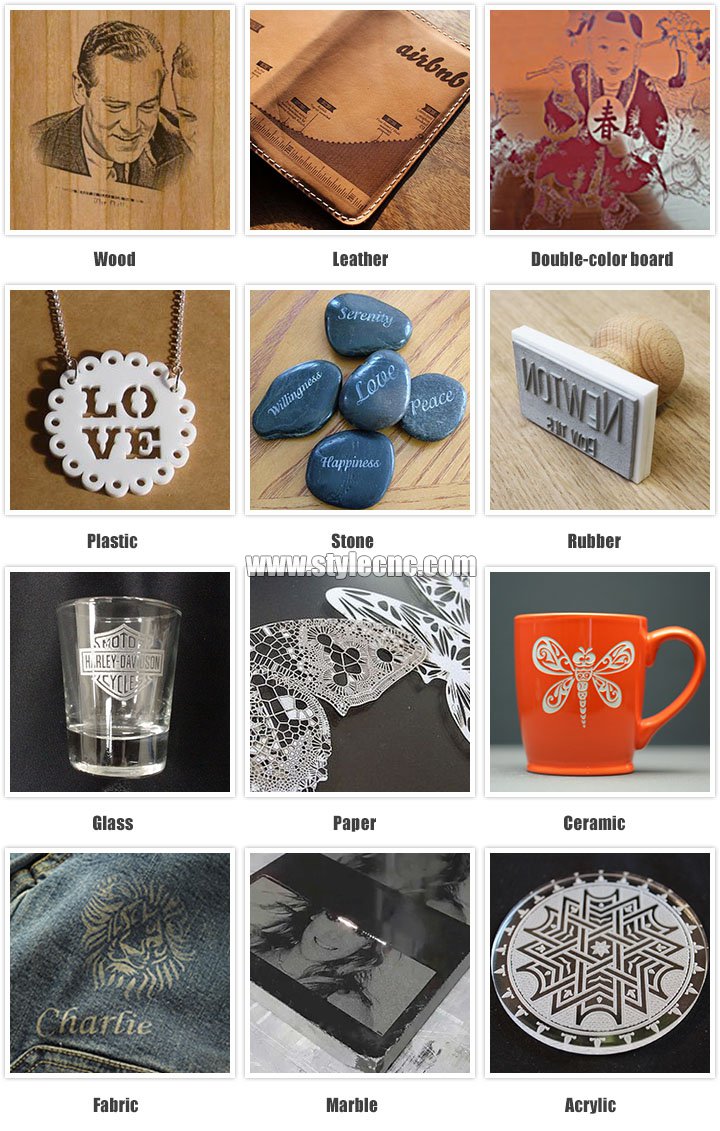 CO2 Laser Engraving Machine Packages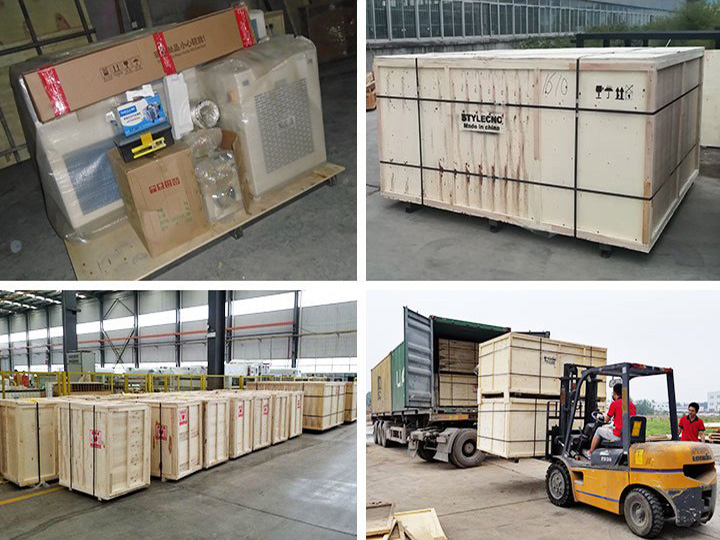 We also have CO2 laser engravers with double heads for your choice: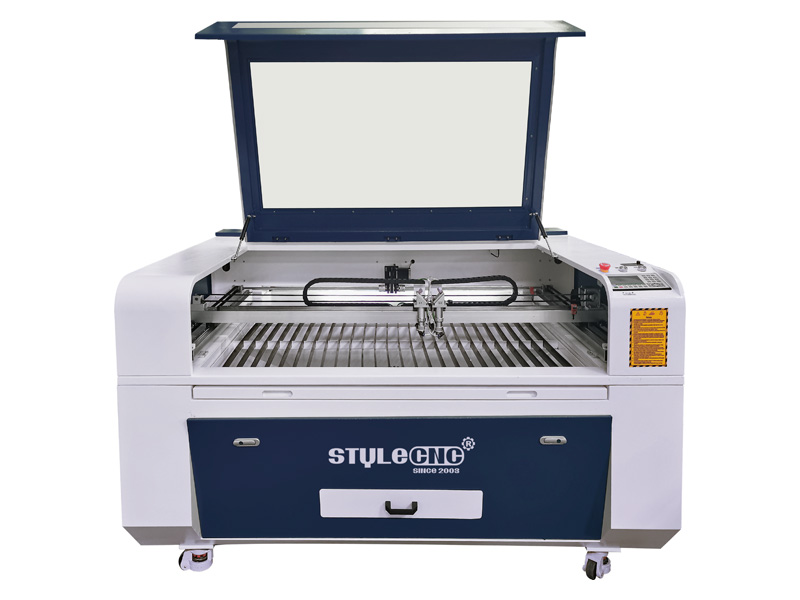 International Shipping Around the World
All the CNC laser machines can be shipped worldwide by sea, by air or by international express logistics via DHL, FEDEX, UPS. You are welcome to get a free quotation by filling up the form with name, email, detailed address, product and requirements, we will shortly contact you with the full information including the most suitable delivery method (fast, secure, discreet) and freight.