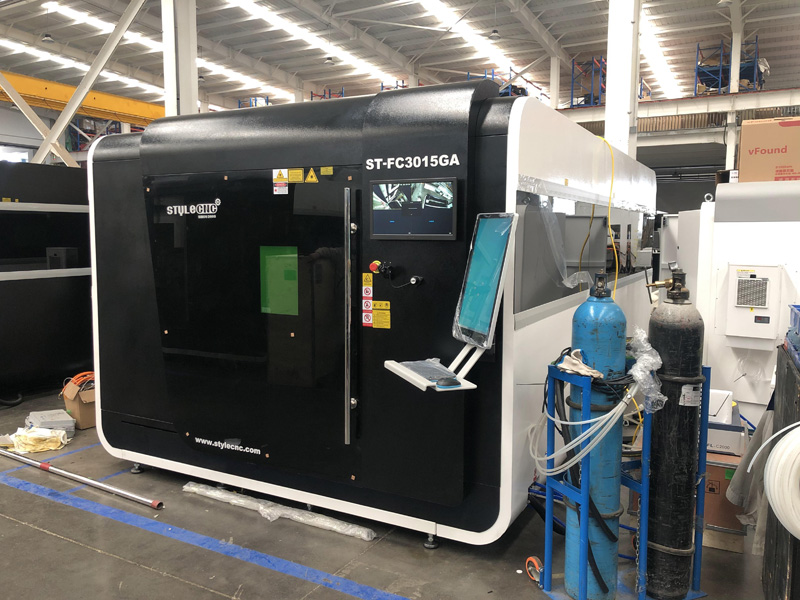 Overview
ST-FC3015GA is an automatic 5×10 fiber laser cutting machine with CNC controller for sheet metal fabrication, which is euipped with a dual exchange table and a large enclosure structure design, integrating precision machine tools, fiber lasers, fiber transmission and focusing systems, digital control systems, and automatic height tracking system of cutting heads, laser head movement axis, laser head auto-focus system, cooling system, gas control system, dual-platform exchange system, to meet the automatic laser cutting processing of various types of flat plates. ST-FC3015GA features with fast cutting speed, high cutting efficiency and high precision. The double exchange workbench design can save a lot of feeding time for batch cutting and mass production, improve the convenience of loading and unloading, and improve work efficiency. It is a high-tech automatic metal cutting machine integrating fiber laser technology, CNC technology and precision machinery technology.
ST-FC3015GA uses a high-end fiber laser generator to output a high-energy-density laser beam and focuses it on the metal surface, so that the area irradiated by the ultra-fine focus spot on the metal surface melts and vaporizes instantly, and the CNC controller moves the position of the laser spot to realize automatic cutting.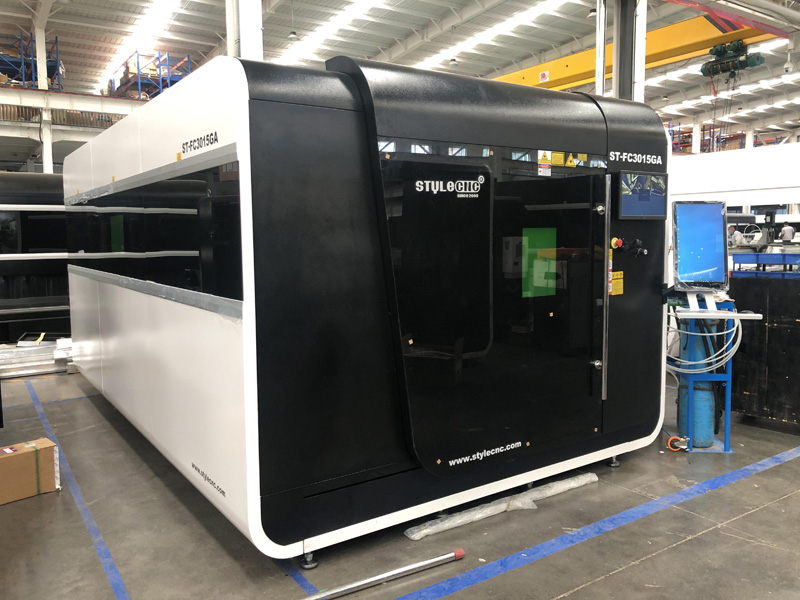 Applicable Materials
ST-FC3015GA is used for cutting carbon steel, silicon steel, stainless steel, tool steel, mild steel, aluminum, titanium, alloy, galvanized sheet, pickled sheet, brass, copper, silver, gold and other metal materials (non-metal not applicable).
Industry Applications
ST-FC3015GA is used in sheet metal fabrication, electronics, machinery manufacturing, subway accessories, signs making, aerospace, automobiles, aviation, shipbuilding, electrical appliances, metal parts, metallurgical equipment, precision accessories, household appliances, elevators, advertising, metal crafts making, metal gifts making, metal tools making, decorations, metal external processing and other manufacturing and processing industries.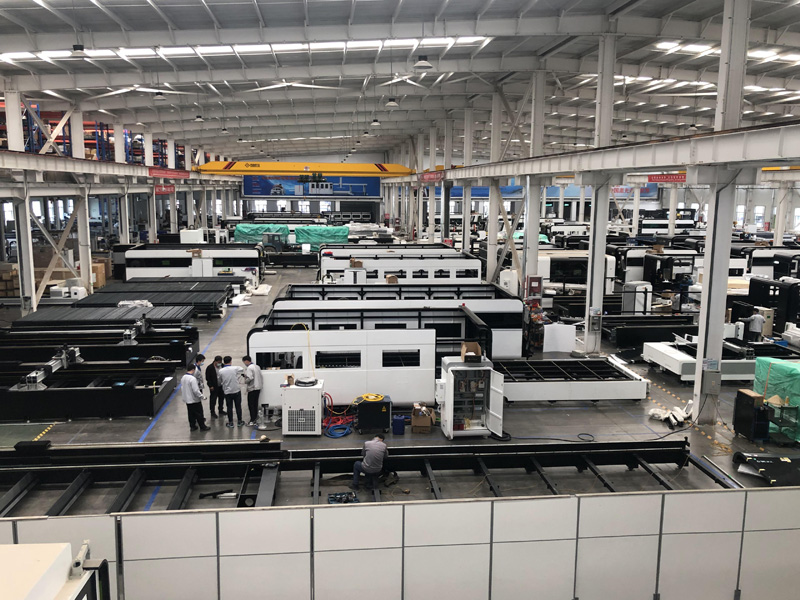 Features
• ST-FC3015GA is designed and manufactured in accordance with industrial machine tool standards. The sheet metal cutter foundation is stable and solid, and the structural rigidity meets the industrial-grade machine tool standards with high precision.
• The bed frame of ST-FC3015GA adopts honeycomb welding structure, which ensures that the huge thrust generated by the instantaneous acceleration and deceleration of the large inertia motor is evenly distributed to all parts of the sheet metal cutting machine, greatly reducing the vibration of the fiber laser cutter.
• Following the design standards of large machine tools, it has undergone data simulation analysis and durability inspection.
• High-precision testing instruments detect various precision data of machine tools.
• Ultra-soft towline special fold-resistant cable with full shielding layer, convenient and practical residual material collection and ventilation design.
• The CNC control system adopts a modular structure, the wiring is simple, reasonable, standardized, and easy to maintain. Due to the large-scale use of integrated circuits, it has the advantages of small size and stable performance.
• Programmable cutting of straight lines and arcs of any plane shape parts, the system software has powerful file graphics editing and processing functions.
• The transmission part of the fiber laser metal cutting machine adopts high-standard precision grade brand components to ensure high precision and durability.
• ST-FC3015GA is a gantry laser cutting machine with an overall outer enclosure structure to reduce laser radiation and provide protection and safety. It can maintain good stability and safety for a long time, and is more in line with environmental protection standards.
• Parallel exchange of double worktables saves loading and unloading time and less machine idle time.
Pros & Cons
• Fiber laser has long focal depth, small spot, small incision, straight incision wall, smooth incision, beautiful appearance and no deformation.
• The optical path is not constrained, the optical fiber transmission loss is small, and the processing range can be maximized.
• Optical fiber transmission, without reflective mirrors, can save a lot of maintenance costs.
• The use of professional software can realize the timely processing of various graphics and characters, which is easy and convenient to use.
• Hydraulically adjustable high and low double exchange table saves loading and unloading time.
• The widened guide rail support surface further optimizes the rigidity of the bed.
• The composite thermal insulation armor effectively protects the structural stability of the main beam of the bed in the ultra-high-power laser processing environment.
• High security fully enclosed shell structure.
• Energy saving and environmental protection, perfect smoke and dust removal system.
• High performance, optical fiber transmission, stable processing, can achieve high-quality cutting of any shape, and is suitable for cutting high-reflection materials such as copper and aluminum.
• High efficiency, fast cutting speed, low operating cost, double return on your investment.
• Low air consumption, oxygen, nitrogen, and dry compressed air can be selected according to different processes and materials.
• Low energy consumption, energy saving and environmental protection, extremely low power consumption.
• Low maintenance, no reflective lens, no need to adjust the optical path, basically maintenance-free.
• The whole machine is fully surrounded by design to reduce laser radiation and protect safety.
• High and low double workbench, saving loading and unloading time.
For the specific technical parameters of ST-FC3015GA, please refer to ST-FC4020GA, only the table size is different, ST-FC3015GA is 5'x10′ (3000x1500mm) and ST-FC4020GA is 6'x12′ (4000x2000mm).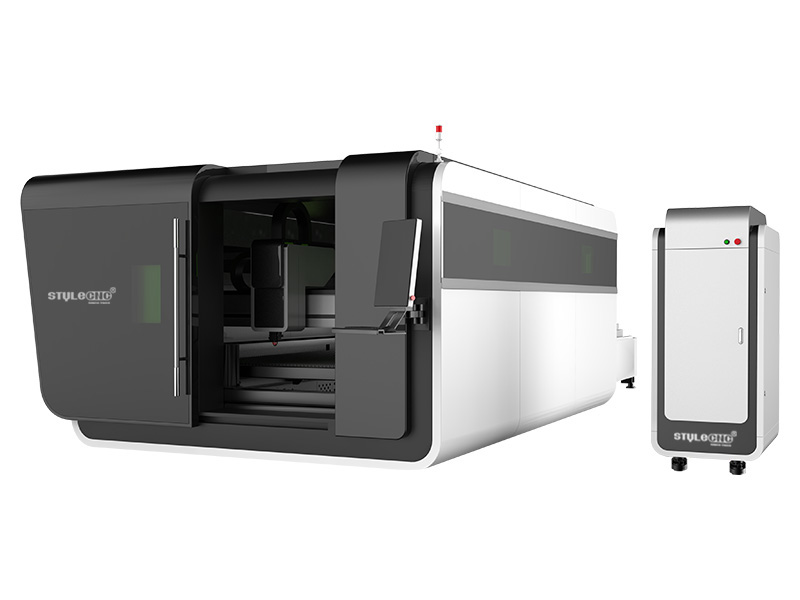 ST-FC4020GA
We also make ST-FC3015GR, which can cut sheet metal and tube in one machine for your choice.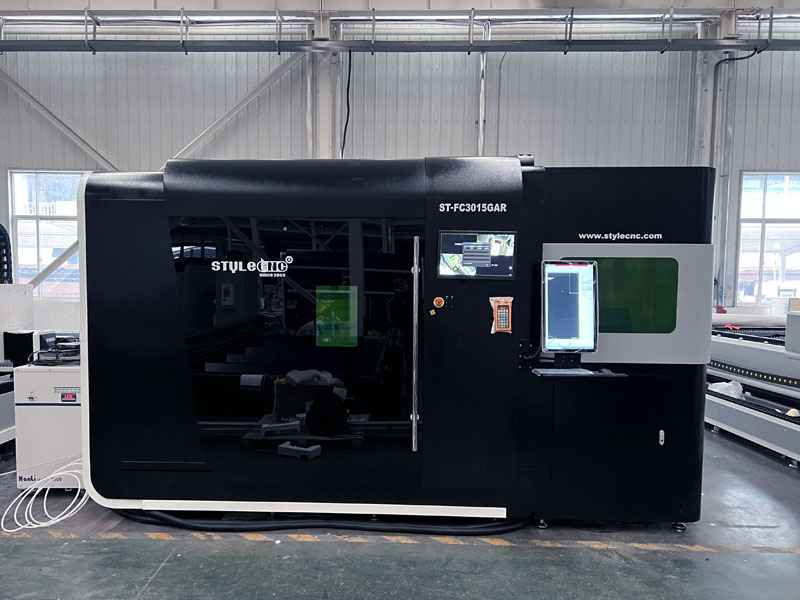 ST-FC3015GR