5×10 Hypertherm plasma cutter table with CNC controller is designed to cut both sheet metals and metal pipes with 4th rotary axis, the best 5×10 plasma table adopts Hypertherm Powermax to get a fine cutting of metals, and add a rotary device to cut metal tubes. Now the affordable Hypertherm industrial plasma cutting machine for sale at cost price.
Demonstration Video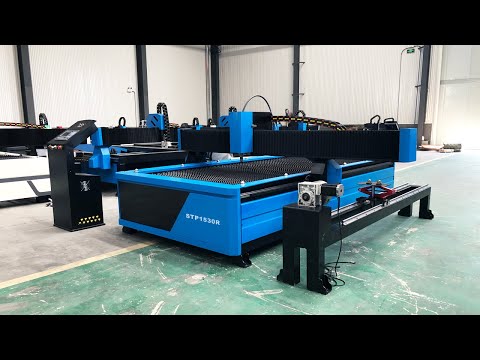 Product Details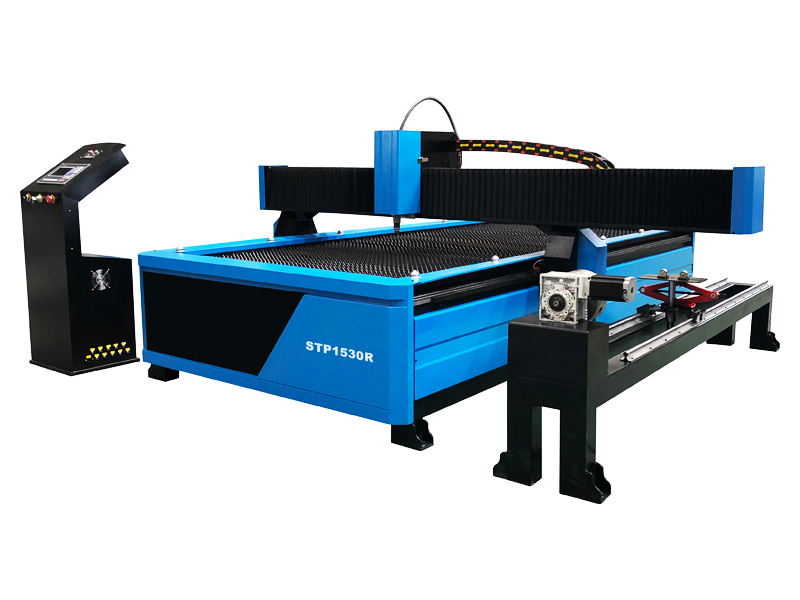 Hypertherm is a well-known American brand that makes Powermax plasma, plasma systems, consumables, CNC motion and height controllers for handheld and CNC plasma cutters & table kits. Hypertherm is trusted for high speed and accurate metal cutting performance and reliability, helping thousands of businesses to improve production efficiency and profitability. Hypertherm makes plasma cutting more precise, more economical, safer and easier to use.
Hypertherm plasma cutter is a multifunctional automatic thermal metal cutting tool with high efficiency, high precision and high reliability, which combines computer control, compact mechanical transmission, oxygen gas cutting or plasma cutting technology. It is used for high-precision metal thermal cutting in shipbuilding, steel structure, electric power, boiler, rolling stock, petrochemical and other manufacturing industries.
Hypertherm plasma table is an automatic metal cutter table kit that uses the high temperature generated by the plasma arc to melt and vaporize metal, and blow away the molten metal to form a precision cut with high speed. It is a better choice for thick metal fabrication than fiber laser cutting machine. The thicker the metal, the higher the power required for fiber laser cutter, and the cost of investment will also increase significantly. Therefore, in the process of thick metal fabrication, considering the comprehensive investment cost, efficiency, and effect, Hypertherm is an ideal choice.
STYLECNC is a professional Hypertherm CNC plasma table manufacturer for hobbyists and industrial manufacturing, we have different types of CNC plasma cutting tables for option, such as 4×4 Hypertherm plasma table, 4×8 Hypertherm plasma table, 5×10 Hypertherm plasma table or other customized table tops with any budget.
Technical Parameters of 5×10 Hypertherm Plasma Cutter for Sheet Metal and Metal Pipe with 4th Rotary Axis
| | |
| --- | --- |
| Model | STP1530R |
| Table Size | 1500x3000mm (5×10) |
| Max Cutting Thickness | 40mm |
| Pipe Cutting Size | Diameter from 200mm to 600mm, Length up to 3000mm or 6000mm |
| Plasma Cutting Speed | 0-6500mm/min |
| Plasma Power Supply | Powermax 45A, 65A, 85A, 125A, 200A |
| Machine Frame | Welded Structure |
| Machine Structure | Rack and Pinion Drive, Hiwin Rail Linear Bearings |
| Height Controller | HYD Torch Height Controller |
| Working Voltage | 380V/3PH |
| Control System | BEIJING STARFIRE CNC |
| Moving Precision | 0.01mm Per Step |
| Document Transmission Form | USB Interface |
| Drive Motors | Stepper Motor and Leadshine Driver |
| G.W. | 1500KGS |
| Packing Size | 4.17*2.25*1.65m |
Hypertherm Plasma Cutter Cutting Capacity of Plasma Power Supply
Power Supply

Cutting Thickness

Power Supply

Cutting Thickness

China Huayuan Brand

USA Hypertherm Brand

63A

8mm

Powermax 45A

8mm

100A

15mm

Powermax 65A

10mm

120A

20mm

Powermax 85A

12mm

160A

30mm

Powermax 105A

18mm

200A

40mm

Powermax 125A

25mm

Powermax 200A

30mm
Features of 5×10 Hypertherm Plasma Table for Sheet Metal and Metal Pipe with 4th Rotary Axis
The whole machine adopts square tube welding structure, which has the characteristics of good rigidity, high precision, light weight and small inertia. All welded parts are subjected to vibration aging stress relief treatment, which effectively prevents structural deformation; vertical and horizontal drives: all adopt precision rack and pinion transmission. The horizontal guide rail adopts high-quality linear guide rail, and the longitudinal guide rail is made of precision-processed special steel rail, which ensures the machine runs smoothly, with high precision, and is durable, clean and beautiful. The deceleration adopts the top brand planetary gear reducer, which can perfectly guarantee the precision and balance of the movement.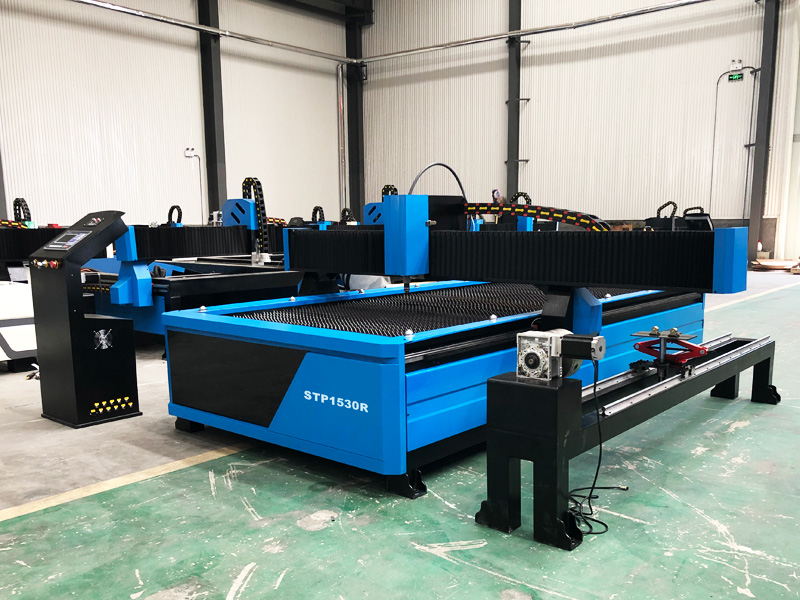 1. The Hypertherm CNC plasma table size is 5x10ft, the rotary device with diameter 300mm and 3000mm length. Other sizes are optional based on your cutting plan.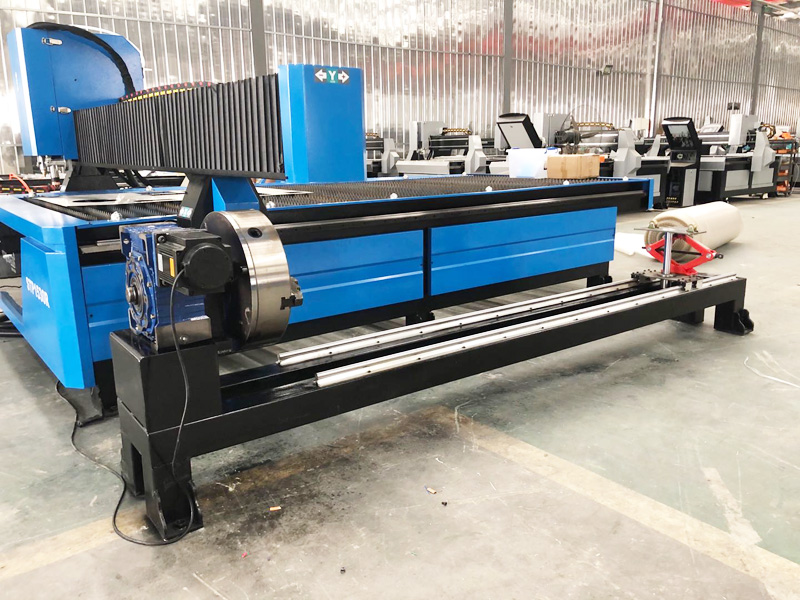 2. The plasma power supply can be equipped with USA Hypertherm brand or Chinese Huayuan brand.
Hypertherm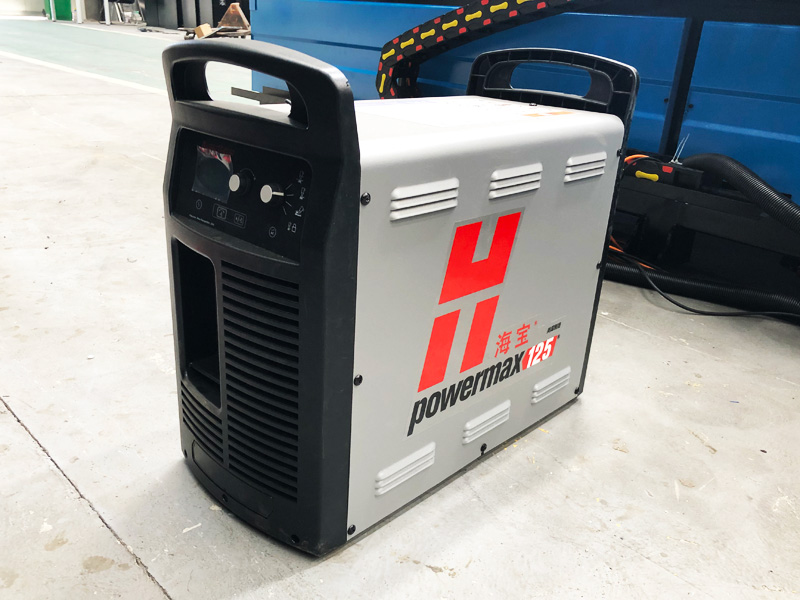 Huayuan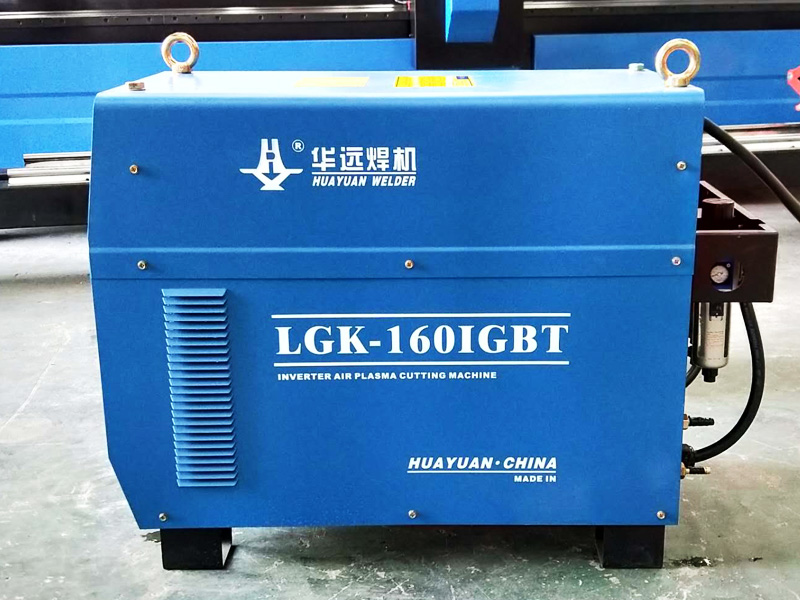 3. Hypertherm 5×10 plasma table adopts STARFIRE numerical control system disposes high, the automatic striking arc, the performance is stable.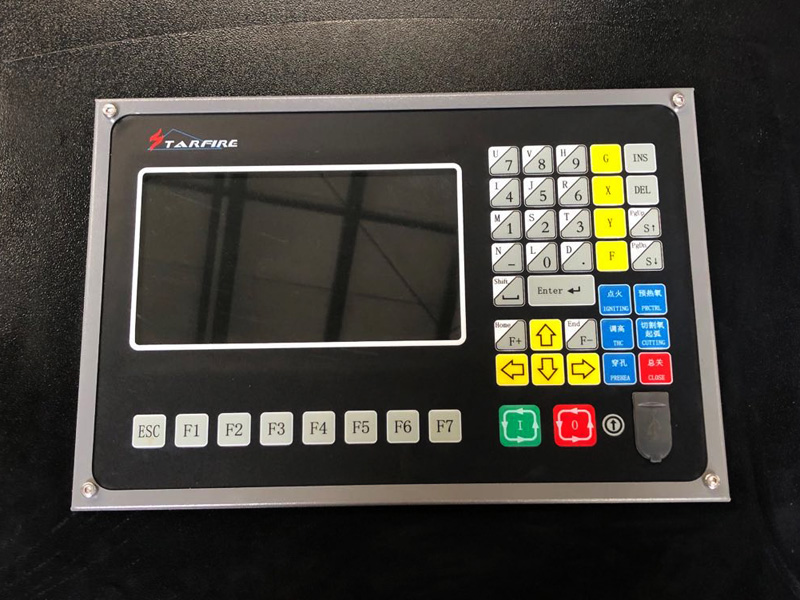 4. The 5×10 CNC plasma table adopts lubrication system, auto fume extraction system and dust proof.
5. The Y axis used dual-motor driven system, X, Y, Z axis all use Taiwan Hiwin square rails which make the machine driving smoothly with high precision.
6. Control box.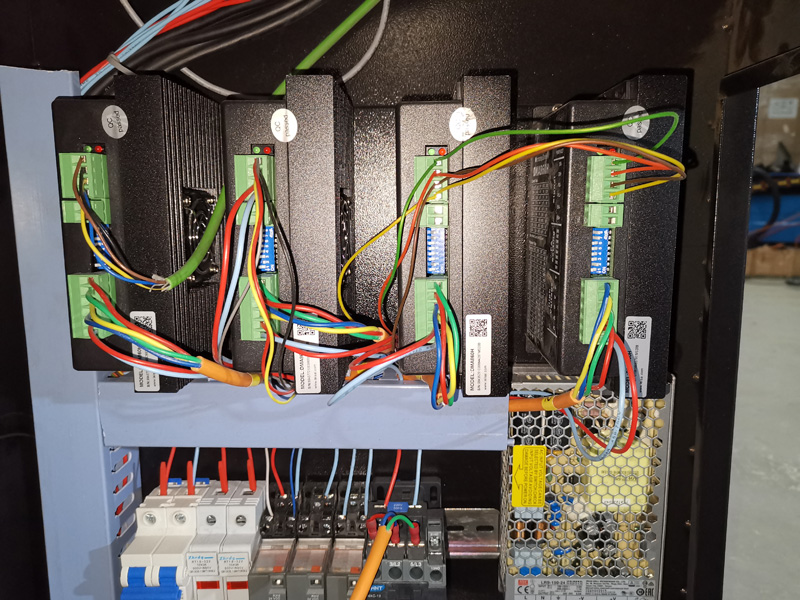 7. Identification Plate for STP1530R.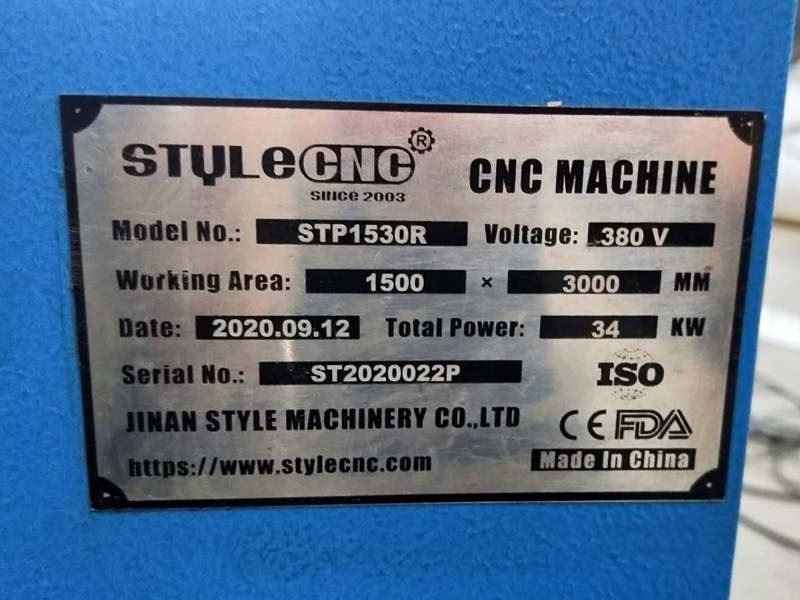 8. Plasma cutter torch.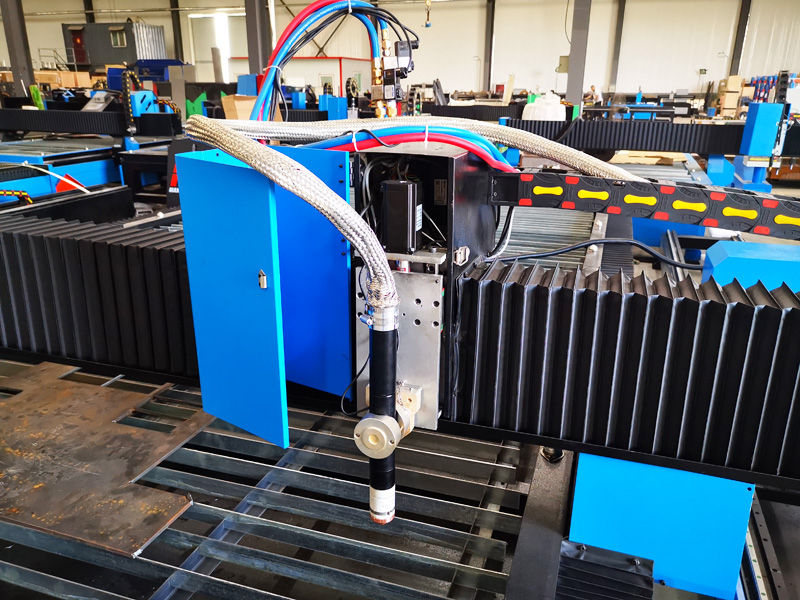 9. You can also choose flame cutting for above 30mm thickness.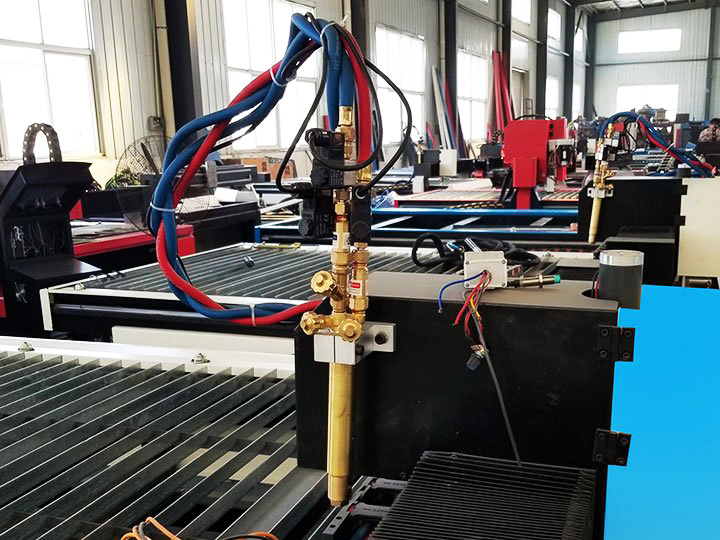 10. The CNC drilling head can be used for high speed metal hole drilling.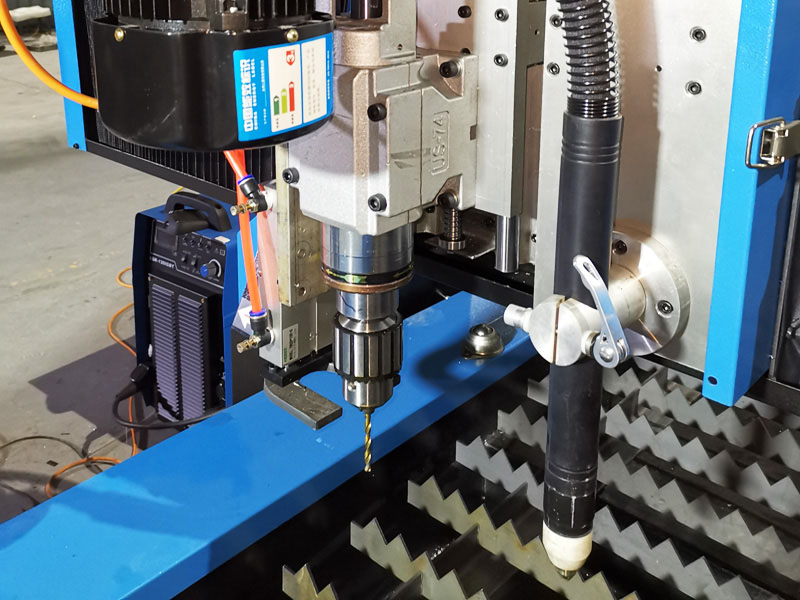 11. Plasma torch with pen plotter to draw lines to mark out folds for sheet metal cuttting.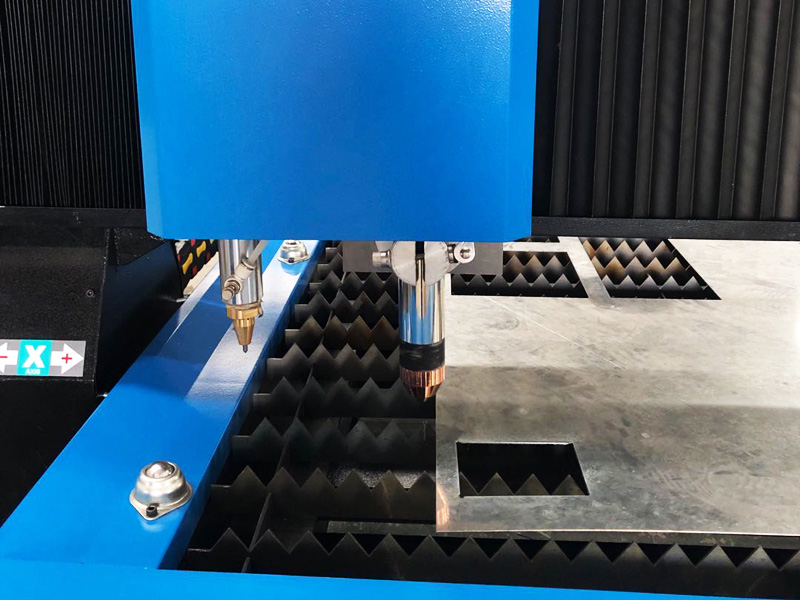 Hypertherm 5×10 CNC Plasma Cutter Applications & Projects
Compared with mechanical cutting, plasma cutting is much faster and easier to cut metal. Its unique features of high speed, high efficiency, high kerf finish, and wide applicable cutting range make it easy to fast cut carbon steel, mild steel, tool steel, stainless steel, silicon steel, aluminum, titanium, copper, brass, alloy, pickled sheet, galvanized sheet, iron and more metal materials.
It is used in sheet metal & tube processing, aviation, electronics, shipbuilding, aerospace, elevators, subway parts & accessories, auto parts, machinery manufacturing, precision accessories, metallurgical equipment, tool making, household appliances, arts, crafts, gifts, advertising and decorations, and is gradually replacing the dominant position of flame cutting in some fields.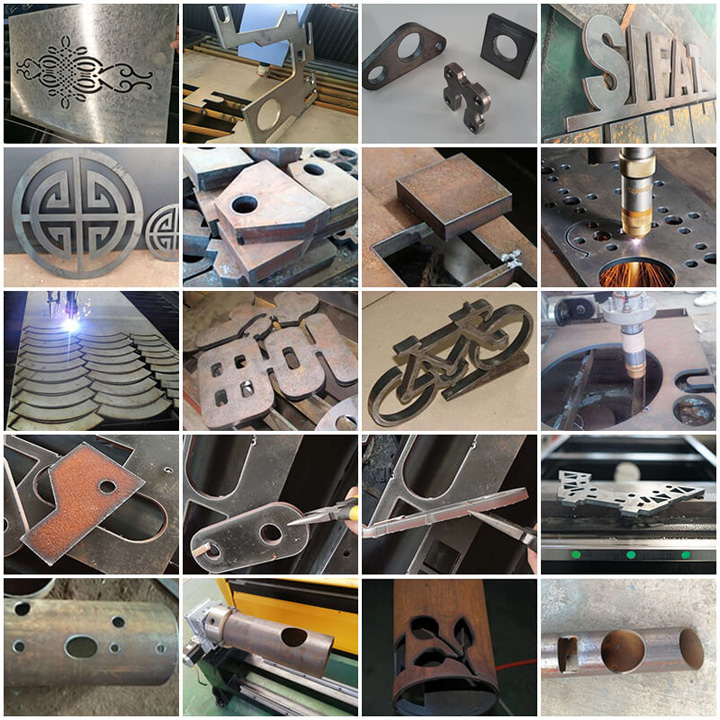 Pros & Advantages
Hypertherm integrates many new technologies and realizes the practical application. Even compared with the previous generation of high-precision plasma system, it is also very different. When cutting low carbon steel, the traditional plasma cutting technology can basically achieve the range of ISO, the high-precision plasma cutting technology can basically achieve the range of 3-4, while Hypertherm can basically achieve the range of 2-3. Another difference is that Hypertherm can extend the service life of vulnerable parts, and the effect is much better than previous generations of systems.
When 125A or higher current is used to cut materials with thickness greater than 12mm, the cutting quality of XPR in the life cycle of vulnerable parts can almost reach the cutting quality of range 3. When the thinner material is less than 10mm by low current process, the cutting quality of Hypertherm series products can reach ISO range 2.
When cutting thinner materials less than 10mm, more than 1100 times of cutting test in 20 seconds of Hypertherm plasma cutting process were stable within the cutting quality of ISO range 2, and then it changed to the cutting quality of range 3. This is a comparison with the cutting quality of the previous generation of high-precision plasma cutting systems in ranges 3 and 4.
In comparison with fiber laser cutting, we found that the cutting quality of Hypertherm is not inferior to laser cutting in many thickness. In two examples of cutting 6mm and 12mm plates, the cutting speed of this Hypertherm process combines quality and production efficiency (rather than focusing only on cutting quality). When cutting 6mm plate, the average angle deviation of cutting edge is smaller, and the deviation fluctuation will be minimized after 1000 arc strikes. The effect of cutting 12mm low carbon steel is similar.
• Consumable parts have the longest life in the industry.
• Pilot arc circuit increases pilot arc current precisely when needed, significantly reducing nozzle wear.
• The Hypertherm quick-disconnect torch assembly provides easy switching between hand torch and machine torch, and it also features a stress-relief design for durability.
• Ease of Use – Easy and convenient gas regulation and current regulation.
• Very safe to use When the wearing parts are removed, the interlock device will prevent the machine from starting.
• With a special voltage fluctuation compensation device, there is no need to worry about the impact of voltage fluctuations on the machine.
• All equipment is equipped with a standard CNC/automatic machine interface, enabling automatic control and quick transfer to machine operation.
• New "fan on demand" function minimizes dust inhalation.
• Torch lead sheath made of AC chemistry resists jet and cut-through capabilities of molten metal.
• Accurate fault alarm indicator light makes it easier for you to operate and maintain.
• Auto-voltage™ automatic voltage regulation capability, which can automatically adapt to various input power sources of 200V-600V and three-phase.
• Coaxial-assist™ technology increases cutting speed.
• The Boost Conditioner™ input voltage compensation circuit compensates for fluctuations in the input voltage, which improves the performance of low-voltage lines, motor generators, and input power (fluctuations).
• Design for reliability improves downtime and greatly reduces investment.
• CNC interface and Easy Torch Removal (ETR™) are versatile for both handheld and machine use.
Cons
Higher price than ordinary plasma power supply.
Compared with the fiber laser cutting machine, the plasma cutting gap is larger, the cutting end surface is rougher and not smooth enough, and the cutting precision is lower.
International Shipping Around the World
All the CNC machines can be shipped worldwide by sea, by air or by international express logistics via DHL, FEDEX, UPS. You are welcome to get a free quotation by filling up the form with name, email, detailed address, product and requirements, we will shortly contact you with the full information including the most suitable delivery method (fast, secure, discreet) and freight.