5 axis CNC stone cutting bridge saw is an automatic infrared stone cutter to make custom slabs and countertops for kitchen and bath including granite, modular granite, granite tile, honed granite, engineered stone, laminates, soapstone, marble, quartzite, quartz, and more stones.
Demonstration Video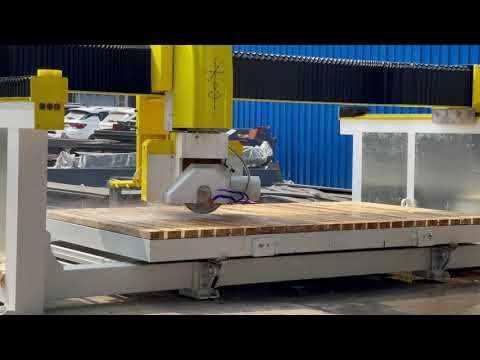 Product Details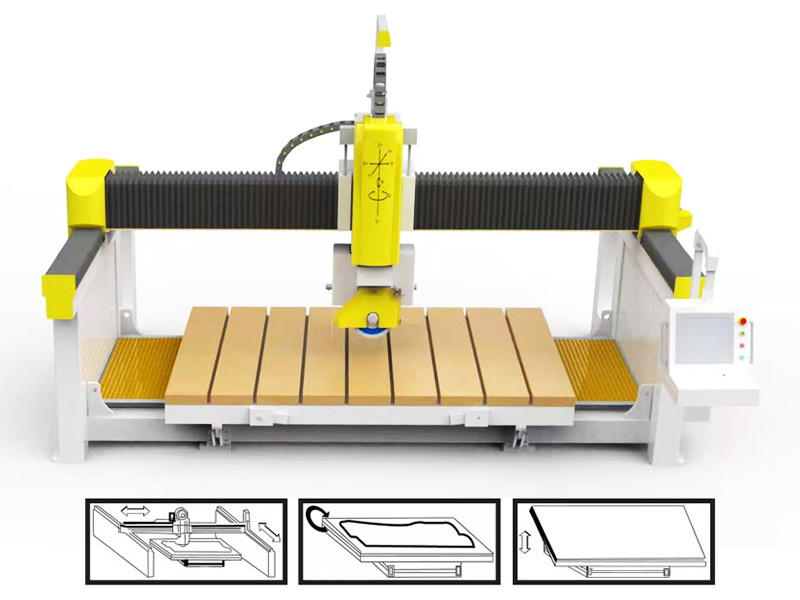 What Is 5 Axis CNC Bridge Saw?
5 axis CNC bridge saw is an automatic stone machining equipment that can complete the processing of pentahedron special-shaped curved surfaces at one time through five-axis linkage control, that is, three linear moving axes and two rotating axes. It is a type of automatic CNC machine tailor-made for the majority of stone fabricators by STYLECNC in order to meet the cutting plans of stone machining manufacturers. It has various processing modes of cutting, milling, engraving, and drilling. The bridge saw features with multiple functions, small footprint, simple operation, precise cutting, quick and convenient conversion of different functions.
5 axis CNC stone cutting bridge saw adopts an automatic computer control system, which can realize manual programming or CNC programming and other programming methods to automatically complete cutting operations. It can conveniently perform horizontal cutting, longitudinal cutting, arc cutting, elliptical cutting, round cutting, arbitrary angle cutting, concave-convex edging, shaped cutting, special-shaped processing and more occasions with powerful functions.
Stone CNC bridge saw is equipped with 650nm & 50mw infrared marker, which are suitable for long-distance positioning and harsh working environments. The infrared marker uses original laser diodes and optical lenses. Long service life, good stability, constant output power, small size, easy installation, and continuous lighting for a long time, which can effectively ensure the stability and service life of the product.
The infrared marking device has the characteristics of large light angle, clear light, high straightness, low divergence, good collimation, strong industrial applicability, adjustable focus or fixed focus.
We can make a fixed focus and a red-ray laser with adjustable thickness. Customers can adjust the focus according to various requirements.
How Does 5 Axis CNC Bridge Saw Works?
5 axis CNC bridge saw adopts a PC-based five-axis linkage numerical control system for stone machining. The tool is controlled by three linear axes and two rotary axes, and the two rotary axes rotate around the X axis and the Z axis respectively. The automatic function of cutting, engraving and milling with complex pentahedral features is mainly used for the processing of high-quality stone decoration with complex surfaces in multi-dimensional space. The stone industry has undergone many product technological changes. The technical characteristics and advantages of the processing equipment whose tool motion trajectory is controlled by 5-axis and 6-axis linkages are becoming more and more obvious. The CNC five-axis bridge stone cutting machine is a professional stone machining equipment with outstanding flexible manufacturing ability and high automation, which uses a diamond disc saw blade as the main cutting tool.
What Can 5 Axis CNC Stone Cutting Bridge Saw Do?
The 5 axis CNC bridge saw can cut any shape of stone lines, arc edges, duckbill edges, straight edges, beveled edges, non-slip grooves, dry hanging grooves, sink processing, and special-shaped edge forming.
1. Countertop cut: blank slab cutting, rear gear cutting, reverse buckle cutting, hanging material, L-shaped table to length, corner cutting reserved, 45-degree chamfered front mouth, pot hole, stove hole, Diagonal line cutting, cutting at any angle of the wall crenel.
2. Automatic cut: Realize the import of CAD drawings, cutting completely according to the drawing style, no need to enter complex data.
3. Bridge cut: It has all the functions of bridge cutting equipment on the market.
4. Roman column cut: Cut the square Roman column main board and both sides at one time, and simultaneously chamfer 45 degrees on both sides to complete the Roman column hole cutting.
5. Arc-shaped line cut: Install the line grinding head to complete the arc-shaped line shape, and cut into a rough arc-shaped line as a whole, which requires manual polishing.
6. Concave-convex cut: According to the arc, grind out the desired convex or concave plate. It is mainly used for grinding and making curved plates of special-shaped background walls or special-shaped decorative panels.
7. Abnormity cut: To solve the problem of uneven walls, cut out asymmetric quadrilaterals or isosceles trapezoids.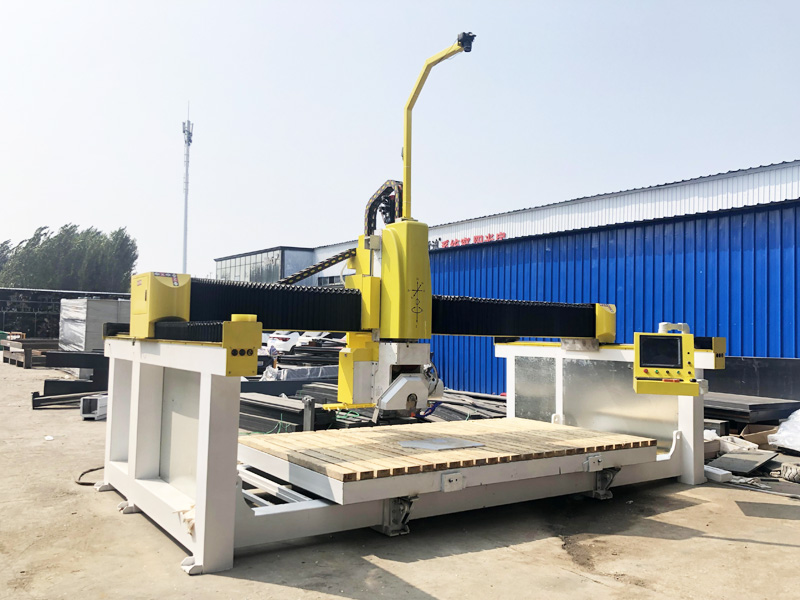 Features of 5 Axis CNC Stone Cutting Bridge Saw for Countertop with Granite, Marble, Quartz
Through the optimization of the process parameters by the numerical control system, the product data files can be stored in modules and called manually. The ideal effect of extremely coordinated movement of each precision component is realized. The process of machine cutting stone slabs can realize automatic and intelligent cutting of stone materials through the pre-setting of the cutting coding program and the automatic operation of the cutting process, so as to achieve the mass production of stone slabs.
1. The integrated design gives the machine more advantages, such as occupying small space, easy installation and debugging, high precision, stable performance, easy operation and so on.
2. Bridge, sliding rails and blade holder are built in strong and stiff cast iron for stability, durability and low resonance.
3. Cutting head rotate 90°, tilting 45° suitable for chamfering cutting.
4. 0° to 360° cutting head rotation and 0° to 90° cutting head tilting.
5. The worktable installs independently, the hydraulic console panel level 0, 45°, 90° turns. Worktable tilting vertical turn 85°, easier and safe loading raw materials.
6. The CNC bridge saw is made up of main motor, longitudinal slicing part, worktable assembly, electric control system, hydraulic system and so on.
7. The CNC bridge saw is equipped with infrared tool setting gauge, to accurately adjust the cutting size.
8. Once all the parameters are well setting, it is not necessary to have workers watching on machine. It will automatically stop once it finishes the cutting. It is an ideal automation equipment of stone slab cutting machine.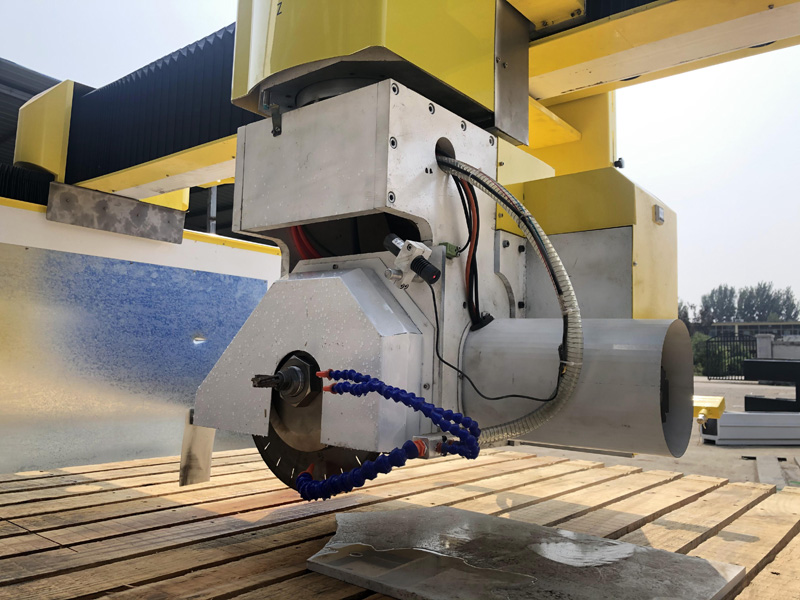 Structural Features
1. Bridge structure, a beam is located on the left and right longitudinal rails, with a conjoined workbench.
2. The cutting saw blade is installed on the electric spindle, the swing shaft is installed on the electric spindle, the swing shaft is installed on the rotating shaft, the rotating shaft is installed on the upper and lower slide plates, the upper and lower slide plates are installed on the middle box, and the middle box is installed on the beam, the saw blade can realize five axis Linked operation.
3. The beam is mounted on two linear guide rails through the servo motor and the gear box to run linearly.
4. The longitudinal beam realizes the front and rear displacement of the beam through two linear guide rails on the left and right sets of gears through the servo motor.
5. The upper and lower slides run up and down on the two linear guides through servo motors and ball screws.
6. The electric spindle is installed on the swing shaft, and the swing shaft can swing 0~90° through the servo motor.
7. The swing shaft is installed on the rotating shaft through the servo motor, and can rotate in plus or minus 370°.
8. The worktable is installed in one piece, and the hydraulically controlled worktable can be turned up and down from 0° to 85°.
Advantages of 5 Axis CNC Stone Cutting Bridge Saw for Countertop with Granite, Marble, Quartz
5 axis CNC stone bridge saw has the automatic cutting, milling, engraving and drilling processing of products with complex pentahedral features, and can process products with arbitrary curved surfaces and shapes, with fast processing speed, high running accuracy, and easy and convenient operation. We can provide remote control, remote programming (according to customer needs, the processing of complex shapes can provide remote programming services), processing files, remote fault diagnosis and other services. The system software can provide a variety of product processing modules with different rules, and directly select simplified programming according to processing needs (complex programming by professionals is not required). It can simulate the machining running track.
Durable
Good quality steel is used as the mechanical parts and reliable electric parts are used to guarantee high reliability & durability.
Precise
1. Crossbeam movement (Y-axis) along linear guide way with high precision.
2. Z-axis movement by lead screw.
3. Magnetic ruler is adopted for slicing measure.
4. Laser device for accurate alignment.
User-Friendly
1. Touch screen contral panel and all 3D movement is controlled by micro computer to realize automatic operation available.
2. Both manual and automatic operation available.
3. Worktable can rotate 90° or 360° (optional).
Multifunctional
It can do chamfer cut, straight cut, arc cut, arc cutting, shape cut, milling, drilling, line cut, and edging. With optional sensor, profiling function can be added.
Technical Parameters of 5 Axis CNC Stone Cutting Bridge Saw for Countertop with Granite, Marble, Quartz
| | |
| --- | --- |
| Model | ST3220S |
| Table Size | 3200*2000*100mm |
| Blade Diameter | Φ350-Φ400 |
| Workbench Tilting Degree | 0-85° |
| Blade Rotation Degree | 0°-90° |
| Blade Tilting | 0-45° |
| Water Consumption | 3.5m³/h |
| Spindle Motor Power | 13KW |
| Drive Motor | 1.5KW Servo Motor |
| Total Power | 20.5 KW |
| Dimension | 5350*3000*2300mm |
| Weight | 5500kgs |
| Transport | 20GP |
5 Axis CNC Stone Cutting Bridge Saw Applications
The 5 axis CNC bridge saw is mainly used for cutting granite, marble, slate, man-made stone, and micro crystal stone. PLC (Program Logical Controller) controlled with cutting dimensions set by terminal input. The control board with operation buttons, programmer and liquid crystal display on it, make operator easily to control the machine from the sawing area when the stone is being positioned.

5 Axis CNC Bridge Saw for Stone Cutting Projects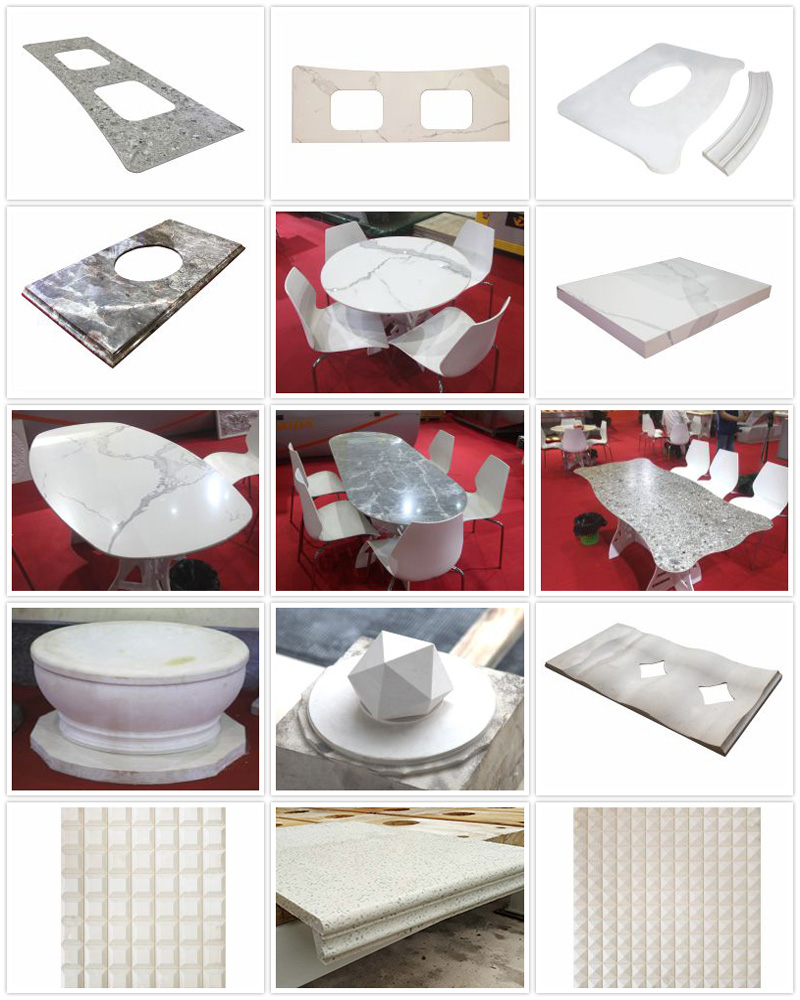 Granite Countertop Cutting Projects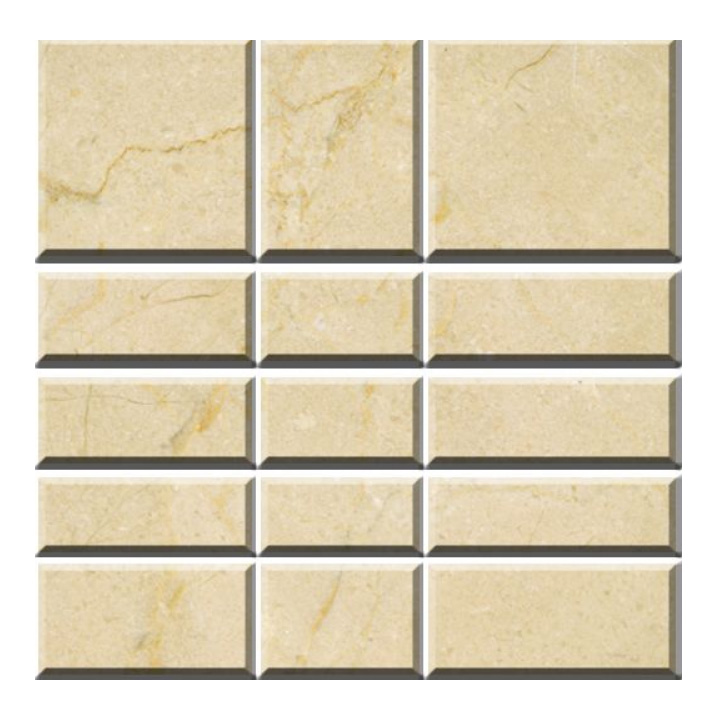 Marble Cutting Projects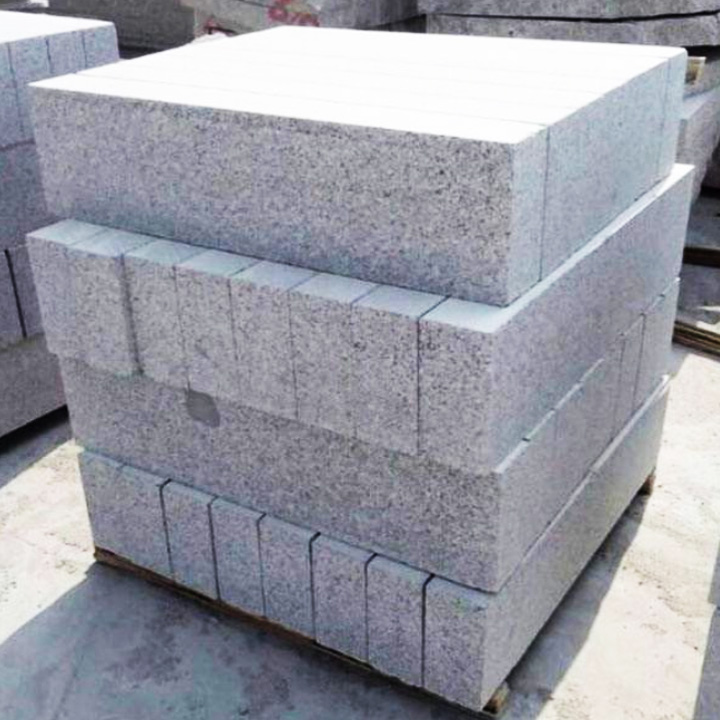 Quartz Countertop Cutting Projects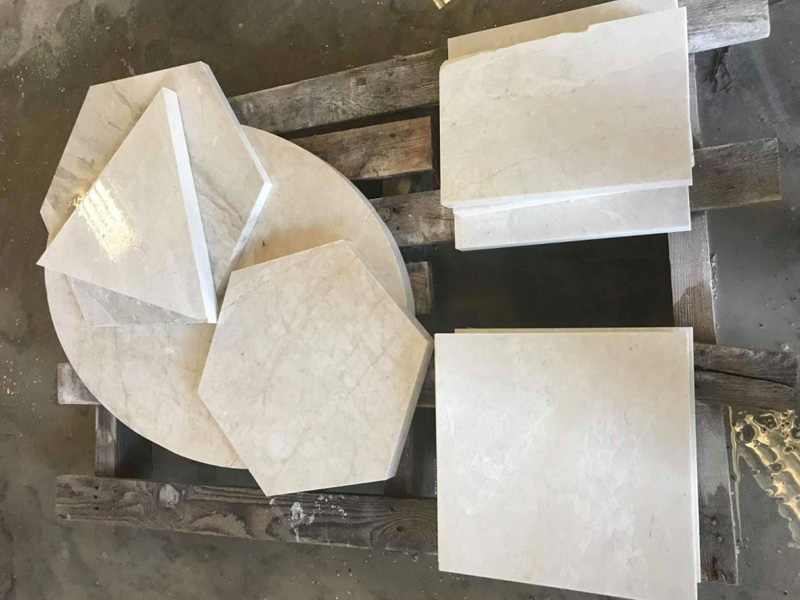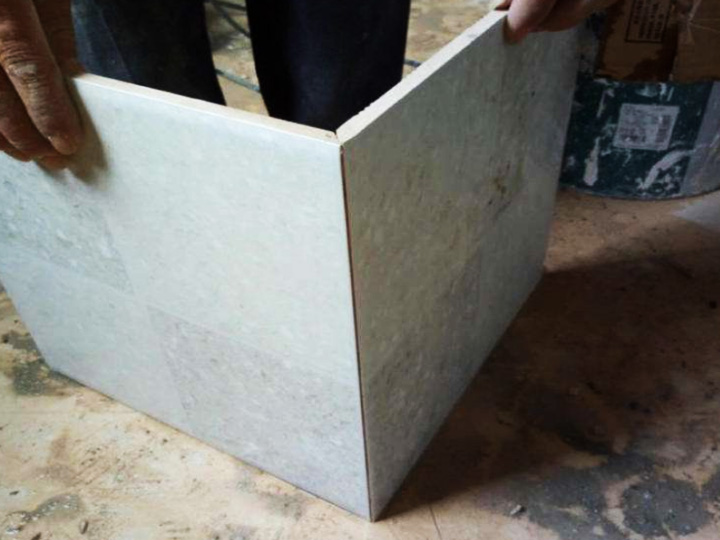 Marble Countertop Cutting Projects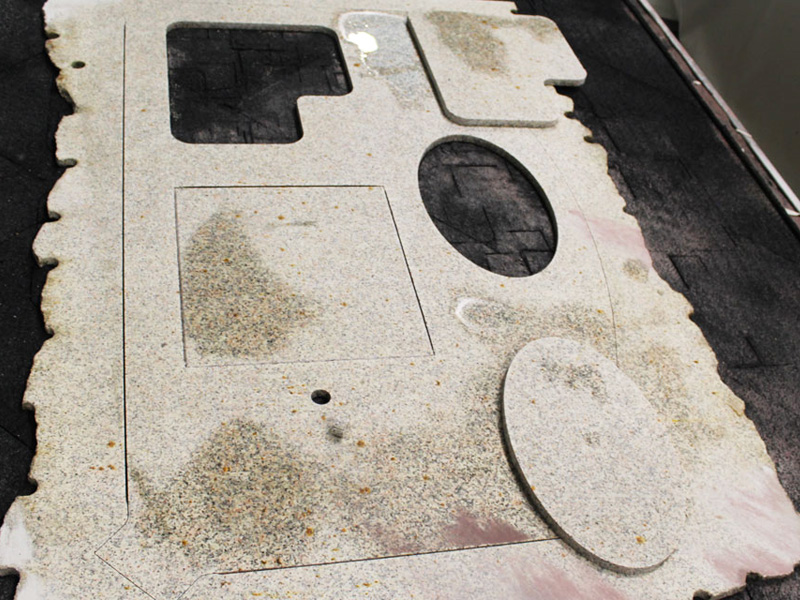 Service & Support for 5 Axis CNC Stone Cutting Bridge Saw
1. We offer life-long technical support via calling, whatsapp, and email.
2. Our technician can give you remote guide online if you have any question.
3. We can record videos of the machine operating.
4. Free training course in our factory.
5. Engineer available to service machinery overseas.
6. Machine will be adjusted before it is delivered, operation USB/CD will be included.
Packing & Shipping for 5 Axis CNC Stone Cutting Bridge Saw
The normal package is wooden box (Size: L*W*H). If export to european countries, the wooden box will be fumigated. If container is too tigher, we will use PE film for packing or pack it according to customers special request.
International Shipping Around the World
All the CNC routers can be shipped worldwide by sea, by air or by international express logistics via DHL, FEDEX, UPS. You are welcome to get a free quotation by filling up the form with name, email, detailed address, product and requirements, we will shortly contact you with the full information including the most suitable delivery method (fast, secure, discreet) and freight.