Industrial 4×8 laser stone engraving machine is a 48 x 96 inch laser engraving table to etch marble, granite, gravestone, headstone, tombstone, slate, jade, pebbles, rocks, bricks. Now the 4×8 industrial stone laser engraver for sale at affordable price.
Demonstration Video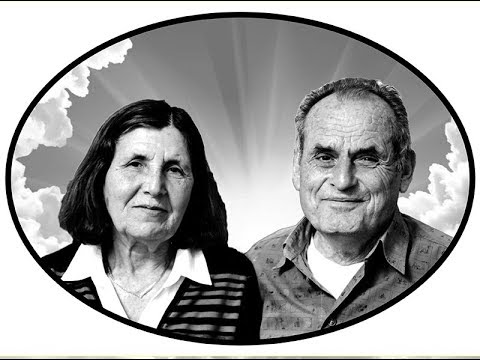 Product Details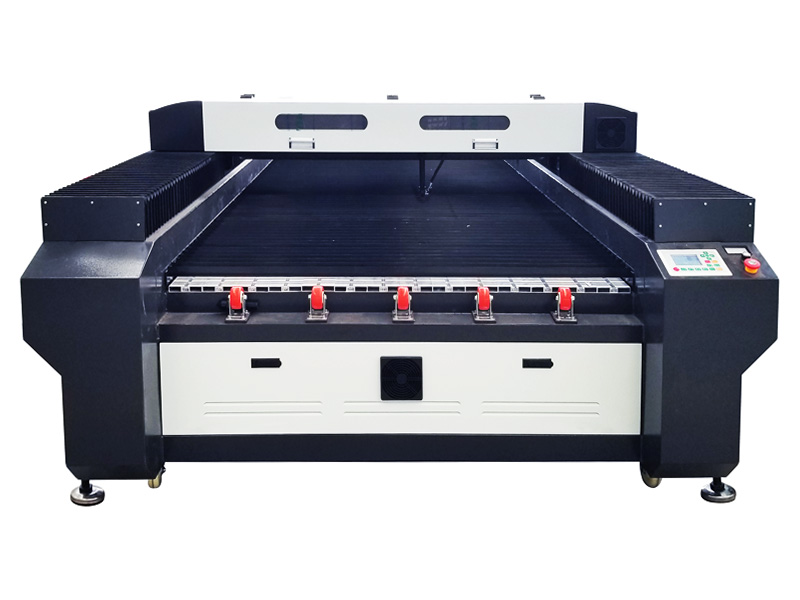 What Is Laser Stone Engraving Machine?
Laser stone engraving machine is a type of CO2 laser engraver used to engrave stone (including marble, granite, headstone, gravestone, tombstone, soapstone, ceramic tiles and other types of stone). Stone laser engraving machine adopts 4×8 full sheet worktable, which is convenient for engraving, and the engraving format is not limited. It can accurately splicing and engraving graphics, and can produce large-format graphics without considering the weight of the object. The engraving frame can be adjusted up and down, which can meet the engraving of different thickness of stone.
Although stone engraving has a long history, the use of laser engraving stone is still an emerging industry, which is developing rapidly and in the ascendant. According to the analysis of professionals of laser engraving machines, this development trend is unstoppable. There are many industries suitable for laser engraving. Lasers can not only engrave relatively soft objects, such as wood, leather, fabric, paper, but also hard objects, such as stone, glass, acrylic.
Advantages of Industrial 4×8 Marble, Granite, Stone Laser Engraving Machine
With unique design, excellent technique, stone laser engraving machine is the most popular CNC laser equipment in stone engraving industries and many other hard materials engraving industries.
1. Special design for stone, marble, granite, headstone, tombstone, gravestone, and other nonmetal materials.
2. Red light pointer to make the laser visible, which can make the engraving work more precise.
3. The laser engraving machine includes all parts that make it works perfectly: laser tube, water pump, air pump, exhaust fan, wide pipe, linear rail, Lasercut5.3 software, focus lens and reflecting mirrors, etc.
4. Channel feeding: the feeding can be unlimited.
Technical Parameters of Industrial 4×8 Marble, Granite, Stone Laser Engraving Machine
| | |
| --- | --- |
| Model | STJ1325S |
| Working Area | 1300mm*2500mm (4×8 feet) |
| Laser Power | 60W/80W |
| Laser Type | Sealed CO2 Glass Laser Tube |
| Cooling Mode | Water Cooling and Protection System |
| Compatible Software | CorelDraw, Photoshop, AutoCAD |
| Position System | Red Light Pointer |
| Graphic Format Supported | PLT, DXF, BMP, AI, DST, JPG |
| Driving System | Stepper Motor |
| Working voltage | 220V, 50Hz or 110V, 60Hz |
Features of Industrial 4×8 Marble, Granite, Stone Laser Engraving Machine
1. The professional laser stone engraving machine is equipped with aluminum table, which can hold heavy duty stone material.
2. The laser engraving head can be customized with different length, which will solve the thickness problems successfully.
3. Laser stone engraving machine can be equipped with dual table for stone and for other materials cutting.
4. The machine body front is equipped with wheels, which can load big stone easily.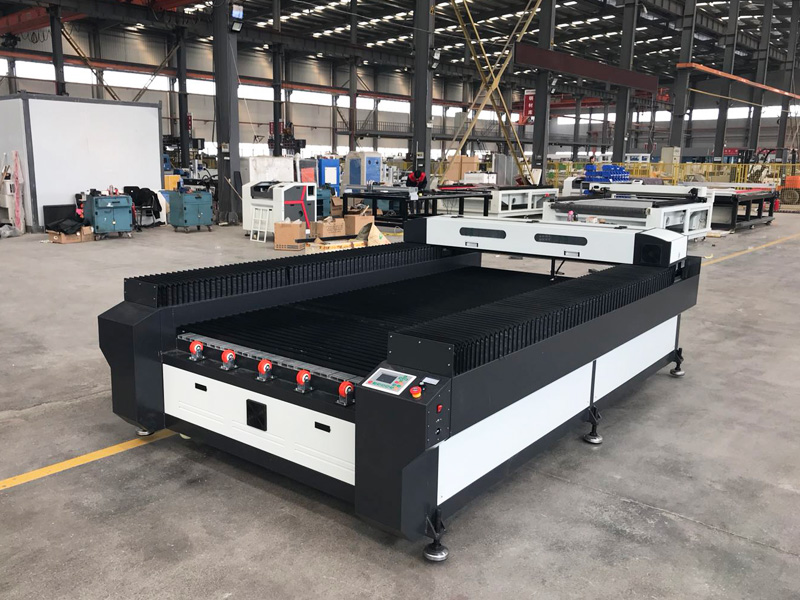 Industrial 4×8 Marble, Granite, Stone Laser Engraving Machine Details
Laser Stone Etching Machine Auxiliary Wheel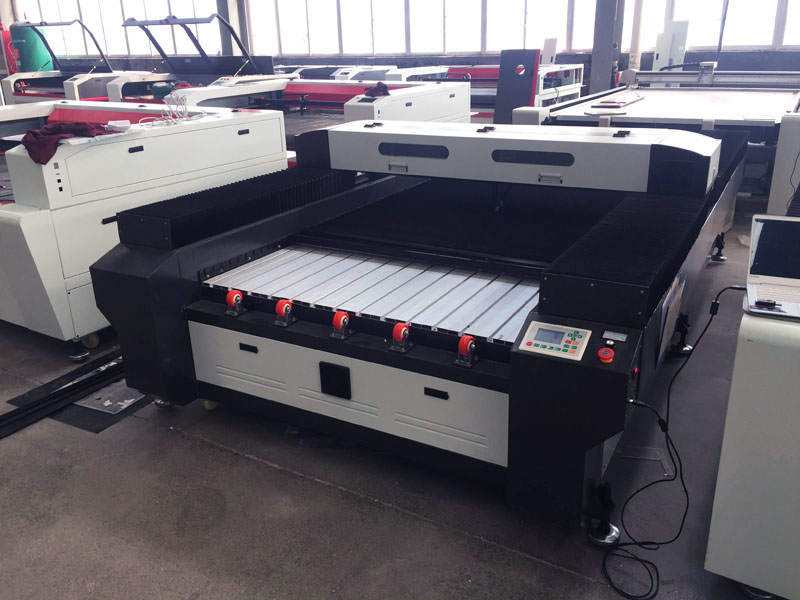 RD Controller for Laser Stone Etching Machine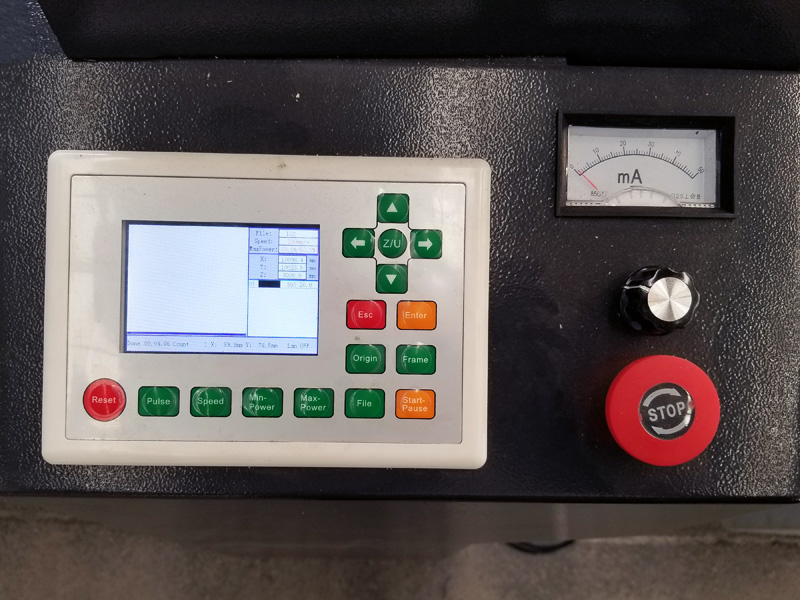 CO2 Laser Tube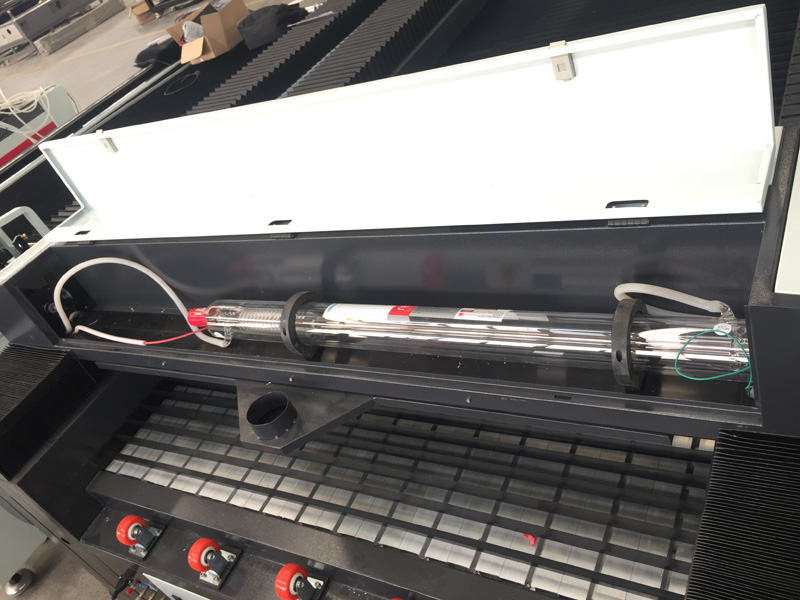 Length Adjustable Laser Head
Applications of Industrial 4×8 Marble, Granite, Stone Laser Engraving Machine
Applicable Materials
Non-metal materials such as stone, marble, granite, gravestone, headstone, tombstone, acrylic, glass, ceramics wood, bamboo, double color boards, paper and leather, etc.
Applicable Industries
Monument (tombstone/gravestone) industry.
Model industry (construction models, aviation and navigation models and wooden toys).
Advertisement.
Decoration.
Arts and Crafts.
Electronics.
Industrial 4×8 Laser Engraved Marble, Granite, Stone Projects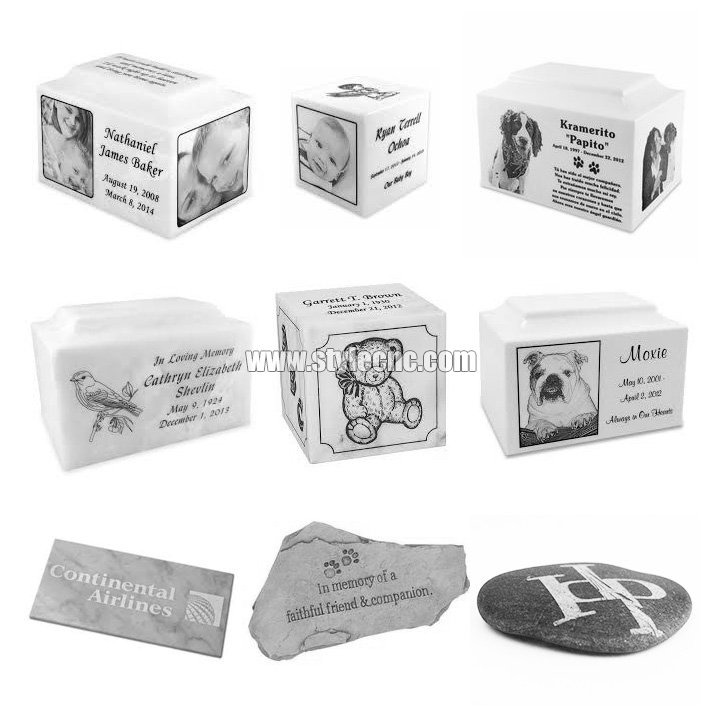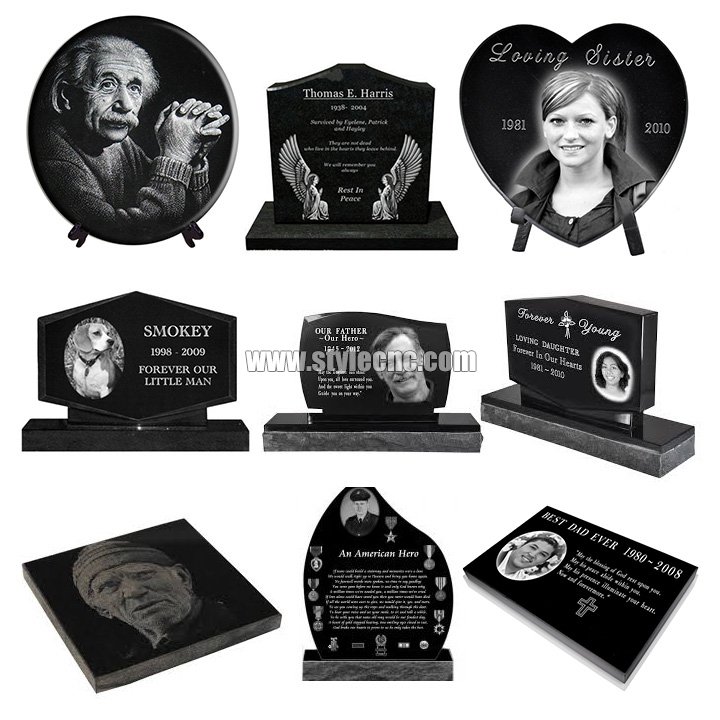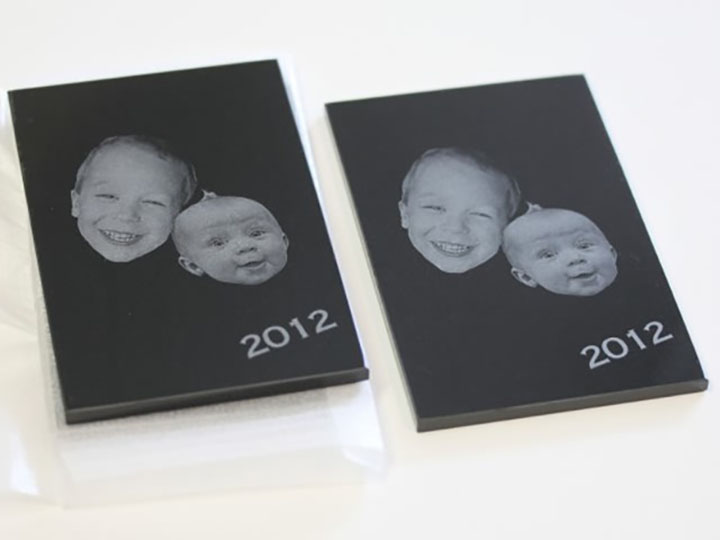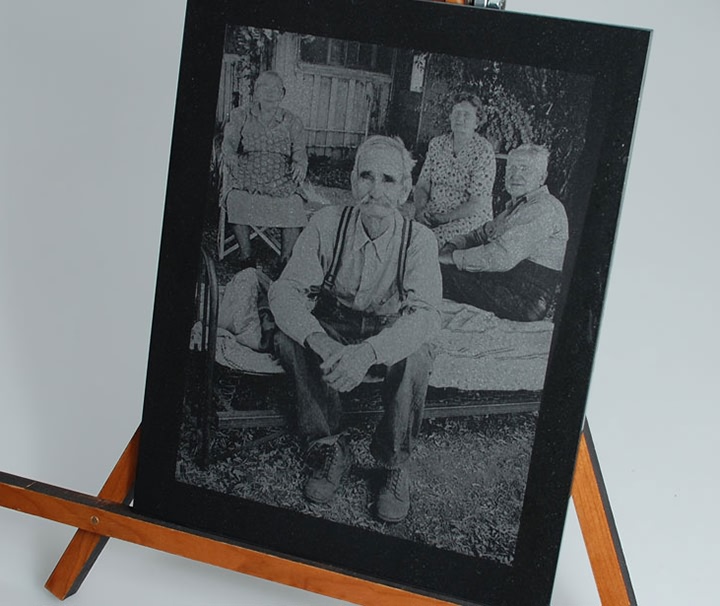 The Best Stones for Laser Engraving Machine
Personalized laser stone engravings are becoming more and more popular in today's society. The thick, hard, wear-resistant, durable, elegant and luxurious characteristics of stone carvings are unique in the fields of personalized prizes, gifts, decorations and other fields. There are many kinds of raw materials and rich resources for stone carvings. The texture, color and texture of many varieties of stone are suitable for laser engraving with good results. Among them, there are 6 most common types of stone:
Slate Stone
It is another natural stone suitable for laser engraving. Compared with marble, the texture of slate is slightly softer and the surface is slightly rougher. However, because slate is derived from sedimentary stone, with fine texture and uniform color, laser engraving products are widely used in wall decoration, floor and so on.
Marble
In personalized sculptures, marble is the most ideal raw material of choice. The texture of marble is good and the color is solemn. Whether it is dark black, jet black, dark green, rose or gray and white, it gives people a very elegant beauty. . Therefore, on the basis of many traditional products, it has recently developed to engrave photos, images and texts with laser technology, which is very popular.
Granite
The texture is very hard, wear-resistant and durable, and is widely used in prizes, souvenirs and buildings. Granite belongs to the limestone system, its obvious feature is that it has spots, the color gives people the appearance of "salt and pepper", and some also have the texture of marble. Granite can accept a variety of polishing and finishing treatments. In view of the many colors of granite, especially black and white granite is often used for laser engraving on text, images, etc., which is very attractive.
Sandstone
As the name suggests, sand is formed by the natural condensation of fine sand. The color of the sand is produced by the process of washing and grinding the minerals with the hard rock. Since the sandstone is a mixture of various sandifications, the texture is relatively soft, and the effect of laser engraving is very good.
Tuff
This type of stone is evolved from the slow precipitation of geothermal heat. The carbon dioxide bubbles "holes" produced by the thermal temperature of mineral-rich mineral water have a unique beauty, and the main color is dark brown. or black. In addition, dark red and dark brown are also common, mostly used for floor and corner decoration.
Inland Pebbles (River Pebbles of River Rock)
River pebbles of river rock have been washed by water for many years at the bottom of the river bed, making them smooth, round and bright. The ideal type of river rock is a flat, high-gloss black. The river stone laser engraving will gain a place in the fields of corporate gifts, park decoration and so on.
STJ1325S is mainly used for heavy stone with large format engraving, if your stone is small, we also have STJ9060 and STJ1390 for option: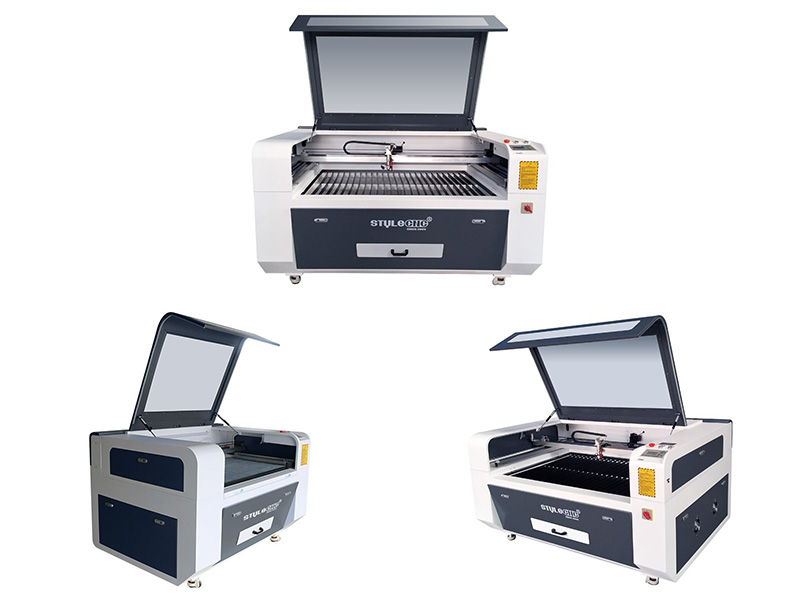 Things To Consider
If you are involved in this industry, it is necessary to learn and master some identification and processing knowledge and techniques to achieve professional-level results. The first thing to consider is the texture of the stone. Color and size should also be considered when using laser engraving techniques. Whether the engraving effect is good or not depends on the correct adjustment and control of the power and speed of the laser system. Among them, a common problem is that the motor power is too high during engraving, which is easy to cause blurred appearance and can not achieve the ideal color. This method is called the direct engraving method, that is, the method of changing the color of the photos, patterns to be engraved is directly projected onto the stone.
In addition to direct engraving, other colors can be added to stone engravings. The intrusion of color is mainly due to the penetration of pores generated by laser emission and polishing. The most representative popular colors of color added to carved stone products are gold, silver and copper. Product with good effect, the color applied is as exquisite and beautiful as the ink writes. After the color is cast, it is polished and polished for a really beautiful effect. Using laser machine to engrave scanned precious photos and pictures on the stone, which is a permanent souvenir. It has become the fastest growing part of the laser engraving field and is more and more widely welcomed.
International Shipping Around the World
All the CNC laser machines can be shipped worldwide by sea, by air or by international express logistics via DHL, FEDEX, UPS. You are welcome to get a free quotation by filling up the form with name, email, detailed address, product and requirements, we will shortly contact you with the full information including the most suitable delivery method (fast, secure, discreet) and freight.