In order to comply with the development trend of the international market, it is inevitable to have a transformation of metal cut processing. Laser processing technology is the product of modern scientific development. The sheet metal industry is one of the most important application markets for laser cut processing.Today we take 4000w fiber laser cutter as an example, mainly to talk about the application of laser cutting in the sheet metal industry.
At present, with an increasing demand for metal processing, there are different kinds of sheet metal parts,for example,electrical control box, machine shell,most of those metal sheet are thin or middle thickness plate,so,the power 4000W is fit for the job. 
SENFNEG 4kw fibre laser cutter can cut carbon steel up to 25mm, stainless steel and aluminum alloy about 12mm, and 0.4-8mm brass,so it can meet most demand of the sheet metal industry.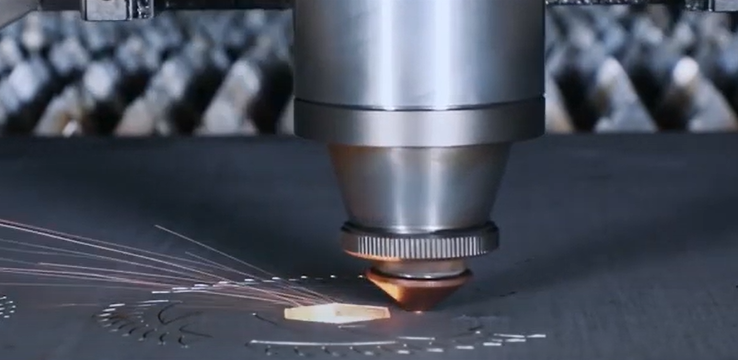 But as we all know,there have many different sheet metal processing way,such big cnc router, plasma,big power co2 laser cutter.Compared with the advantages of traditional sheet metal processing and fiber laser cutting machine,we can easy find the the disadvantages of traditional sheet metal processing: cutting-punching-bending-welding process or flame plasma cutting-bending-welding process. In the face of orders of multiple varieties, small batches, customization, high quality, and short delivery time, the traditional sheet metal processing methods have obvious shortcomings.
Fiber laser cutter with a high flexibility and fast cutting speed, high production efficiency, also short production cycle. No matter simple or complex parts, you can use fiber laser cutter  to achieve a rapid prototyping cutting, and also have many advantages in cutting performance, such as narrow slit, good cutting quality, high degree of automation, also operation convenient, low labor intensity, safe and environmentally friendly. It can realize automatic layout and nesting of cutting, improve material utilization, no tool wear, low production cost and good economic benefit.
Now,some people say that the fiber laser cutting machine is improvement on the shoulders of giants. It first started to rise in foreign developed countries, driving the rapid development of its related manufacturing industries. China has started to catch up in recent years, and it has already achieved success in the field of fiber laser cutter. Fiber laser cutting machines help China's manufacturing industry achieve leapfrog development.
SENFENG LEIMING laser as an professional fiber laser cutting machine manufacturer,we have enough experience to service our customer from all over the world since 2004,if you are interested in 4kw fibre laser cutter or high power fiber laser cutter,free to contact us now!
Email:[email protected]
WhatsApp:86-13210546543
Source link: https://www.sfcnclaser.com/4000w-fiber-laser-cutter-promotes-the-development-of-sheet-metal-industry.html