Looking to buy an affordable automatic bridge saw for cutting quartz, granite, marble, rock slab, ceramic tile to make custom kitchen countertops and personalized bathroom vanity tops? Check out the best 4 axis CNC bridge saw stone cutting machine for sale at cost price in 2023.
Demonstration Video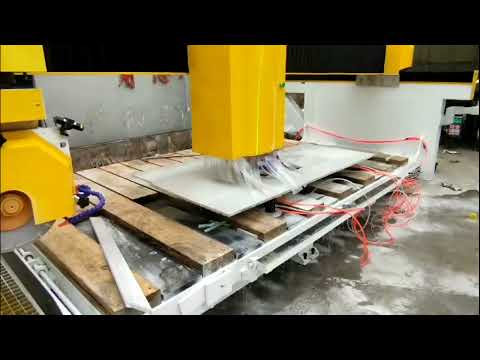 Product Details
Most of the custom kitchen countertops and vanity countertops are made of marble, granite, quartz, rock slabs, and ceramic tiles because they are corrosion-resistant, pollution-resistant, high-temperature resistant, impact-resistant, waterproof, easy to clean, beautiful and durable.
Decoration workers usually use portable masonry saws to cut personalized countertops. But the speed is slow with low precision, and the stone dust is easy to cause environmental pollution. Later, some stone workers chose CNC router machines to cut countertops. Although the precision was higher, but the speed was too slow, even inferior to handheld masonry saws. In this case, a new type of smart automatic stone cutting tool came into being. It is the CNC bridge saw, including two common types of 4 axis and 5 axis. The following is the 4 axis bridge saw with infrared positioning for automatic stone cutting.
4 axis bridge saw stone cutting machine integrates horizontal cutting, vertical cutting, 45-degree oblique cutting, round, oval, special-shaped layout, infrared positioning, CNC automation and other functions. It is used to cut quartz, granite, marble, rock slab, ceramic tile, slate and other stone materials. It aims to solve the problem of time-consuming, labor-intensive and high-cost high-end technology in the production process of stone countertops.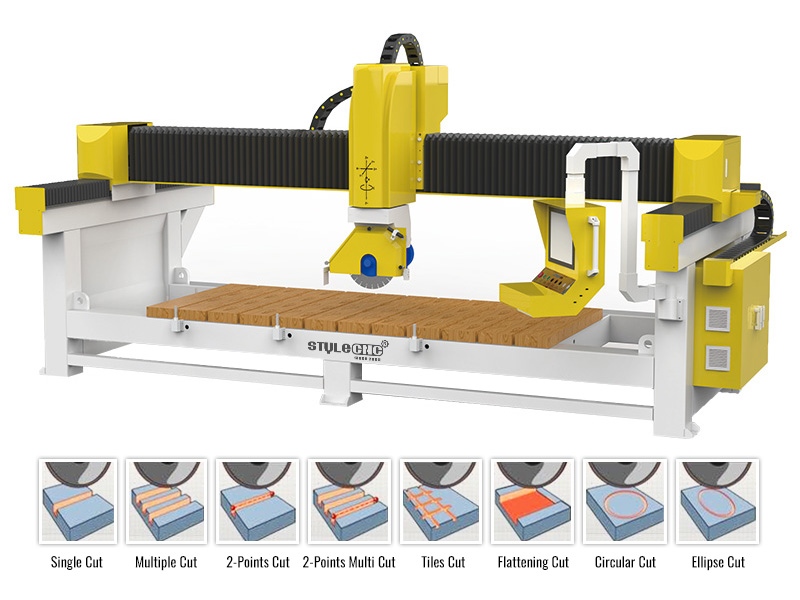 Technical Parameters of 4 Axis CNC Bridge Saw for Kitchen Countertops & Vanity Tops
Brand

STYLECNC

Model

ST3220S

ST3012S

Table Size

3200*2000*400mm

3000*1200*400mm

Blade Rotation Degree (C Axis)

0°-360°

Blade Tilting (A Axis)

45°

Blade Diameter

Φ350-Φ400

Power of Saw Motor

13KW

Rotation Speed of Saw Motor

0-6000rpm/min

Drive Motor

Taiwan 1.5KW Servo Motor

Workbench Tilting Degree

0-85°

Total Power

20.5KW

Water consumption

3.5m³/h

Dimension

5360*3225*2410 mm

5080*2390*2320mm

Weight

4500KGS

4000KGS

Transport

20GP

20GP or LCL
Features of 4 Axis CNC Bridge Saw for Kitchen Countertops & Vanity Tops
• Full 3D design and stress analysis, all the accessories used are excellent, after tempering, they are machined by CNC machine tools to ensure the overall accuracy.
• The bed body and gantry structure are welded with high-quality steel as a whole, and are tempered to ensure that the machine will not produce stress deformation for long-term use.
• Taiwan high-precision ballscrew and HIWIN guide rails, the oil-immersed lubrication method used in X and Y axes, the effective waterproof and dust-proof structure ensure high precision processing and maximize the service life of the ballscrew and guide rail.
• Cutting head rotate 90°, tilting 45° suitable for chamfering cutting.
• The worktable installs independently for tilting vertical 85°, easier and safe loading raw materials.
• By infrared ray to confirm the position of the workpiece.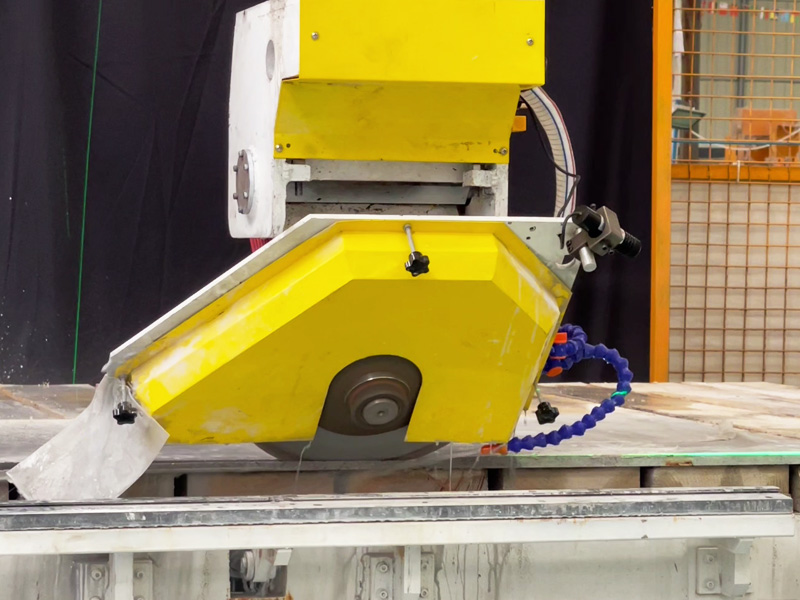 Motor Head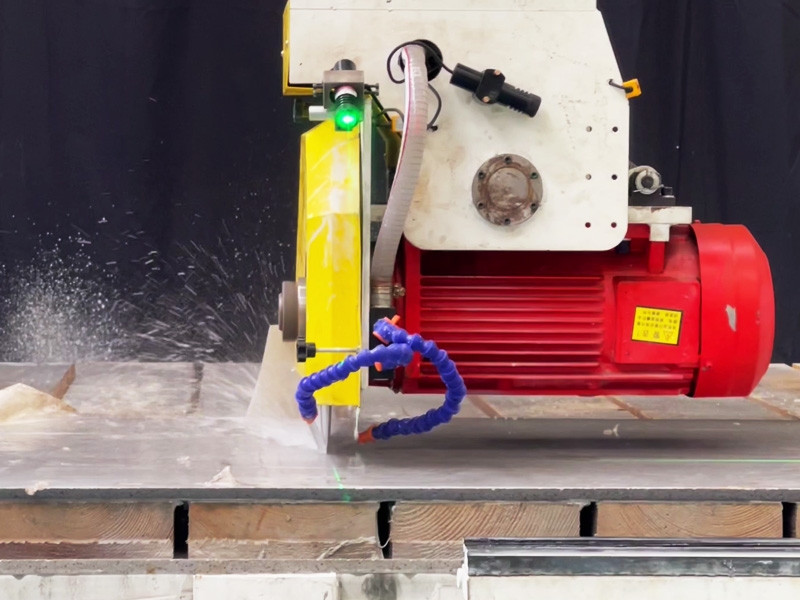 Infrared Ray Sensor
CNC Controller
Pros & Advantages of 4 Axis CNC Bridge Saw for Kitchen Countertops & Vanity Tops
• The whole process is automatic and environmentally friendly, creating a dust-free workshop.
• Professional customized control system with built-in CAM software can intelligently identify CAD drawings, easy to learn.
Applications of 4 Axis CNC Bridge Saw for Kitchen Countertops & Vanity Tops
It is widely used in the processing of kitchen countertops, bathroom countertops, bar island counters, coffee table surfaces, stone table tops, and other stone countertops.
4 Axis CNC Bridge Saw for Kitchen Countertops & Vanity Tops Projects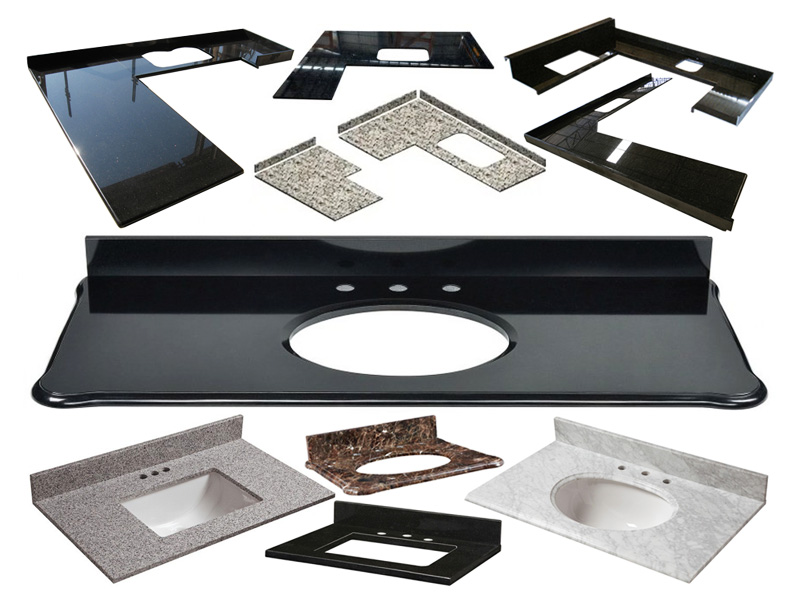 International Shipping Around the World
All the CNC routers can be shipped worldwide by sea, by air or by international express logistics via DHL, FEDEX, UPS. You are welcome to get a free quotation by filling up the form with name, email, detailed address, product and requirements, we will shortly contact you with the full information including the most suitable delivery method (fast, secure, discreet) and freight.
Customer Reviews and Testimonials
Todd Sumrall

from United States

I have been in home improvement for almost 10 years and I've used a variety of handheld masonry saws to cut granite for making personalized kitchen countertops and this thing is great for the simple stuff. I needed an automatic bridge saw to grow my business and this didn't let me down. It can easily cut through the natural slab granite, like a hot knife through butter. Great CNC stone cutting machine. Well worth the money saved in time alone.