2023 top rated mini desktop CNC router STG6090 is an affordable tabletop CNC machine kit with 2×3 table top for hobbyists, small business, home shop, craftsman, advertising, sign making, arts, crafts, and 3D relief carving. Now the cheapest small desktop CNC router for sale at cost price.
Demonstration Video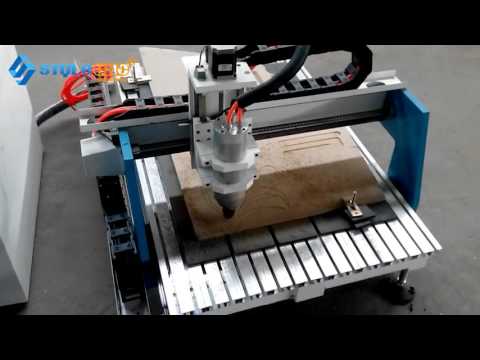 Product Details
A desktop CNC router is an entry level tabletop CNC machine kit with mini table size, which just need small space to place. Although the table top is mini, but it is still a high quality CNC machine, the whole machine frame adopts iron cast structure, which has strong rigidity. The tabletop CNC router machine can do 2D or 3D cutting, carving, milling, and drilling work. The desktop CNC router table can cut or carve many different materials, like wood, stone, acrylic, MDF, plywood, OSB, ABS, foam, aluminum, brass, copper, and other soft metals. The desktop CNC router kit is widely used in sign making, mold making, arts, crafts, gifts, decorations, and other mini CNC router projects. No matter for the serious hobbyists, the home shop, or the small business, STG6090 will be your best choice.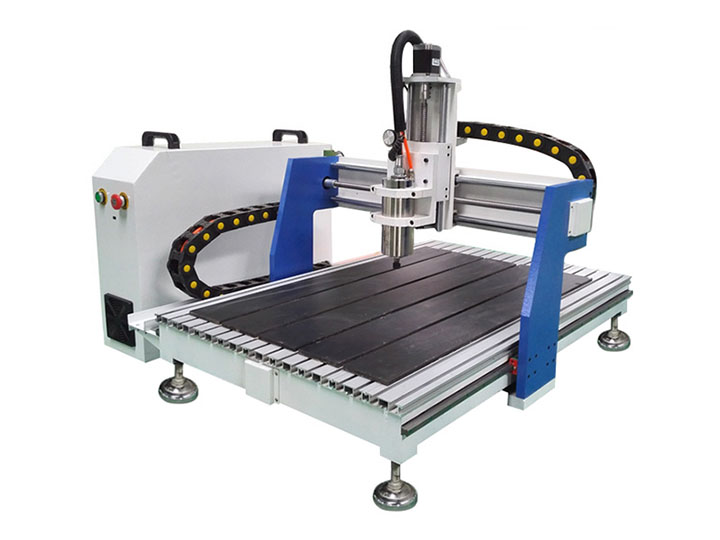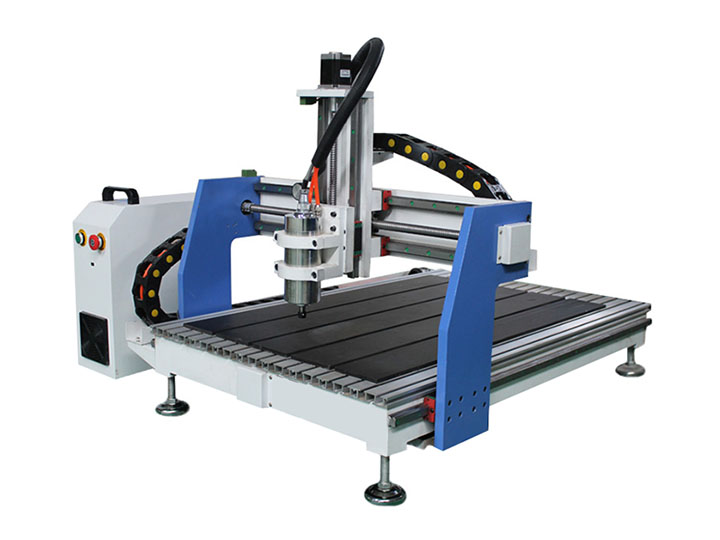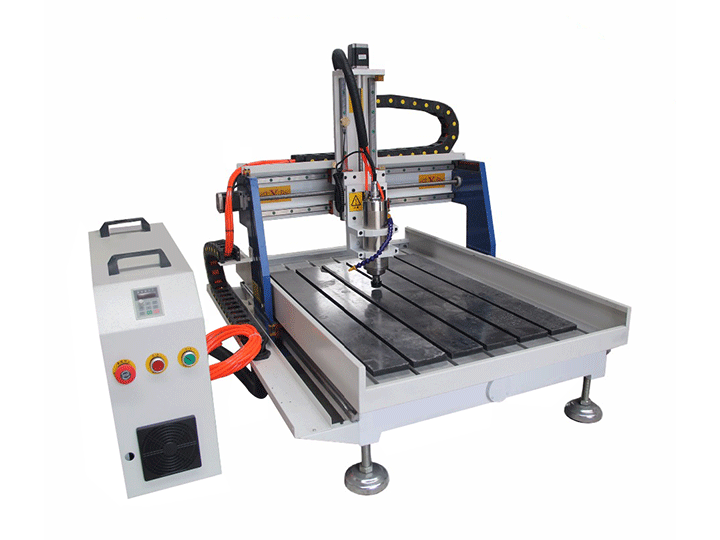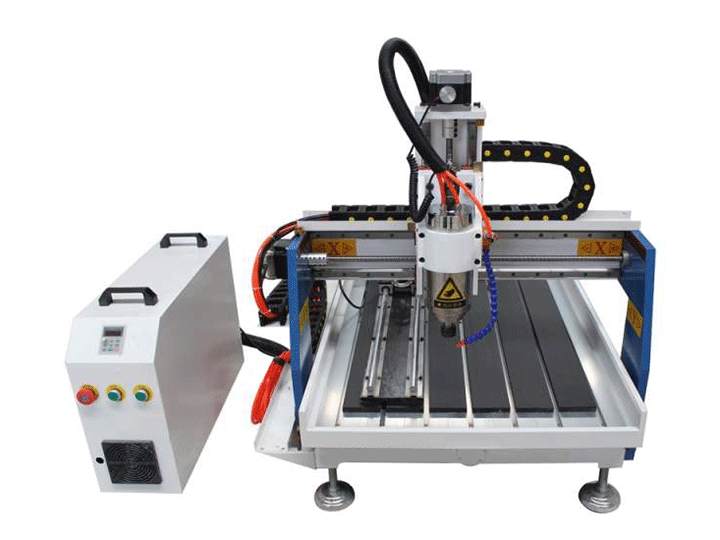 Mini Desktop CNC Router Machine Features
1. Ruggedly constructed machine structure. Material is stress relieved and annealed for deformation free.
2. Machine base is produced by CNC milling machine, and the machine base's five sides are produced at one same procession to make sure the machine frame geometry tolerance is standard.
3. The unique reality of the 3 axis screw, the machining accuracy is more accurate.
4. The spindle with high precision and water-cooled to keep the spindle at a constant temperature and maintain longevity.
5. The machine frame is an integral cast iron frame construction that supports all the other parts of the machine.
6. All steel linear guide with high precision to ensure the machine bed more stability and durability.
7. High accuracy rolling ball screw from Taiwan to ensure the machine frame with higher precision.
8. Advanced DSP digital control system, offline DSP controller with USB interface, continuation at stop point.
9. Be compatible with various CAD/CAM software such as TYPE3, Artcam, Casmate, Artcut, etc.
Mini Desktop CNC Router Kit Technical Parameters
| | |
| --- | --- |
| Brand | STYLECNC |
| Model | STG6090 |
| Working Area | 600x900x200mm |
| Table Size | 2′ x 3′ |
| Traveling Positioning Accuracy | ±0.03/300mm |
| Repositioning Positioning Accuracy | ±0.02mm |
| Frame | Welding Steel |
| X/Z Structure | Ball Screw |
| Y Structure | Hiwin Rail, Linear Bearings and Ball Screw |
| Max Rapid Travel Rate | 8000mm/min |
| Max Working Speed | 6000mm/min |
| Spindle Power Motor | 2.2KW water cooling spindle |
| Spindle Speed | 0-24000RPM |
| Drive Motors | Stepper system |
| Working Voltage | AC220V/50/60Hz |
| Command Language | G code |
| Operating System | DSP control |
| Interface | USB |
| Flash Memory | 128M(U Disk) |
| Collet | ER20 |
| X,Y Resolution | <0.01mm |
| Software Compatibility | Type3 (Option: Artcut, Ucancam software) |
| Packing Size | 1370*970*990mm |
| Net Weight | 180KG |
| Gross Weight | 238KG |
| Price Range | $2,580.00 – $3,200.00 |
Main Parts of Mini Desktop CNC Router Machine for Small Business
Machining parts produced by high precision CNC machine and inspected by specific measure tools in a extremely restricted standard.
Panting warehouse will do coated spray work on all our metal parts under government environment policy. Eletricity parts will be assembled together by our work in an quite amazing layout.
We will do calibration during all machining parts assembling work to ensure the machine in best precision and more durable. After all producing work, our engineer will do a quality inspection for all of our machine.
High Frequency Spindle
The desktop CNC machine kit comes standard with 2.2kw high precision spindle. This high frequency spindle has no need of maintenance, which uses standard industry ER collets, and the routing speed is from 6000 to 24000 RPM.
Base Frame
The base frame of the desktop CNC machine is heavy iron cast, with strong rigidity, so the machine will not get deformed after long time use. It can process hard materials such as metals and stones.
Drive Motors
The tabletop CNC machine kit utilizes stepper motors, which are maintenance-free.
Automatic Tool Calibration
Automatic tool calibration pad allows for easy and accurate "Z" zero position for single and multiple tool changes through the program.
X, Y, Z Axis TBI Ballscrew Transmission
The mini CNC machine adopts Taiwan Hiwin square rail, which is more than twice durable. And the use of high quality ballscrew, makes it high precision.
X, Y, Z Axis Hiwin Square Rail
The benchtop CNC machine adopts Taiwan Hiwin square rail, which is more than twice durable. And the use of high quality ballscrew will make the machine with high precision.
Japan Omron Limited Sensor
There is Japan Omron limited sensor on X, Y, Z axis. The sensor will avoid the machine overtravel working. OMRON is the best quality and with longer service life.
Dustproof On X, Z Axis
The machine has dustproof on X, Z axis, which will protect the dust do into the ball screw and the guide rail, to make sure the machine with long service life.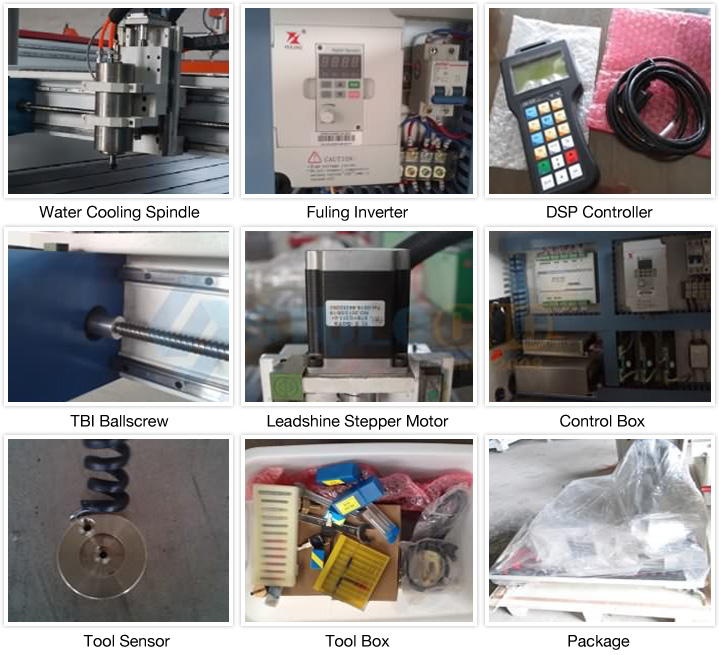 Optional Parts of Desktop Mini CNC Router Machine for Small Business
Mach3 CNC Control Software
Mach3 control software is an open CNC system with simple operation, convenient maintenance, openness, stable performance, and a new low-cost CNC system.
Oil Mist Coolant System
The oil mist coolant system is ideal for coolant tools for cutting metal. The unit's micro-dispenser delivers a very small amount of high-performance vegetable-based lubricant to the cutting tool by atomizing the lubricant in a high-velocity air stream. The result is higher material removal rates, improved finish, tighter tolerances and increased productivity.
4th Rotary Axis
The addition of 4th axis rotary table assembly adds greater functionality to the machine's capabilities allowing for 4 axis cutting in both 2D and 3D carving and indexing functions.
Dust Collector
We offers powerful vacuum cleaner, to ensure a clean and tidy workshop.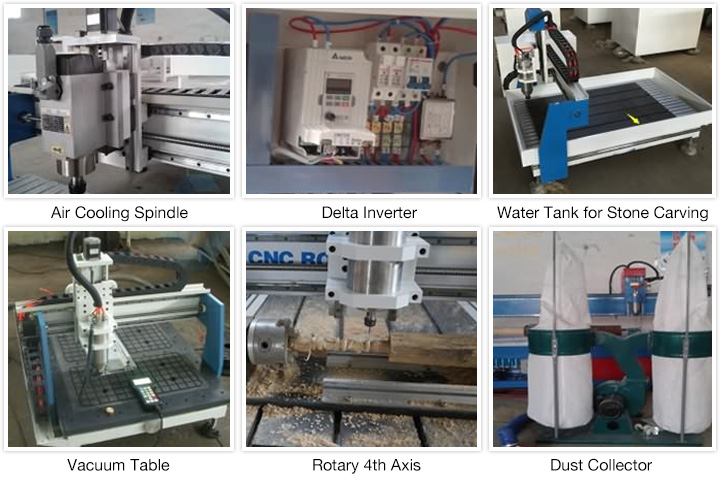 Mini Desktop CNC Router Applications
Using our machine to carve any projects you want to make, it will bring you a new processing experience. After using this machine, you will find that the original carving technique can be so exquisite, and the material will become a beautiful project.
1. Woodworking: Wood arts and crafts, redwood classical and antique furniture, relief carving, hollow carving, wood carving, gifts wooden box, redwood jewelry boxes, ink-stone cutting, decorative products sculpture.
2. Advertising: Sign making, logo making, custom signage, DIY signs, company plate, sings, building models, emblem, badge, display panels, building numbers, furnitures and other decorations.
3. 3D Relief Carving: It can carve the 3D relief on wood, stone, foam, and soft metals.
4. Mold Making: A sculpture of aluminum, copper, brass, and other soft metal molds, sand, artificial marble, sheeting, plastic, wooden planks, PVC pipe, and other non-metallic molds.
5. Other Plans & Ideas: Portraits, calligraphy lettering, fine jewelry carving, seal carving, landscapes, basso-relieve, and other surface machining.
Small Desktop CNC Router Projects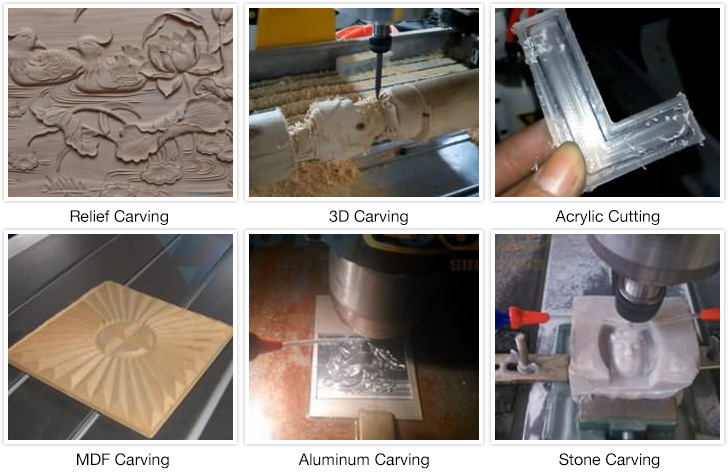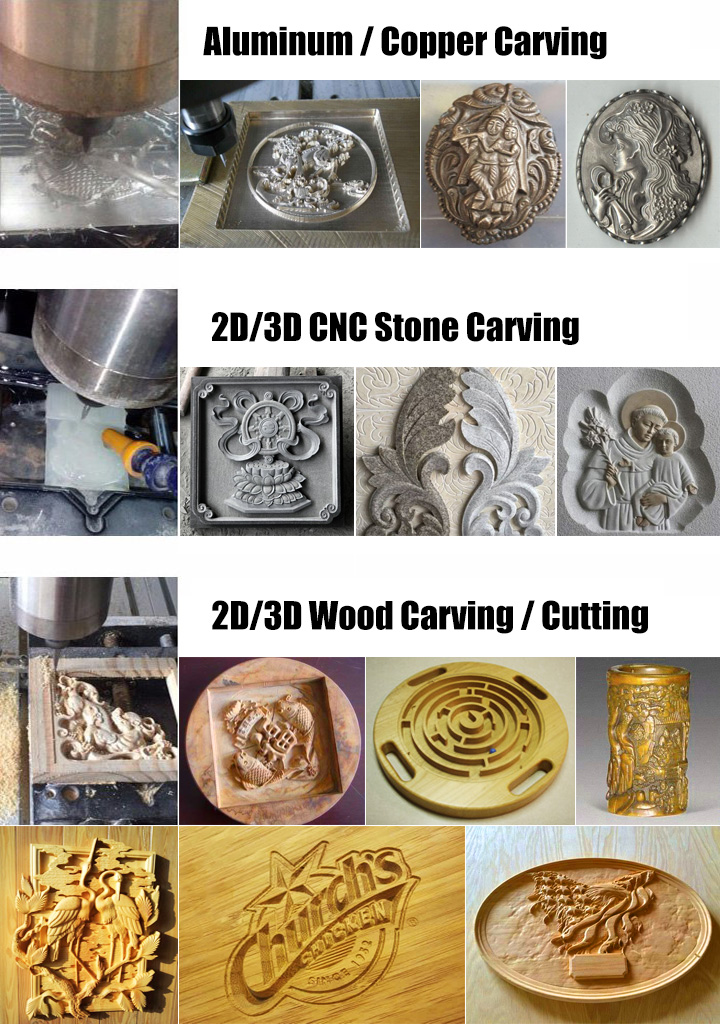 Mini Tabletop CNC Router Machine Package
Packaging Details:
1. Outside package: Standard marine export plywood case.
2. Inner package: Stretch film and plastic film for humidity.
We can package according to your requests.
Delivery Detail: Shipped in 10 working days after payment.
STG6012 benchtop CNC router kit with 2×4 table size can also be customized as your requirements.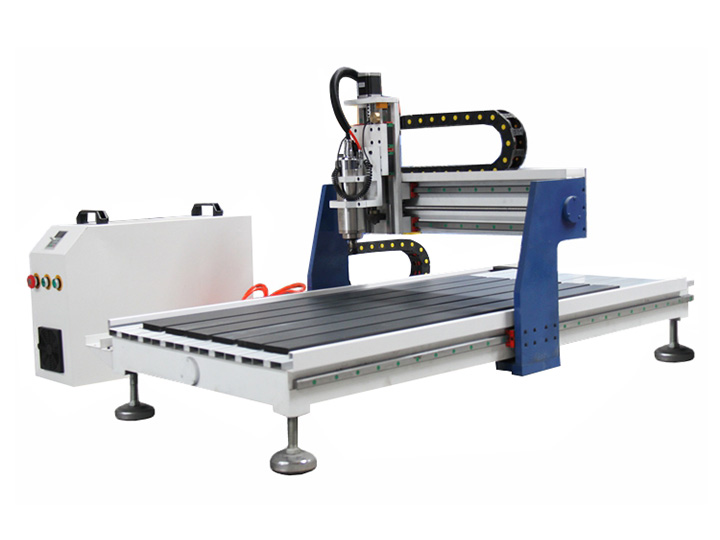 Warranty And Service
1. 24 months whole machine warranty and maintenance for lifetime.
2. Free installation and testing before shipping and free training for operators
3. Advice for the best CNC solutions for customer's requirements.
4. Free training and sample making.
5. 7/24 free service and support.
Troubleshooting
Error 1: After opening the software, the computer prompts "Cannot open card, query card prompt".
    1. Check whether the driver of the board is installed properly, or change the board to a PCI slot.
    2. Reinstall the two data cables and check if there is any broken needle.
    3. Replace the board.
Error 2: Open the software prompt: Three-axis alarm, initialization error signal.
    1. Check whether the two data cables of the computer and the machine are connected properly.
    2. Check whether the fuse of the adapter board in the control box is burned out, and replace the fuse.
    3. Check whether the power supply is normal.
Mistake 3: The routing is misplaced or the size is wrong.
    1. Check whether the path of the routing software is correct or not.
    2. Check the gap size of the screw rod and whether the fastening screw of the polished rod is loose.
    3. Check whether the software parameters are set correctly.
Error 4: The spindle motor does not rotate or reverses.
    1.Check the inverter parameter settings.
    2. Check whether the signal wire of the inverter is connected reversely.
Error 5: The phenomenon of smashing the bit occurred.
    1. The power of the Z-axis motor is not enough, and the coupling is loose.
    2. The current of the Z-axis driver is too small, or the signal wire is connected incorrectly.
International Shipping Around the World
All the CNC routers can be shipped worldwide by sea, by air or by international express logistics via DHL, FEDEX, UPS. You are welcome to get a free quotation by filling up the form with name, email, detailed address, product and requirements, we will shortly contact you with the full information including the most suitable delivery method (fast, secure, discreet) and freight.