Are you looking forward to DIY laser wood engraver plans or need to buy an affordable laser wood engraving machine for beginners in 2023? Review the best buying guide as follows, we'll offer you 2023 top rated engravers for wood with custom service & support, expert ratings, and cost price to fit your 2D/3D etching & burning wood projects, ideas and plans within your budget.
Demonstration Video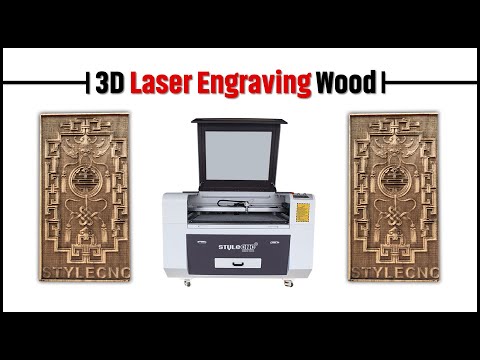 Product Details
Are you planning to start business to make money with personalized laser engraving of wood? Need custom laser wood engraving cutting service near your location? STYLECNC offers top-notch wood engravers & cutters with CO2 laser, which can create beautiful and mind-blowing texts, patterns, and photos with your drawing on hard wood, plywood, MDF, soft wood, coniferous wood, or veneer.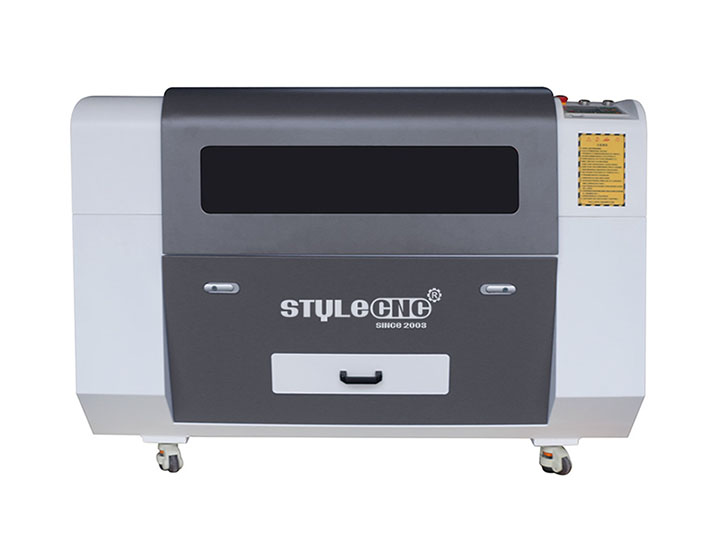 What Is Laser Wood Engraving Machine?
Laser wood engraving machine is an automatic laser engraving system that adopts CO2 laser tube to cut and etch soft wood, hardwood, solid wood, plywood, MDF as toys, crafts, arts, gifts, signs, logos and boxes in small business, home shop, and industrial manufacturing. The CO2 laser powers include 60W, 80W, and 100W for option. Laser wood engraving machine is also known as laser wood burning machine, laser wood engraver, laser wood etching machine.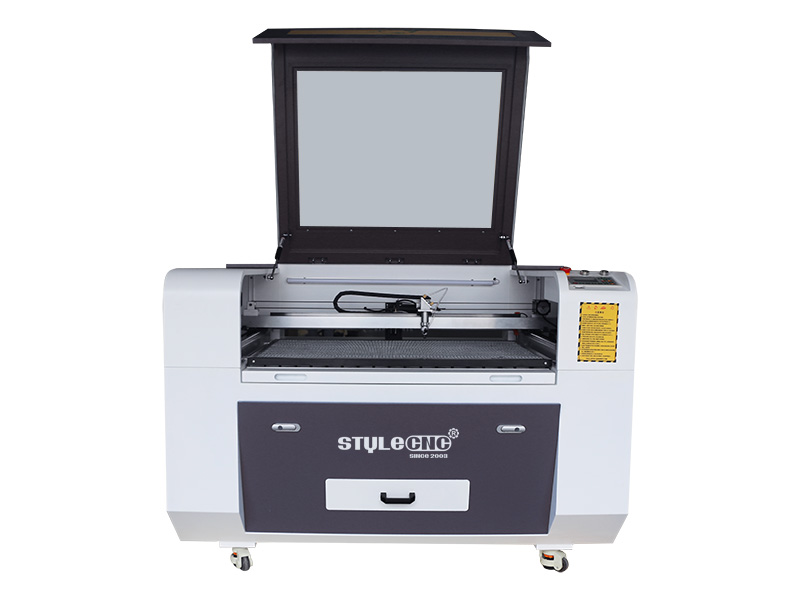 How Does Wood Laser Engraver Work?
Wood laser engraver is a type of numerical controlled laser etching machine kit that realizes the engraving of wood in the way of dotting with high speeds, and has a natural advantage in grayscale performance. For this reason, grayscale expressions are used as much as possible in the engraving design. This has the advantage of reducing the coloring process and saving costs on the one hand, and enriching the expression means of engraving on the other hand, increasing the level of graphics. Ordinary mechanical carving cannot engrave points of different thickness in an economical way, so it does not have a grayscale expression.
When operating a laser wood engraver machine, you first need to fill the graphics with different gray scales (the text needs to be converted into graphics first), and select the black and white mode for the engraving output. You can try the effects of different dots. The accuracy is generally not more than 500dpi. Wood is the most commonly used laser engraving material, it is easy to engrave and cut. Light-colored woods like birch, cherry or maple are easily vaporized by laser, so they are more suitable for engraving. Each kind of wood sign production has its own characteristics, and some are denser, such as hardwood, which requires greater laser power when engraving or cutting. We recommend that you first study the characteristics of engraving before engraving unfamiliar wood. Laser engraving plywood is actually not much different from laser burning wood, but there is one thing to pay attention to. The depth of the engraving should not be too deep. The edges of the cut plywood will be as black as wood. The key is to see what kind of wood the plywood is made of.
Unlicke a 3D printer, laser wood engraving is usually a type of shadow engraving method, and the engraving depth is generally required to be deeper, such as wood relief engraving. The power is generally set higher, if it encounters harder wood, the color of the engraved graphics may become darker. If you want to make the color lighter, you can increase the engraving speed and try several times.
After wood is engraved, there is generally a feeling of being burnt. It has a primitive artistic beauty that matches the color of the wood background. The depth of the color mainly depends on the laser power and the speed of the engraving. But some woods are usually soft, and you can't change their color no matter what (such as birch). For the coloring of the finished product, acrylic pigments can be used.
How Much Does A Laser Wood Engraver Cost?
Each type of laser wood engraver kit has its own standard price range. This guide can make a great starting point for deciding what type of wood laser cutter and engraving machine is right for you.
Mini desktop laser wood engravers start at $2,400.
Small hobby laser wood etchers cost between $2600 and $3600.
Rotary laser wood burning machines start at $3,000.
Industrial wood laser engraving machines start at $6,000.
3D wood laser engravers cost between $12,800 and $3,6800.
These figures provide a convenient scale for average laser wood burner price. Determining what you'll actually pay, however, means considering what features and accessories your laser wood etching machine needs.
Laser Wood Engraving Machine Specifications
| | |
| --- | --- |
| Model | STJ9060 |
| Working Area | 900x600mm |
| Laser Power | 60W (80W, 100W for option) |
| Laser Type | CO2 Laser |
| Linear Rail | Taiwan HIWIN |
| Table Type | Knife (Option: Honeycomb) |
| Cooling System | Water Pump (option: Water chiller) |
| Accessories | Air Pump, Exhaust System |
| Control System | RD Control System |
| Software | RDworks V8 |
| Graphic Format Supported | PLT, BMP, DXF, DST, AI, TIF, GIF, JPG, PNG |
| Software Supported | AutoCAD, CorelDraw, Artcut, TAJIMA, PhotoShop |
| Working Mode | Stepper System |
| Cooling Mode | Water Cooling and Protect System |
| Dichroic Cutting | Up to 256 colors |
| Gross Power | <1200W |
| Minimum Shaping Character | English 1x1mm |
| Working Voltage | 220V/50HZ, 110V/60HZ |
| Command G-code, | *uoo, *mmg, *plt |
| Resolution Rate | 2000DPI |
| Auto Focus | Optional |
| Up-Down Table | Optional |
| Package Type | Plywood Case |
| Machine Size | 1440*1120*1050mm |
| Packing Size | 1560*1620*1270mm |
Wood Laser Cutting and Engraving Machine Standard Accessories
1. Air compressor for air assist.
For blowing off debris/dust at laser head during the laser engraving.
2. Exhaust fan with pipes.
Optional: Air filter cleaner.
3. Water pump for cooling at laser tube.
Optional: Industrial water chiller.
4. USB Cable (connecting PC and laser)
5. DVD (including lasercut software set, user manual, guiding and training videos, etc.).
6. Power cables.
7. Tool box.
8. Red ray (for marking the laser shooting position at laser head during laser engraving).
CO2 Laser Wood Engraver Optional Parts
1. Industrial Water Chiller.
With better working performance than water pump.
2. Air Filter Cleaner.
With air filter to clean the dusts, ashes and smells produced from laser burning.
3. Rotary Attachment.
For working with round or cylinder materials such as glass, bottle, mug, tumbler, cup, baseball bats, pen container and more.
4. Engraving Area.
The engraving table size can be customized as your needs.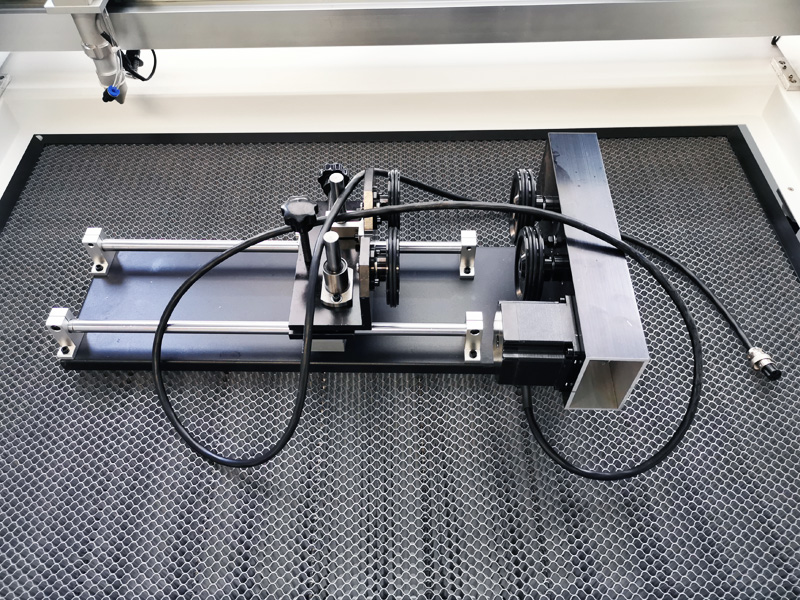 Rotary Attachment (Rotary Axis) for Wood Engraving
CO2 Laser Engraving Cutting Wood Capacity
| | | |
| --- | --- | --- |
| Materials | Cutting | Engraving |
| Wood/Cork/Bamboo/Veneer/MDF | √ | √ |
| Acrylic/Rubber/Plexiglass/Pmma | √ | √ |
| Glass/Fiberglass | | √ |
| Coated Metals/Painted Metals/Anodized Aluminum | | √ |
| Mylar/Delrin/Matte Board | √ | √ |
| Fabric/Cloth/Textile/Garment | √ | √ |
| Leather/Pig leather/Cow leather/Sheep leather | √ | √ |
| Ceramic/Marble/Tile | | √ |
| Plastic | √ | √ |
| Melamine | √ | √ |
| Paper/Cardboard/Pressboard | √ | √ |
| Organic board/Double color plate | √ | √ |
| Corian | √ | √ |
CO2 Laser Wood Engraving Machine Features
Details Show.
Laser Head.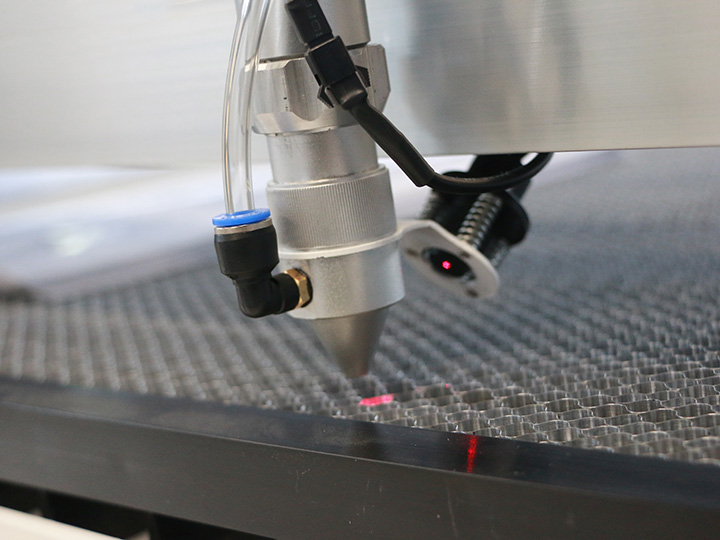 Laser Controller.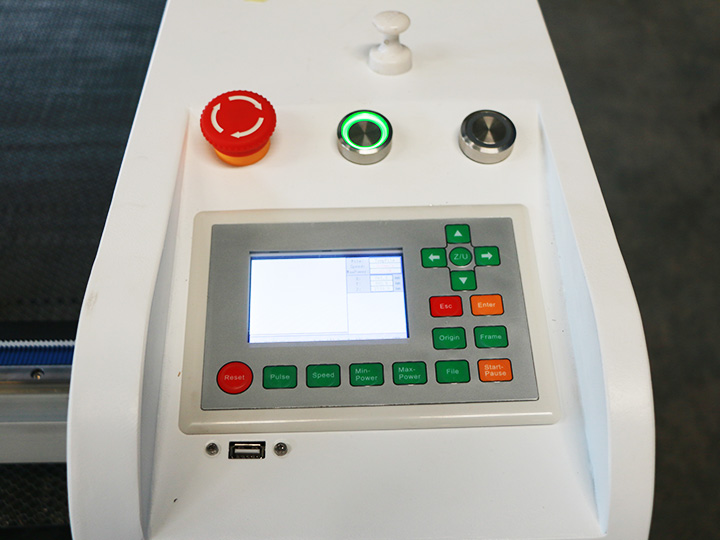 CO2 Laser Tube.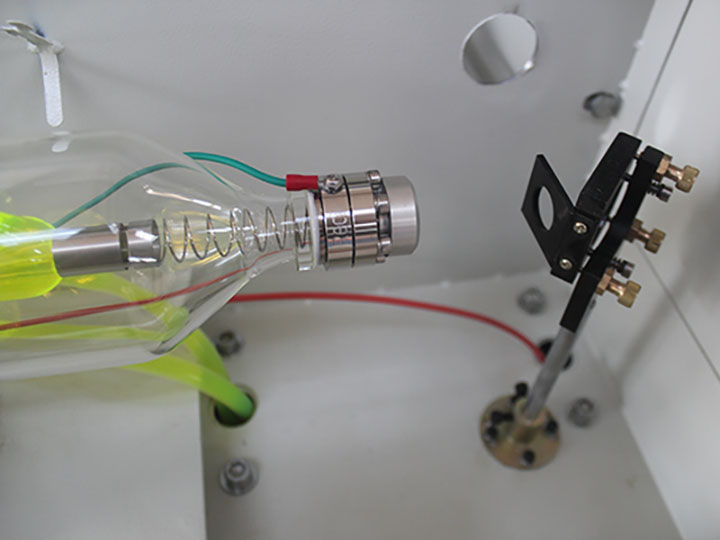 High Quality Accessories.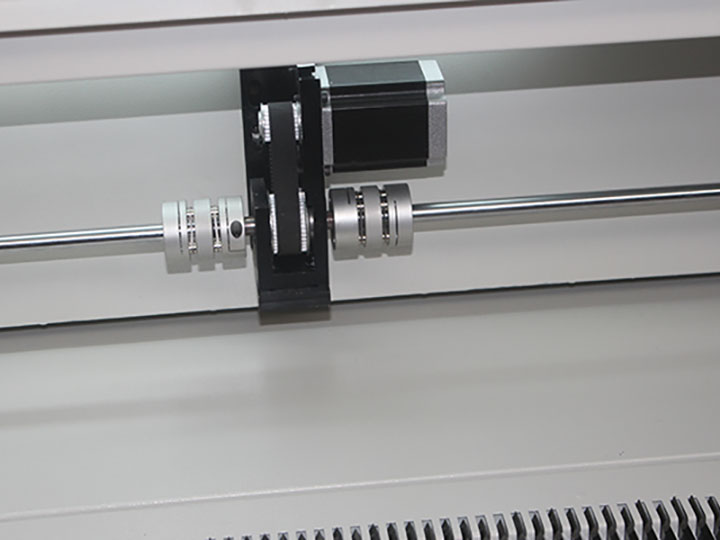 High Quality Parts.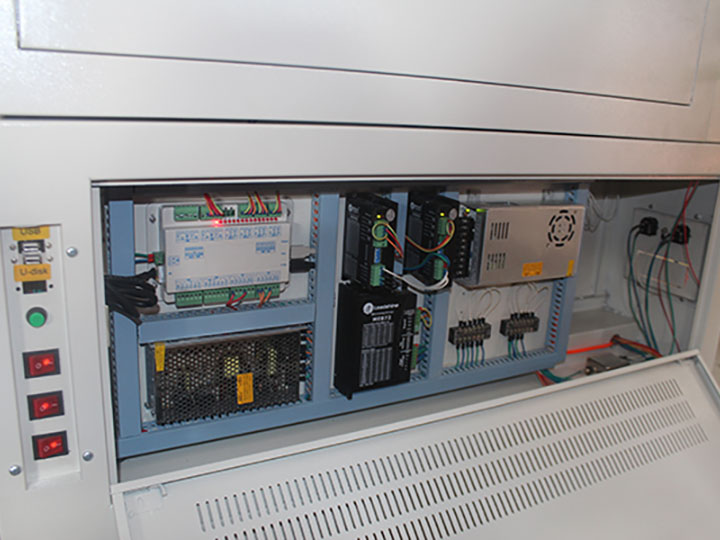 Laser Wood Engraving Table.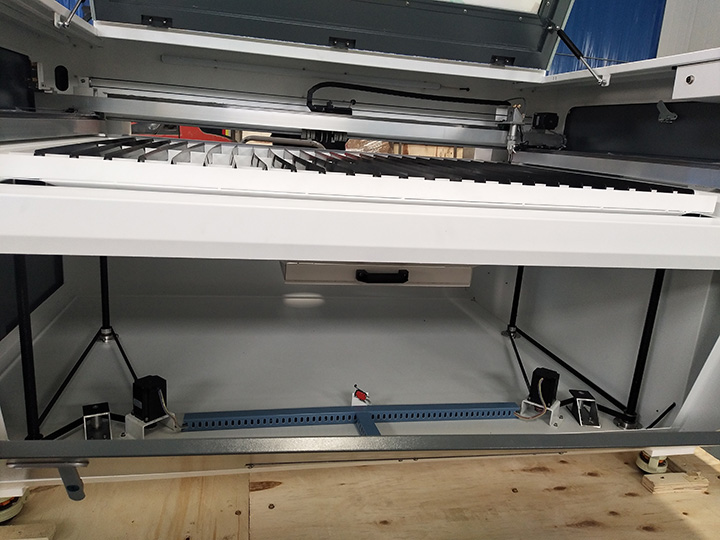 Wood Laser Engraving Machine Applications
Compared with manual wood engraving machines and hand wood engraving tools, laser wood engraving machines have greatly improved the working efficiency for your laser engraving business plans. They can make the engraved surface more smooth and round, quickly reduce the temperature of the engraved non-metallic material, and reduce the deformation and internal stress of the engraved project. It can be widely used in the field of fine engraving of various non-metal materials. So far, you can meet laser engraved wood projects everywhere in the world, and it has become a common power tool in our daily work. Now, it is widely used in woodworking, sign making, advertising industry, crafts making, toys making, shoes, clothing, mold making, construction industry, printing industry, packaging industry, decorations, leather industry. The nonmetal laser engraver is suitable for woods (hard wood, soft wood, plywood, MDF, veneer, coniferous wood), leather, acrylic, textile, fabric, cardboard, rubber, paper, plastic, bamboo, ABS, PVC, fiber and composite materials.
Laser Engraved Wood Projects & Plans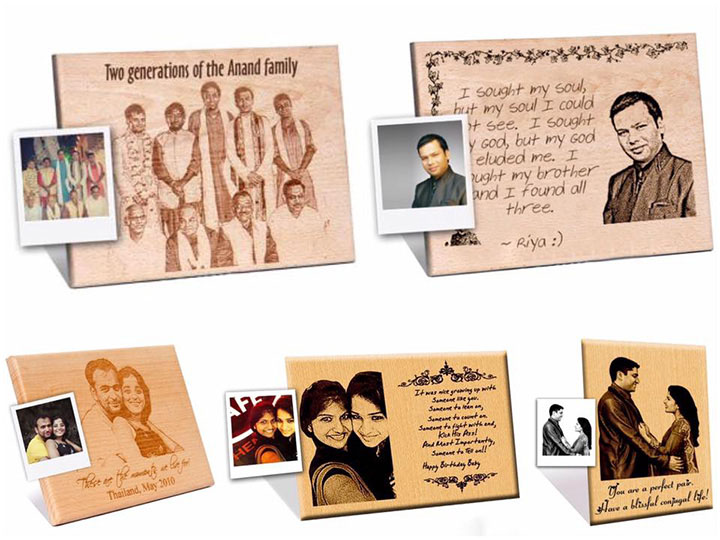 Laser Engraved Wood Photos & Pictures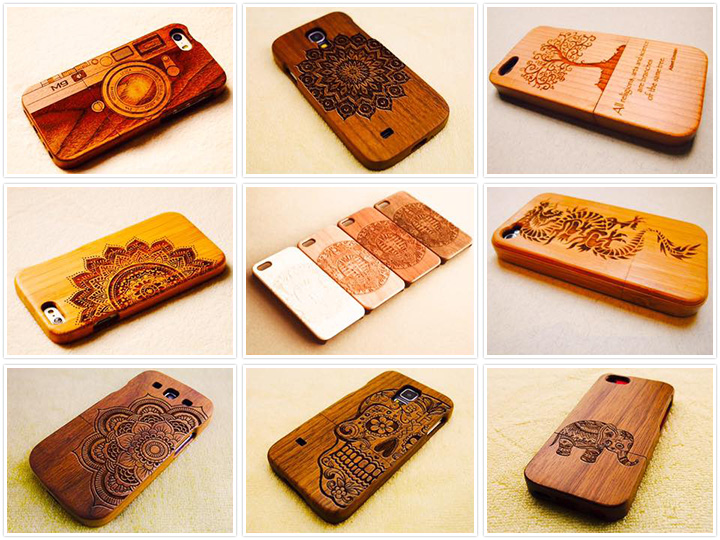 Laser Engraved Wood Mobile Cases & Shells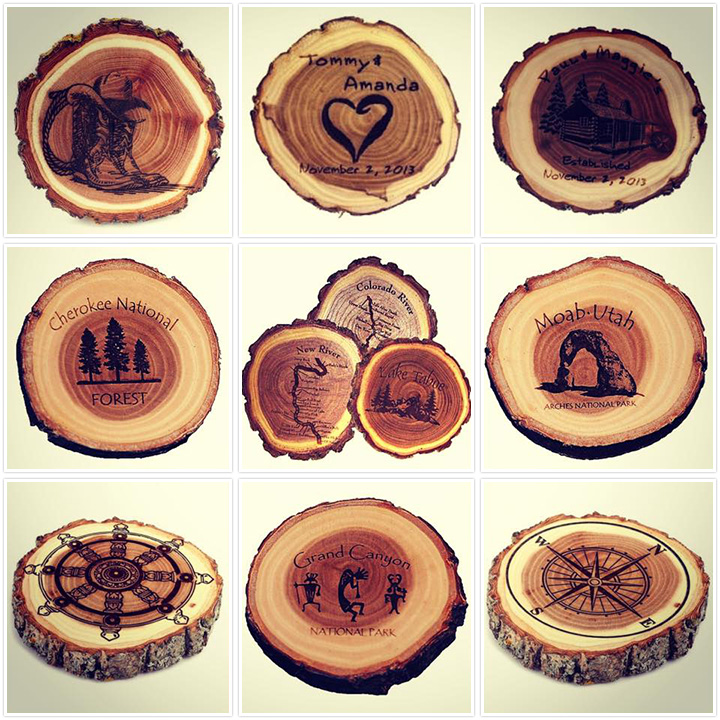 Laser Engraved Wood Crafts & Gifts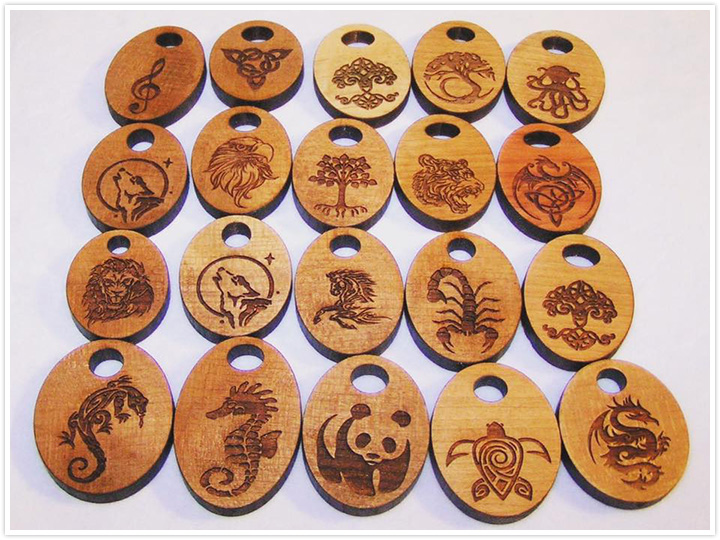 Laser Engraved Wood Coasters & Signs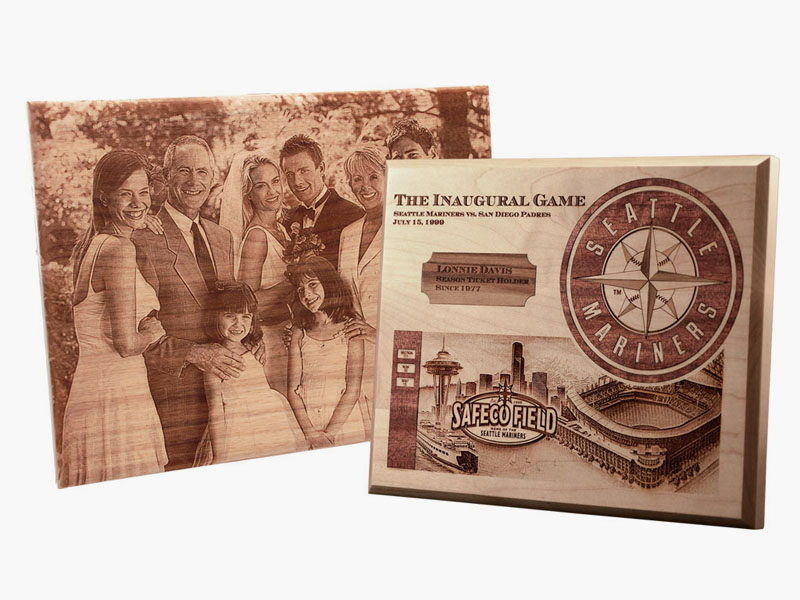 Laser Engraved Wood Plaques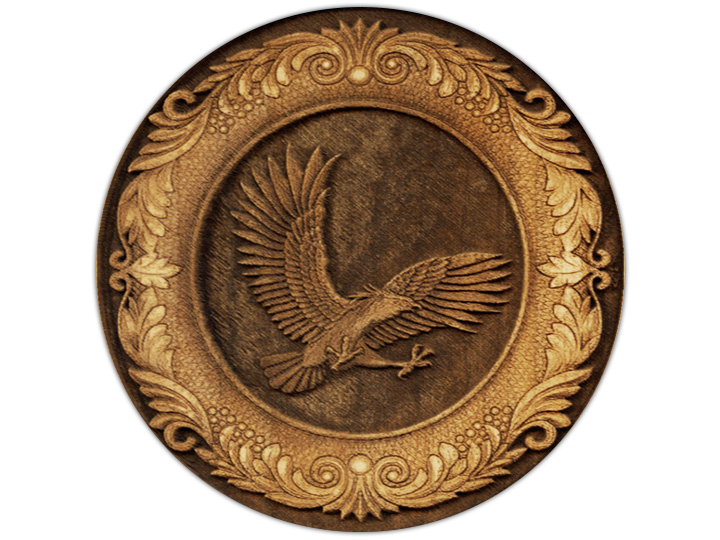 Laser Engraved Wood Ornaments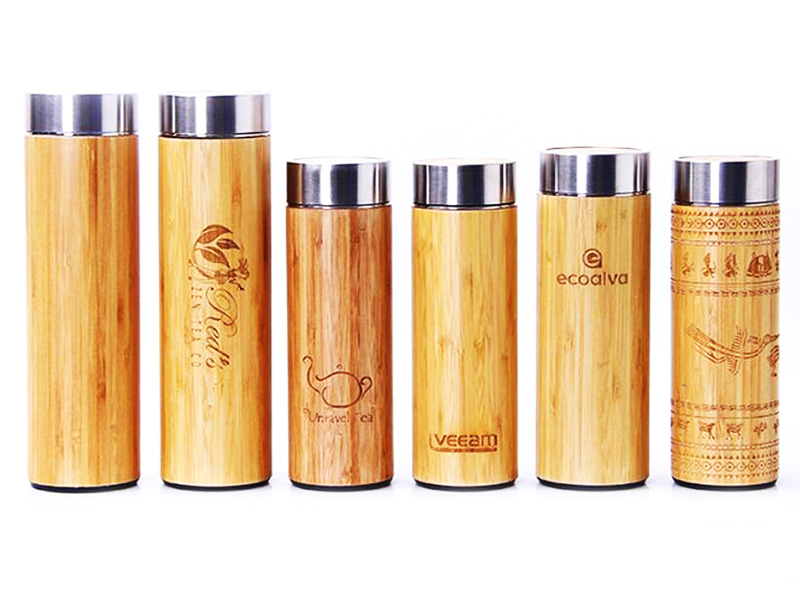 Rotary Laser Engraved Wood Projects
If you want to engrave small wood crafts, gifts, signs, or arts with more higher speed, a CO2 laser wood marking machine is a suitable choice.
CO2 Laser Marking Machine for Wood
How to Laser Engrave Wood?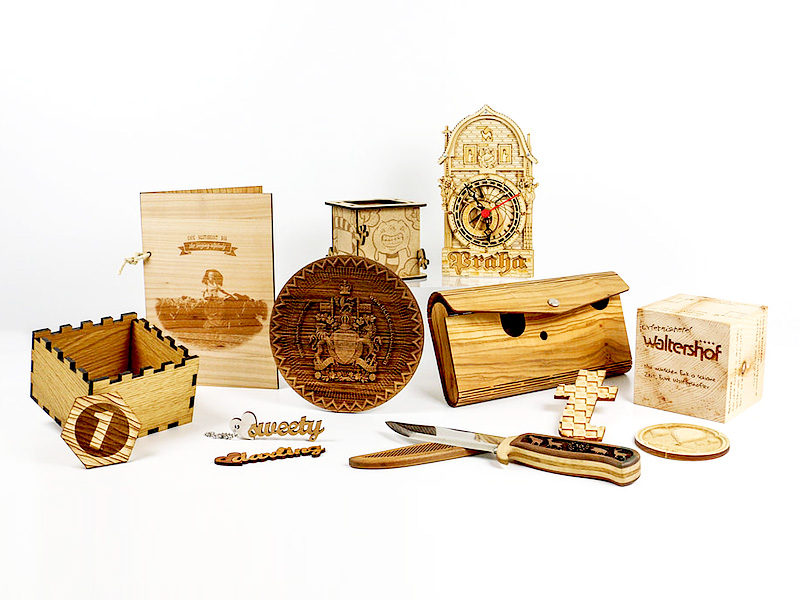 Laser Engraving Wood Ideas
Step 1: Buying Laser Engraver for Wood.
A CO2 laser wood cutter engraver can be equipped with different laser powers, table types, table sizes, and some optional parts, such as rotary attachment, up-down table, etc.
Of course, it can do all engraving, burning, etching and cutting works according to the laser powers.
Step 2: Setting Machine
Your CO2 laser wood cutter engraving machine should come with suggested settings for engraving or cutting different materials and different thicknesses. You should also be able to load these settings into your computer or laser machine, and save them as presets. Be sure to name them something that makes sense so you can easily find them. So the next time you need to engrave on solid wood or cut thick plywood, you can just find and load the presets for them.
Step 3: Preparing Engraving Files for Wood
Vector files and Bitmap files are used for laser engraving and cutting. Vector files are mathematical formulas defining circles, lines, and more shapes, which are created by CorelDRAW, Illustrator, or AutoCAD. Bitmap files are collections of individual pixels, which included Adobe Photoshop files, digital photos, JPGs, and more formats. With the CO2 laser wood burning machine, you can engrave with either vector or bitmap files, you can only cut with a vector file.
Step 4: Testing Engraving for Wood
Even when you have a preset for engraving and cutting, you should run a test before you start the final project. Then you can see if you need to increase or decrease the laser power before you start the full job. Nothing is worse than taking the material out of the laser and finding that it didn't engrave or cut all the way through.
Step 5: Starting Final Laser Engraved Projects
All prepared works done, you will be happy to start your laser engraved projects.
Step 6: Warnings and Cautions
When you operate a wood laser engraver, you should pay attention to some warnings and cautions.
1. The machine must be connected to an earth ground using a copper wire. It is also recommended to connect the wood laser etching machine frame to the computer frame with a copper wire.
2. Allow the water to circulate for a few minutes so that the metal and glass components can acclimate to the new temperatures.
3. The temperature of the cooling water must be from 5 ℃ to 25 ℃. Check the water temperature often to ensure the temperature does not get hot.
4. While performing alignment, use the control system to move each axis… or remove the motor wires from the amplifiers. Manually moving the axis with the motor wires connected can cause electrical feedback to the amplifier and cause damage to those electrical parts inside.
5. Make sure to carefully follow the installation instruction for the laser tube.
6. Do not place flammable materials into the wood laser engraving cutting machine. Do not operate the laser if you smell flammable gas in the air.
7. Do not try to engrave before properly aligning the laser beam.
8. Follow a proper maintenance schedule of cleaning and lubrication for the machine.
9. Keep the lens and mirrors clean.
10. Turn on the machine with emergency stop pressed, test the internal light, then release the emergency stop button to activate entire machine power.
11. The power supply, electrical components, and all wires must remain dry.
Wood Laser Engraving Tips
1. Laser engraving, laser etching or laser burning means that the laser head travels left to right across the working area and repeats until it has engraved the project. Laser cutting means that the laser beam just traces the lines of the laser cut designs.
2. Types of wood for laser engraving: coniferous wood, hard wood, soft wood, plywood, veneer, MDF (medium density fiberboard).
With the development of photoelectric technology, laser engraving technology has a wider range of uses, and customers' requirements for engraving accuracy have also increased. Generally, there are four factors that affect laser engraving: engraving speed, laser power, engraving accuracy, and material. The first three elements are determined by the quality of the laser equipment itself, and the material is determined by the outside.
Wood is the most commonly used material for laser burning. Generally speaking, it is easy to engrave and cut. Light-colored wood such as birch, cherry or maple can be gasified by laser well, so it is more suitable for engraving. It has its own characteristics, and some are denser, so before wood engraving, you should first know the characteristics of wood.
The basic principle of wood laser engraving is basically the same as that of laser cutting. Both use high-energy-density laser beams to convert heat energy, which instantly causes thermal decomposition and carbonization of wood, thereby removing part of the material. Compared with laser engraving, laser cutting requires a lot of energy, and laser engraving does not need to cut through the workpiece, so the energy required is relatively small. Laser wood engraving generally uses non-contact engraving methods. Compared with traditional mechanical carving methods, laser wood engraving has significant advantages such as no wood chip pollution, no tool wear, no need to change tools, and no noise pollution. Not only the engraved patterns are more beautiful than traditional mechanical carvings, but also the cost-saving effect is obvious.
International Shipping Around the World
All the CNC laser machines can be shipped worldwide by sea, by air or by international express logistics via DHL, FEDEX, UPS. You are welcome to get a free quotation by filling up the form with name, email, detailed address, product and requirements, we will shortly contact you with the full information including the most suitable delivery method (fast, secure, discreet) and freight.