2023 top rated affordable laser tube cutting machine with 1000W, 1500W, 2000W, 3000W fiber laser source is an automatic CNC metal pipe cutting system used to cut patterns in square, round, rectangular, oval, and special shape tubes. Now the best budget laser tube cutter for sale at cost price.
Demonstration Video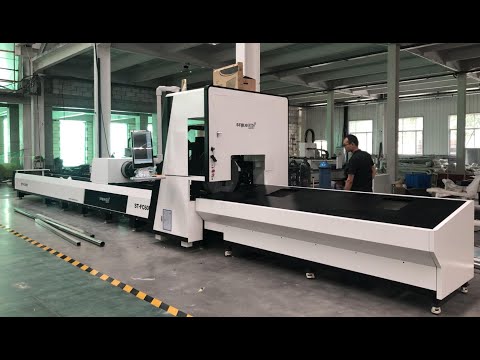 Product Details
Are you looking for laser tube cutting service near you? Are you creating a buying budget plan to purchase a new or used tube laser cutter to start or grow up your metal fabrication business? Review the best automatic laser pipe cutting machine with CNC controller for all types of metal tubes.
What Is Laser Tube Cutting Machine?
A laser tube cutting machine is a type of automatic CNC metal cutter for square, round and special-shaped pipes made of stainless steel, carbon steel, mild steel, galvanized steel, iron, copper, brass, and aluminum, which is used for straight cutting, tangent, bevel cutting, perforation, 45 degree angle cutting, joint cutting, bevel splicing, and more metal pipe cutting projects & plans.
A laser tube cutter is an automatic CNC pipe cutting system that uses laser beam to cut square tubes, round tubes, oval pipes, rectangular tubes, triangular tubes, hexagonal tubes, elliptical tubes and some custom special shape pipes made of carbon steel, stainless steel, tool steel, mild steel, aluminum, alloy, brass, bronze, copper and titanium. A laser metal tube cutter machine is a dieless cutting system to cut any types of designs on metal pipes in any angle and direction. Compared with plasma cutting, flame cutting, water jet cutting, and wire cutting, the precision of laser-cut metal is much higher without grinding.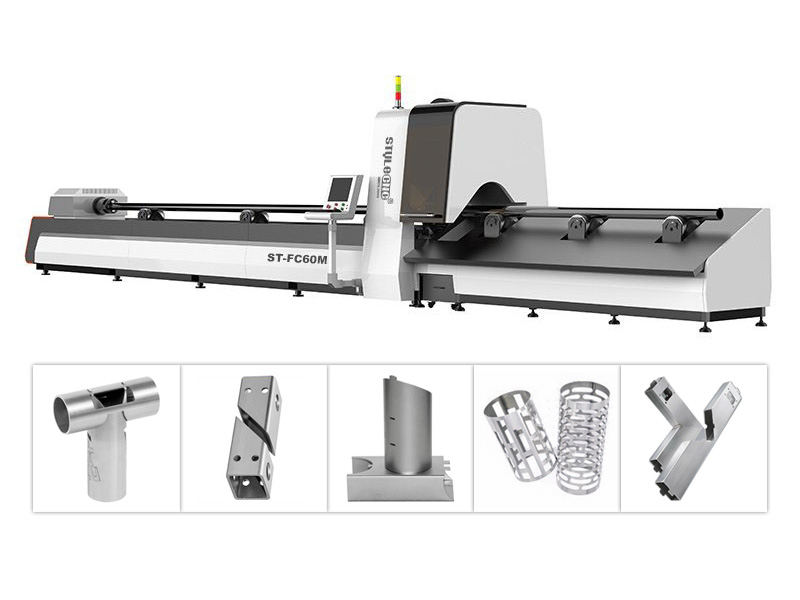 An automatic laser tube cutter will replace mechanical drilling, milling, sawing, punching or cleaning of burrs and other processing procedures that require different metal pipe cutters and hard tools, and realize the cutting, chamfering, and cutting of complex pipe structures. The processing of slots or holes, notches, and other possible size and shape features. It is widely used in metal fabrication, kitchenware, lamps, automobiles, medical equipment, hardware, fitness equipment, and other industries.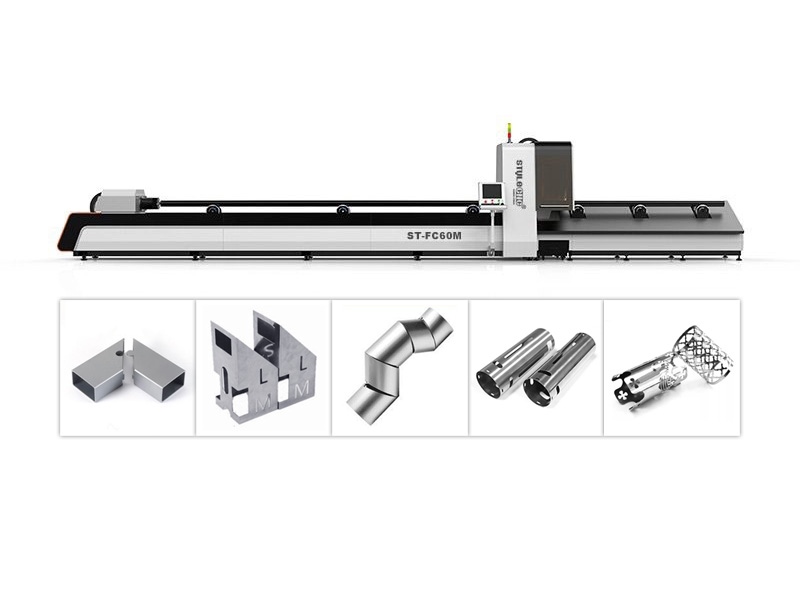 Laser tube cutting machine is also known as laser pipe cutting machine, laser tube cutter, laser pipe cutter, which is mainly refer to a laser cutting machine with fiber laser source for square/round/rectangular/oval metal pipes and tubes, so you can call it fiber laser tube cutting machine, fiber laser tube cutter, fiber laser pipe cutting machine, fiber laser pipe cutter.
How Does A Laser Tube Cutter Work?
Laser tube cutter uses computer-aided design software for graphic design, and imports the operating system to automate cutting, maximizing the speed of manufacturing projects. Usually, a database is included in the operating system, and the key information includes the material type, thickness, and geometry of the tube. The main working principle of the automatic tube cutting machine is to use the thermal energy generated by the laser beam from the laser to cooperate with the motion mechanical system to cut the pipe. The cut pipe is controlled by the intelligent system, which can achieve the purpose of high-quality university production.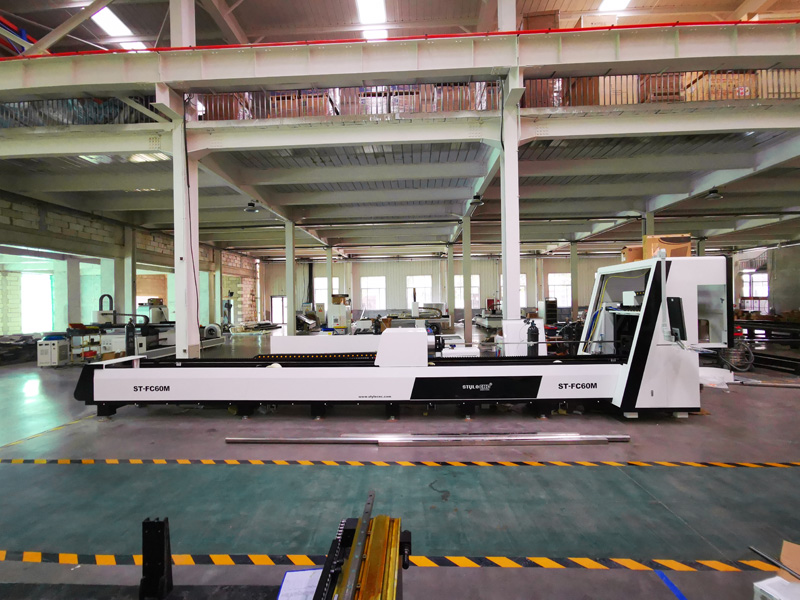 How Much Does A Laser Tube Cutter Cost?
The cost of laser tube cutting machine consists of laser generator, fiber laser cutting head, numerical control system, servo motor, rack and pinion, reducer, bed frame, beam, chiller, and air compressor.
Considering the wall thickness of the pipe, it requires different laser powers. The higher the power, the greater the thickness that can be cut and the higher the cutting speed. Considering the length of the tubing, this requires bed frames of different lengths. Different brands of laser generators have different cutting accuracy, quality and speed. Differences in all of these core parts will result in differences in cost and price.
The average cost of tube laser cutters in the market is around $50,000, and the cost of a professional 1000W laser tube cutting machine starts at $47,500, while some 2000W and 3000W laser tube cutters can be up to $80,000. The high-end types with automatic feeding system for loading & unloading is priced from $70,500 to $117,500. The cost of a dual-purpose sheet metal and tube laser cutting machine costs from $42,500 to $122,000. Most dealers have free shipping promotions if you are pickup from local depot, and shipping costs should be considered if you are buying overseas.
Advantages of CNC Laser Tube Cutting Machine with Fiber Laser Source
The real difference of the laser tube cutting machine is the cutting accuracy. It adopts chuck and push-type cutting methods, which has high centering accuracy and processing accuracy; due to the improvement of modern laser cutting machines, it involves the industrial manufacturing of small diameter pipes. The application has been greatly accelerated. The automatic pipe cutter can make corresponding adjustments according to these deformations to ensure the accuracy of pipe cutting, which cannot be achieved by many traditional processes.
Laser tube cutter can realize mass production, and all operations can be unified into the same unit as a continuous operation process, which greatly reduces the logistics time. The standard pipe length is 6 meters, and the traditional processing method requires very heavy clamping. Laser processing can easily complete the clamping and positioning of several meters of pipe, which makes batch processing possible.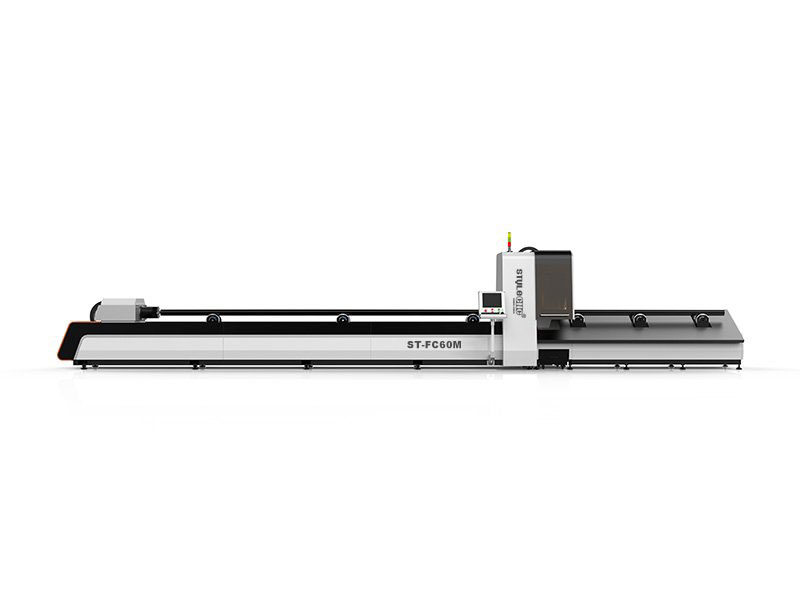 Fiber laser flexible transmission, compact cutting head structure, no reflective lens, basically maintenance-free and loss-free; powerful cutting function, four-jaw self-centering chuck, capable of cutting square tubes, round tubes, rectangular tubes and various special-shaped tubes; processing The range of pipe diameter and length can be customized (standard round pipe diameter Φ20~220mm, length 6000mm); high cost performance, low use cost, low follow-up maintenance cost; simple and easy-to-operate processing system, and real-time feedback on processing status to ensure processing Orderly.
CNC laser pipe cutter adopts tube cutting software, which can seamlessly recognize the pipe fitting graphics drawn by the 3D software, and also supports the automatic generation of some common pipe workpieces. The machine can cut any programmed shape on the metal pipe, and the laser can complete the perfect cutting in any direction. Through computer programming design, it can be changed flexibly and quickly. The high flexibility of the machine provides strong and advantageous technical support for more and more personalized processing, thereby reducing the number of molds used.
The advantage of automatic laser pipe cutting machine is that it can replace multiple processing procedures, such as sawing and drilling, to realize pipe cutting, punching, and drawing & cutting of various graphics. Reduce material waste to a greater extent, save labor costs, and improve work efficiency. Make better products for customers in a shorter time.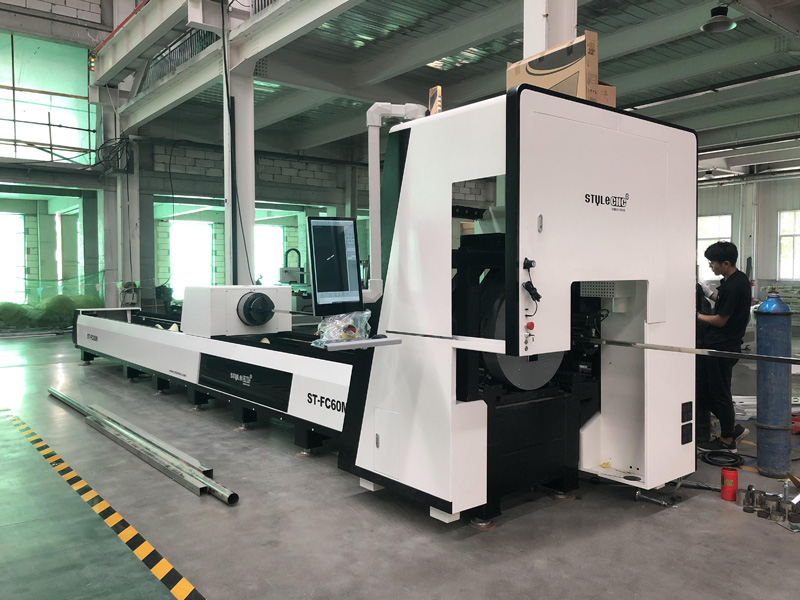 1. The fiber laser tube cutter can complete a variety of cutting shapes tubes, the tube surface arbitrarily complex curve graphics processing, graphics difficulty without restrictions. After cutting the tube section does not require secondary processing, it can be welded directly, greatly reducing the production period, creating enormous value for the enterprise.
2. It can cut lines and holes with different diameters from different directions on the tubes & pipes and cut column and crossed lines at the end of branch pipe to meet centrifugal and non-centrifugal vertical intersection condition for branch and main pipe axis.
3. It can cut inclined with the main circular pipe.
4. It can cut branch pipe intersected with the main circular pipe.
5. It can realize angle groove face, square hole, waist-shaped holes cutting.
6. It adopts very thin laser beam which can be used on small part cutting and complicated patterns and reach to a polished effect.
7. Two rotary tables use double driver synchronous drive, metal tubes are not easily destroyed when processing, with high precision and high processing efficiency.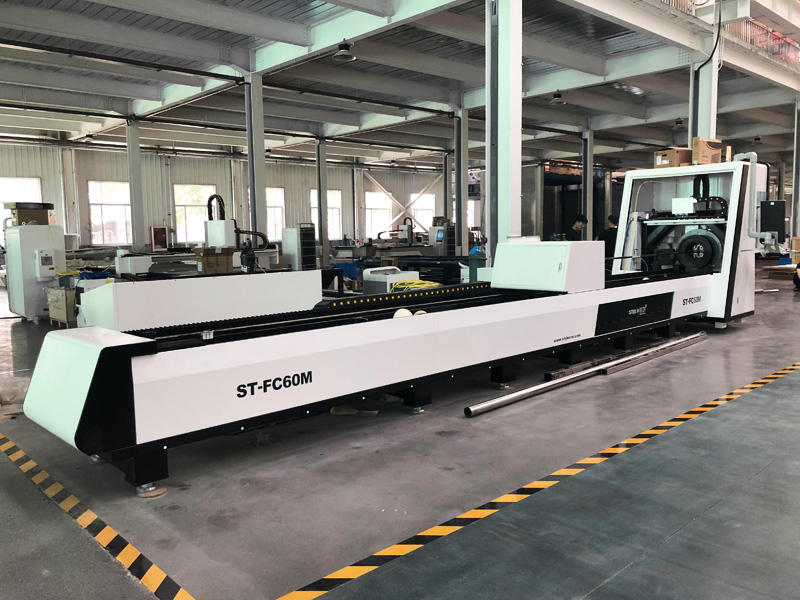 Technical Parameters of Fiber Laser Tube Cutting Machine
| | |
| --- | --- |
| Brand | STYLECNC |
| Model | ST-FC60M |
| Laser Power | 1000W (1500W, 2000W, 3000W for Option) |
| Laser Type | Fiber Laser |
| Laser Generator | Raycus, IPG, MAX, RECI |
| Laser Cutting Head | Raytools |
| CNC Controller | Cypcut Control System |
| Tube Length | ≤6000mm |
| Tube Diameter | 20mm-240mm |
| Repeated Positioning Accuracy | ≤±0.02mm |
| Electricity | 380V/50Hz/60Hz |
| Price Range | $58,800.00 – $88,800.00 |
Features of Laser Tube Cutting Machine with Fiber Laser Source
1. The fiber laser tube cutter machine bed will go through 600℃ heat treatment, 24 hours cooling in the oven, 8 meters gantry milling, accurate CO2 protection welding to make sure 20 years usage without deformation.
With the above actions, all bad results will be get rid of. The cutting precision can reach ±0.02mm.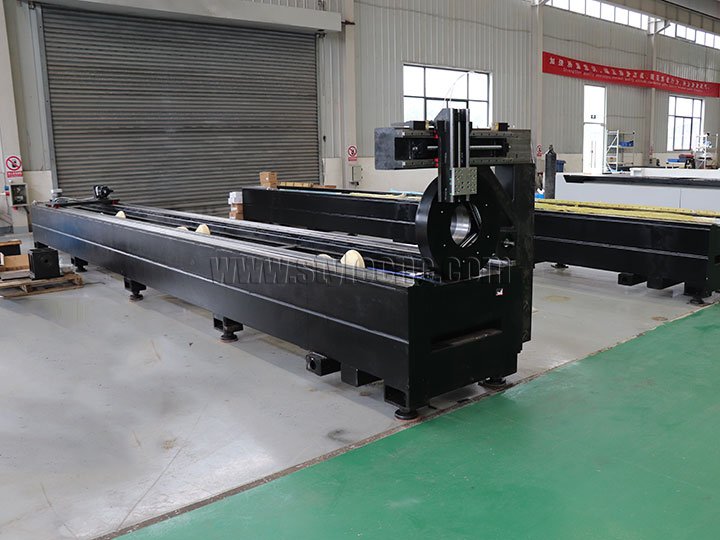 2. The fiber laser tube cutting machine adopts China best brand Raycus or Germany IPG fiber laser generator to get the best cutting quality.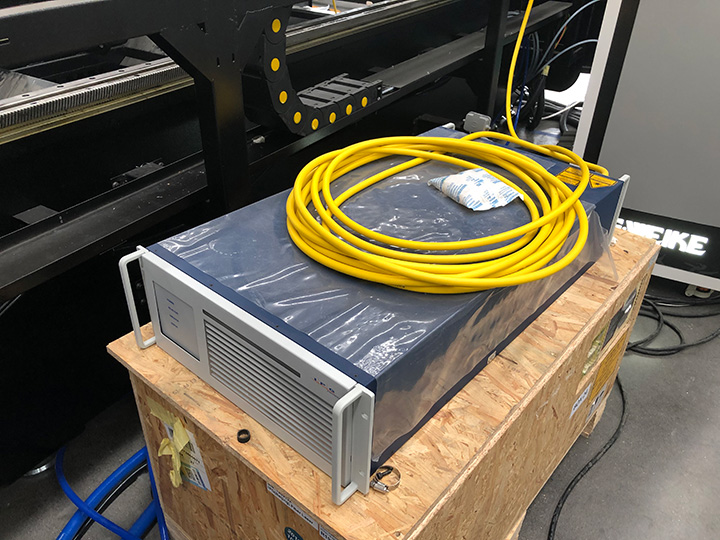 3. Swiss Raytools brand laser cutting head. Optimization of the optical configuration smooth efficient air flow design.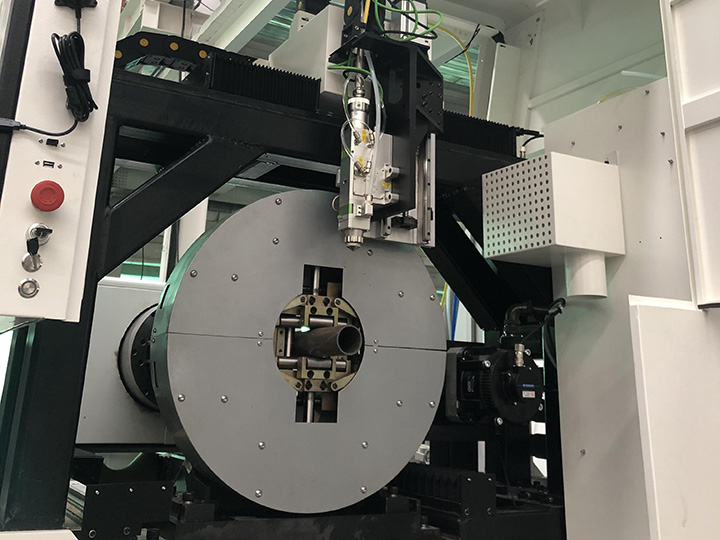 4. The rotary device adopts multiple automatically segmented feeding method, fast and precision, easy for clamping to reduce the distance from laser processing head to the pipe ends, reducing the material head waste, improve material utilization.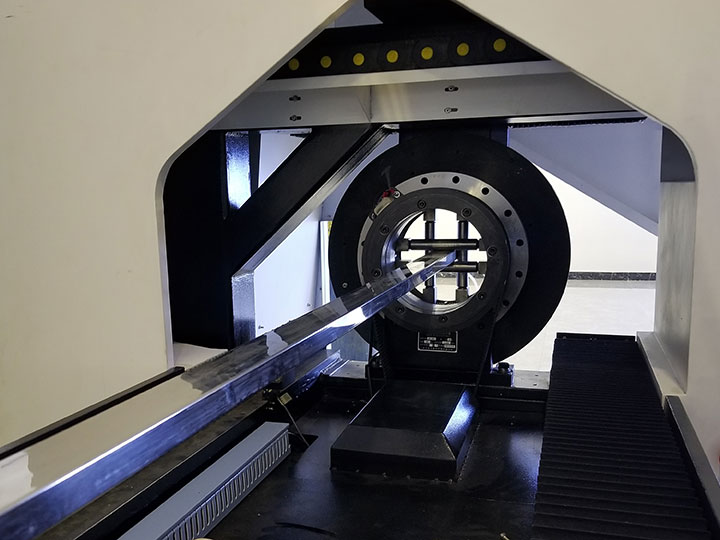 5. The numerical control system configuration with Cypcut software to meet the requirements of different tubes cutting.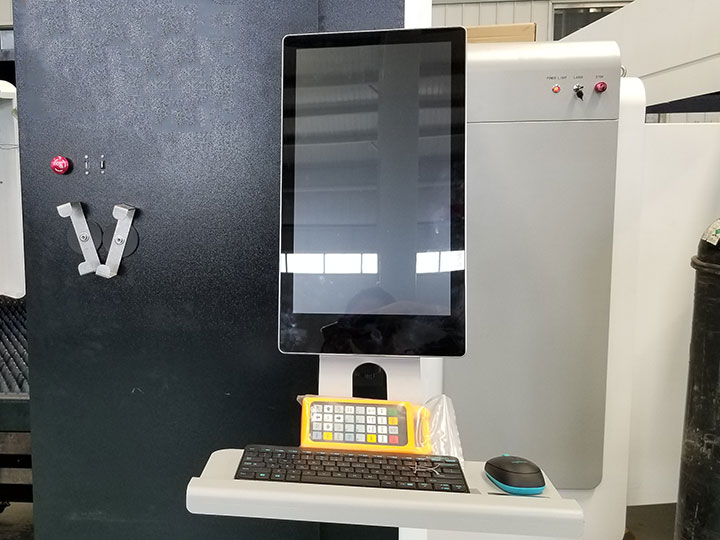 6. For all types of large diameter tolerances, fuzzy boundaries, stepping device selectively gripping and pre-set torque to ensure the holder is not easy deformation of thin-walled tube.
7. Air system can simultaneously access three different auxiliary gas and automatic conversion. High pressure gas path designed to improve the capacity of cutting of stainless steel and other hard materials. Through the solenoid and proportional valves can automatically switch oxygen, nitrogen and air, and the gas pressure can be within a certain range stepless adjustment.
You can also choose a CNC laser metal tube cutting machine with automatic loading and unloading system listed below.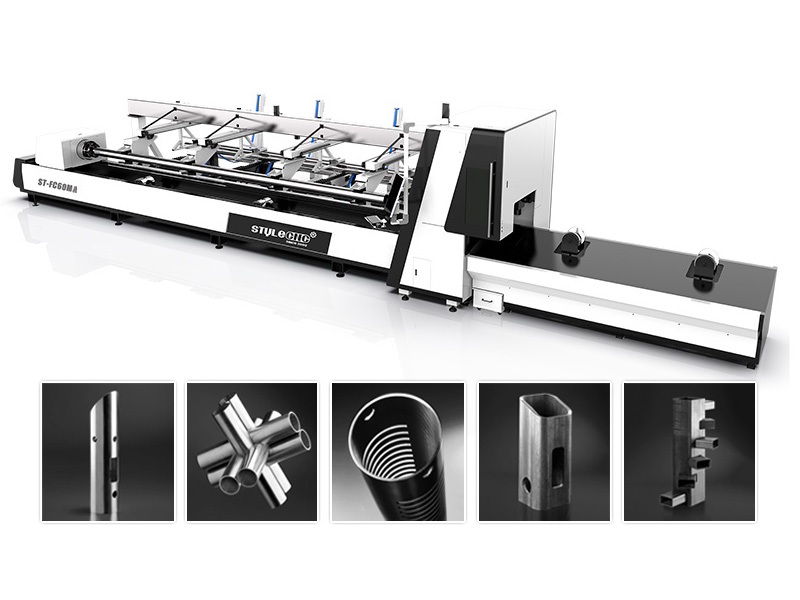 CNC Laser Metal Tube Cutter with Automatic Loading and Unloading System
Metal Tube Laser Cutting Machine Applications
Metal tube & pipe diameter: ≤200mm.
Metal tube & pipe cutting thickness: ≤8mm (mild steel).
Metal tube & pipe types: round, square, triangle, rectangle, oval, circular tubes and more other special tubes.
Fiber Laser Metal Tube Cutting Machine Projects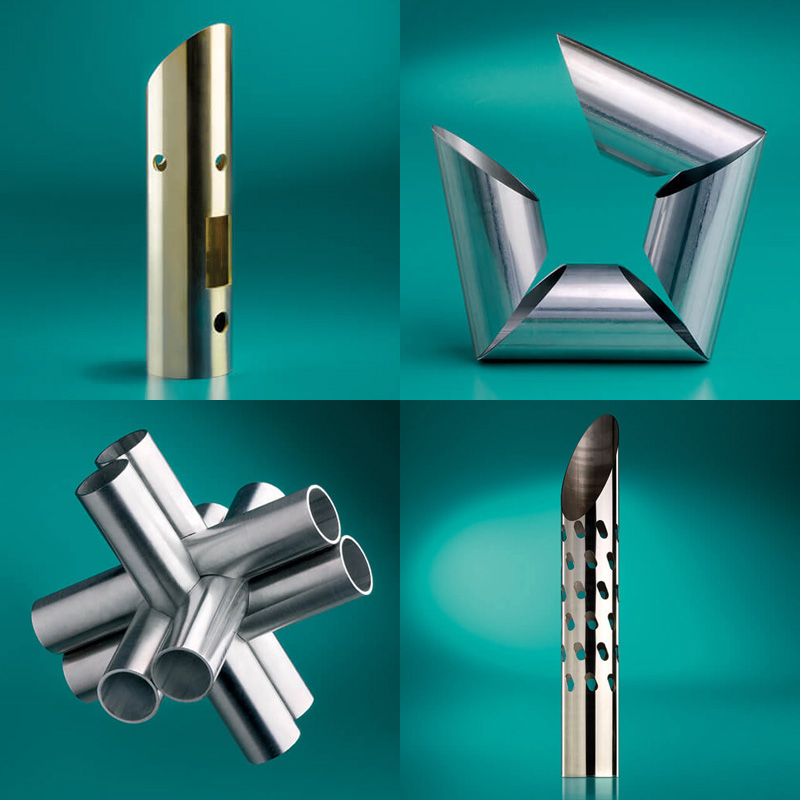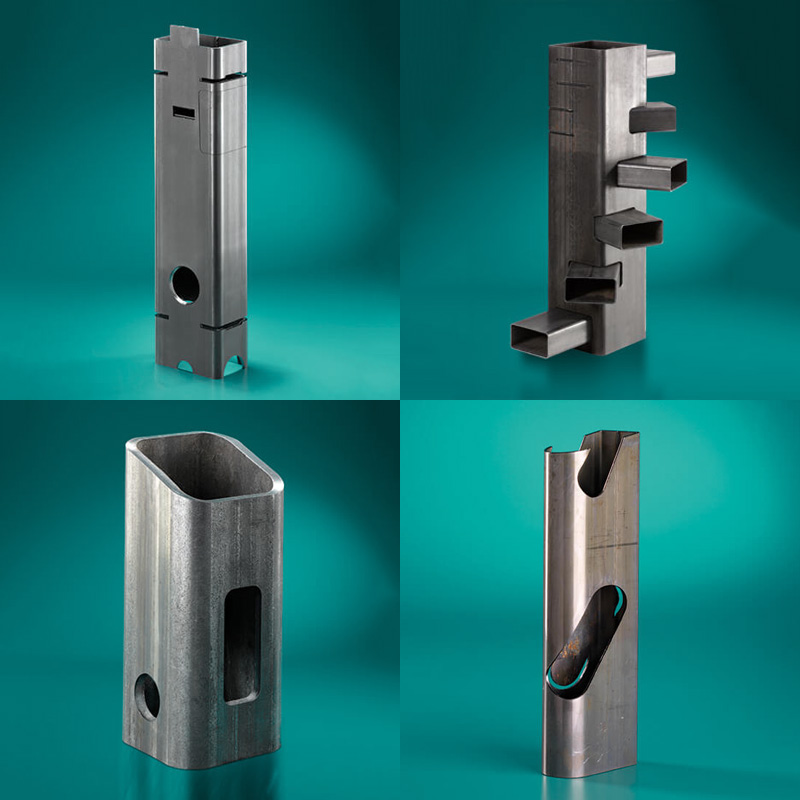 What Types of Metal Tubes can be Cut with a Fiber Laser Cutter?
A laser tube cutter can cut various types of metal pipes made of steel, iron, aluminum, copper, brass, and titanium. What types of metal tubes can be cut with a fiber laser metal cutter? Let's classify according to the applications, manufacturing methods, materials, outer diameters, shapes, end status, and pressure occasions.
Applications
Laser-cut metal pipes can be classified into line pipes, boiler pipes, mechanical structure pipes, pipes for hydraulic and pneumatic systems, pipes for oil wells, pipes for oil and natural gas transportation, chemical pipes, gun barrels and pipes for various special purposes.
Manufacturing Methods
Laser-cut metal tubes have two types based on manufacturing methods: seamless tubes and welded tubes.
Seamless tube refers to an integrally closed pipe with no joints in the circumferential direction of the cross section. It is divided into hot-rolled tube, cold-rolled tube, cold-drawn tube and extruded tube due to different production processes.
Welded tubes are usually formed by coiling metal sheets and then welded. They can be divided into straight seam welded tubes and spiral welded tubes due to the different directions of the welds.
Materials
Due to different use purposes and occasions, the pipes are required to have corresponding mechanical properties. According to the material classification, laser-cut metal pipes can be divided into ordinary carbon pipe, alloy steel pipe, stainless steel pipe, bearing steel pipe, weather-resistant steel pipe, corrosion-resistant steel pipe and various non-ferrous metal tubes.
Outer Diameters
Laser-cut metal tubes can be divided into large, medium and small diameter tubes based on the outer diameters. According to the relative wall thickness d/t, it can be divided into extra thick tube wall (d/t<10), thick="" wall="" tube="" t="" thin="" and="" very="" thin-walled="">40).
Shapes
According to the sectional shapes, laser-cut metal tubes can be defined as square tubes, round tubes, rectangular tubes, oval tubes, hexagonal tubes, semi-circular tubes, triangle tubes, convex tubes, octagonal tubes, concave tubes, flat tubes, star tubes, diamond tubes, parallelogram tubes, drop tubes, ribbed tubes, twisted tubes, internally finned tubes, D-tubes, B-tubes, multi-layer tubes, and special-shaped tubes.
End Status
Laser-cut metal pipes can be classified into plain pipes and threaded pipes based on the end status. Threaded pipes can be divided into ordinary threaded pipes, special threaded pipes, etc.
Pressure Occasions
Laser-cut metal pipes can be defined as high pressure pipes, medium pressure pipes and low pressure pipes based on the pressure occasions.
Package for Metal Tube Cutting Machine with Fiber Laser Source
1. Strong water resit bottom in plywood.
2. Laser source (separated plywood case) and spare parts on the laser bed.
3. Corner protect by foam and fixed by protective film.
4. All covered by strong and hard protective film.
5. Vacuum packing.
6. Inside steel frame protector.
7. Plywood packing and steel strip outside fixed the box.
8. Finishing packing by normal container or frame container.
Pre-Sale Service for CNC Laser Metal Tube Cutting Machine
1. Free sample cutting service:
For free sample cutting/testing, please send us your CAD file (.plt or .ai), we will do cutting in our factory and make video to show you the cutting process and result, or send samples to you to check the cutting quality.
2. Progressing Solution Design:
According to customer's product processing requirement, we can design the unique solution that supports higher manufacturing efficiency and better processing quality for customer.
3. Customized machine design:
According to customer's application, we may revise our machine according to customer's convenience and high production efficiency.
After-Sale Service for Metal Laser Tube Cutter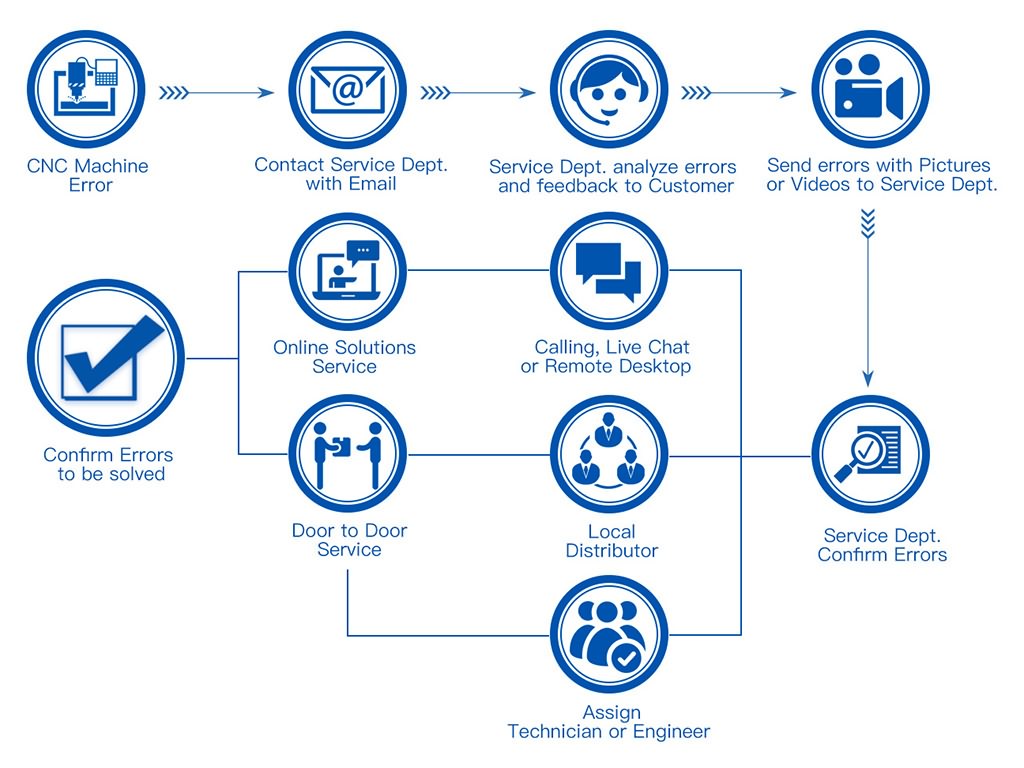 1. We will supply the laser machine with training video and user's manual in English for installing, operation, maintenance and trouble-shooting, and shall give technical guide by remote,such as TeamViewer, E-mail, Telephone, Mobile, Whatsapp, Skype, 24/7 online chat, and so on, when you meet some problem of installation, operation or adjusting. (Recommended)
2. You can come to our laser machine factory for training.We will offer professional guidance. Direct and effective face-to-face training. Here we have assembled equipment, all sorts of tools and testing facility. Training Time: 3~5 days (Recommended)
3. Our engineer will do a door-to-door instruction training service at your local site. We need your help to deal with the visa formality, prepaid traveling expenses and accommodation to us during the business trip and service period before their dispatch. It's better to arrange a translator (if no English-speaking) for our engineers during the training period.
Warranty for Fiber Laser Metal Pipe Cutting Machine
1. 3 years for the whole machine, laser device 18 months, chiller 12 months, lens/mirror/nozzle without warranty.
2. Long life-time maintenance, after-sale department will offer 24/7 English online support.
3. Except the damage artificially, we are responsible for offering the fittings free of charge during warranty.
4. After the warranty period expired, the buyer only need to pay the actual maintenance cost.
5. Certificate support: CE, FDA, SGS.
If you have an idea to get a free quotation of fiber laser tube cutter, please answer the questions as following and tell us by email, so that we can recommend the most suitable automatic tube cutter and quota the affordable fiber laser tube cutter price to you directly.
1. Do you need to cut metal sheets/plates, metal pipes/tubes only or both?
2. If need to cut tubes, What is your tube length, diameter and max thickness?
3. For cutting metal sheet, what is the max working area required?
4. After processed, what the materials will be used for? (Applications)
5. Which seaport is the nearest to you?
6. Do you have any experience in the fiber laser cutting machine?
7. What is your online chat way? Such as Skype, Whatsapp, etc.
8. Are you an end user or reseller?
Things to Consider
First, when the CNC laser pipe cutter cuts the circular hole, the first thing to pay attention to is that the time and division of the circular hole is naturally a one-to-one cutting plan. In general, the size and difficulty of the hole is It is inversely proportional. When the aperture requirement is larger, the difficulty will naturally become smaller. It is necessary to judge whether the cutting plan of the machine we use is satisfactory, otherwise the lack of talent will lead to irregular round holes and excessive breakpoints.
Second, when the CNC metal tube laser cutter performs round hole operation, you should also pay attention to the problem of gas pressure. When the gas pressure is too large or too small, it is often impossible to cut the operation, because the pressure is too small. As a result, the cutting edge is rough, and the pressure is very dangerous. Therefore, when using the machine, you must always pay attention to the pressure problem.
Third, the laser pipe cutter should be debugged before the cutting operation. It is usually debugged with waste materials, and the operators should also be professionally trained, because the machine's operating level will also be Influencing the cutting effect after all, as long as the precision planning of the equipment meets the requirements, the skilled operators can cut the round holes we want, and always pay attention to the maintenance of the metal tube laser cutting machine.
International Shipping Around the World
All the CNC laser machines can be shipped worldwide by sea, by air or by international express logistics via DHL, FEDEX, UPS. You are welcome to get a free quotation by filling up the form with name, email, detailed address, product and requirements, we will shortly contact you with the full information including the most suitable delivery method (fast, secure, discreet) and freight.