2023 best selling affordable 4×8 laser cutter with four laser heads can cut a full sheet plywood, MDF to make multiple boxes, furniture, arts, crafts, and more projects from 1 up to 4 at the same time. Now the top rated laser MDF & plywood cutting machine for sale at cost price.
Demonstration Video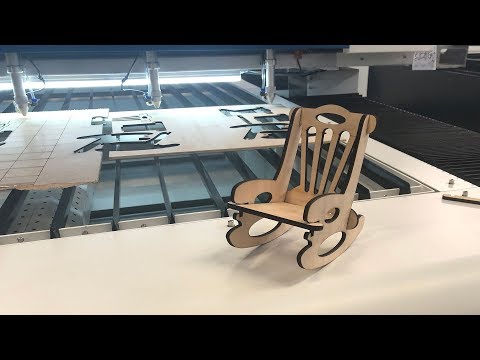 Product Details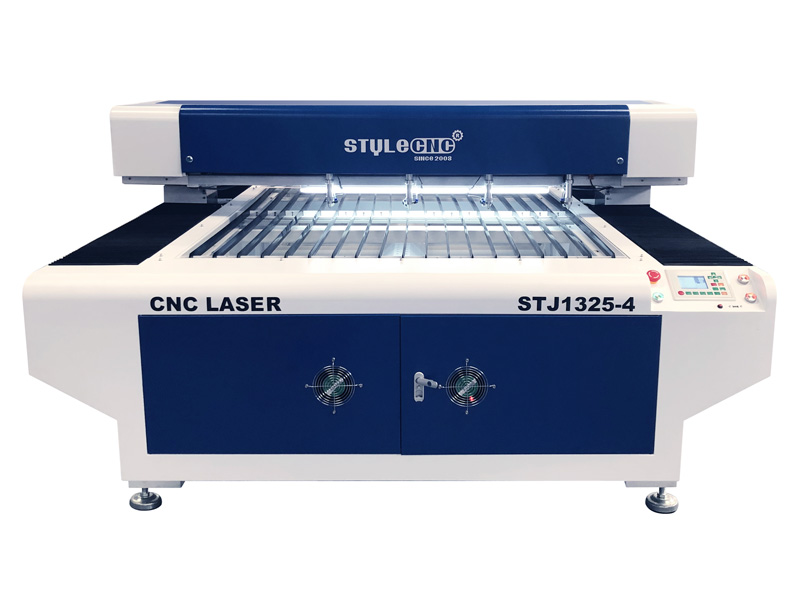 What is Plywood Laser Cutter?
A laser plywood cutting machine is a type of automatic laser wood cutting system for hardwood plywood, softwood plywood, flexible plywood, aircraft plywood, marine plywood, tropical plywood, decorative plywood (overlaid plywood), and other plywoods.
Plywood is a three-layer or multi-layer board-like material that is made of wood segments into veneers or sliced into veneers, and then glued with adhesives. The fiber directions are glued perpendicular to each other.
Plywood is one of the commonly used materials for furniture. It is one of the three major wood-based panels. It can also be used for aircraft, ships, trains, automobiles, buildings and packaging boxes. A group of veneer is usually formed by gluing the adjacent layers of wood grains perpendicular to each other. Usually, the surface plate and the inner layer are symmetrically arranged on both sides of the center layer or the core. It is a slab made of glued veneers crisscrossed in the direction of the wood grain, and pressed under the condition of heating or no heating. The number of layers is generally odd, and a few are even. The physical and mechanical properties in the vertical and horizontal directions are slightly different. Commonly used plywood types are three plywood, five plywood and so on. Plywood can improve the utilization rate of wood and is a main way to save wood.
The usual length and width specifications are: 1220×2440mm, while the thickness specifications are generally: 3mm, 5mm, 9mm, 12mm, 15mm, 18mm, and more. The main tree species are: beech, camphor, willow, poplar, eucalyptus and so on.
With a laser plywood cutter, you can cut and engrave toys, arts, crafts, souvenirs, Christmas ornaments, gifts, architectural models, and more. The laser can cut any plywood shape to create the look you like, and can cut thicknesses up to 20mm.
What is MDF Laser Cutter?
A laser MDF cutting machine is a type of wood laser cutter for regular MDF, MDF ultra lite, colored MDF, moisture resistant MDF, no added formaldehyde (NAF), fire rated MDF, exterior grade MDF, particle board, fibre board, and laminated board.
MDF stands for medium density fiberboard, MDF is made of wood fiber or other plant fiber as raw material, applied with urea-formaldehyde resin or other synthetic resin, and pressed under heating and pressure conditions to form a board with a density in the range of 0.50 ~ 0.88g/cm3. Other suitable additives can be added to improve sheet properties. MDF has good physical and mechanical properties and processing properties, and can be made into boards of different thicknesses, so it is widely used in furniture manufacturing, construction, and interior decoration. MDF is a homogeneous porous material with good acoustic properties and is a good material for making speakers, TV casings and musical instruments. In addition, it can also be used for ships, vehicles, sports equipment, floors, wall panels, partitions, etc. instead of natural wood. It has the characteristics of low cost, simple processing, high utilization rate and more economical than natural wood.
Applications of 2023 Best Selling Affordable 4×8 Laser Cutter for Plywood & MDF
Applicable Industries
The laser cutter is applied to woodworking, crafts making, arts, gifts, clothing, toys, computer embroidery, mold making, advertising, building decoration, home decoration, paper industries, packaging and printing.
Applicable Materials
The laser cutting machine is available for engraving and cutting MDF, plywood, bamboo, wood, paper, cardboard, plastic, acrylic, ABS board, rubber, fabric, textile, leather, wool, crystal, glass, ceramic tile, and jade.
Technical Parameters of 2023 Best Selling Affordable 4×8 Laser Cutter for Plywood & MDF
Model

STJ1325-4

Table Size

1300mm*2500mm

Laser Power

150W RECI Brand

Laser Type

CO2 sealed laser tube, water-cooled

Driving System

3 phases leadshine brand stepper motor

Transmission

Belt transmission

Guide way

Taiwan PMI Square guide rails

Control System

Ruida control system

Lens and Mirrors

3pcs mirrors and 1pcs lens from America

Working Table

Blade table or Honeycomb table for option

Red Pointer

Included

Engraving Speed

0-7500mm/min (According to the materials)

Cutting Speed

0-4000mm/min (According to the materials)

Power Supply

220V/50HZ

Graphic Format Supported

BMP, PLT, DST, DXF, AI

Software Supported

CorelDraw, PhotoShop, AutoCAD,TAJIMA

Optional Parts

Up-down worktable

Auto focus

Rotary device

CCD camera
Features of 2023 Best Selling Affordable 4×8 Laser Plywood & MDF Cutting Machine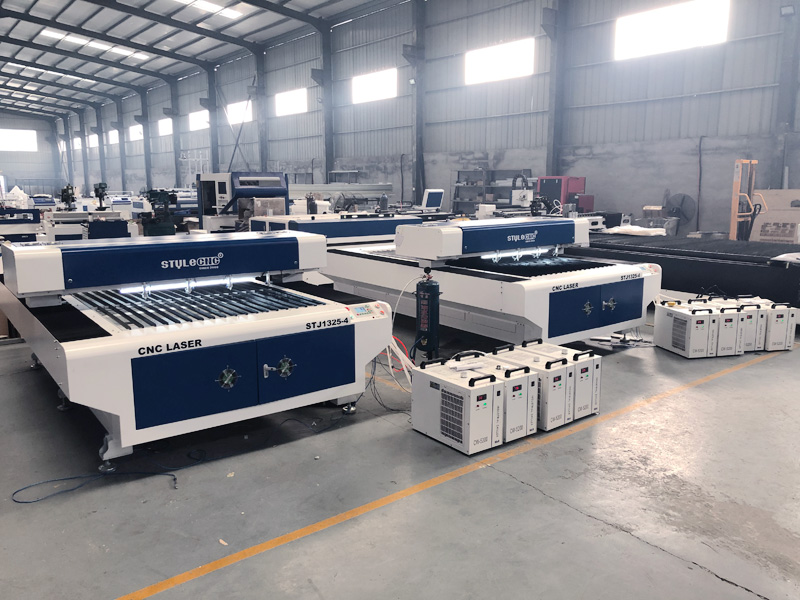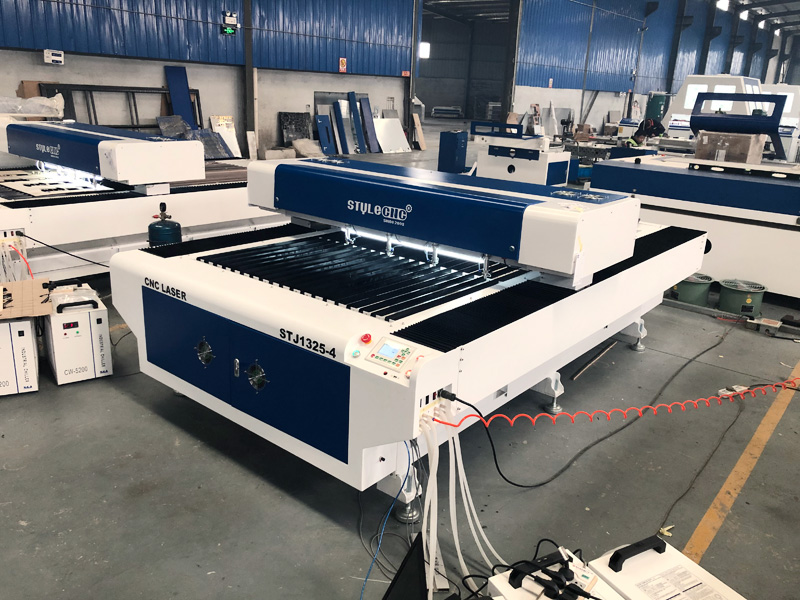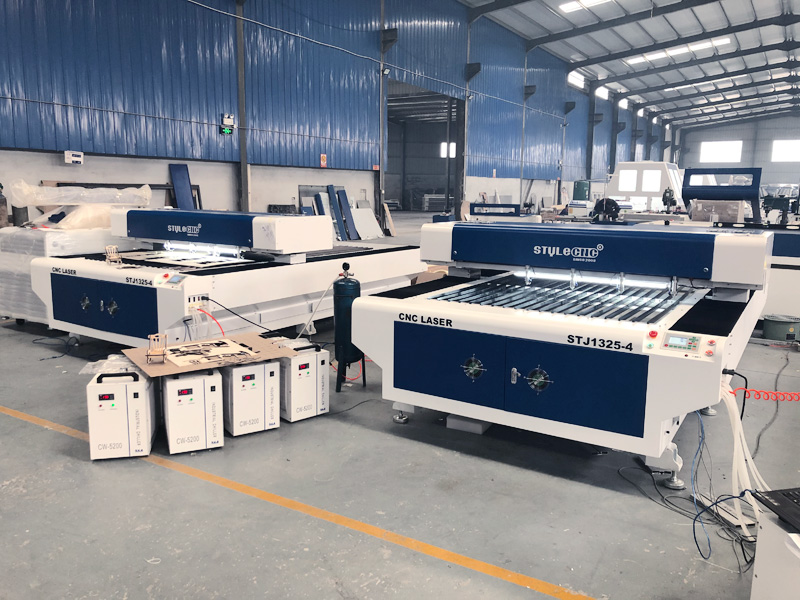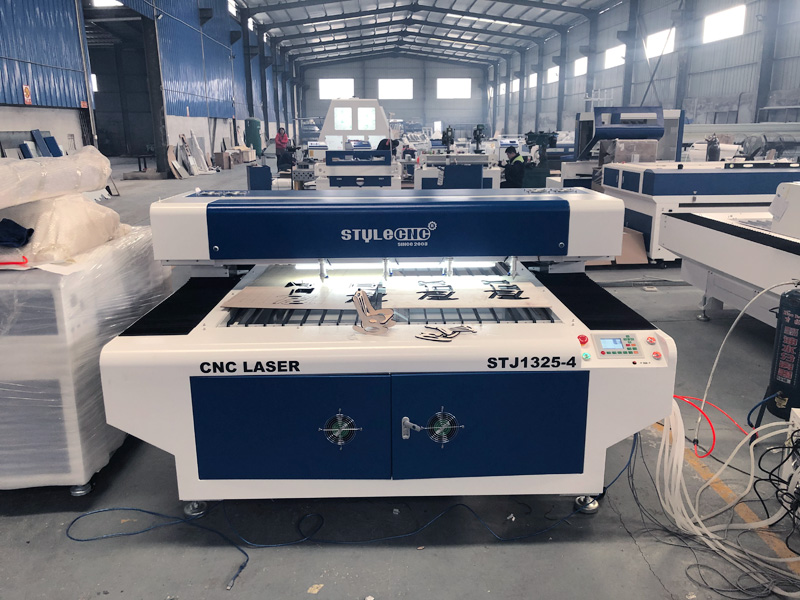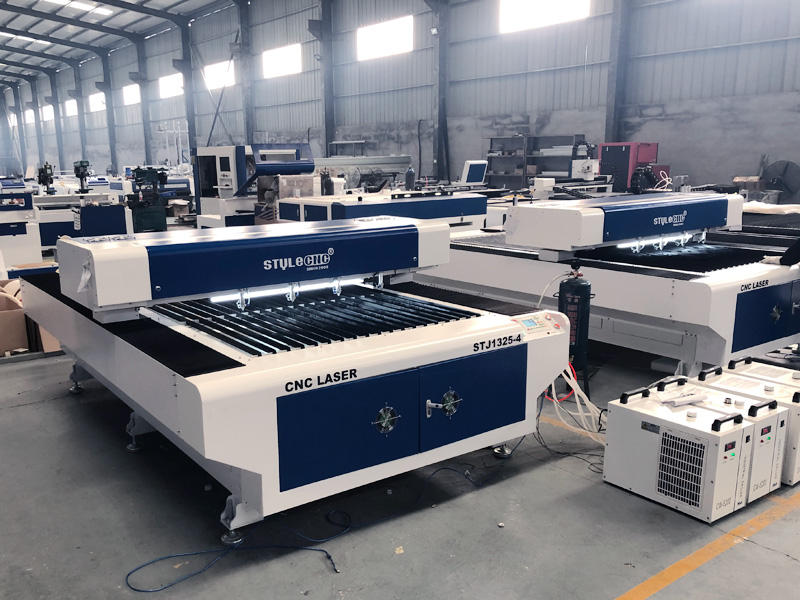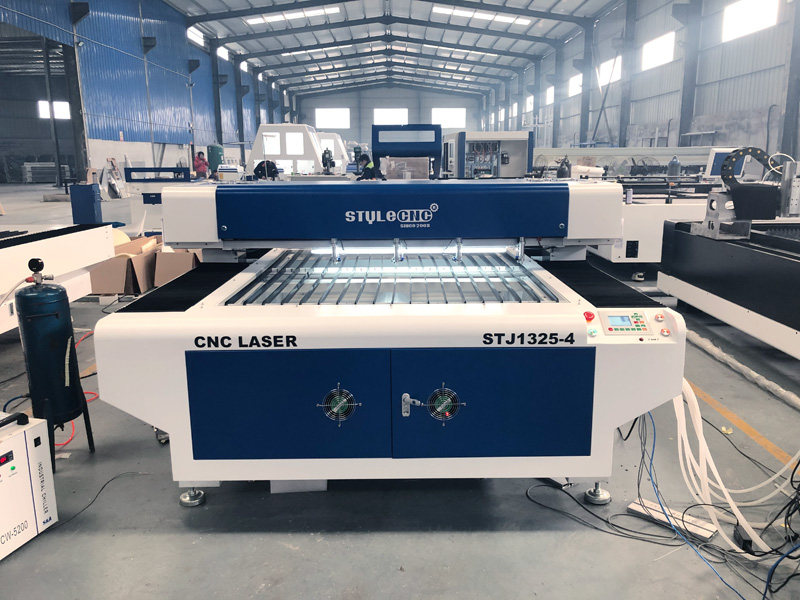 The CO2 laser cutting system has features of accurate cutting, fast speed, simple operation, personalized cutting process and accuracy, laser head running track simulation display, multiple path optimization functions, and automatic typesetting system to ensure the greatest possible saving of materials and cost.
1. New-style high-efficiency RECI laser tube is adopted. Laser beam is more stable than the traditional type. Life-span is more than 10,000 hours.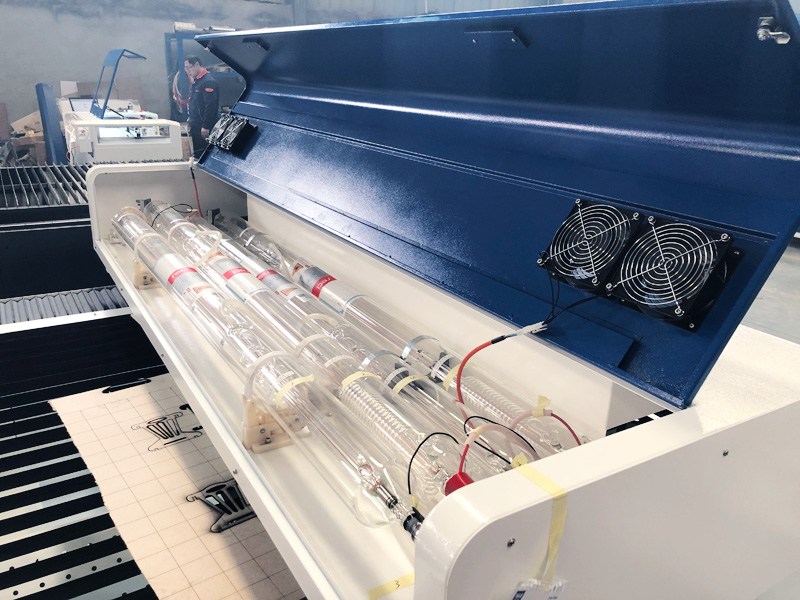 2. Lens and mirrors from USA with good reflective effect.
3. Four laser cutting heads with distance 30cm. It can cut four same projects at the same time to improve the working efficiency.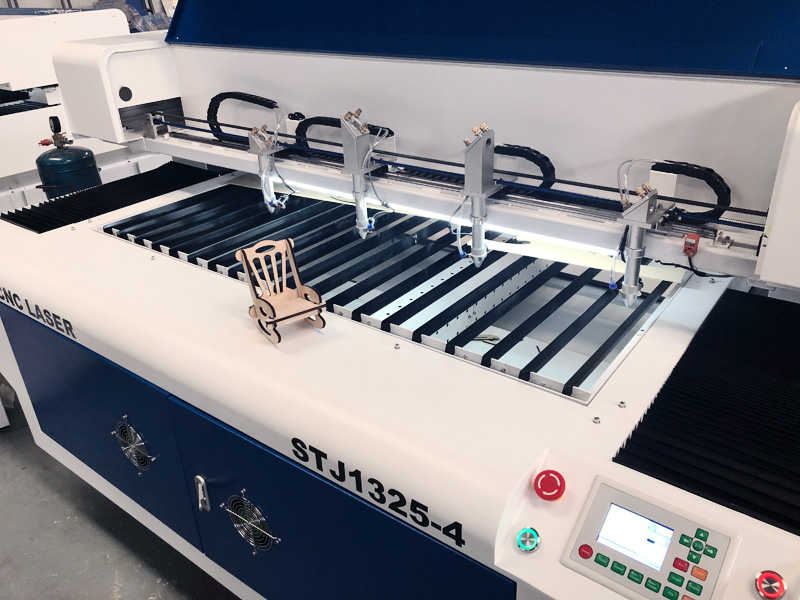 4. Double channel exhaust fans for clean the cutting chippings.
5. Taiwan PMI square linear guide rail installed on X Y axis, make sure the works stably and precisely.
6. Leadshine brand stepper motor and drivers transmission, no need feedback signal to control with high precision.
7. Blade working table, It is mainly designed for hard materials cutting, such as plywood, plastic, MDF. Honeycomb table for soft materials, such as paper, fabric, leather, rubber.
8. Advanced LCD Screen + USB port + Offline Control, with professional motion control chip, the function of consecutively high-speed curve cutting and the shortest path selection, which will highly improve your working efficiency.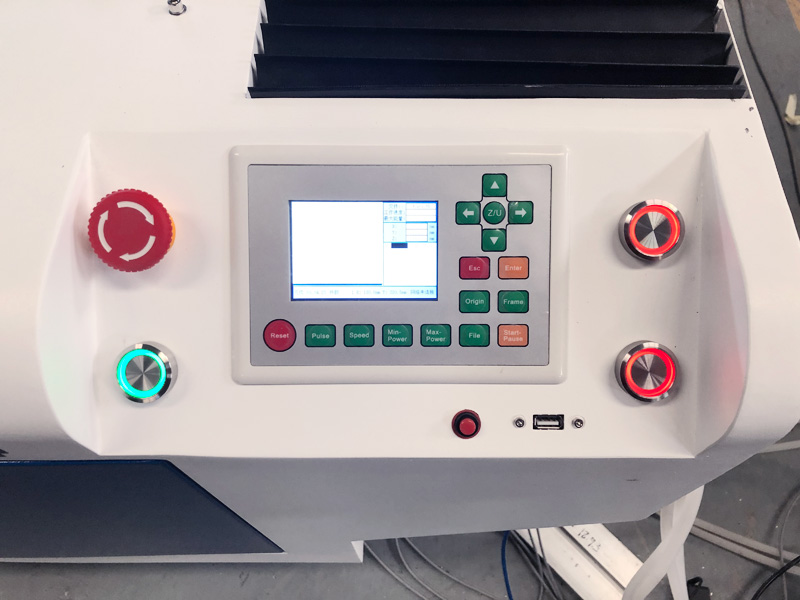 2023 Best Selling Affordable 4×8 Laser Cutting Machine for Plywood & MDF Projects
Laser Engraved & Cut Plywood Projects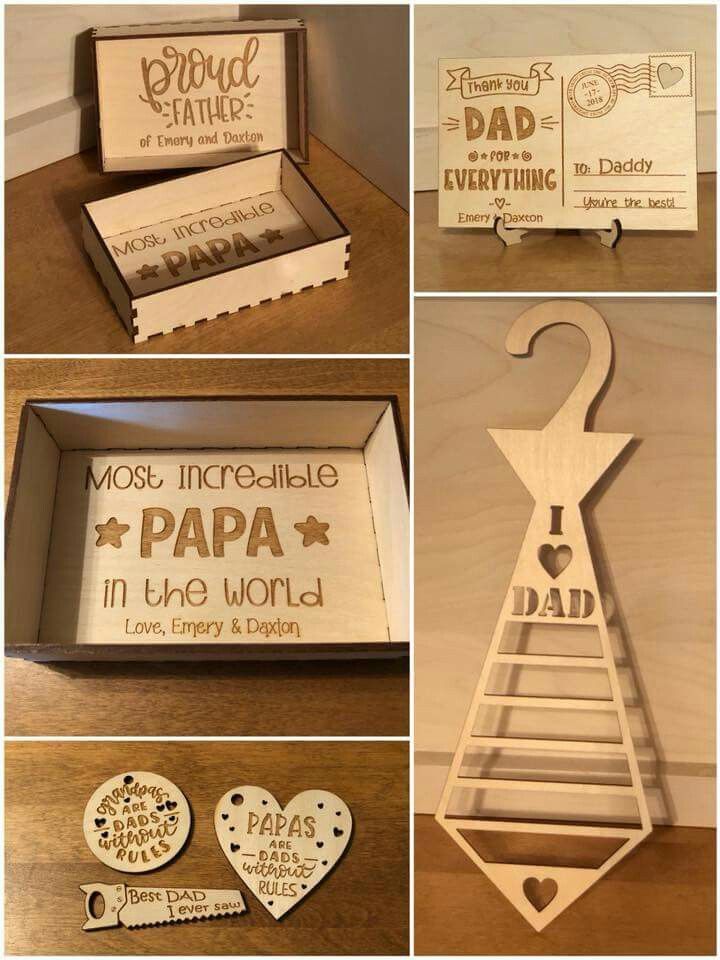 Laser Cut MDF Projects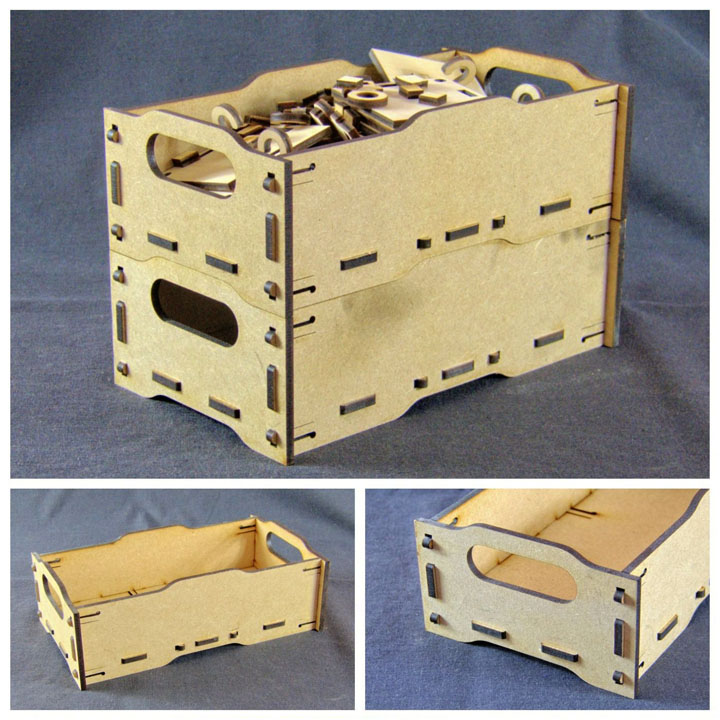 Warranty of 2023 Best Selling Affordable 4×8 Laser Cutting Machine for Plywood & MDF
1. The whole laser cutting machine: one year.
2. Laser tube: 40W for 5 months, 60W for 6 months, RECI 80W, 100W, 130W, 150W for 10 months (this is what laser tube supplier offer to us).
3. If the accessories are broken because of quality problems during warranty time, we will change it by free.
4. 24 hour technical support online like skype/whatsapp/remote, you can calling us if urgent.
5. We offer free training in our factory, and our engineers available to service overseas, but the round-trip air tickets, hotel and meals for the engineers should be paid by our buyer.
We also have CO2 laser cutters for MDF and plywood with more table sizes, including 600mm*400mm, 900mm*600mm, 1300mm*900mm.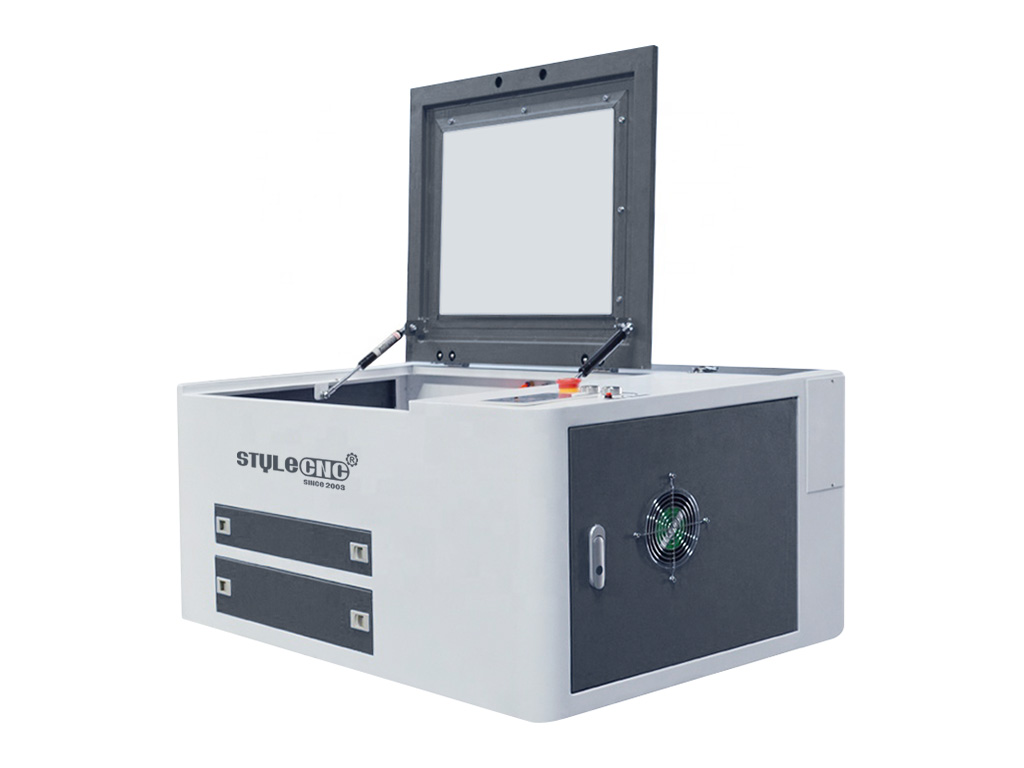 STJ6040 Desktop Laser Cutter for MDF, Plywood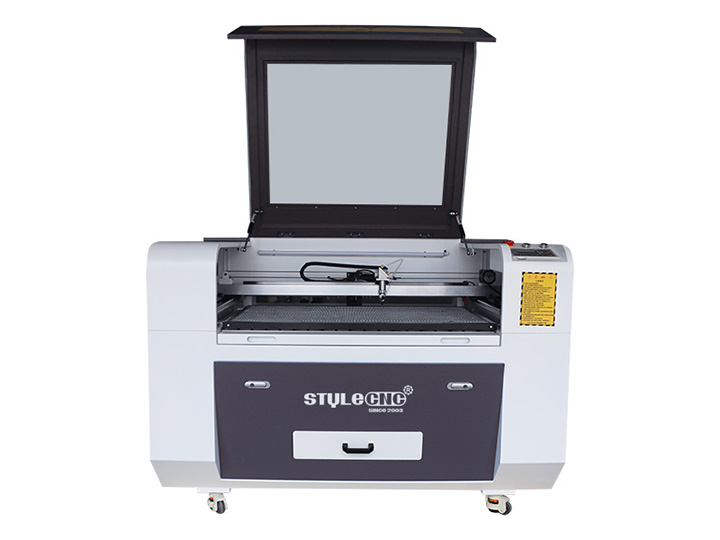 STJ9060 Hobby Laser Cutter for Plywood, MDF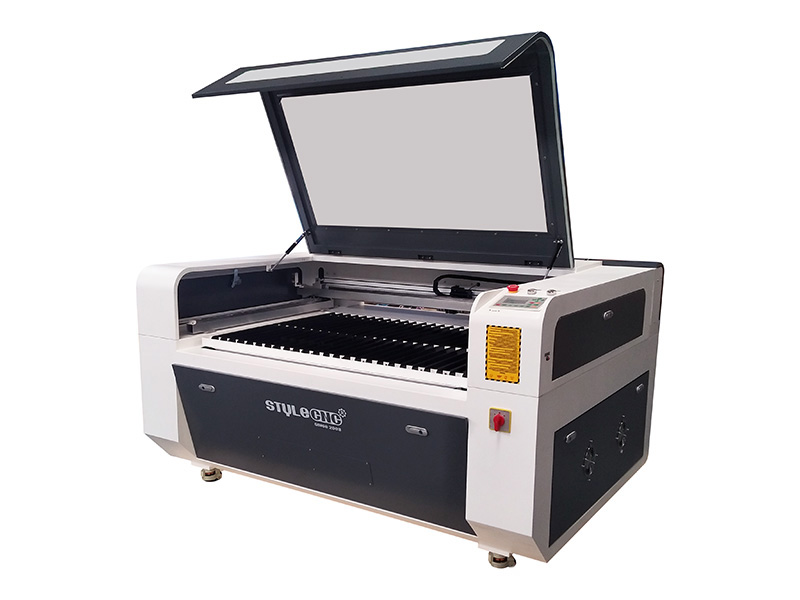 STJ1390 Best Laser Cutter for Plywood, MDF
FAQs for 2023 Best Selling Affordable 4×8 Laser MDF & Plywood Cutting Machine
What Is MDF?
MDF is the English acronym for medium density fiberboard. It is made of hardwood, softwood fibers or other plant fibers as pigments. After being broken, separated, dried, and then applied with urea-formaldehyde resin or other suitable adhesives, it is made by hot pressing. artificial board. MDF (Medium Density Fibreboard) is usually denser than plywood, and although it is composed of separate fibers, it can be used as a building material like plywood. In addition, it is stronger and denser than the scarf board.
Medium Density Fibreboard (MDF) is available in a variety of sizes and thicknesses, and laser cutting MDF is easy and smooth without breaking or cracking. Its edges and surfaces can be made into a variety of deep etched galleries, and the mirror-smooth surface is ideal for painting, gluing, laminating, texture printing and coloring. Some manufacturers can provide a series of different types of medium density fiberboard (MDF), including standard, flame retardant, moisture-resistant, outdoor and high density. These properties are not affected by laser cutting or machining. This fiberboard has the above characteristics and advantages, making it an ideal wood-based panel material for many industries, such as furniture, construction, signage and shop decoration.
What MDF Can A Laser Cutter Cut?
1. Indoor medium density fiberboard, with the symbol MDF, is a medium density fiberboard that does not have the effect of short-term water immersion or high humidity. Its color identification is the natural color.
2. Indoor moisture-proof medium density fiberboard, with the symbol MDF.H, is a medium density fiberboard that can withstand short-term cold water immersion or high humidity, suitable for indoor kitchens, bathrooms and other environments. Its color identification is green.
3. Outdoor medium density fiberboard, with the symbol MDF.E, is a medium density fiberboard that can withstand the aging effect of climatic conditions, water immersion or water vapor damp heat in ventilated places. Its color identification is gray.
What Is Plywood?
Plywood refers to a wooden board composed of multiple layers of veneer, which are glued together. Each veneer or veneer is bonded with its grain at right angles to adjacent layers, creating strength and durability. Plywood is probably the most popular and versatile man-made woodworking material for homes today. It is a laminated product consisting of many thin strips of wood laid in alternating directions and glued together to form a strong, stable sheet.
What Plywood Can A Laser Cutter Cut?
Cork plywood: This is the most widely used plywood creation and consists of cork veneer, usually fir. The sheets are held at right angles to each other and glued together.
Hardwood plywood: Most commonly used in furniture and cabinets, it has a smooth, attractive finish with a clean finish.
Decorative plywood: Also known as overlapping plywood, generally made from oak, ash, red oak, maple, birch, and mahogany.
Aircraft plywood: This category is known for its strength. It can also be made of spruce, mahogany, birch; however, its distinguishing feature is that it is not affected by heat.
Tropical plywood: It is a plywood made by mixing different varieties of wood or wood from the tropics. It is known for its special qualities such as density, strength, uniformity, abrasion resistance, rigidity and thickness.
Marine plywood: The variety of plywood that can be used in wet, humid and humid environments is called marine plywood and can be used for a long time.
Flexible plywood: It is a type of plywood used for flexible or bendable structures or furniture. Furniture today is often curved or curved structures.
Can You Cut MDF with Laser Cutter?
Laser cutting machine can cut MDF. However, due to the different materials of MDF, not every MDF can be cut with a laser machine. Some MDFs contain too much iron scraps, soil, and other impurities, and are not suitable for laser cutting. In addition, some MDF itself is not dense enough and is not suitable. At present, the types of MDF that can be cut by the laser cutting machine include Aosong board, poplar board, washed board and so on. Among them, the Osong board is the best.
How Thick MDF Can A Laser Cutter Cut?
The thickness of the laser cutting MDF is related to the power of the laser. The higher the laser power, the thicker the MDF can be cut. Commonly used MDF thickness is 6mm, 12mm, 18mm and so on.
What Is The MDF Cutting Speed?
The thickness of the laser cutting MDF is related to the laser power and the thickness of the plate. The higher the power of the same MDF laser cutting the same thickness, the faster the cutting speed.
150W CO2 laser cutting 12mm Osson board at a speed of 7mm-12mm per second.
The 280 watt CO2 laser cuts 12mm Aosong board at a speed of 16mm-25mm per second; the 1000W CO2 laser cuts 12mm Aosong board at a speed of 20mm-40mm per second.
What Is The Speed Of Line Drawing?
The speed of the laser cutting machine's line drawing is related to the structure of the machine itself. Generally speaking, it is between 100 mm and 500 mm per second. There are some limitations of the mechanical structure of the machine itself, and the line speed and idle speed may be limited to less than 100 mm per second.
What Is The Relationship Between The Width Of The Cutting Gap?
It is related to the size of the laser spot and the focal length of the focusing lens itself, and it is also related to whether the cutting surface is in focus. The larger the laser power, the larger the light spot and the larger the cutting gap. Which power is the most suitable, we have done a detailed comparison and research on this point, you can contact customer service for consultation.
What Is The Relationship Between The Thickness Of The Drawing Lines?
It is related to the laser power, the focal length of the focusing mirror, whether it is in focus, the laser brand, and more.
Why Is The Thickness Of The Line Drawing Uneven?
One case is that the platform of the machine itself is not flat or the plate to be cut is not flat, resulting in a change in the height of the laser head from the cutting surface. Another kind of laser itself has unstable power, and the light is weak and strong.
Why Some MDF Parts Are Cut Through And Some Places Can't Be Cut Through?
This situation generally occurs on low-power laser cutting machines. When the 150-watt carbon dioxide laser cuts MDF, if the optical path is not adjusted or the machine platform is not leveled, this will happen. In addition, the power of the laser will drop after a period of use. This will also happen.
Why The Laser-Cut MDF Is Black, And The Powder Is Seriously Dropped When Rubbing?
It has something to do with the MDF material. It is recommended to change the Aosong board or other materials to try. When laser cutting Aosong board, not only the cutting speed is fast, but the density of the MDF itself is high. After laser burning, the surface oil will form a natural protective film. The surface is easy to wipe and moisture resistant.
Why Are There Small Holes In The Cutting Surface Of The Laser-Cut MDF?
The density of the board itself is low.
Why Is The Machine Cutting MDF Not Vertical?
The light path of the machine is not adjusted properly and needs to be re-adjusted. The machine surface is uneven, re-level it.
Why Did The Machine Not Cut Through The MDF And There Is Sticking At The Bottom?
The power of the machine has dropped, and a new laser needs to be replaced.
The laser light path is not adjusted well, and the light is re-adjusted.
The MDF material.
The machine platform is re-leveled.
International Shipping Around the World
All the CNC laser machines can be shipped worldwide by sea, by air or by international express logistics via DHL, FEDEX, UPS. You are welcome to get a free quotation by filling up the form with name, email, detailed address, product and requirements, we will shortly contact you with the full information including the most suitable delivery method (fast, secure, discreet) and freight.