Multi head CNC router machine with multi spindle and rotary table is used for 3D CNC machining of cylinders, stair balusters, stair spindles, statue, Buddha, furniture feet, table legs, newel posts, corbel, baseball bats, arts & crafts, and more rotary woodworking projects. Now the 2023 top rated multi spindle CNC router machine for sale at affordable price.
Demonstration Video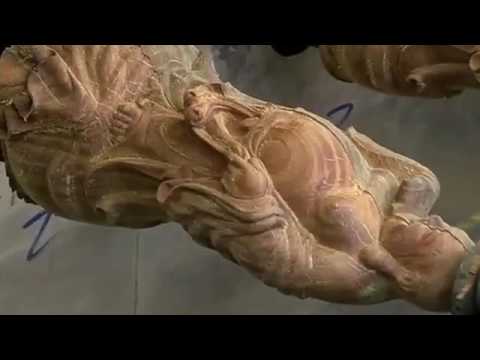 Product Details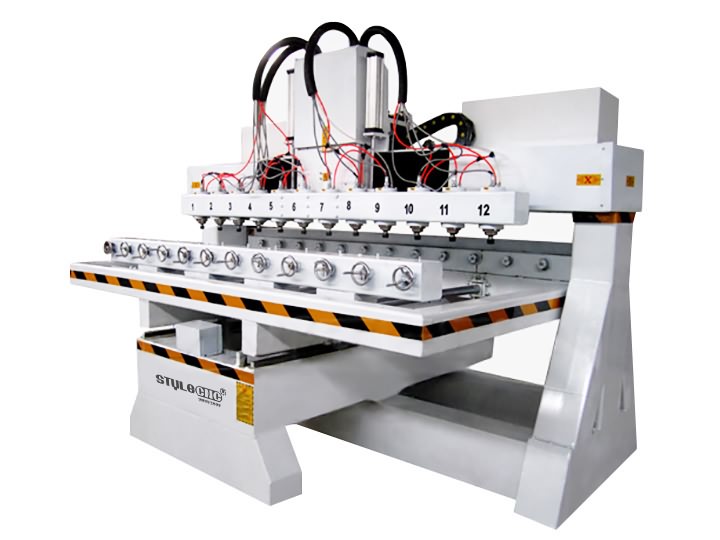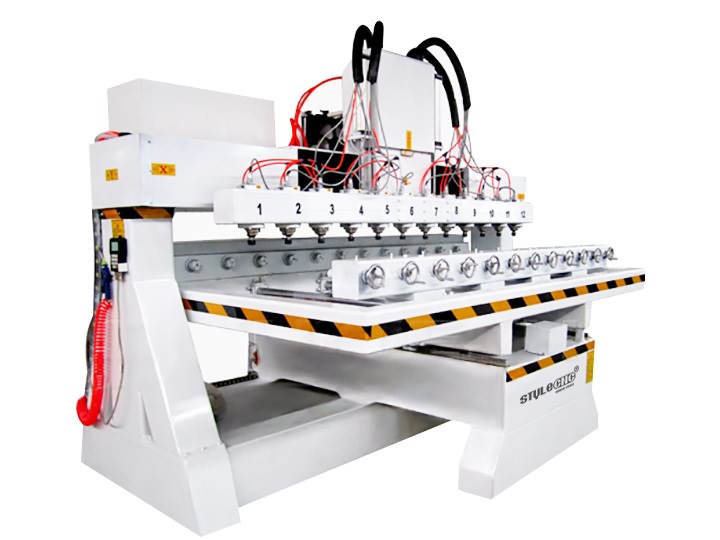 What is Multi Head CNC Router Machine?
Multi head CNC router machine is a type of industrial CNC machine that can cut & carve the same pattern on different project with multiple spindles at the same time, which greatly increases the machining speed and completes the work efficiency of multiple devices at the same time. In some cases where the machining volume is not large, a single spindle can also work independently, effectively and reasonably control the production cost. When batch processing, the product consistency is good, and the quality is high, which greatly reduces the purchase cost of production equipment. One machine is multi-purpose, economical and affordable.
The machine bed frame adopts an overall thick-walled all-steel structure design. After welding and tempering aging treatment, it has strong rigidity, strong strength and stable rotation, so that it will not be deformed or shaken during long-term high-speed operation.
It adopts Taiwan Hiwin linear guide rail drive, three-axis full square rail, can carry out heavy cutting, high processing speed and high efficiency. At the same time, it adopts the international brand micro-step subdivided stepping motor and high-speed driver, with large power, stable transmission, and stable performance, ensuring that the machine can run at high speed without intermittent for a long time, up to an idle speed of more than 20 meters per minute.
It adopts DSP control system, which makes the operation simple. The unique intelligent budget rule enables the motor to give full play to the high-speed potential, and the simultaneous processing of curved and straight lines is more perfect, and long-term worry-free operation: Functions such as power failure, continuous engraving at break point, and processing time prediction are truly user-friendly design. It fully supports ISO standard G-code and ENG format, and is compatible with the processing codes generated by a variety of CAD/CAM design software such as Type3 and ArtCAM.
It is specially designed for customers who require large-volume and small workpiece processing. It is suitable for processing cabinet doors, artistic embossed screens, craft fan windows, embossed craft gifts, solid wood art murals, woodworking calligraphy carvings, art photo frames, electrical countertops, sports equipment, violin arcs, engraving and cutting of non-ferrous metals, and many other industry products.
Features & Advantages of Multi Head CNC Router Machine
It is dedicated to fit the demand of machining on dimension 3D product. It can be determined based on machined material, and 3D multi-machining can also be achieved by equipping ordinary CNC machine with rotary axis. It comes with various specifications to fit different customers' requirements.
1. 360 degree 3D engraving expands the applications and satisfies the demands in furniture and gift making industry.
2. Cylinder material is fixed by chuck thought three holders, force exerted uniformly and effectively and center positioned accurately so that the working accuracy is guaranteed.
3. Rotary's diameter and length can be customized.
4. Bi-directional orienting guides provides high positioning accuracy.
5. Restoring function enable the machine continue to work after sudden stop, such as accident tool breaking.
6. 12 rotaries and 12 spindles, which can work at the same time or independently, and everyone's max effective working area is 150mm (diameter) by 1000mm (length).
Machine Body
The gantry is constructed of tubular steel with reinforcing ribs welded throughout the length of the column which results in a steady firm beam assembly. This quality engineering and workmanship result in smooth precision cutting.
Multiple Liquid Cooilng Spindle
Multipile liquid spindles for batch machining on solid wood, MDF, acrylic, plastic, and more materials.
Rotary Device (Rotary Attachment)
It is capable carving & cutting different columns, irregular objects with various diameter. It suits high volumn production, and one machine's working capacity is equal to 36 worker's for one day.
Servo Driver & Motor
Motors and drives are digital brushless AC Servo on all axes. These motors require no regular maintenance, therefore, reducing any maintenance cost.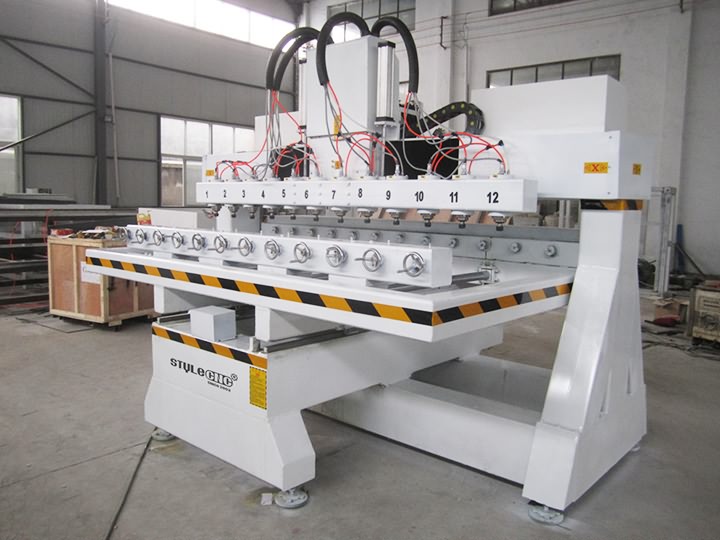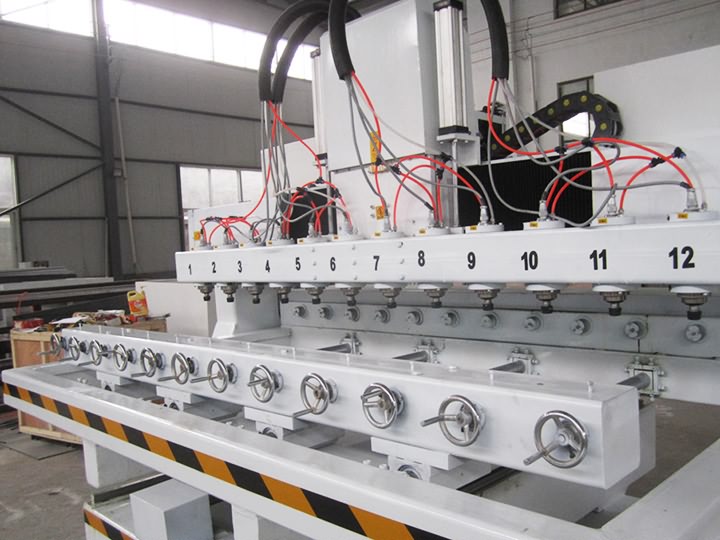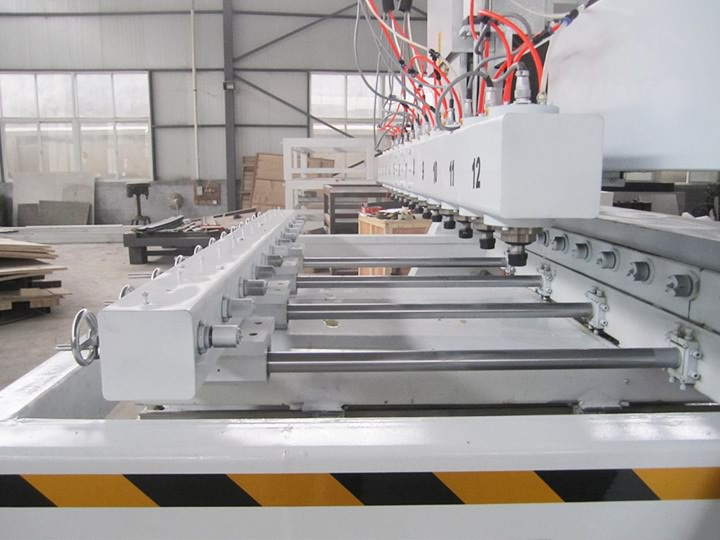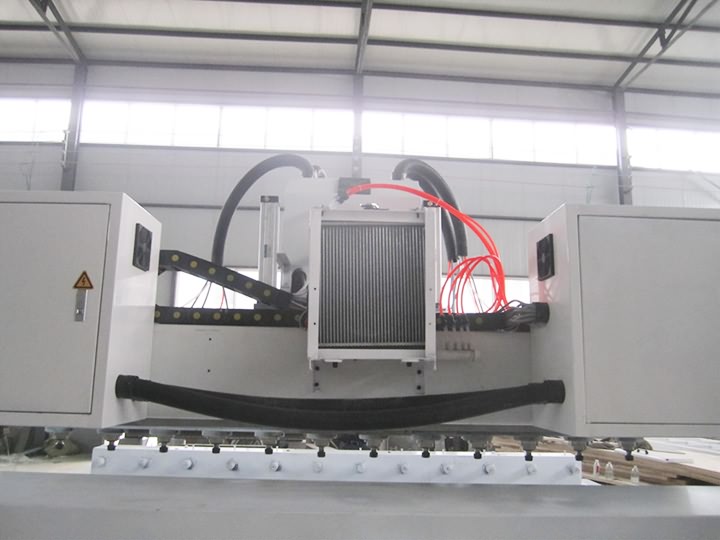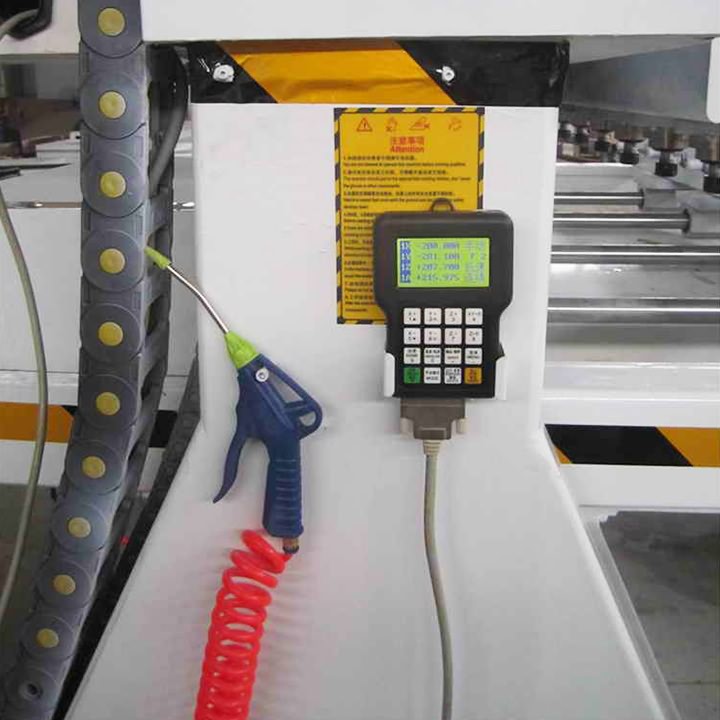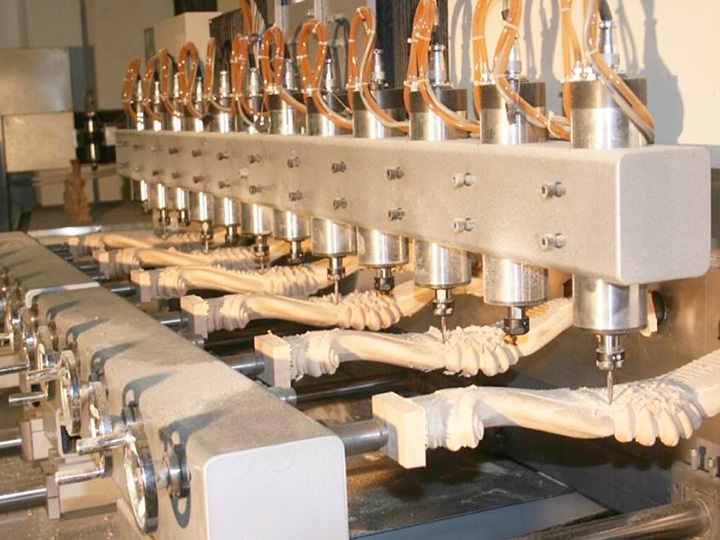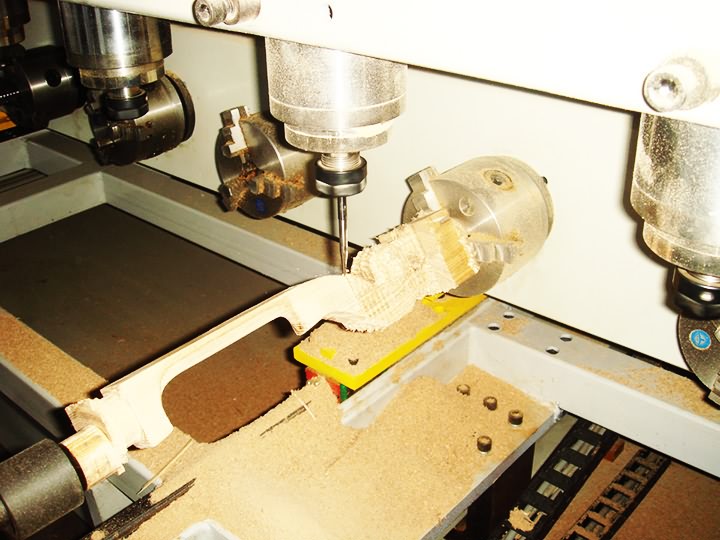 Technical Parameters of Multi Head CNC Router Machine
| | |
| --- | --- |
| Model | STM21120 |
| Rotary axis max diameter | 210mm |
| Rotary axis max length | 1200mm |
| Resolution | 0.01mm |
| Lathe structure | Seamless welded steel structure |
| X,Y structure | Rack and pinion transmission, Hiwin square guide rail |
| Z structure | Ball screw |
| Max. idling speed | 35m/min |
| Spindle motor power | 2.2 KW |
| Spindle rotate speed | 0-24000r/min |
| Working voltage | AC380V/50Hz or can be customized |
| Working mode | Servo motor |
| Control system | DSP(A18) control system (NC Studio for Option) |
| Cooling mode | water-cooling |
| Head | 12 heads |
| Rotary | 12 rotaries |
Optional Items
1. Spindle power: 1.5KW.
2. Spindle amount: 4 spindles, 6 spindles, 8 spindles, 12 spindles.
3. Rotary diameter: 150mm, 210mm, 250mm, 300mm.
4. Rotary length: 1200mm, 2400mm or customized.
Applications of Multi Head CNC Router Machine
It is used for stereo 3D technology, furniture stereo feet and the cylinder, human body, buddha, goddess of mercy, sculpture, handicrafts, stair handrail, and musical instruments.
It can handle 3D machining on wood, stone, and soft metals. Huge range of machining enables the multi head CNC machine to satisfy the needs for furniture making, decorations, gifts, arts & crafts manufacturing.
Multi Spindle CNC Router Machine Projects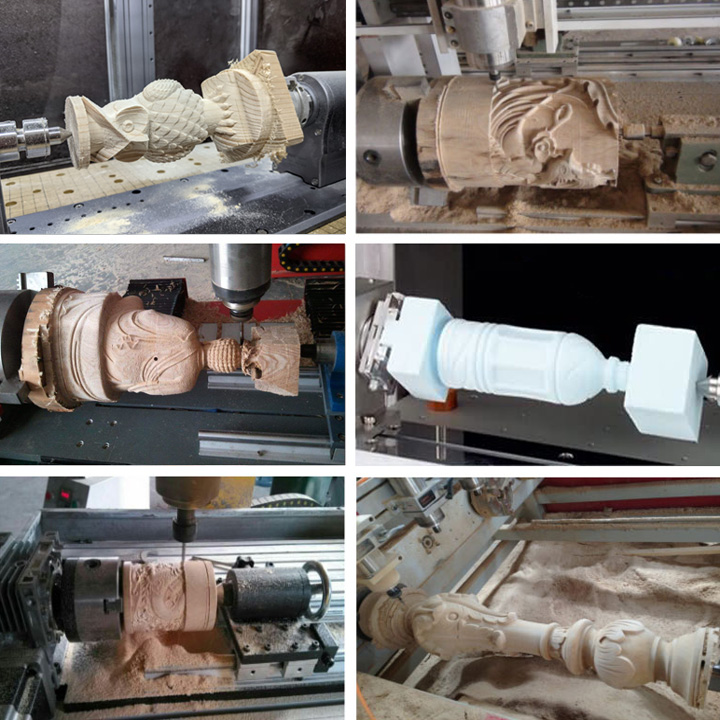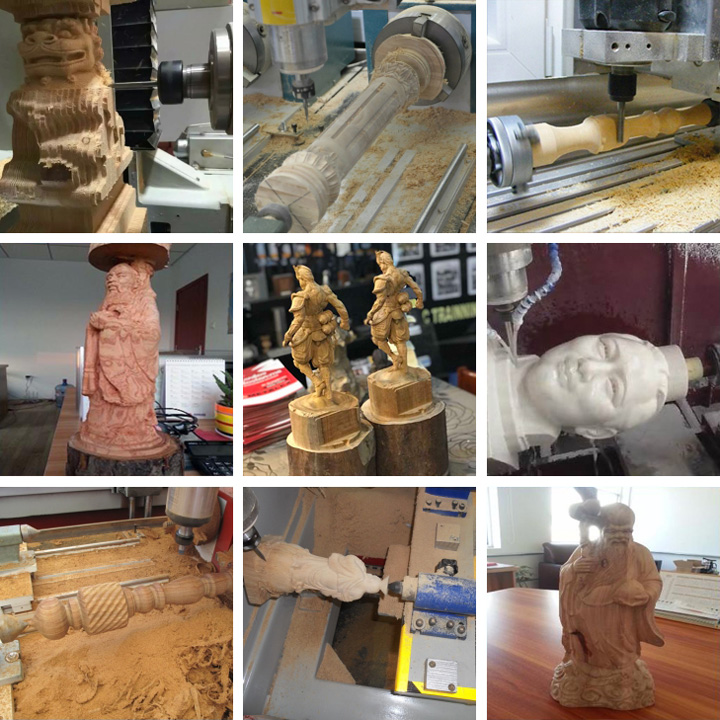 Parts & Accessories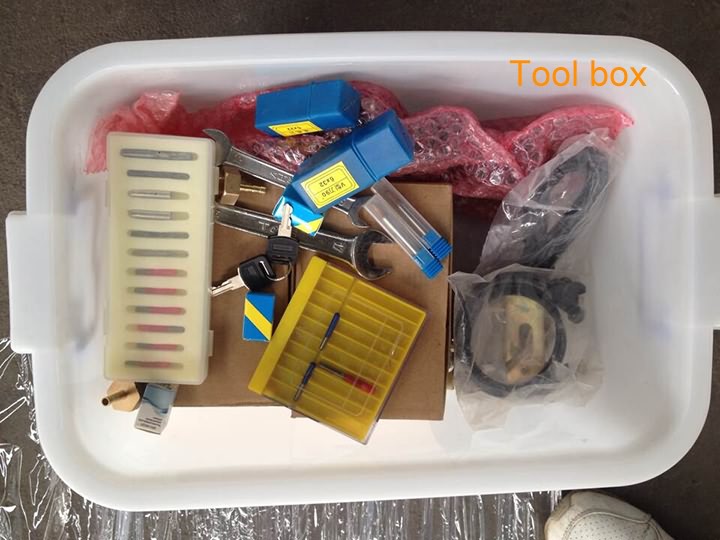 SERVICE & SUPPORT
1. Warranty time: one year on parts from date of shipping date, 3 additional years on free repair. Life-time technical support.
    Exceed warranty period: if the CNC machine parts have any problems, we can offer new machine parts with cost price and you also should pay all the shipping cost.
2. After bought, we will send you friendly user manual and the videos about installation, operation and maintanance for the machine step by step.
3. Our technician can give you remote guide online if you have any question.
4. 24 hours technician professional and timely after-sale service online or by Whatsapp, Skype, Email, or Calling.
5. If you need, we will arrange technicians to go to your workshop to install or maintenance the machines.
6. Free training course in our factory.
International Shipping Around the World
All the CNC routers can be shipped worldwide by sea, by air or by international express logistics via DHL, FEDEX, UPS. You are welcome to get a free quotation by filling up the form with name, email, detailed address, product and requirements, we will shortly contact you with the full information including the most suitable delivery method (fast, secure, discreet) and freight.