2023 best CNC router lathe machine with rotary axis (4th axis) is designed for 2D flatbed 4×8 full sheet cutting, relief carving, 3D CNC woodworking plans. It is also known as CNC lathe router machine. Now the rotary CNC router lathe machine for sale at low price.
Demonstration Video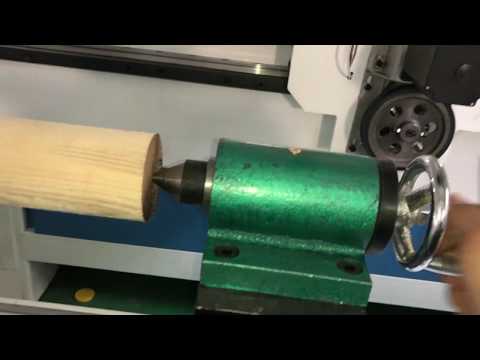 Product Details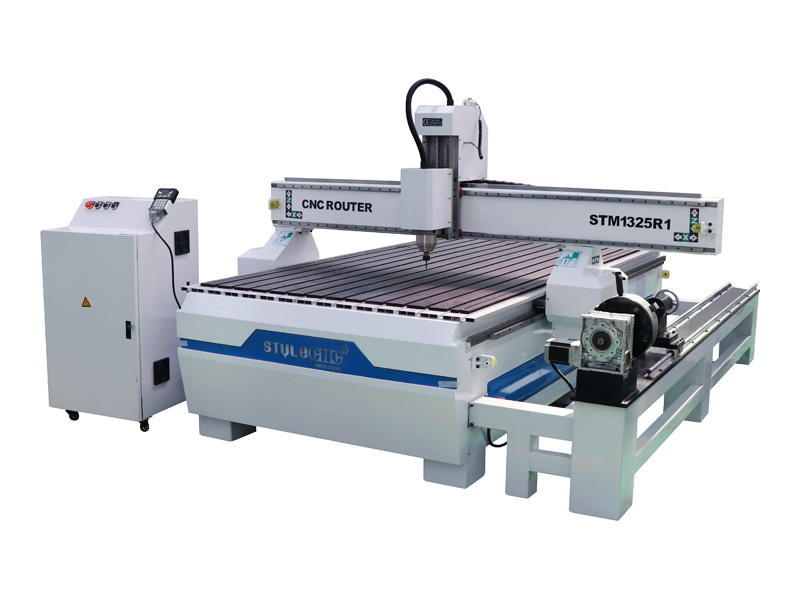 What Is CNC Router Lathe Machine (Rotary CNC Router)?
CNC router lathe machine (rotary CNC router) is a type of multifunctional CNC machine kit with 4×8 table size for flatbed full sheet cutting, relief carving, and 4th axis for 3D rotary milling. The T-slot vacuum table is used for board cutting, edging, carving, drilling and grooving, and the rotary device for turning, like a lathe machine. The axis of rotation is the geometric straight line on which the rotationally symmetrical action is performed. The rotary axis is the geometric straight line on which the rotationally symmetrical action is performed. When the rotation action acts on the image (or molecule), the vertical distance between any point in the image and the rotary axis (line) must always be kept constant. Suppose the base angle of rotation α=2π/n, since the number of independent and unequal rotation motions within the range of 2π angle is "n", the axis corresponding to the basic rotation motion L (2π/n) is called n-fold rotary axis, denoted as "n". The symmetry order of the n-fold rotary axis is "n".
What Are The Functions Of Rotary Axis?
1. Calculating the rotary cutting path does not need to expand the surface.
2. There is no need to rotate the workpiece repeatedly, the tool path calculation is completed at one time.
3. Reduce the finishing allowance, the tool path can be roughed in layers.
4. Realize partial rotation carving, the angle range and length range can be set.
5. Affected by the accuracy of the fixture, the machining of irregularly rotating workpieces usually adopts multi-face rotation positioning machining. There are always seams between different machining directions.
6. Rotary machining without positioning joints adopts the integral method of rotating shaft, and the cylinder engraving machine generates an automatically closed rotary cutting path.
How To Use A Rotary Axis?
1. Put it directly on the platform, so that the gantry needs to be heightened, and the size of the platform will not affect the plane carving. The rotating shaft can be put on and taken down at any time.
2. Put the side of the platform, the diameter of the rotating shaft affects whether the gantry is heightened. If the diameter is large, the gantry needs to be heightened. If the diameter is 10cm, it is not necessary.
3. The table surface sinks as a whole, put the rotation axis under the platform, if carving a plane, place the platform on the rotary axis for carving.
4th Rotary Axis CNC Router Lathe Machine Features & Advantages
1. The rotary CNC router machine adopts 8mm steel machine welding bed, after hundred times' special vibrate experiment, we ensure that the lathe will not deform during their long-term working hours. With enhanced welding technicals, we supply the best CNC machine kits with good stability, longer life span and amazing accuracy rate.
2. 3000 Watts water cooling spindle with better cooling effect, almost no noise with long service life.
3. Taiwan Hiwin square rails has more higher precision, less wear and tear can maintain high accuracy. It's applied to high-speed move and greatly reduce the drive horsepower the machine required. What's more, it can bear the load from left and right, up and down at the same time.
4. Leadshine stepper motor and driver won't lose step when it work, which can guarantee the positional accuracy of the motor.
5. DSP control system does not need to connect to PC, which is easy to operate and learn, especially for the beginner.
6. The 4th axis rotary device is conveniently for round materials working.
7. Software: compatible with Type3, Artcam, Castmate, Ucancam and other CAD/CAM design softwares.
8. T-slot vacuum table: The vacuum table has T-slot mounting devices incorporated into the tables to enable fixtures and material blanks to be clamped directly to the table. Clamps are provided.
9. Oil lubrication system: No oily odors, low noise and libration, maintenance-free.
Note: It is recommended that one pump of the oiler once a month will be sufficient to keep your machine lubricated. 
4th Axis Rotary CNC Router Turning Machine Applications
This unit is a type of heavy duty CNC machine with wider machining range, like wood, MDF, aluminum, plastic, foam, etc .
By using STM1325-R1, you'll find plenty of room for creativity: anything you can draw, it can cut. This machine can cut well with tremendous edge cuts because it adopts the same motion control as the larger machines. It can also runs with hand-held control system (DSP controller) that makes it easy to use.
1. Advertising: It can carve and cut all kinds of signs, trade mark, name plates, badge, decorative gift, embossed medal, certificate, souvenir, photo frame, furniture decoration.
2. Woodworking: It can be used for solid wood furniture, mahogany furniture, MDF paint door, solid wood door, composite door, cupboard door and window, bed side cabinet, folding screen.
3. Art Work: It can make wooden craft, mural art of wood, artwork, embossed, jewelry, cosmetics package, musical instrument.
4. Soft Metal Milling & Cutting: It can process aluminum front panel, popcan, aluminum honey comb panel, train car and air craft interior decoration, bronze medal, copper mold.
5. Electronics: It can engrave electronic component, integrated circuit, electronic plastic case, electronic product model, circuit board, electronic light box, computer and mobile phone key board, and a variety of electronic products.
4th Rotary Axis CNC Router Lathe Machine Specifications
| | |
| --- | --- |
| Model | STM1325-R1 |
| Working Area | 1300x2500x250mm |
| Table Size | 4×8 feet (48×96 inches, 1300x2500mm) |
| Traveling Positioning Accuracy | ±0.03/300mm |
| Reposition Accuracy | ±0.03mm |
| Table Surface | T-slot Vacuum Table |
| Machine Frame | Welded Structure |
| X, Y Structure | Rack and Pinion Drive, Hiwin Rail Linear Bearings |
| Z Structure | Hiwin Rail Linear Bearings and Ball Screw |
| Max Power Consumption | (Without Spindle) 3.0Kw |
| Max Rapid Travel Rate | 33000mm/min |
| Max Working Speed | 25000mm/min |
| Spindle Power | 3.0kw |
| Spindle Speed | 0-24000RPM |
| Drive Motors | Stepper System |
| Working Voltage | AC220V/50/60Hz,3PH (Option: 380V)) |
| Command Language | G Code |
| Operating System | AutoRich DSP control system |
| Computer Interface | USB |
| Flash Memory | 128M(U Disk) |
| Collet | ER20 |
| X,Y Resolution | <0.03mm |
| Software Compatibility | Type3/UcancameV9 Software, (Option: Artcam Software) |
| Running Environment Temperature | 0 – 45 Centigrade |
| Relative Humidity | 30% – 75% |
| Packing Size | 3300X2100X2300mm |
| N.W. | 1200KG |
| G.W. | 1500KG |
| Rotary Axis | 80-300mm Diameter, 2000mm length |
Rotary 4th Axis CNC Router Turning Machine Details
STM1325-R1 with T-slot Table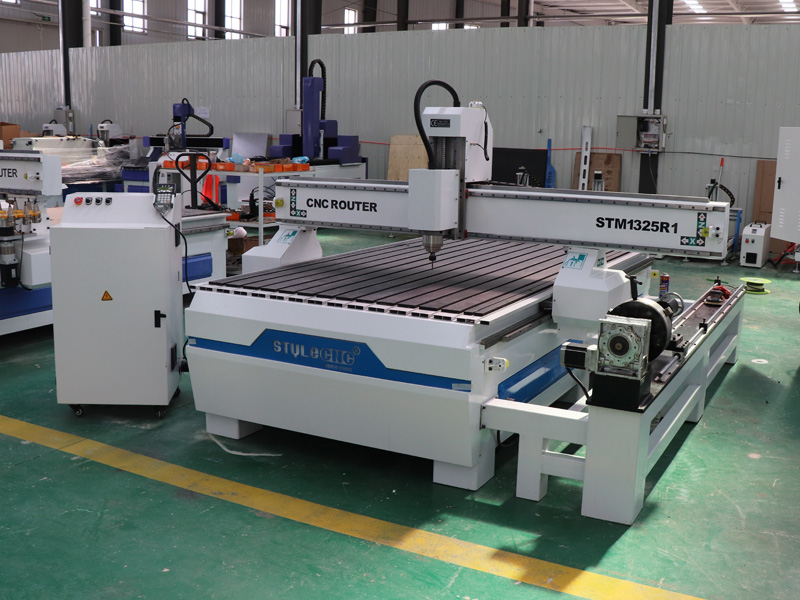 STM1325-R1 with Vacuum Table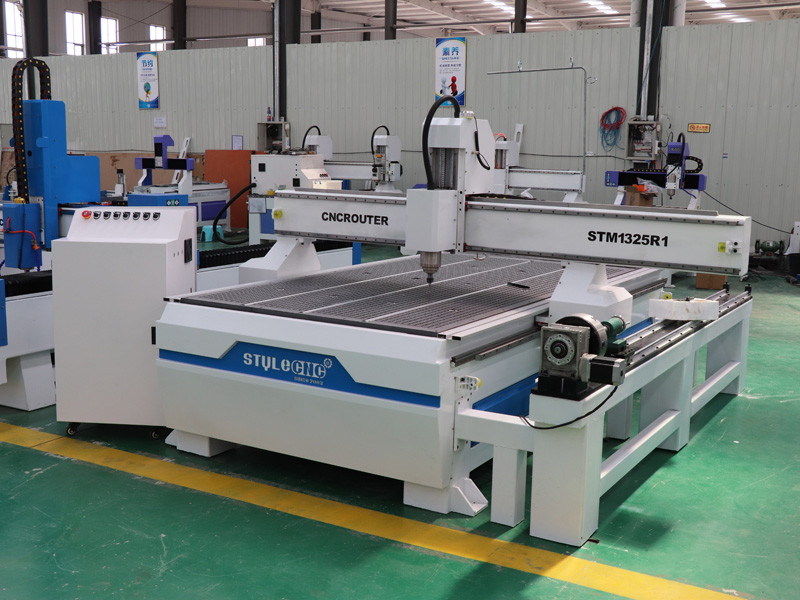 STM1325-R1 with Water Tank and T-slot Table
Tool Sensor of 4th Rotary Axis CNC Router Machine: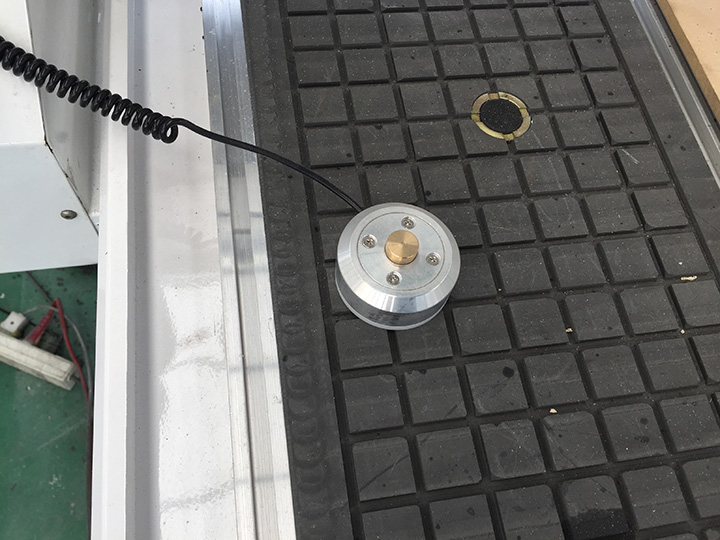 Rotary Device (CNC lathe router add on):
Rotary axis does not occupy the working area of the machine. It is easy to be disassembled and cleaned. It is widely used for processing cylinder materials, such as table legs, chair legs, stairs and so on.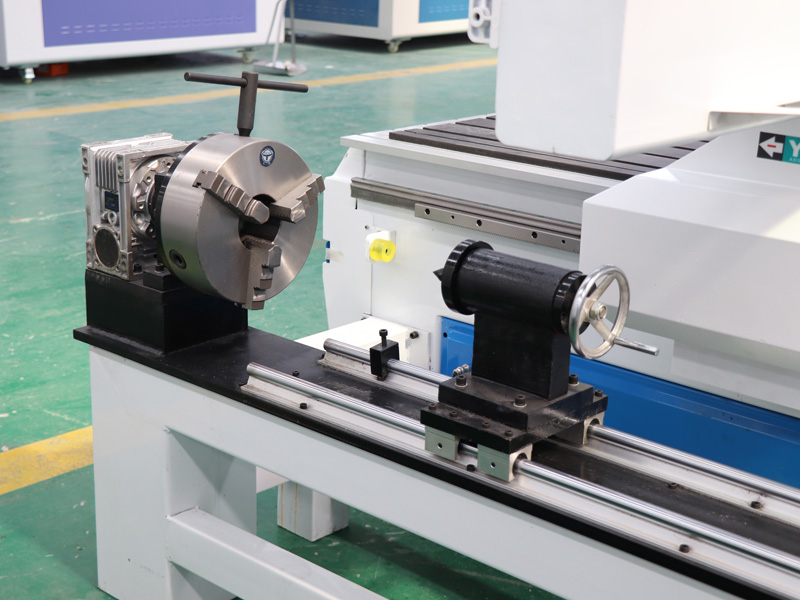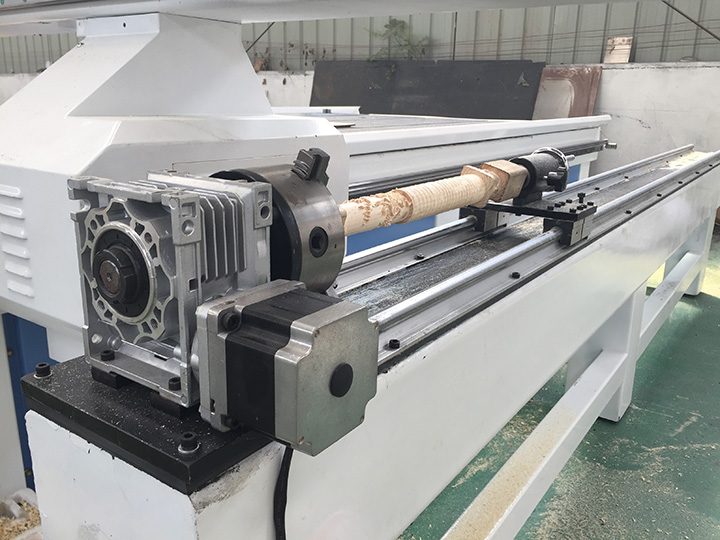 Vacuum & T-slot Table for Rotary CNC Router Machine: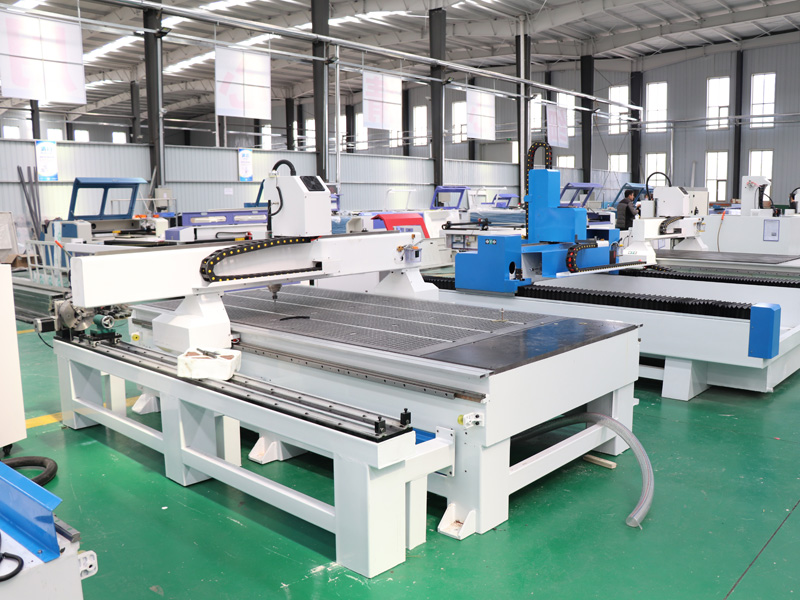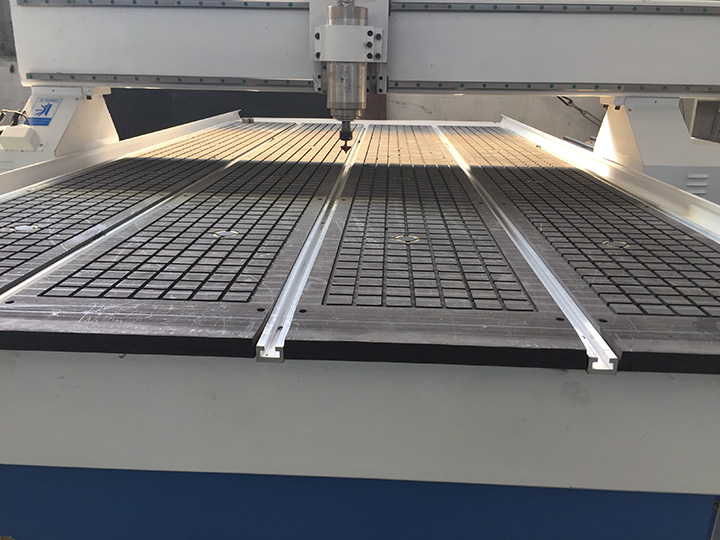 DSP Controller of Rotary CNC Router Machine:
The machine is controlled by the DSP handheld controller, which ensures that the machine can be operated without a computer. It supports 3 axis, 4 axis function and multi spindles.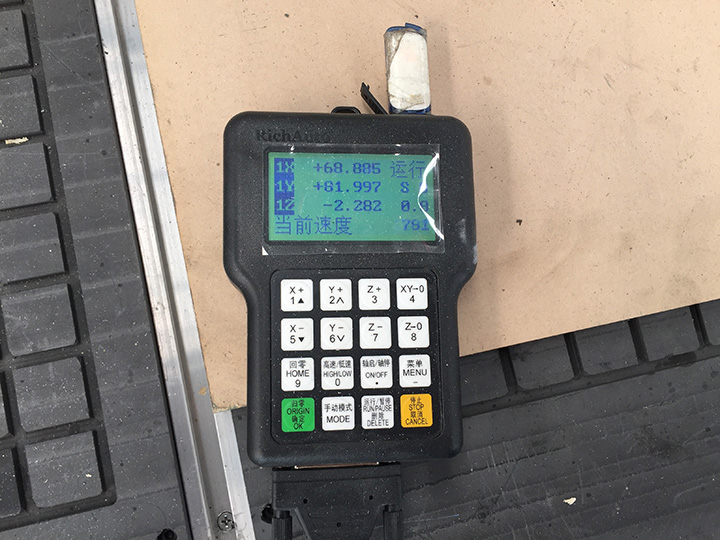 4th Rotary Axis CNC Router Projects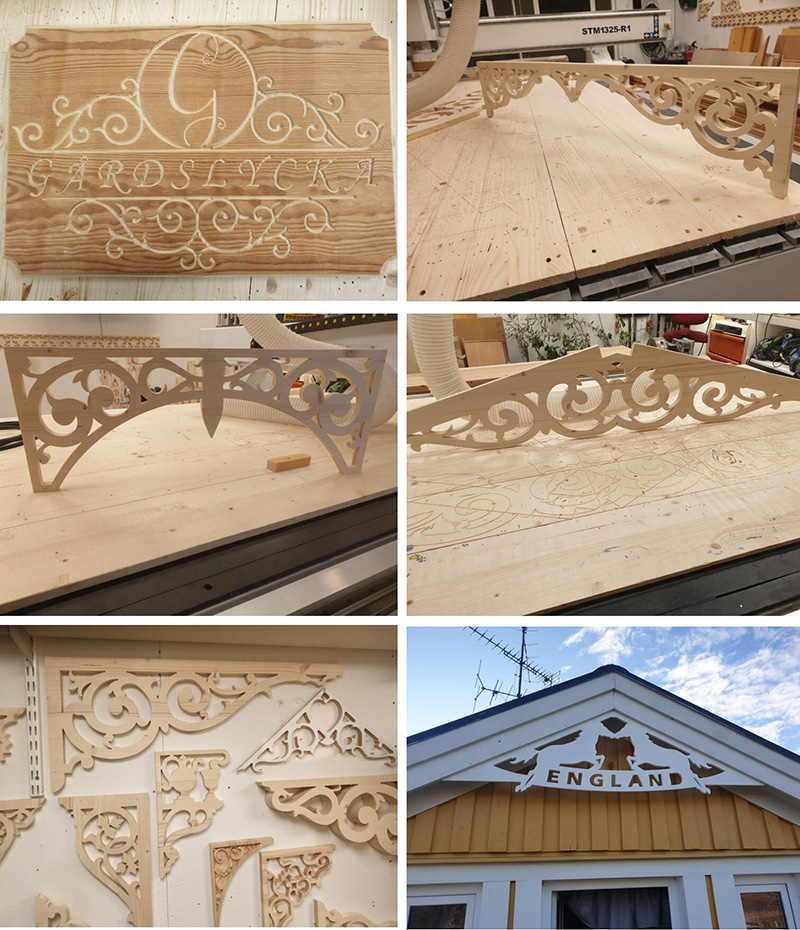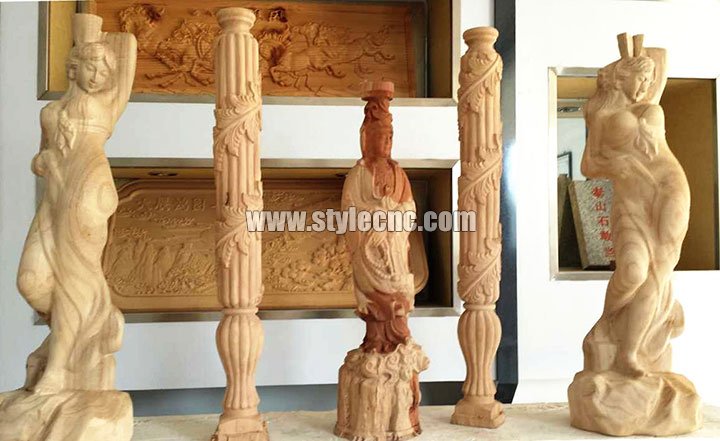 The 4th axis rotary device (CNC lathe router add on) can also fixed like this: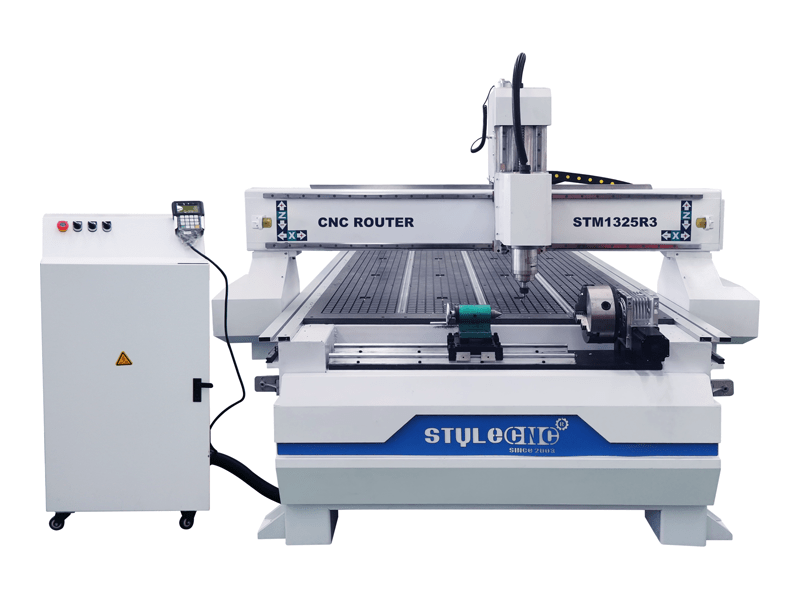 Packing & Shipping
Package Details
1. Outside package: Standard plywood package.
2. Inner package:Stretchy film and plastic protective film for humidity.
3. We can package according to your requirements.
Shipping Details
For standard machines, 7-15 working days after payment; For non-standard machines and customized machines according to clients' specific requirements, it will be 15 to 30 working days after payment.
Service & Support
1. Our engineers available to service machinery overseas.
2. 2 years guarantee for the whole machine.
3. Technical support by calling, mail, whatsapp and skype. If you have any problems, we will help you to solve it within 12 hours.
4. You will be get free training advice towards our machine in our factory.
5. If you need any component of the machine, we will provide most affordable price for you.
6. Friendly English version manual and operation video CD disk.
International Shipping Around the World
All the CNC routers can be shipped worldwide by sea, by air or by international express logistics via DHL, FEDEX, UPS. You are welcome to get a free quotation by filling up the form with name, email, detailed address, product and requirements, we will shortly contact you with the full information including the most suitable delivery method (fast, secure, discreet) and freight.