2023 best 4 axis CNC foam cutter is used to mill & cut foam board, Styrofoam, EPS foams, XPS foams, and rigid polystyrene foams to different 2D/3D shapes, and now the CNC foam cutting machine for sale at affordable price.
Demonstration Video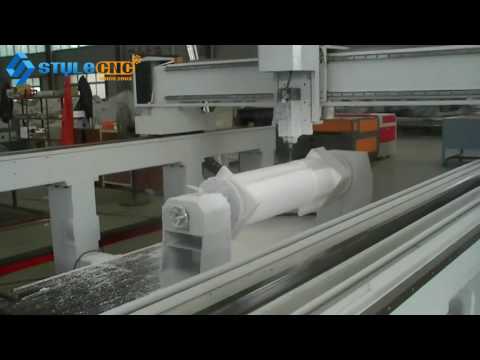 Product Details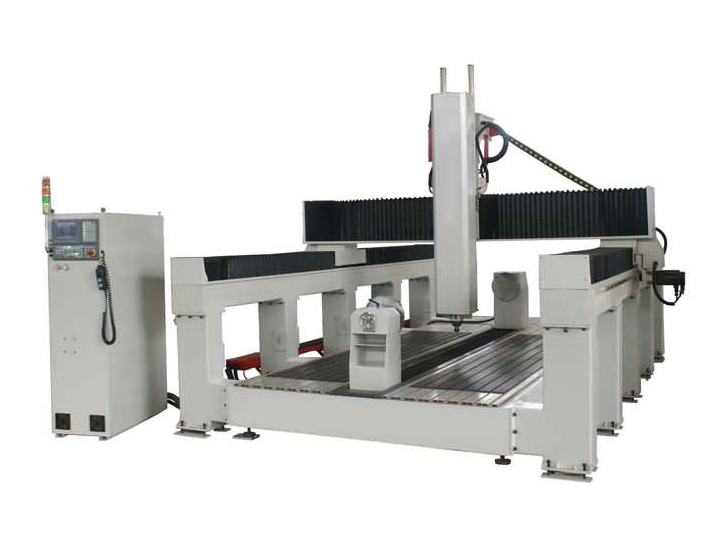 CNC foam cutter is a type of automatic computer numerical controlled router machine to cut rigid foam, soft foam, sponge, and plastic into squares, rectangles, and strips. The foam cutting machine is a computer controlled machine that can cut any 3D projects from the extruded and expanded EPS foam. Through the use of a computer-controlled step motor, the heating wire is cut in the X, Y and Z directions, which can make the foam material cut quickly and accurately. The operator can make any graphics with the CNC router software and start cutting with CNC control system, which has the advantages of high cutting efficiency, accurate cutting size, and high precision. The scope of application is suitable for machinery manufacturing, casting, automobiles, ships, industrial design, mold manufacturing and processing, advertising, architectural decoration and decoration, foam cutting plants, foam manufacturing plants, foam molding plants, school institutions, advertising production companies, packaging plants, exhibitions, Model factories, POP crafts processing and publicity display industries. CNC foam cutters are also known as CNC foam cutting machines, CNC foam board cutter, CNC foam router and CNC foam cutting kits.
4 Axis CNC Foam Cutter Advantages
1. It can make large non-metallic moulds, especially automotive foam mould, wooden ship mould, aviation and train wood mould. And wood mould casting, food mould (e.g. moon cake mould) and other moulds making.
2. With the rotary axis, it can do any kind of 3D cylinder material and mold making for woodworking, advertising, molding industries.
3. With the 180 degree spindle rotation, it can can mill some arch shaped work piece as well.
4. Z axis can be heightened to 1,000mm for large-scale 3D curve milling.
4 Axis CNC Foam Cutter Applications
Applicable industries and materials:
1. Mold industries: sculpture and various large non-metallic mold, it is suitable for milling any kind of foam (EPS) mould, wooden ship model, wooden model aviation and other wooden mould.
2. Musical instrument industry: three dimension musical instrument and contour.
3. Non-ferrous metals: aluminum, copper, alloys and other ligh non-ferrous metals.
4 axis CNC foam cutting machine is used for the materials as following:
1. Timber, wood
2. EPS (any kind of foam)
3. Plastics, MDF
4. Aluminum
5. Acrylic and much more
4 Axis CNC Foam Cutting Machine Features
1. The lathe bed of the foam CNC router machine is welded with thicker square tube and is processed by high temperature tempering treatment and vibrating stress relief (VSR) to relief residual stress. The stability is excellent, not easy to be deformed. It has the property of good rigidity and heavy loading.
2. CNC foam router machine adopts Hiwin high precision square guide rail, X and Y axes adopt rack and pinion transmission, fast working, high efficiency and low cost, Z axis adopts Germany-made ball screw, with high precision and longevity.
3. Foam CNC mill adopts gantry movement,it can process any kinds of materials freely.
4. Intelligent processing cross-border protection function can prevent mechanical impact caused by the improper design documents.
5. CNC foam router machine adopts mported ball bearing, widening linear guide rail, self-lubricating sliding block. When machining, equal force in all directions, to ensure the accuracy and strength.
6. CNC foam cutting machine has the function of recarving after break point and power failure.
7. CNC foam milling machine has the function of forecasting process time.
8. Diversified control system of the CNC foam router can control processing speed, idling speed and tool falling speed respectively, greatly improved the quality of processed.
4 Axis CNC Foam Cutter Technical Parameters
| | |
| --- | --- |
| Model | STM1530 |
| X,Y Working Area | 1500×3000mm |
| Z Working Area | 600mm |
| Resolution | 0.5mm |
| Repositioning Accuracy | 0.5mm |
| Lathe Structure | Seamless welded steel structure, better than cast iron one |
| X,Y Structure | Rack and pinion transmission, Hiwin square guide rail |
| Z Structure | Germany-made rolling ball screw, Hiwin square guide rail |
| Max. Idling Speed | 30m/min |
| Spindle | 6kw spindle |
| Spindle Rotate Speed | 0-24000r/min, variable speed |
| Working Voltage | AC380V/50Hz |
| Working Mode | Servo motor and diver |
| Command | G code (HPGL,U00,mmg,plt) |
| Operating System | Nc studio |
| Diameter of cutter | φ3.175-φ12.7mm |
| Cooling Mode | Water-cooling |
| Work-holding | By clamp |
| Net Weight | 3000KG |
| Software | Type 3, ArtCam, Ucancam |
4 Axis CNC Foam Cut Projects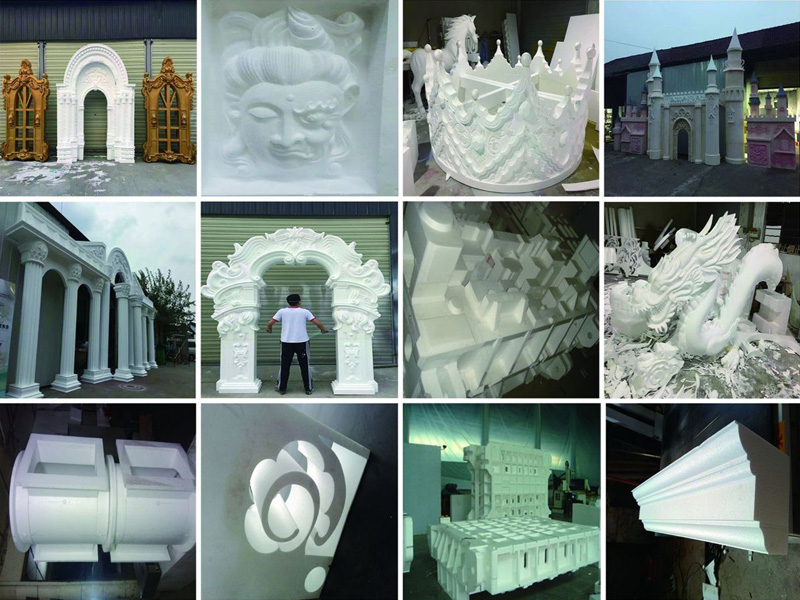 4 Axis CNC Foam Cutting Machine Details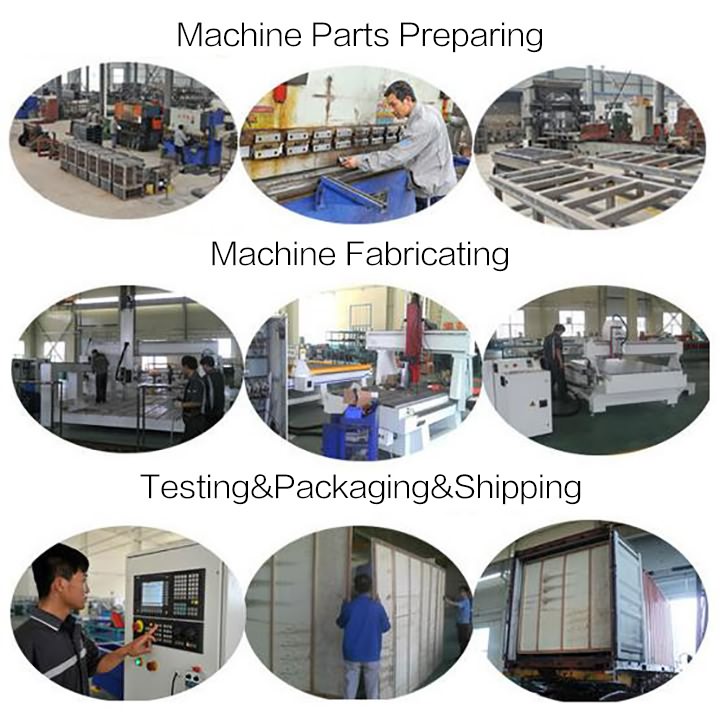 STYLECNC SERVICE For 4 Axis CNC Foam Cutter
1. Before Order:
Technical supports and suggestions before you order a foam CNC cutting machine according to your work piece.
2. Guarantee:
The guarantee period shall be 12 months counting from the date on which the foam CNC cutting machine arrives destination port. Except the damage artificially, we are responsible for offering the fittings free of charge during the guarantee period, but you must send the damaged fittings to us by courier with your charge before we send back the alternative fittings to you. After the guarantee of quality period, the parts required to repair or change, if any, shall be paid.
3. Installation and Debugging:
Customers can get detailed operation manual and instruction video. We will make sure that customers can operate CNC foam cutting machines skillfully.
4. After-sale service:
24-hour technical support by email or calling.
Our technician will come to your workshop if the problems can not be fixed through Internet or phone communications.
International Shipping Around the World
All the CNC routers can be shipped worldwide by sea, by air or by international express logistics via DHL, FEDEX, UPS. You are welcome to get a free quotation by filling up the form with name, email, detailed address, product and requirements, we will shortly contact you with the full information including the most suitable delivery method (fast, secure, discreet) and freight.