2022 top rated 100W laser wood cutting machine with CO2 laser tube is the cheapest laser wood cutter with CNC controller for beginners to engrave & cut wood (softwood, hardwood, solid wood, MDF, plywood) for crafts, 3D puzzles, letters, earrings, panels, signs, logos, arts, gifts and more designs into different 2D/3D shapes & profiles. Now the 2022 best affordable wood laser cutter for sale at cost price, free wood cutting service and support within your budget.
Demonstration Video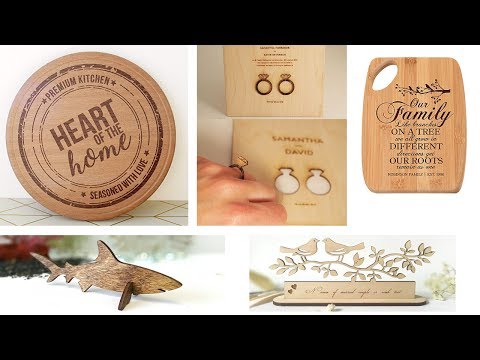 Product Details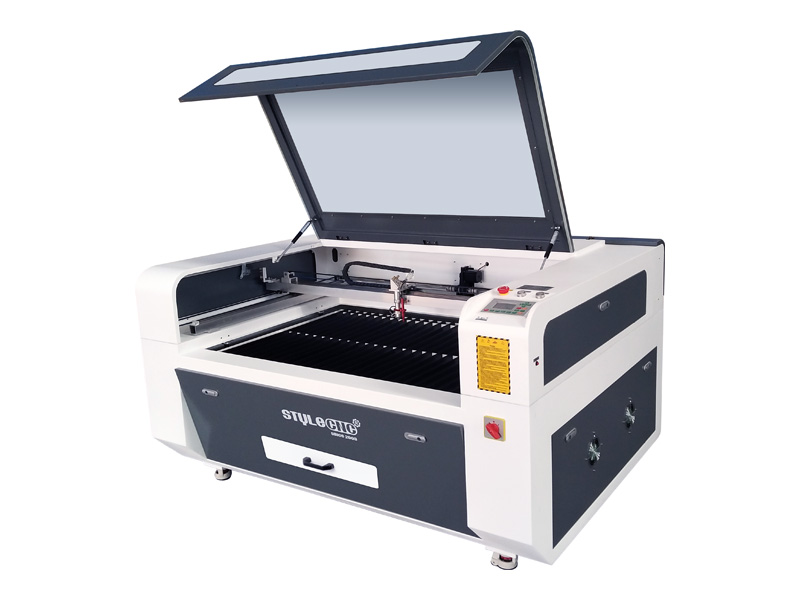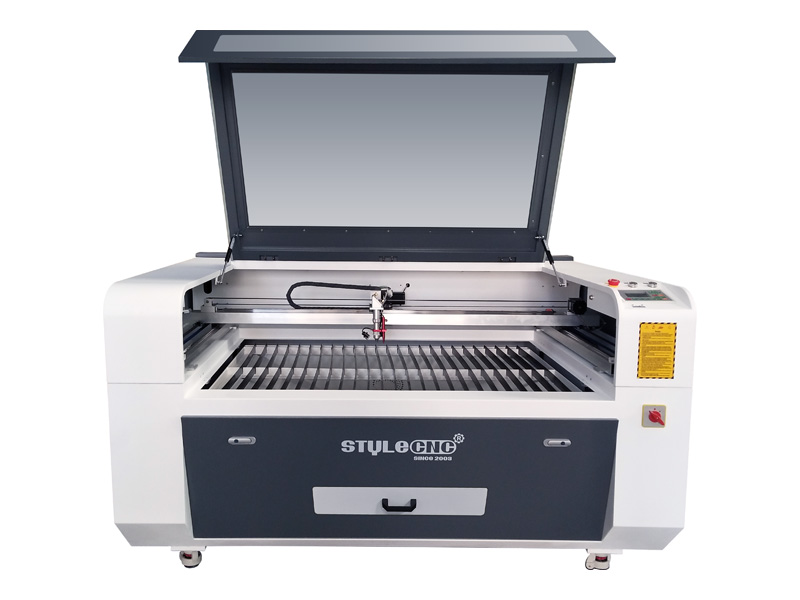 Are you looking forward to DIY wood laser cutter kit or need to buy an affordable laser wood cutting machine for beginners with CNC control system? Review the 2022 best laser wood cutter buying guide as follows, we'll offer you 2022 best wood laser cutting machines with custom laser cutting service for wood to fit your 2D/3D laser cut wood projects, ideas and wood laser cutting plans.
What is a Wood Laser Cutter?
Laser wood cutting machine is an awesome CNC laser cutting system that adopts CO2 laser source to engrave and cut wood (solid wood, hardwood, softwood, MDF, plywood, bamboo), plastic, paper, foam, acrylic, fabric, leather and more nonmetal materials into different 2D/3D profiles and shapes. The cutting ability depends on the CO2 laser power, we have 80W, 100W, 130W, 150W, 180W, 280W and 300W and other CO2 laser powers for option, you can choose different laser powers and laser cutting table sizes to fit your wood cutting and engraving plans & projects. Laser wood cutting machine is also known as laser wood cutter, wood laser cutting machine, laser wood cutting system, laser wood cutting tool, wood laser cutter.
Why Choose Laser Cutter for Wood?
A wood laser cutter is easy to engrave and cut wood with CNC controller. Just a few easy-to-follow steps, you can cut out a wood project with the power tool. Unlike a table saw, the laser cutting technology adopts non-contact cutting, which can minimize cutting deformation, will not cause cracks on the wood, and reduce material waste. Moreover, the laser cutting speed and accuracy is more higher than manual and traditional cutting methods, and the incision and edge is smooth, no need to polish later. It's the best edge cutter for wood. With a rotary tool, it can even cut 3D cyliners. These are incomparable with traditional cutting methods for wood. Relatively speaking, the laser cutter is the most cost-effective cutting method for wood.
How to Use a Wood Laser Cutter for Beginners?
Laser wood cutting has the advantages of high precision, narrow cutting seam, high speed, and smooth cutting edge, which is different from circular saw blade to cut wood. However, because the laser focus energy melts the wood, there will be blackening during the cutting process, that is, the cutting edge is carbonized.
The first thing to note is that if you are cutting a thicker wood board, it is difficult to not blacken it, but after my test, I conclude that the wood board with a thickness of 5mm or less can be cut without much blackening, while 5mm The above depends on the situation, the following is a detailed description of what to do to prevent the laser wood cutting from turning black:
Maybe everyone knows that to avoid the carbonization effect of laser cutting, use high speed and low power. This is correct, but some are misunderstood. Some users think that the faster the speed, the better, and the lower the power, the better. In order to reduce the blackening, use fast and low power to cut multiple times. This is very bad, and the carbonization effect may be darker than normal.
Our low power and fast speed must ensure that the wooden board can be cut through at one time. The faster the speed is, the better, and the lower the power, the better. However, if the power is reduced and multiple cuttings are required, the carbonization phenomenon is actually more serious. Because the cut part will be burnt a second time, the more you cut, the more serious the carbonization.
So the first thing to pay attention to is to ensure that it is cut in one time, not secondary cutting, to avoid secondary damage.
Fast speed and low power are contradictory. The faster the speed, the more difficult it is to cut through, and the lower the power, the more difficult it is to cut through. We have to prioritize between the two. According to our experience, fast speed is more important than low power. Use larger power to try the fastest speed that can be cut through. Of course, this needs to be tested to get the best value. The following is the data we tested with STYLECNC's 80W CO2 laser cutting machine.
To cut 3mm glulam boards, we use 55% power and 45mm/s speed. Under this parameter, there is basically no blackening. We use 40% power and 45mm/s speed to cut 2mm plywood. We used 65% power to cut the 5mm plywood at a speed of 20mm/s. The 5mm wood board has started to turn black, but the situation is okay, and the hands are still not dirty. And we tried the maximum cutting thickness of this laser cutting machine, 18mm solid wood panels. Maximum power, turtle speed… (80 Watts is impractical, if you want to cut thick wooden boards, you can buy a 150 Watts CO2 laser tube), it's already dark, and the carbonization is very serious. You can use it  with sandblasting machine to process if you care the final result.
Of course, in addition to the power speed that affects the blackening, there is also a very important factor, that is, blowing. You must blow strongly when cutting wood. It is best to use a high-power air compressor, because the other factor of blackening and yellowing is cutting The gas produced is blackened, and blowing can assist in cutting to make cutting easier and prevent fire.
Our test data are not limit numbers, they are for reference only, and some redundancy is left. Because the experimental data can be faster and lower power, but it cannot guarantee a cut through. Because other factors must be considered in practical applications: uneven platform, focal length problems caused by uneven wooden boards, uneven material of the three-ply plywood, etc., all have an impact, so be careful not to use the limit value to cut, it may be poor A little cut through. If you find that it is black no matter how you cut it, it may be a material problem, and the glue content of the plywood will also affect it. It is also very important to find more suitable materials.
100W Laser Wood Cutting Machine Features and Advantages
1. The 2022 top rated laser wood cutting machine with 100W CO2 laser tube adopts more scientific design and high strength metal plate frame, which can increase the fuselage strength more than 40% to prevent the machine from distortion during long term work. In addition, this structure is very stable and not easy to be out of shape. The sound insulation effect is good.
2. Advanced Ruida 6442G control system for CNC wood laser cutter is the latest generation of laser engraving cutting control system, the control system hardware has better stability, better resistance to high pressure, anti-static properties of interference.
3. New-style high-efficiency RECI laser tube is adopted. Laser beam is more stable than the traditional type. Usage age is more than 10,000 hours.
4. Taiwan HIWIN square linear guide rail will be installed on X axis and Y axis to ensure the laser wood cutter works stably and precisely.
5. The 2022 best CO2 laser wood cutting system adopts high quality professional square tube framework, with more than 40% higher fuselage strength than iron sheet structure. This design prevents the laser wood cutting machine from quivering, resonance and distortion during long term work.
6. Red dot position system is added in standard configuration, contributing to simple and precise working position.
7. The 2022 best CNC wood laser cutting system adopts advanced LCD Screen + USB port + Offline Control, with professional motion control chip, which has the functions of consecutively high-speed curve cutting and the shortest path selection, which largely improves your working efficiency.
8. USB offline control system makes the wood laser cutter operation more convenient and faster.
9. Automatic up-down table for the wood laser cutter can be chosen for thick materials and high objects.
10. The cutting and engraving area is 1300x900mm for most of woodworking projects.
11. Unlike 3D printers, it requires no consumables.
2022 Best Wood Laser Cutter Machine Specifications
Model

STJ1390

Working Area

1300mm*900mm

Laser Power

100W (80W, 130W, 150W, 180W, 280W and 300W for option)

Laser Type

CO2 sealed laser tube

Driving System

Leadshine stepper motor

Transmission

Fulong belt transmission

Guide Way

Taiwan Hiwin square guide rails

Control System

Ruida control system RD6442S

Lens and Mirrors

3pcs mirrors and 1pcs lens from Singapore

Working Table

Blade table or Honeycomb table for option

Water Chiller

Included

Laser Engraving Speed

0-7500mm/min

Laser Cutting Speed

0-4000mm/min

Graphic Formats

PLT, BMP, DST, AI, DXF

Laser Software

AutoCAD, PhotoShop, CorelDraw, TAJIMA

Red Pointer

Yes

Power Supply

110V/60HZ, 220V/50HZ

Optional Parts

Rotary Device

Up-down Worktable

Auto Focus

CCD Camera
CNC Laser Wood Cutting Machine Details
STJ1390 wood cutting machine front display.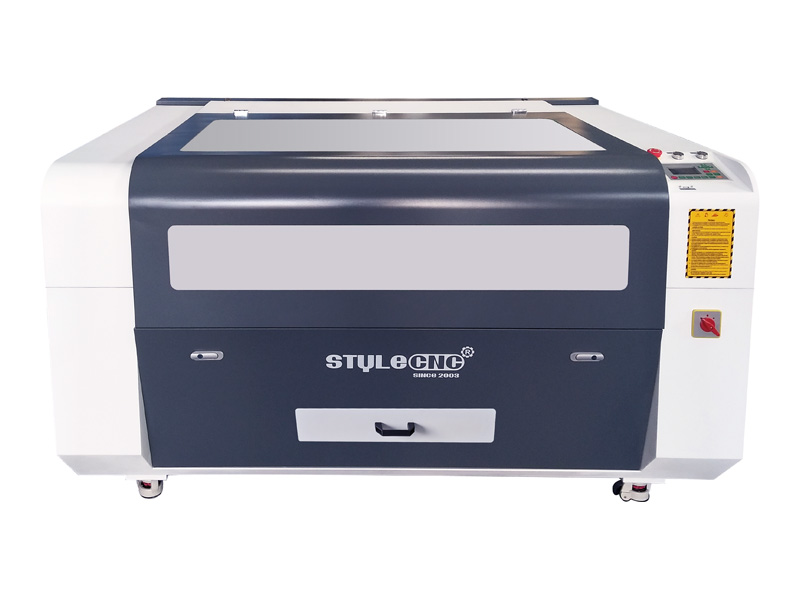 STJ1390 wood cutter side display.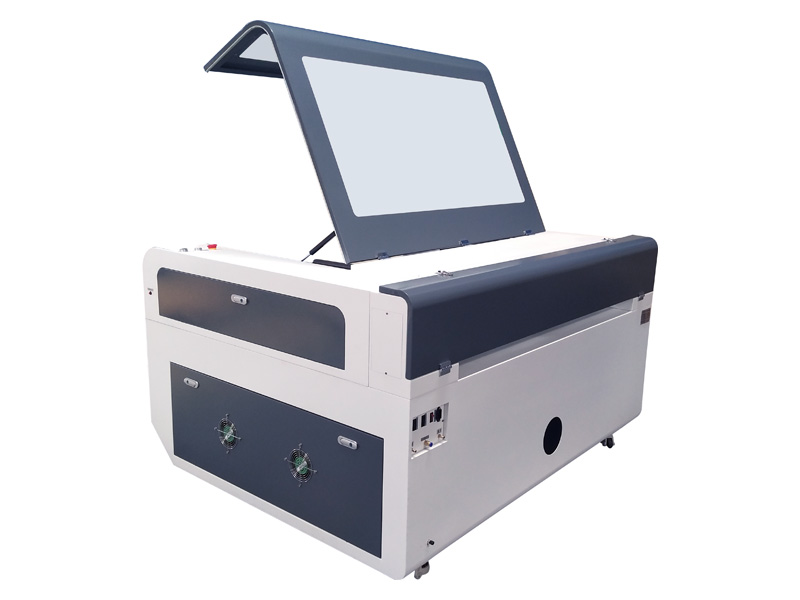 Laser head for STJ1390 wood laser engraving cutting machine.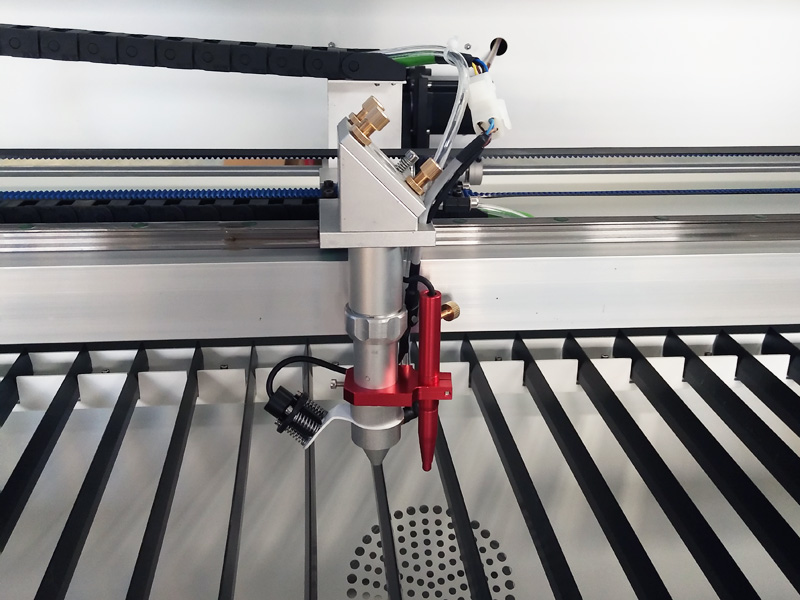 CO2 laser tube for STJ1390 CNC laser wood cutter engraving machine.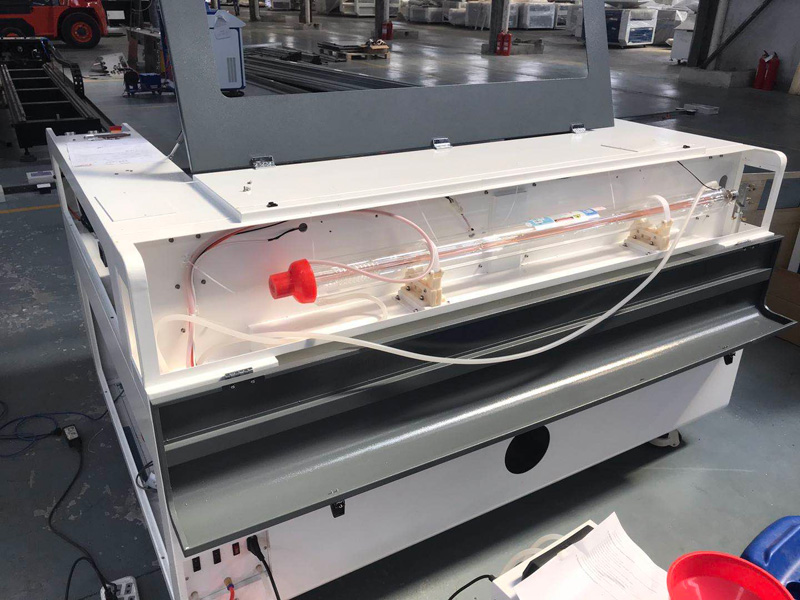 Control panel for STJ1390 CO2 laser wood cutting engraving machine.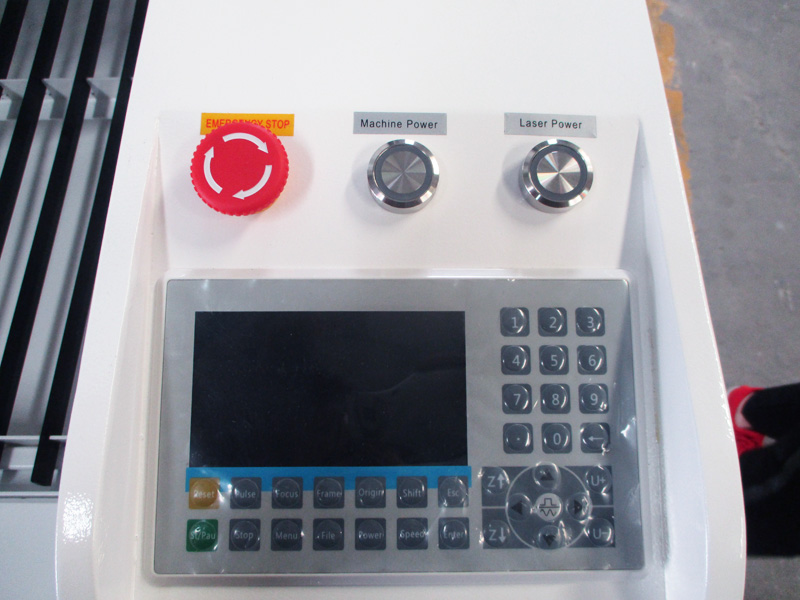 Identification plate for STJ1390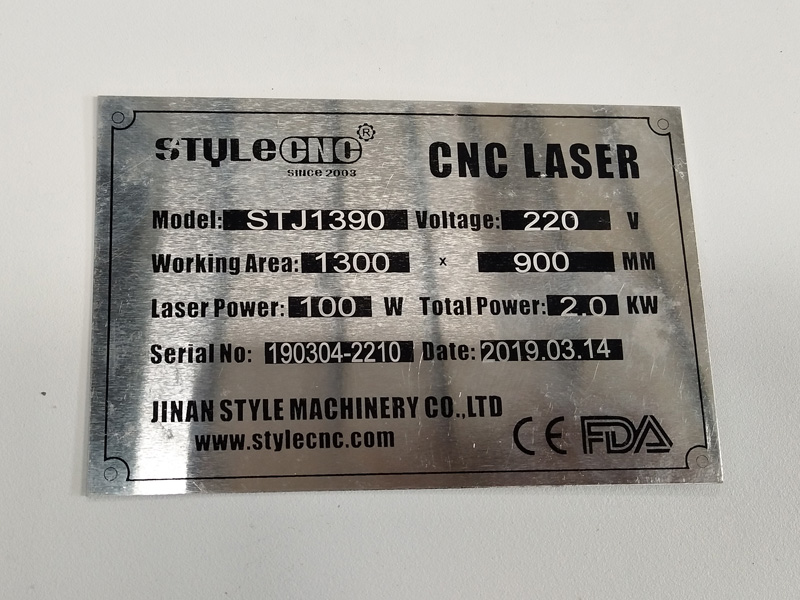 Rotary attachment for STJ1390 CO2 laser wood engraver cutting machine.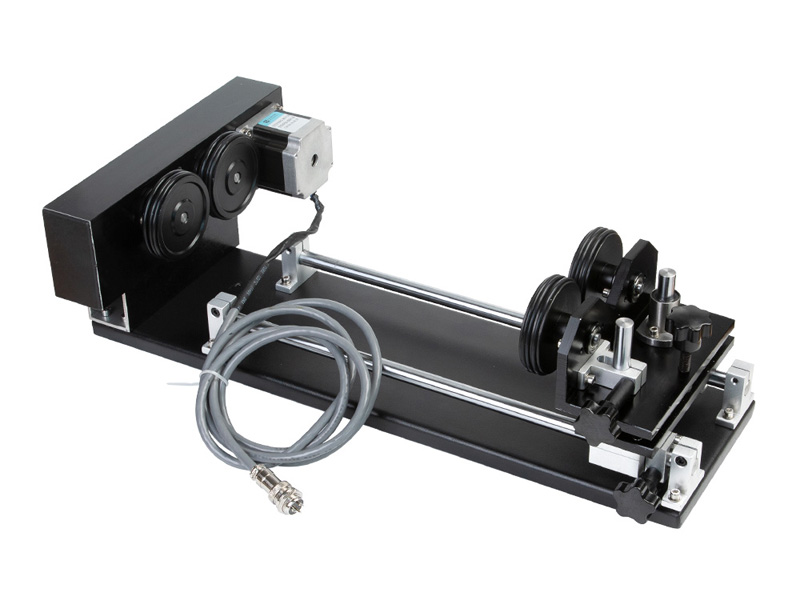 CW-5200 industrial water chiller for STJ1390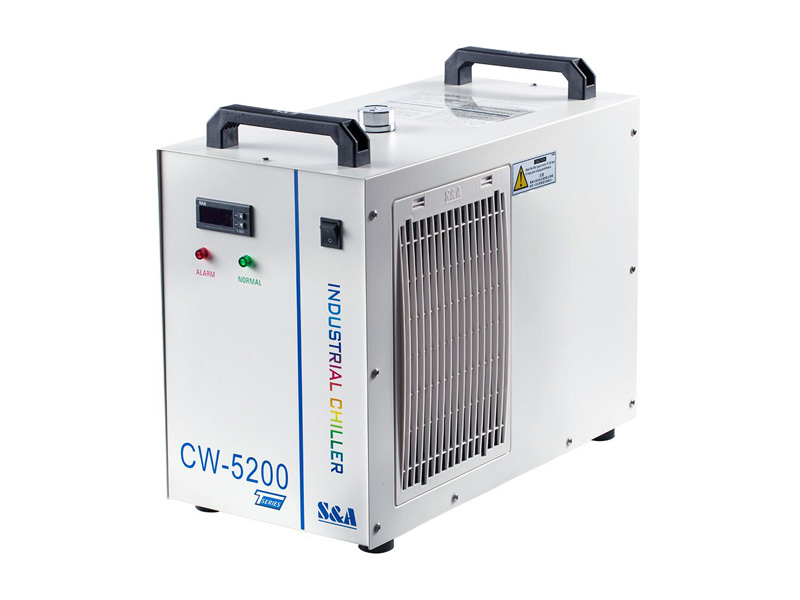 Power Box for STJ1390 wood laser engraver cutting machine.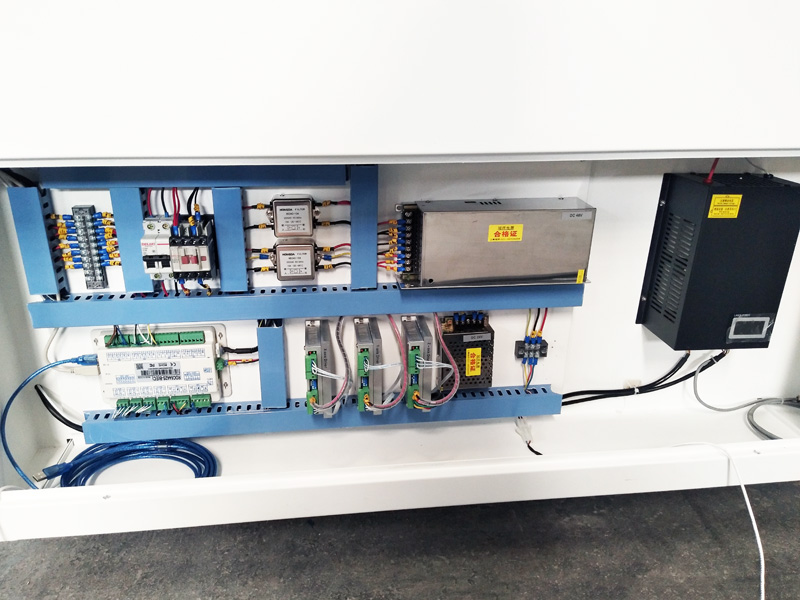 2022 Best Wood Laser Cutter Applications
Applicable Materials:
Affordable laser wood cutters are used for engraving and cutting variety types of wood, MDF, plywood, wood bamboo, acrylic, organic glass, crystal, wood plastic, garments, paper, wood leather, fabric, rubber, ceramic, glass, and other nonmetal materials.
Applicable Industries:
Affordable wood laser cutters are applied to custom woodworking, wood sign making, wood crafts making, 3D wooden puzzle cutting, wood letter cut, wood earrings cutting, wood panel cutting, acrylic cutting, fabric cutting, leather cutting, toys making, computer embroidery cutting, mould making, advertising and building decoration, packaging and printing, paper products cutting.
100W Laser Wood Cutter Projects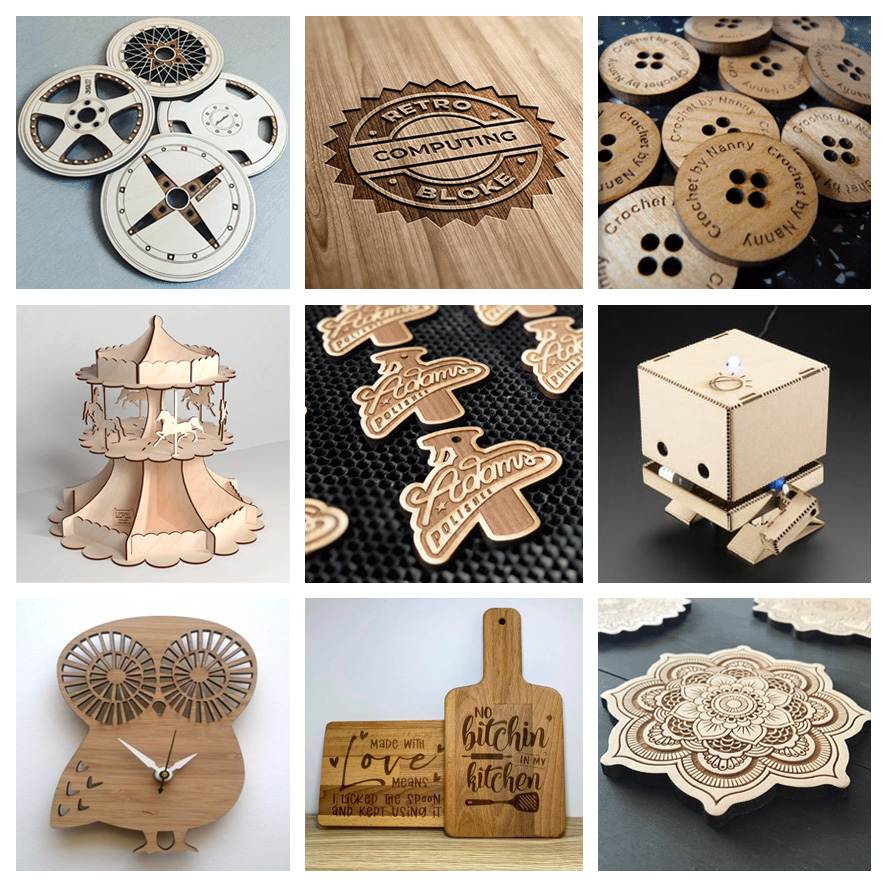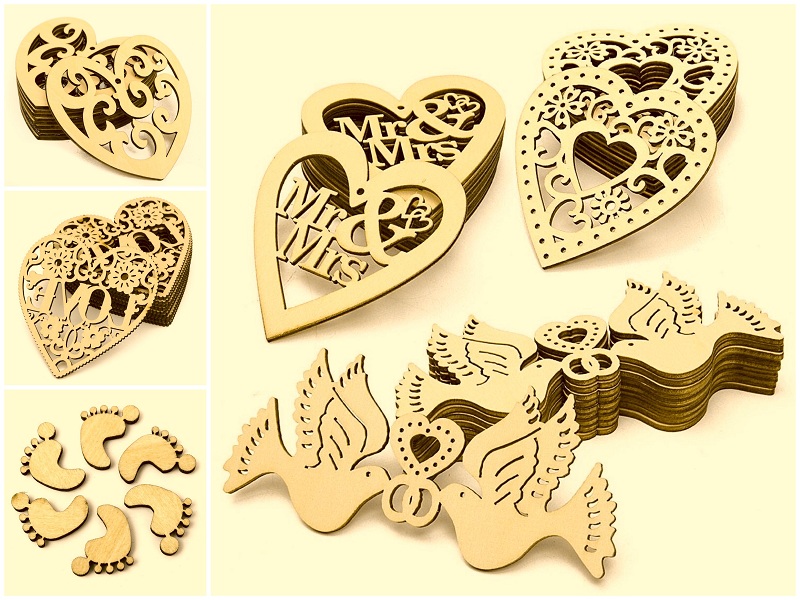 Laser cut wood crafts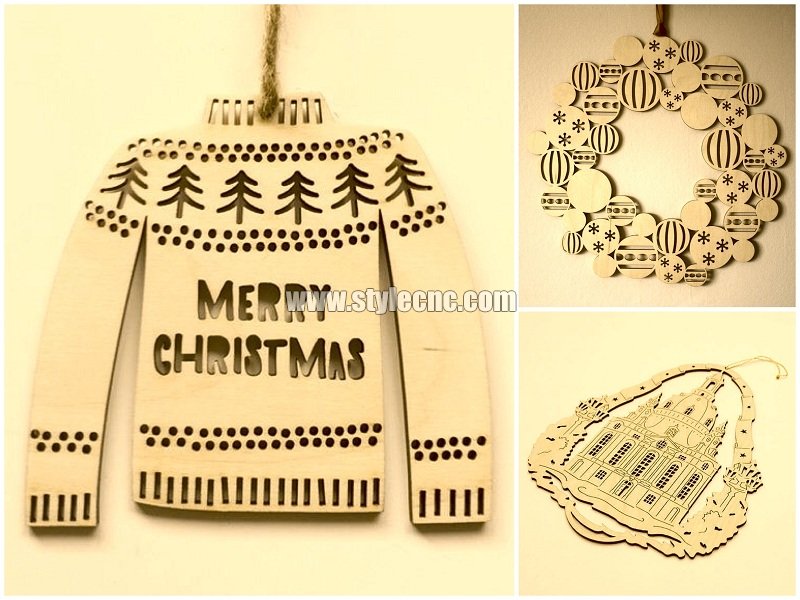 Laser cut wood shapes & signs & letters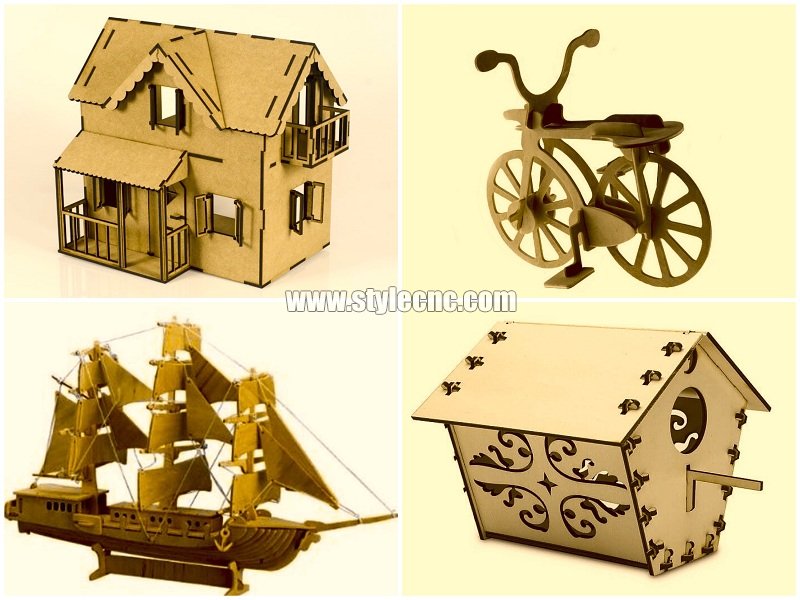 Laser cut 3D wooden puzzles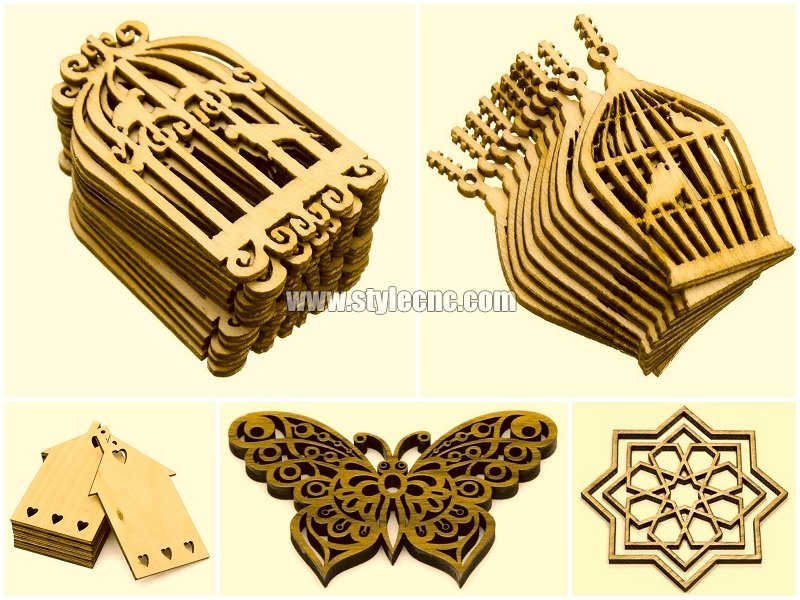 Laser cut wood panels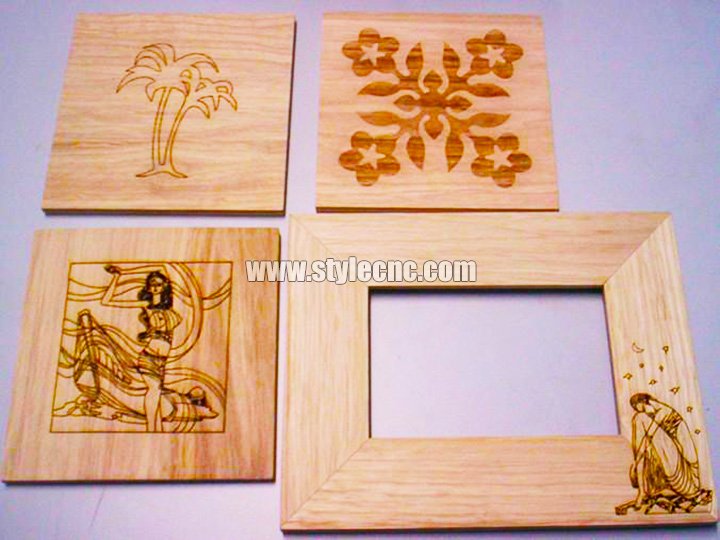 Laser engraved wood arts & crafts
100W Laser Wood Cutting Machine Packages and Delivery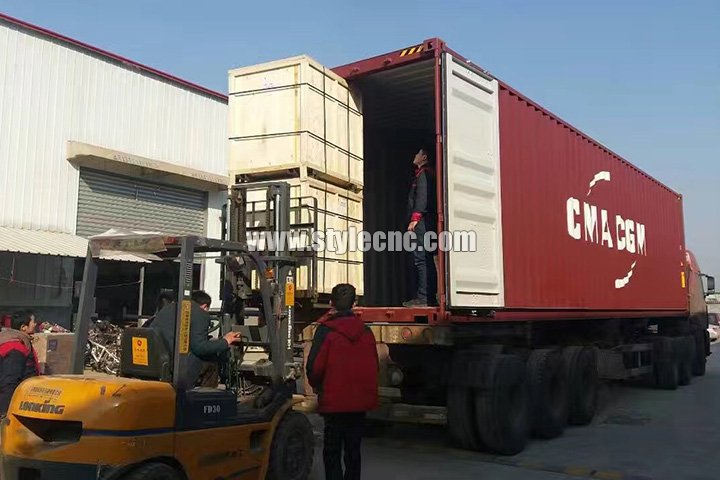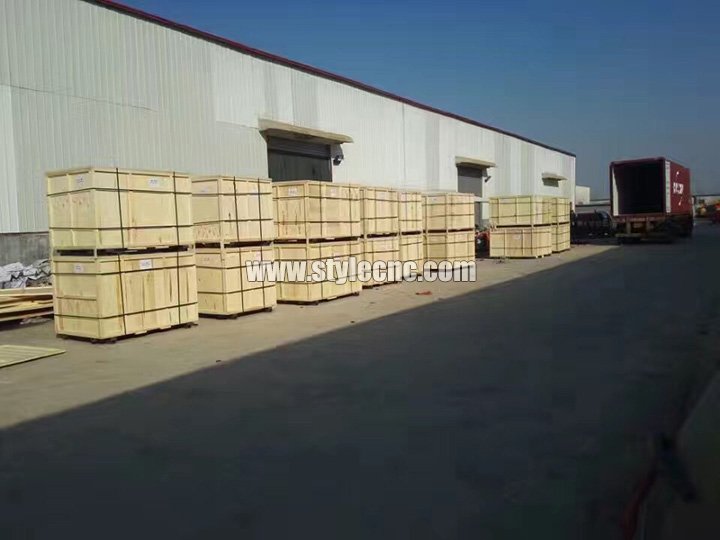 How Much Does A Wood Laser Cutter Cost?
How much does it cost to buy a laser wood cutter? The price for an entry level wood laser cutter ranges from $2,680 to $3,280. A hobby laser wood cutting machine costs around $3,680. Industrial wood laser cutting machines cost between $6,000 and $29,800. The final price depends on the laser generator, laser power, table top, and more laser parts & accessories.
How to Buy an Affordable Laser Cutter for Wood in 2022?
1. Consult:
We will recommend the most suitable laser wood cutter to you after being informed by your requirements.
2. Quotation:
We will offer you with our detail quotation according to the consulted laser cutter for wood. You will get the the most suitable wood laser machine parts, accessories, and the affordable price within your budget.
3. Process Evaluation:
Both sides carefully evaluate and discuss all the details of the order to exclude any misunderstanding.
4. Placing Order:
If you have no doubt, we will send you the PI (Proforma Invoice), and then we will sign a contract with you.
5. Production:
We will arrange the wood laser machine production as soon as receiving your signed sales contract and deposit. The latest news about production will be updated and informed to the buyer during the production.
6. Quality Control:
The whole production procedure will be under regular inspection and strict quality control. The complete wood laser machine will be tested to make sure they can work very well before being out of factory.
7. Delivery:
We will arrange the delivery as the terms in the contract after the confirmation by the buyer.
8. Custom Clearance:
We will supply and deliver all the necessary shipping documents to the buyer and ensure a smooth customs clearance.
9. Support and Service:
We will offer professional technical support and intime laser wood cutting service by Phone, Email, Skype, WhatsApp, Online Live Chat, Remote Service around the clock. We also have door-to-door service in some areas.
Why Choose STYLECNC to Buy the Best Laser Wood Cutters?
As a guaranteed laser wood cutting machine supplier and manufacturer, STYLECNC offers all types of best laser wood cutters for sale to fit your plans, ideas, and projects.
STYLECNC's wood laser cutters adopt genuine laser wood cutting software and laser wood cutting system, high quality laser machine parts.
STYLECNC offers affordable laser wood cutter price list for your wood cutting plans without any intermediate, you will buy the best budget laser wood cutting machines at lower price from us.
STYLECNC also offers smart wood cutting solutions, 24/7 one-to-one wood cutting service and support, which is available free.
Laser Cut Wood Tips
With the development of optoelectronic technology, laser cutting technology has a wider range of uses, and customers' requirements for cutting accuracy have also increased. Generally, there are four factors that affect laser cutting: cutting speed, laser power, cutting accuracy, and material. The first three factors are determined by the quality of the laser equipment itself, and the material is determined by the outside.
Wood is the most commonly used material for laser machining. Generally speaking, it is easy to engrave and cut. Light-colored woods such as birch, cherry or maple can be well gasified by laser, so they are more suitable for engraving & cutting. It has its own characteristics, and some are denser, so before cutting wood, you should first study the characteristics of wood.
The basic principle of wood laser cutting is basically the same as that of laser engraving. Both use high-energy-density laser beams to convert heat energy, which instantly causes wood thermal decomposition and carbonization, thereby removing part of the material. Compared with laser engraving, laser cutting cutting requires a lot of energy, and laser engraving does not need to cut through the workpiece, so the energy required is relatively small. Laser wood cutting generally uses non-contact cutting methods. Compared with traditional mechanical cutting methods, laser wood cutting has significant advantages such as no wood chip pollution, no tool wear, no need to change tools, and no noise pollution. Not only the patterns cut out are more beautiful than those cut out by traditional machine tools, but also the cost-saving effect is obvious.
International Shipping Around the World
All the CNC laser machines can be shipped worldwide by sea, by air or by international express logistics via DHL, FEDEX, UPS. You are welcome to get a free quotation by filling up the form with name, email, detailed address, product and requirements, we will shortly contact you with the full information including the most suitable delivery method (fast, secure, discreet) and freight.